Back in the finals
Oxford advances to 6A State Duals championship match for the third year in a row; the Jackets won it the first two times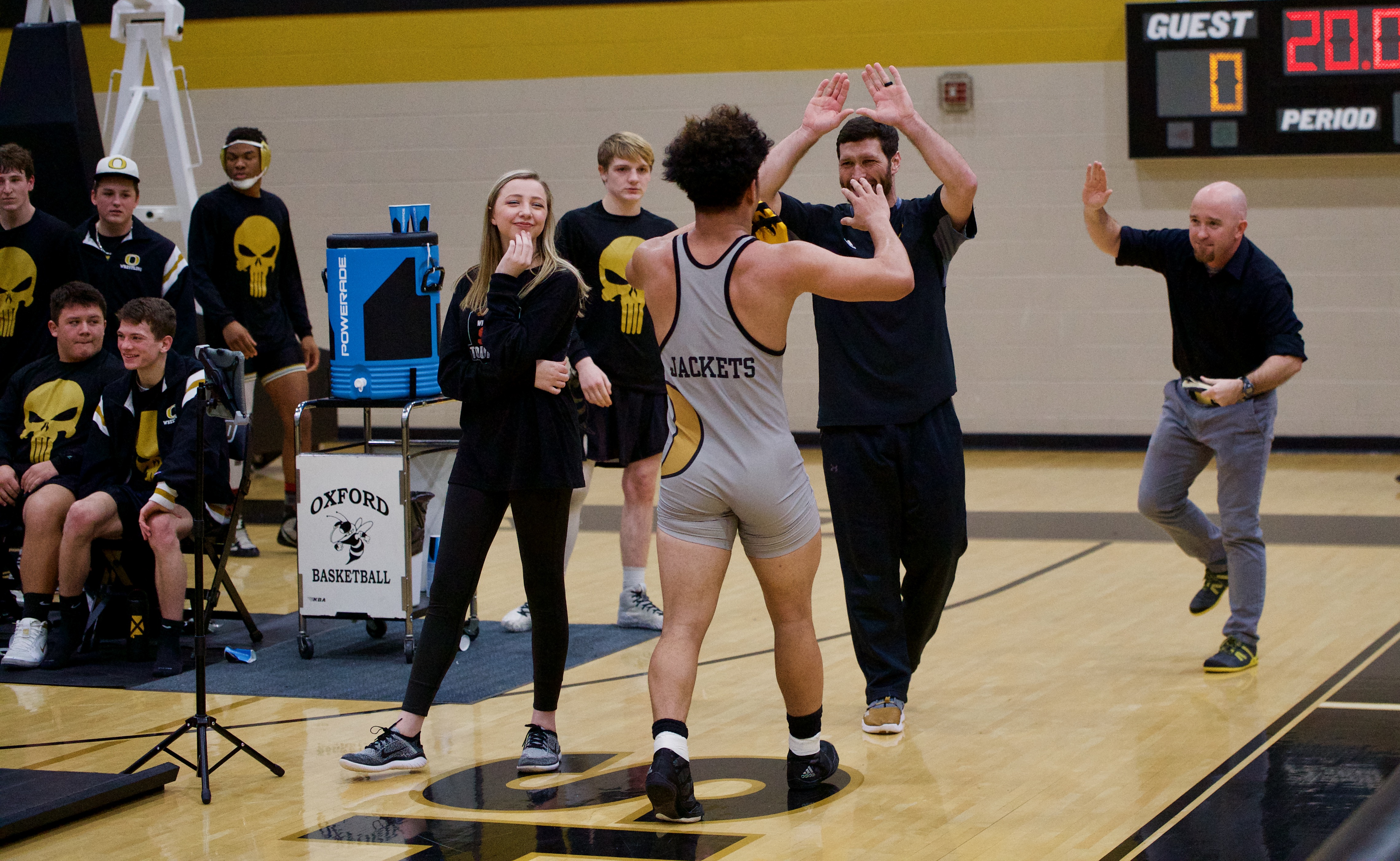 By John Mitchell
For East Alabama Sports Today

OXFORD – Three-peat. Three-peat. Three-peat.

That's all first-year Oxford wrestling coach Kyle Routon has heard since he accepted the position back in July. The Yellow Jackets are the two-time defending 6A State Duals champions, and with that brought a wealth of expectations as Routon took over a proud program.

"I definitely felt pressure coming in," he said. "Every time I shook someone's hand when I got here it was all about a three-peat."

Built into that, no doubt, was the traditional state championship, which Oxford has won the last two years as well.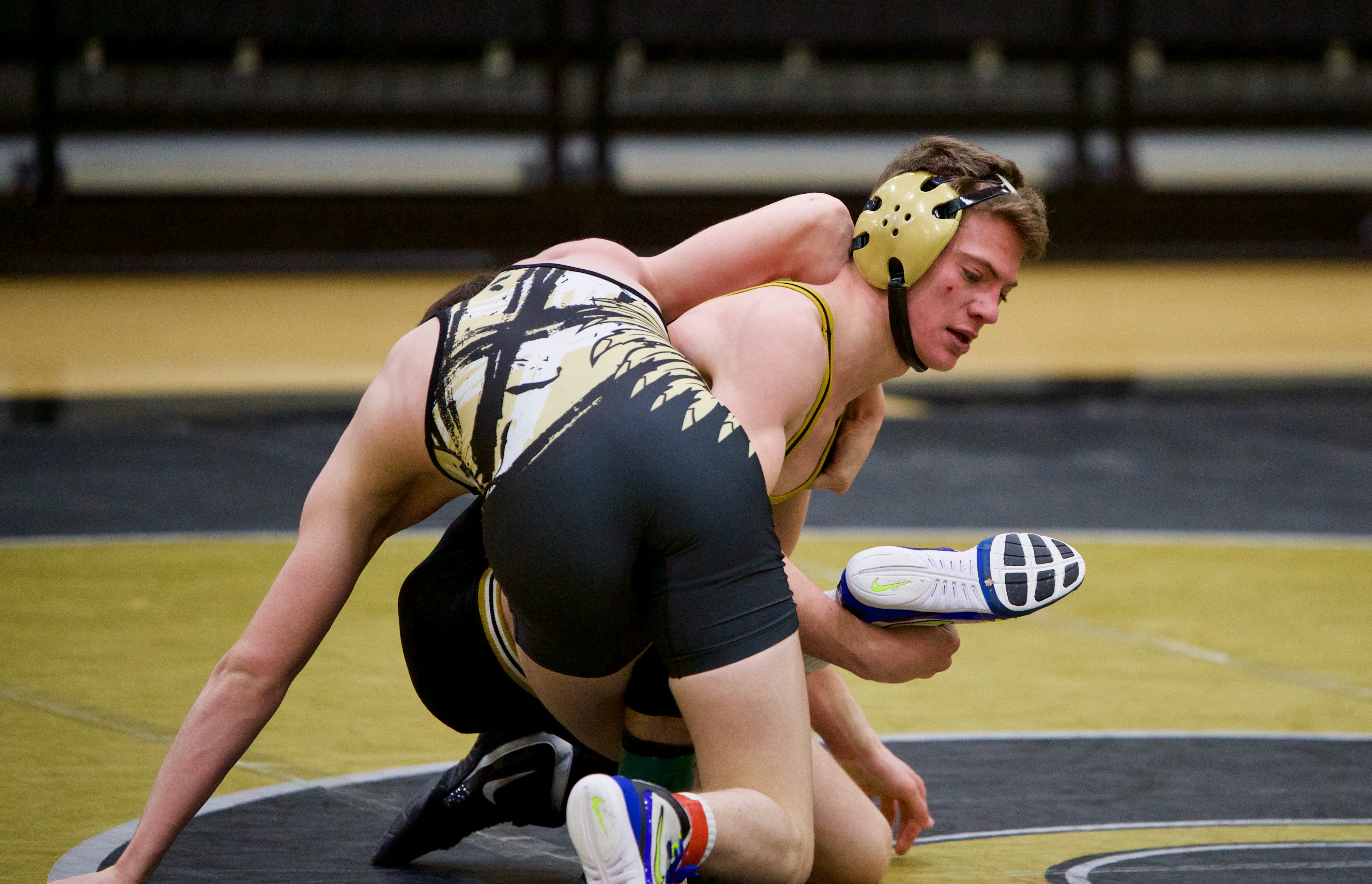 The pressure is even more on Routon personally, with him leading Southside to five state runner-up finishes during his time there but never quite getting over the hump to win the whole thing. Expectations were high for him coming to Oxford, and anything less than a state title would be viewed as a bitter disappointment.

So far, so good, as Oxford clinched their third straight trip to the State Duals Championship with a 33-28 win over Wetumpka Tuesday night.

The Jackets will face Gardendale 6 p.m. Friday at the Birmingham CrossPlex/Bill Harris Arena in with the title on their line. Gardendale defeated Mae Jemison 45-25 in their semifinal on Tuesday night.

Freshman 182 Keeshon Siaosi clinched the match for Oxford just as he did in the quarterfinals against McAdory, this time with an 8-6 decision over Wetumpka's Devin Palmer.

Siaosi may have clinched it in the 12thmatch of the evening, but it was the work done by Oxford's senior class in the middle of the lineup that gave the Yellow Jackets a near insurmountable lead. From 126 to 145, the Jackets won four in a row, including one pin and two major decisions that helped them break a 9-9 tie after the first four matches and build a 26-9 lead with six matches to go.

"Every match we wrestle we're probably going to get four or five in a row," Routon said. "From 126 with (Landon) Burrage to 152 with (Reed) Hill, those are the guys who basically carry us. Everybody else just has to do a little bit of their part and we're able to go."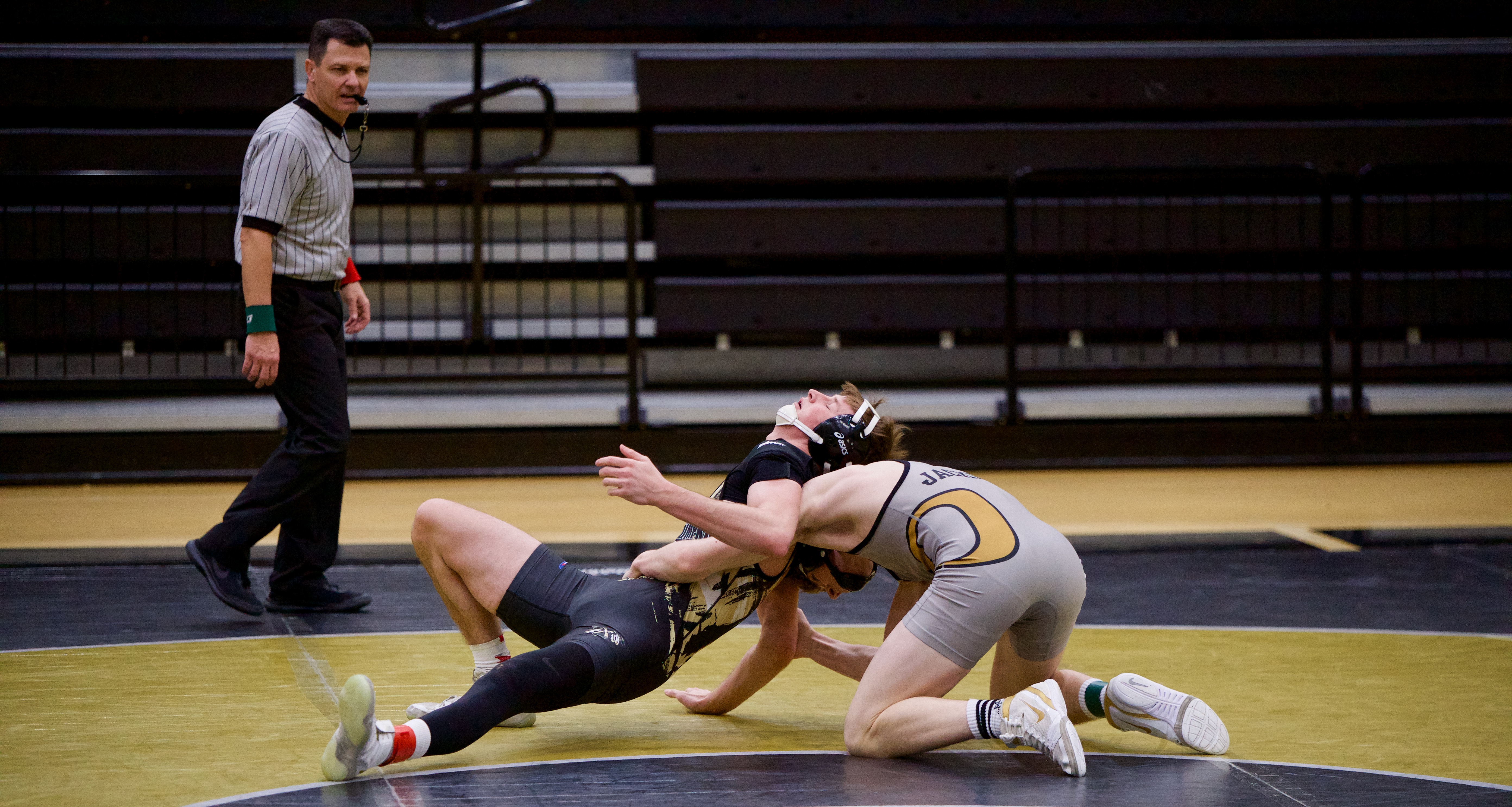 Burrage got them started with a tough decision over Tyler Anthony that was anybody's match until the Oxford senior scored the decisive two points in the third period.

"It didn't start out the way I wanted it to," said Burrage, "but I dug deep and was able to come away with the win."

Wesley Slick followed with a pin of Dawson Tadlock, and then Chase Hicks and Jakob Chisolm came away with major decisions over Kaleb Jones and Cole Blackwell, respectively, that gave Oxford a huge advantage.

Hill is typically in the 152 match, but Routon moved the junior up to 160 to try and take advantage of a favorable matchup. Payton Ratliff lost a close decision in his place at 152, but Hill took a major decision over Collin Lybrand to all but seal it with Siaosi clinching in the next match.

Wetumpka, to their credit, never gave in even after Oxford got the clinching points. They took the final two matches of the evening to make the margin close.

"It's nice to see that we're going to keep fighting no matter what," said Wetumpka head coach David Crunkilton, a former Weaver wrestler. "It was a great battle and we wrestled really well as a team. Five points is a one-match swing, but you have to give all the props to Oxford. They came out and did extremely well."

While Routon places immense pressure on himself while chasing that ever-elusive State Championship, he knows it's a simple recipe for Oxford to come out on top.

"We've just got to win more matches than they do," he said. "At the end of the day if we've got more points than they've got then we win."

"We don't feel any pressure," 132 Wesley Slick said. "We work just like we did in the first year. We're still underdogs."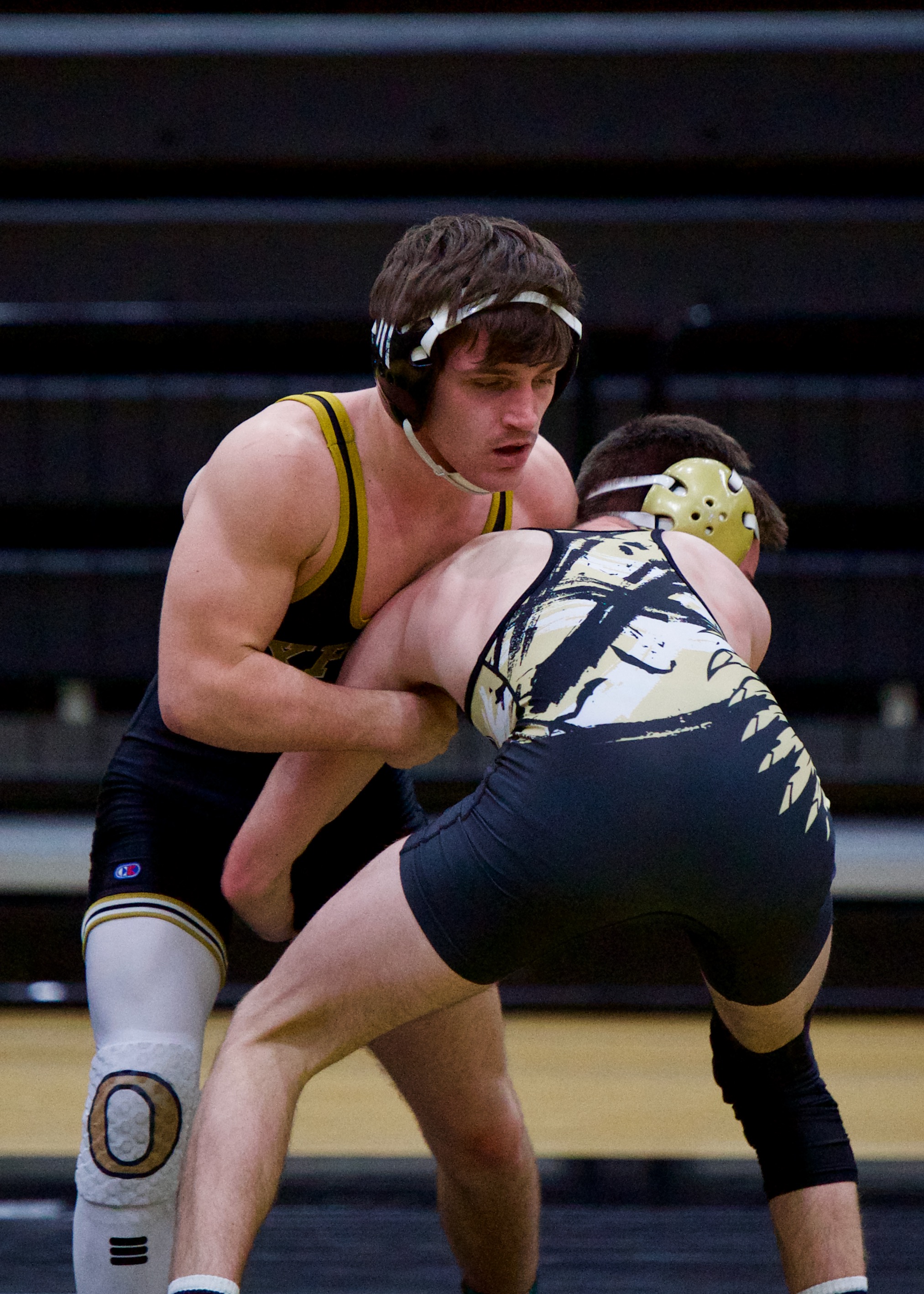 Oxford 33, Wetumpka 28
106: Xander McWilliams (W) dec. over Garrett Howell, 8-2
113: Kaleb Shelton (O) pinned Mason Dickey, 5:48
120: Kyler Adams (W) pinned Kash Hornsby, 0:28
126: Landon Burrage (O) dec. over Tyler Anthony, 2-0
132: Wesley Slick (O) pinned Dawson Tadlock, 3:10
138: Chase Hicks (O) maj. dec. over Kaleb Jones, 12-1
145: Jakob Chisolm (O) maj. dec. over Cole Blackwell, 17-4
152: Trent Blakenship (W) dec. over Payton Ratliff, 9-4
160: Reed Hill (O) maj. dec. over Collin Lybrand, 12-1
170: Mason Blackwell (W) pinned Kendrick Young, 1:45
182: Keeshon Siaosi (O) dec. over Devin Palmer, 8-6
195: Noah Barclay (W) maj. dec. over Octavius Adair, 13-2
220: Nathan Waters (W) pinned Xavier Deramus, 2:28
285: Kobe Shumaker (O) dec. over Abe Preston, 4-1

STATE DUALS CHAMPIONSHIPS
CLASS 1A-5A
Semifinals
St. James 57, Ranburne 24
Scottsboro 54, Hayden 24
Championship
Friday, 6 p.m.
St. James vs. Scottsboro

CLASS 6A
Semifinals
Oxford 33, Wetumpka 28
Gardendale 45, Mae Jemison 25
Championship
Friday, 6 p.m.
Oxford vs. Gardendale

CLASS 7A
Semifinals
Thompson 57, Hoover 7
Bob Jones 38, Vestavia Hills 25
Championship
Friday, 6 p.m.
Thompson vs. Bob Jones