Riding high
Updated: January 23, 2019
Girls bracket: Junior guard makes big plays down the stretch to lift Oxford over Jacksonville; beat goes on for Anniston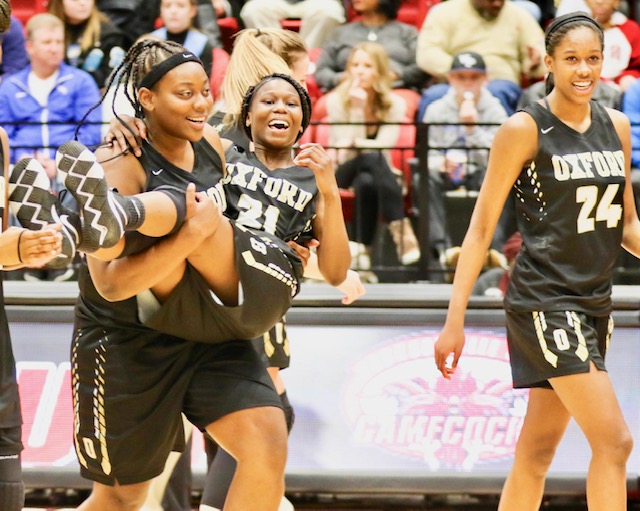 CALHOUN COUNTY TOURNAMENT
At Jacksonville State
Girls Bracket
Tuesday's games
Oxford 44, Jacksonville 41
Anniston 74, Pleasant Valley 32
Thursday's games
Weaver vs. White Plains, 5:30 p.m.
Alexandria vs. Sacred Heart, 8:30 p.m.
Friday's games
Anniston vs. Oxford, 4 p.m.
Weaver-White Plains winner vs. Sacred Heart-Alexandria winner, 7 p.m.
Saturday's game
Girls championship, 6 p.m.
 
By Brant Locklier
For East Alabama Sports Today
 
JACKSONVILLE – Akiera Robinson took an athlete's ride of a lifetime Tuesday after driving Oxford to the semifinals of the Calhoun County Girls Basketball Tournament.
 
No sooner than the horn sounded on the Lady Jackets' 44-41 victory over Jacksonville than Amirea McLeod lifted her diminutive teammate off the ground and carried her triumphantly all the way to the dressing room.
 
Robinson made the biggest plays in the final 35 seconds after the Lady Jackets lost a 10-point fourth-quarter lead. She hit two free throws with 32.7 seconds left to put Oxford back on top, made another free throw 14 seconds later to extend the lead and then stole a ball in the front court with less than five seconds left to prevent Jacksonville from mounting one last game-tying charge.
 
"I know they're really proud of me for making those free throws and steal," Robinson said. "She (McLeod)  asked me if I could carry you and I said, yeah, go ahead. We were all excited."
 
The fifth-seeded Lady Jackets now play top-seeded Anniston in Friday's semifinals.
 
It was a great escape. Oxford led 35-25 early in the fourth quarter, but soon would find trouble. The Lady Jackets kept turning it over and Jacksonville's Kayla Broom was either the culprit or converted it – or both – every time.
 
In about a four-minute stretch with the lead, the Lady Jackets had 10 turnovers – at least three of them failing to in bounds the ball – missed three of four throws and hit only one basket. Broom had nine points in the run and her put back with 2:34 left gave Jacksonville in the lead. She finished with 18 points, eight rebounds, three assists, four steals and two blocked shots.
 
"We just could not get the ball inbounds in the fourth quarter and it got pretty nerve-wracking at times," Bennett said."(Akiera) was big at the end. She is our quickest player and made some big free throws."
 
The final 30 seconds was frantic. Robinson's two free throws gave Oxford a 42-41 lead. Jacksonville brought the ball back up the floor and Broom appeared to step on the sideline near the scorer's table, but Golden Eagles coach Tres Buzan called time just before it to save the turnover. But then Broom double dribbled when they put the ball back in play.
 
Robinson was fouled again and hit one of two free throws to make it 43-41 and Justyce Smith followed with one of two free throws to make it a three-point game. 
 
"I just stayed focused and stayed calm," Robinson said. "I knew my team was depending on me so I tried not to rush. There was a lot of pressure, but I was glad I was able to stay locked in and make my shots, as many as I made."
 
About the only thing that spoiled the moment was she missed the easy layup that was produced by her steal.
 
Oxford 44, Jacksonville 41
OXFORD – Ashleigh Jackson 4-6 2-5 11, Sara Paulson 2-4 3-6 8, Justyce Smith 1-10 5-8 7, Akiera Robinson 2-8 3-5 7, Lauren Ellard 2-4 0-0 5, Lisa Montgomery 1-3 0-2 2, Jamya Gibson 1-2 0-0 0, Kaleah Taylor 1-3 0-0 2, Amiera McLeod 0-3 0-2 0, Ariana Averette 0-0 0-0 0, Emma McCullough 0-0 0-0 0, L. McGrue 0-1 0-0 0, Kiki Woods 0-0 0-0 0. Totals 14-44 13-28 44.
JACKSONVILLE – Kayla Broom 5-12 7-11 18, Patience Carr 2-8 3-7 7, Rebekah Gannaway 1-6 2-2 4, Amarie Curry 1-1 1-3 3, Malaijah Goggins 0-2 3-5 3, Brenna Stone 1-2 0-0 2, Amia Montgomery 1-3 0-6 2, Aly Meagher 1-2 0-0 2, TiAsia Williams 0-2 0-0. Totals 12-38 16-34 41.
Oxford             2          19        12        11        –          44
Jacksonville    3          11        11        16        –          41
3-point goals: Oxford 3-10 (Jackson 1-1, Paulson 1-3, Robinson 0-2, Ellard 1-2, L. Montgomery 0-1, Gibson 0-1); Jacksonville 1-9 (Broom 1-2, Carr 0-2, Gannaway 0-3, Goggins 0-1, Williams 0-1). Rebounds: Oxford 45 (Smith 19); Jacksonville 34 (Broom 8, Stone 7). Fouled out: L. Montgomery, Taylor, Carr, Stone, A. Montgomery. Total fouls: Oxford 27, Jacksonville 27.

Lady Dawgs keep rolling
JACKSONVILLE – It seems to be the same story every year. Year after year. The Anniston girls win big in the county tournament and coach Eddie Bullock makes the obligatory comment about how they win with great defense.

It happened again Tuesday night as the top-seeded Lady Dawgs rolled past Pleasant Valley 74-32 to move into the tournament semifinals against fifth-seeded Oxford at 4 p.m. Friday.

Since 2002 the numbers are staggering for the Lady Dawgs – 11 tournament titles in 15 years and one runner-up finish. This latest victory pushed their record in the tournament over the last 17 years to 39-5. They're on pace to deliver another title if Tuesday night is any indication.

It did not start out like another rout as the Lady Raiders fought a tough first quarter. They had Lindsey Pritchett and Rylee Haynes alternating on Anniston guard Allasha Dudley and denying her the ball. The two PV guards would switch in and out every two minutes. They allowed Dudley only two shots in the first half – a made 3-pointer and a missed put back.

The strategy worked for about a quarter, until Anniston began going inside. Kyia Jackson had eight second-quarter points and the Lady Dawgs scored 14 straight points to end the half with a 27-10 lead.

Their defense created 14 first-half turnovers. The Lady Raiders' defense created 10 turnovers itself in the first half, but things got away from them in the second quarter.

"Everybody comes at us with that box-and-one, but we have been able to beat it all year," Bullock said. "We are used to it and they had a solid team."

The Lady Bulldogs turned the press loose in the second quarter and ended up creating 22 PV turnovers for the game.

"I was not going to press tonight, but then when I saw we were not in rhythm, I pulled the press out," said Bullock.

Anniston came out on fire in the third quarter. It extended the scoring run to 27 straight points and opened a 40-10 lead.

Anniston 58, Pleasant Valley 21
PLEASANT VALLEY – Brooke Perry 1 0-0 2, Lindsey Pritchett 1 0-0 2, Rylee Haynes 0 2-4 2, Ava Boozer 0 0-0 0, Eva Bryant 0 0-0 0, Chandler Dorsett 1 0-0 2, Emma Hood 4 1-3 9, Karmyn Sparks 2 0-0 4. Totals 9 3-7 21.
ANNISTON – Allasha Dudley 4 2-4 13, Measia Kelley 1 0-0 2, Anna Garrett 2 0-0 4, Jordyn Johnson 0 0-0 0, Airrianna Colley 2 0-0 4, Tekyia Jackson 2 6-8 10, Kiana Montgomery 4 0-2 8, Asia Barclay 2 0-0 4, Toniah Foster 5 3-7 13. Totals 22 11-20 58.
Pleasant Valley 8 2 5 6 – 21
Anniston 11 16 19 12 – 58
3-point goals: Anniston 3 (Dudley 3). Total fouls: Pleasant Valley 16, Anniston 14. Officials: Wood, Larkins, Williams.