Pressure packed
Boys bracket: Piedmont prevails in OT for 11th straight win; Oxford pulls away from Alexandria in fourth quarter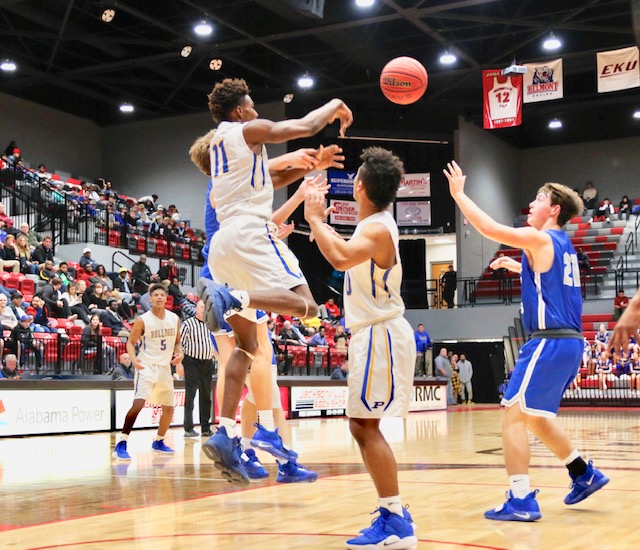 CALHOUN COUNTY TOURNAMENT
At Jacksonville State
Boys Bracket
Tuesday's games
Piedmont 61, White Plains 57 (OT)
Oxford 62, Alexandria 52
Thursday's games
Weaver vs. Anniston, 4 p.m.
Jacksonville vs. Sacred Heart, 7 p.m.
Friday's games
Piedmont vs. Oxford, 5:30 p.m.
Weaver-Anniston winner vs. Jacksonville-Sacred Heart winner, 8:30 p.m.
Saturday's game
Boys championship, 8 p.m.

By Al Muskewitz
East Alabama Sports Today
 
JACKSONVILLE – The Piedmont Bulldogs don't own the county's longest winning streak by backing away from a challenge. Or not finding ways to win close games.

The Bulldogs winning streak, mettle and life in the Calhoun County Tournament were all put to the test Tuesday night, but in the end they outlasted fifth-seeded White Plains 61-57 in overtime.

It was their 11th straight win, extending their best-ever start 63 years ago by two games. They have not lost in the New Year. Oxford, their semifinal opponent, had a 10-game winning streak earlier this season.

It's the second time this season the teams have gone to overtime – Piedmont won the earlier meeting by 1 – so the Bulldogs (17-2) have seen the way this movie ended before.

They've won five games by five points or fewer, three by three points or less. The winning streak started in a tight game, a 52-50 win over Jacksonville.

All eight Bulldogs who played in the game scored.

Kaedon Jenkins, just back from a weekend football visit to Ivy League Brown, had the Bulldogs' back early as White Plains challenged Piedmont with a zone. He was 8-for-10 from the floor and finished with 19 points, hitting his career high for the second game in a row, topping the 18 he had against Saks on Jan. 17.
 
"I was getting good looks, my teammates were setting me up and I was just able to knock down shots," Jenkins said. "I've just been trying to play to the best of my ability and fortunately was able to have a good game."

Carl Myers had a chance to win it for the Bulldogs at the end of regulation, but couldn't get the shot to go, but he got them going in overtime and finished with 12 points – all in the second half. T.J. Fairs was his usual calming influence despite early foul trouble and he made several important free throws in the fourth quarter in overtime.

"This was a great team win," Myers said.

"I believe at the end we realized that it's not about who's scoring the most points, we just came in as a team and was hoping we could get the ball in the basket and keep playing defense," Fairs said.
 
The Bulldogs will play top-seeded Oxford in Friday's 5:30 p.m. semifinals.

It was anybody's game at the end of regulation. Simeon Shadrix made all three free throws after getting fouled on a 3-ball with 37.3 seconds left to tie it at 53.
 
Piedmont ran the clock down inside 10 seconds and called time. Myers took the shot to win, but it missed the mark with 2.6 seconds left. But with players scrambling around for the rebound White Plains didn't have enough time to get any kind of shot before the buzzer.

"After Carl had taken that last shot at that moment we were like it's another five minutes to go after it and go harder," Fairs said. "We came off the bench and all had our mindset was we were going to win that game no matter what we had to go through."

Myers got the Bulldogs started in overtime with the first basket, then stole White Plains' first possession and was fouled driving to the basket. He made both shots to put Piedmont up 54-50.

White Plains got within one after that twice, the last when Quin Wilson hit two free throws with 15.2 seconds left. Alex Odam answered with two free throws with 12.4 seconds left to extend the lead. Shadrix missed a 3 for the tie from the deep right corner with five seconds left, Delo Foster was fouled on the rebound and made the second of two free throws with 4.8 seconds left to clinch it.

Baker led White Plains with 15 points. He had 11 in the fourth quarter and overtime. Shadrix had 13. Coleman Messer started the game the way he played in Monday's tournament opener, scoring six in the first quarter, but finished with eight.
 
Later in the day the Wildcats learned Cherokee County defeated Hokes Bluff 49-31, meaning White Plains has to defeat Hokes Bluff next week to force a three-way tie for first place in their area.
 
Piedmont 61, White Plains 57 (OT)
WHITE PLAINS – Coleman Messer 4 0-1 8, Quin Wilson 1 2-3 4, Jaden Chatman 2 1-2 5, Simeon Shadrix 4 3-3 13, Brody Baker 6 1-2 15, Matthew Clay 3 0-0 6, Kahlil Williams 0 0-0 0, Gavin Burrage 2 1-2 6, Totals 16 8-13 57.
PIEDMONT – Carl Myers 5 2-2 12, Kaedon Jenkins 8 2-5 19, Delo Foster 1 3-6 5, Silas Thompson 3 0-0 7, T.J. Fairs 0 5-10 5, Malachi Jackson 1 0-0 2, Jakari Foster 1 0-0 2. Totals 20 19-30 61.
White Plains     12         9          15         14          7          –          57
Piedmont           4          21         14         11         11         –          61
3-point goals: White Plains 5 (Shadrix 2, Baker 2, Burrage); Piedmont 2 (Jenkins, Thompson). Fouled out: Chatman. Total fouls: White Plains 23, Piedmont 17.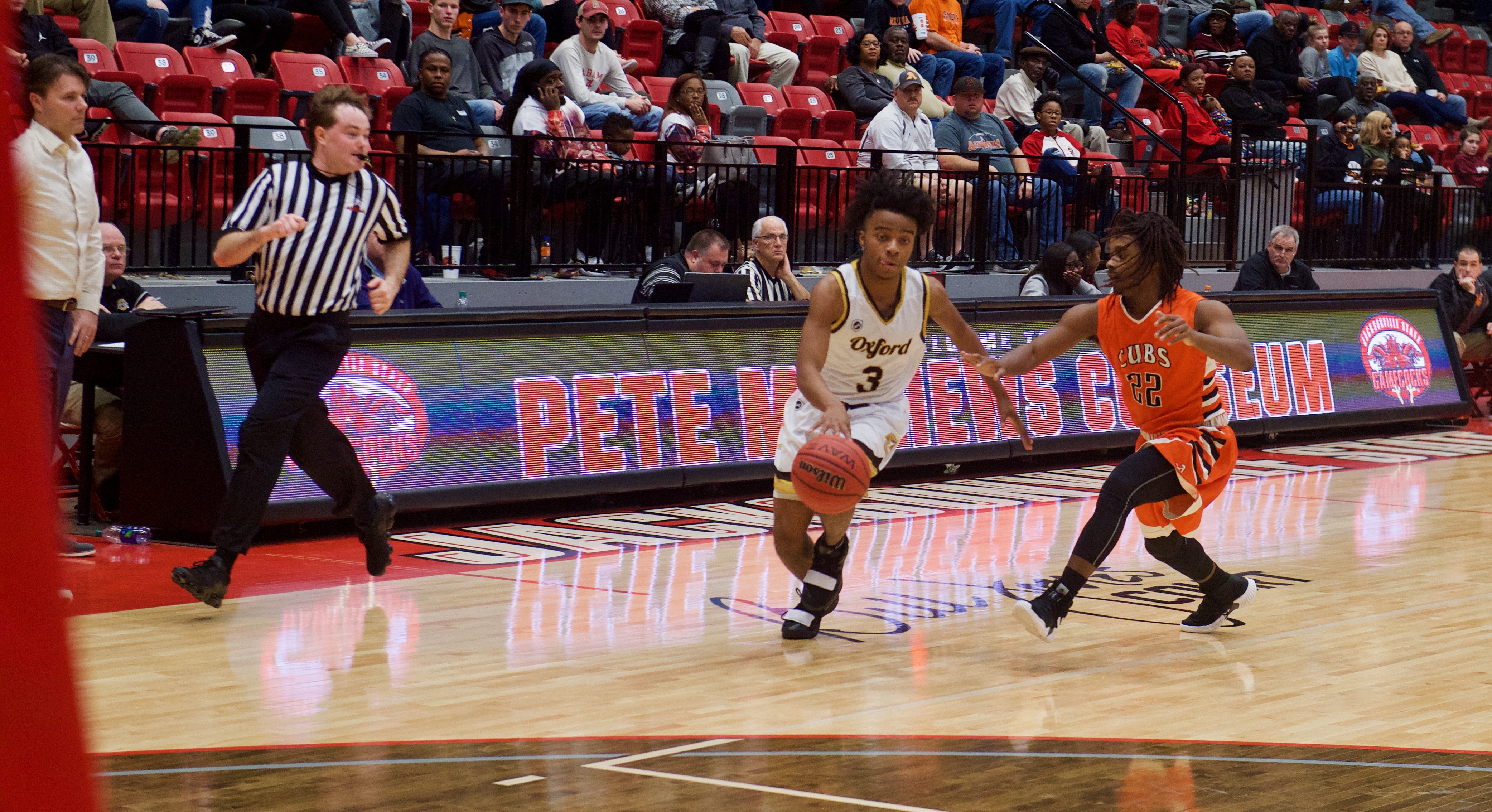 Mont finds the range
JACKSONVILLE — Mont McClendon's shot wasn't falling the way it usually does early in the game, but he didn't get discouraged. As a shooter, he knows it will eventually come back around.

Oxford coach Joel VanMeter knows it, too, that's what he encouraged the guard to keep shooting.

McClendon's shot did come around – when the Yellow Jackets needed it most. He hit two 3-pointers and had a run-out layup all in the fourth quarter to separate a tight game and help the Jackets slide past Alexandria 62-52 in the final game of the night in Tuesday's card at the Calhoun County Tournament.

The top-seeded Yellow Jackets will now play fourth-seeded Piedmont in Friday's 5:30 p.m. semifinal.

"Coach Van told me to keep shooting the ball and I told him that I got him," McClendon said. "He said it was going to fall and eventually they fell."

McClendon had two buckets in the first half, but neither were 3s. While his shot may not have been falling early, he was doing so many other things to keep the Jackets in the game, which is what makes him so valuable to the team.

"The first to talk about with him is it's every game, it's every day with him," VanMeter said. "He's kind of a guy who always count on to do all the things. He's good at everything on the floor.

"Obviously, he's a good shooter. Early he was the best guy we had driving the ball, he was aggressive. And he was good defensively. I call him Mr. Versatility; he can do a little bit of everything. His play no question was uplifting and he was the guy that regardless when it was or what the score was his comments were always the right things."

The Valley Cubs may have been the eighth seed, but they didn't play like it and gave the Jackets everything they could handle for three quarters. It even looked like they were destined to pull an upset when Joe Tucker and Adam Young both got circus-like shots at the basket to fall mere minutes apart in the second quarter.

The Jackets, who might have been looking to deliver a knockout punch right away, trailed 27-21 at halftime and were only up 41-39 lead going into the fourth quarter. They scored as many points in the fourth as they did the entire first half (21).

"I told them we were going to come out and attack and we attacked them very well," McClendon said. "That's not what was happening (early). We were sluggish and we picked it up in the fourth quarter."

McClendon's first 3 pushed the lead to 46-39. His second 3 extended it to 51-41 and his layup made it 56-43.

McClendon finished with 15 points, one of four Oxford scorers in double figures. Zondrick Garrett had 16, including a pair of impressive but inconsequential dunks after the game was decided. Eugene Leonard had 11 and Rock Taylor had 12.

Alexandria post Landan Williams led all scorers with 23 points in the anticipated matchup with Garrett.

Oxford 62, Alexandria 52
ALEXANDRIA – Adam Young 2 0-0 4, Julian Wright 1 1-2 3, Joe Tucker 5 4-7 16, Romeo Dye 1 0-0 2, Jared Ponder 1 0-0 2, Jalen Borders 1 0-0 2, Landan Williams 8 5-5 23. Totals 19 10-14
OXFORD – Rylan Houck 0 0-0 0, Zondrick Garrett 6 3-4 16, Eugene Leonard 4 3-5 11, Mont McClendon 5 3-3 15, Kobe Warren 1 4-4 6, Roc Taylor 6 0-0 12, Justin Moore 1 0-0 2, Trafton Houck 0 0-0 0. Totals 23 13-16 62.
Alexandria 11 16 12 13 – 52
Oxford 7 14 20 21 – 62
3-point goals: Alexandria 2 (Tucker 2); Oxford 3 (Garrett, McClendon 2). Total fouls: Alexandria 12, Oxford 14. Officials: Larkins, Wood, Williams.