Oxford, PV girls on track
Yellow Jackets, Pleasant Valley girls win Calhoun County track titles; 3 meet records fall
By Al Muskewitz
East Alabama Sports Today
OXFORD – Some day real soon they might start having to erect stop signs in the hallways at Oxford High School because the fastest man and woman in the Calhoun County go to school there.
Senior Que Ford and freshman Shania Vincent earned the distinction of fastest of their gender in the county after both won their respective 100 and 200 meter dashes in the Calhoun County Track & Field Championships at Choccolocco Park.
Ford won the boys 100 in 11.07 and the 200 in 22.73. Vincent, competing in her first County Meet, won the girls 100 in 12.73 and the girls 200 in 26.36.
The Yellow Jackets won the boys title with 152.5 points, 60 ahead of Anniston. Weaver was third (86.5).
Pleasant Valley won the girls title for the first time since 2004, scoring 161 points, well ahead of runner-up Oxford (111) and third-place Anniston (84).
Three meet records fell in girls field events: Pleasant Valley's Rachel Faucett in the high jump (5-6), White Plains' Savannah Yates in the pole vault (9-6) and Oxford's Haley Dempsey in the javelin — on her first throw ever in competition (110-6).
Pleasant Valley's Matisse Miller and Faucett both won three individual events. Miller won the boys 800, 1600 and 3200. Faucett won the girls 400, long jump and high jump.
Other multiple individual winners included Pleasant Valley's Trinity Roberts (girls 1600 and 3200) and White Plains' Ryleigh Randall (girls 110 hurdles and 300 hurdles).
Among the other highlights were PV's boys 4×400 posting a 3A-best 3:36, White Plains' boys 4×800 posting 4A's third-best time (8:40.11), Jacksonville's Aniyah Robinson winning the girls shot with the best put in 4A (36-6.5) and Oxford's Haley Dempsey winning the girls javelin with her first-ever throw in the event at 110-6.
East Alabama Sports Today premium subscribers will have access to an updated version of this story later.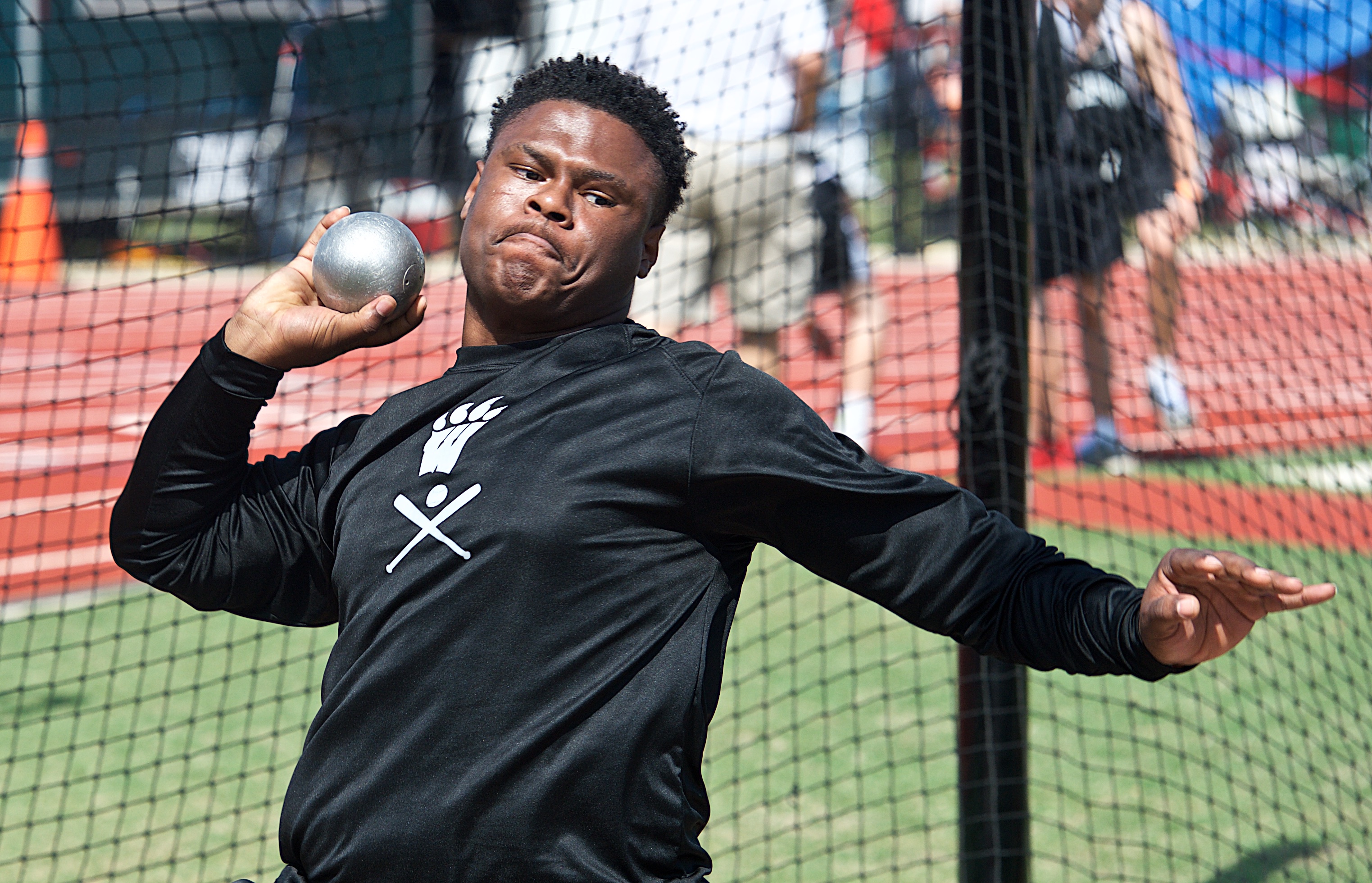 To see a gallery of B.J. Franklin photos from the meet, go to www.bjfranklin.smugmug.com
CALHOUN COUNTY T&F CHAMPIONSHIPS
BOYS MEET
Team scores: Oxford 152.5, Anniston 92.5, Weaver 86.5, Pleasant Valley 79, White Plains 72, Ohatchee 67, Jacksonville 53, Piedmont 50.5, Alexandria 24.5, Saks 18.5, Donoho 3.
Event winners
4×800: White Plains 8:40.11
1600: Matisse Miller, Pleasant Valley 4:47.17
4×100: Oxford 43.01
110 hurdles: Trevon Sanders, Oxford 15.91
800: Matisse Miller, Pleasant Valley 2:07.25
100: Que Ford, Oxford 11.07
400: Torrian Sizemore, Anniston 51.80
300 hurdles: Hunter Rouse, Anniston 43.59
200: Que Ford, Oxford 22.73
3200: Matisse Miller, Pleasant Valley 10:48.48
4×400: Pleasant Valley 3:36.85
Discus: Austin Snelling, Ohatchee 121-1.5
Long jump: Dave Russell, Oxford 20-6
Triple jump: Henry Pyles, Oxford 41-4.75
Shot put: Brandon Boyce, Weaver 43-10.5
High jump: Robert Gaines, Weaver 6-0
Pole vault: Matthew Moore, White Plains 12-0
Javelin: Chase Widgeon, Ohatchee 144-7
GIRLS MEET
Team scores: Pleasant Valley 161, Oxford 111, Anniston 84, White Plains 75.75, Jacksonville 59, Piedmont 53, Alexandria 49.75, Ohatchee 46.5, Saks 46, Wellborn 14, Donoho 1.
Event winners
4×800: Pleasant Valley 10:41.6
1600: Trinity Roberts, Pleasant Valley 5:39.64
4×100: Anniston 51.64
110 hurdles: Ryleigh Randall, White Plains 17.80
800: Ladajah Williams, Anniston, 2:32.49
100: Shania Vincent, Oxford 12.73
400: Rachel Faucett, Pleasant Valley 1:00.50
300 hurdles: Ryleigh Randall 51.63
200: Shania Vincent, Oxford 26.36
3200: Trinity Roberts, Pleasant Valley 12:55.75
4×400: Oxford 4:25.07
Discus: Kalee Johnson, Alexandria 91-1.5
Long jump: Rachel Faucett, Pleasant Valley 16-3.5
Triple jump: Alex Gomez, Oxford 31-2.75
Shot put: Aniyah Robinson, Jacksonville 36-6.5
High jump: Rachel Faucett, Pleasant Valley 5-6 (meet record, old record 5-2, Keara Scott, Weaver 2014)
Pole vault: Savannah Yates, White Plains 9-6 (meet record, old record 9-1, Macy Hanson, Piedmont 2016)
Javelin: Haley Dempsey, Oxford 110-6 (meet record; old record 106-7, Laneshia Anderson, Ohatchee 2007)