Wigington, Fite tie SKCC scramble record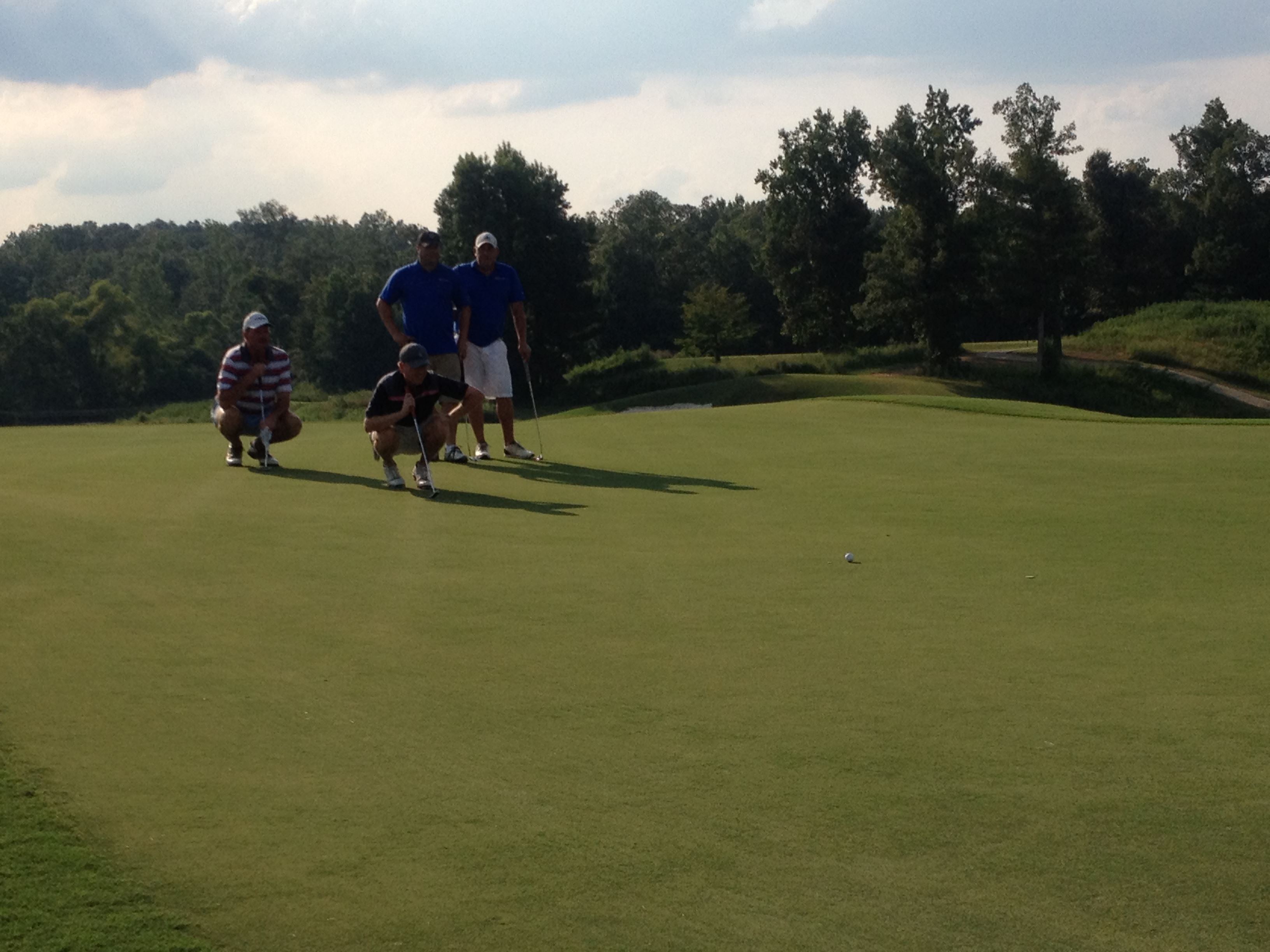 By Al Muskewitz
East Alabama Sports Today
SILVER LAKES — Any worries about Gary Wigington and Freeman Fite working well together as a new Sunny King Charity Classic team lasted all of about one day.
All the new teammates did Friday on the first day of the 36th annual Classic was tie the tournament scramble record with an 18-under-par 54 at Silver Lakes. Ironically paired with the team that set the mark here a year ago – Kenny Wright and Adrian Geeting – they shot 27 on each nine.
The fast start gave them a two-shot lead over Lance Evans and Ryan Howard and Gadsden natives Blake and Scott Smith. Two other teams are another shot back at 57. Defending champions Garrett Burgess and Cypress Hathorn are among three teams at 58.
Fast starts in the King – and vise-like closings — are nothing new to Wigington. He won five Classic titles with Randy Reaves between 2000 and 2012, but Reaves, a six-time individual winner of the event, told his good friend at the end of last year's tournament he wasn't going to play anymore in order to give his long-time partner a better opportunity to win more.
Wigington considered at least two other partners before joining forces with Fite, a six-time Anniston CC Invitational winner, a few months ago.
They played together for the first time in a practice round here Thursday. They looked unbeatable together here Friday.
"It worked out great," Wigington said. "Fortunately we got to play together yesterday … and that helped a lot.
"He was down the middle on every hole, on the greens and putted good. I'm just back there with no worries swinging at every one. He kind of leaves me back there to free-wheel and that's a nice position to be in."
Their round featured seven birdies, one eagle and one par on each side. The only holes they parred were Heartbreaker No. 3 and Mindbreaker No. 8. They played the 13 holes between the pars in 15 under.
Both eagles came in that 13-hole blitz. On Heartbreaker No. 7, they used Fite's drive, Wigington's 5-iron from 200 yards to 15 feet and Fite made the putt. On Mindbreaker No. 1, they used Fite's drive, Wigington's 7-iron from 175 yards to seven feet and Wigington made the putt.
It was after the second eagle Fite knew the team was ahead of the hole pace to tie the record, but he said he never really thought about it again until they came to 17 with a chance to tie.
"I figured we'd have a chance to shoot a good number just because we both have kind of all-around type games," he said. "We rolled the ball well. He hit his irons really well. I hit the driver for the most part pretty well.
"When you've got two pretty good players with two licks at every shot … you've got a lot of confidence one of you is going to hit the shot. There were (a few times) we really, really misread some putts, but luckily we were hitting them well, so he was seeing exactly what it would do. The only one we missed was the one on 17."
That was a five-foot downhill putt on Mindbreaker 8 in their first shot at tying the record. Both players missed their initial attempt and Wigington burned his final mulligan on the re-try. They picked up the record-tying stroke on the next hole when Freeman made a 10-foot slider.
"It's very hard to say you're disappointed, but you hate to miss it on a five-footer with a mulligan," Wigington said. "But we really played spotless up to then."
As Wigington and Fite were approaching the record, their playing partners kept reminding them how close they were coming to the mark.
"If somebody else is going to shoot 18 with us, these are the guys to do it," Wright said. "We played out of our minds last year. These guys played great. They're just solid. They didn't miss a beat, really. It was cool we got to witness the round that tied us."
Until the leaders' 18 went on the board, the teams of Chad Reavis-Chad Calvert and Chris Weaver-Seth Bryan were setting the pace at 15-under 57.
Howard and Evans were on a pace to tie the record, getting to 15-under through 15 holes, but made only one more birdie coming home – a 15-footer by Howard on their final hole.
Still, it bettered their expectations of a 14-under start. They eagled the opening holes of each side and either birdied or eagled 11 of the first 12 holes.
"We met our expectations," Howard said. "Obviously we're a little bummed (at the finish), but if they told us we'd shoot that score before we started we'd have been happy."
The Smiths may be another new team to the Sunny King Classic, but they're no mystery to the players who know them best. Blake, who doesn't play but maybe three times a year these days, won the Gadsden Invitational at 14. Scott, 52, has won the Etowah County Open close to 10 times.
On Friday, they made eagles on the opening hole of each nine and had 12 birdies. They played each side in 28.
"What surprises me is they don't see these courses," said Randy Lipscomb, an Etowah County player familiar with both players' games. "Blake said he's played Cider Ridge once and Anniston once. I don't know how many times they've seen Silver Lakes, but it isn't much, and they come out here and play like they do. But once you see their golf swings, it won't surprise you. They're just solid."
Al Muskewitz is Content Editor/Senior Writer of East Alabama Sports Today. He can be reached at musky@wrightmediacorp.com
CLASSIC LEADERBOARD
Fite-Wigington 54 (-18)
Evans-Howard 56 (-16)
Smith-Smith 56 (-16)
Weaver-Bryan 57 (-15)
Calvert-Reavis 57 (-15)
Ellison-Shields 58 (-14)
Hathorn-Burgess 58 (-14)
Black-Bain 58 (-14)
Geeting Wright 59 (-13)
Leblanc-Hughes 59 (-13)
Clay-McGatha 59 (-13)
Full scores are available at www.kingclassic.com
LEADERS SCORECARDS
SILVER LAKES 534 354 444 36 544 434 534 36 – 72
x-Fite-Wigington 323 243 343 27 434 323 323 27 – 54
x-Evans-Howard 323 343 443 29 333 333 423 27 – 56
Smith-Smith 334 243 333 28 333 423 433 28 – 56
Weaver-Bryan 424 243 343 29 333 423 433 28 – 57
x-Calvert-Reavis 434 343 333 30 334 323 333 27 – 57
x-Ellison-Shields 324 343 343 29 433 323 434 29 – 58
x-Hathorn-Burgess 424 343 343 30 434 323 423 28 – 58
Black-Bain 434 343 333 30 433 323 334 28 – 58
x-Started on 10 (HB)