Downey caps 'magical' round with hole-out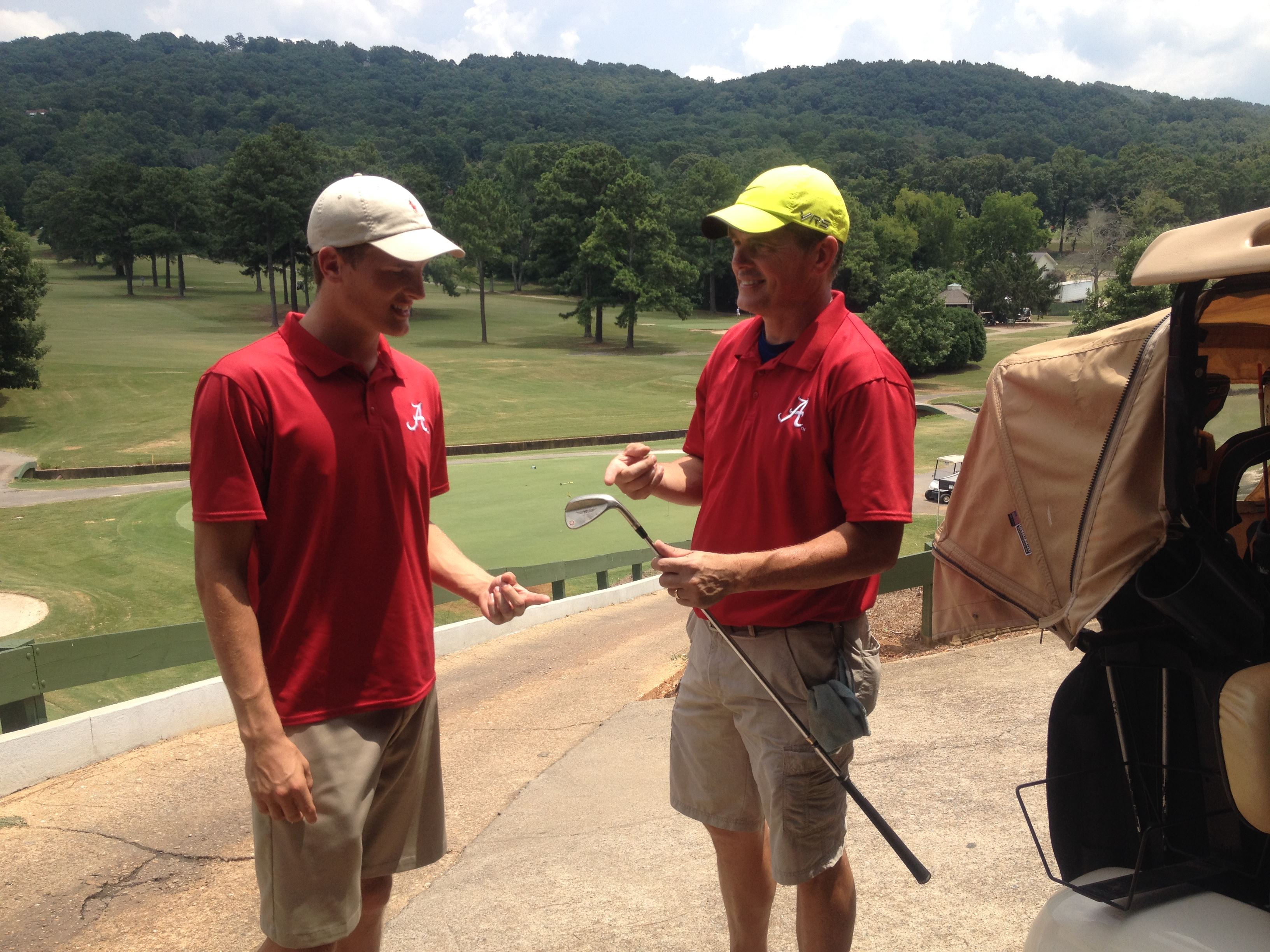 By Al Muskewitz

East Alabama Sports Today
Aces and eagles may get all the attention, but never did one birdie bring so much joy than it did to Michael and Haden Downey Friday.
Finishing up their best-ball round at Anniston Country Club, the father-and-son team let out a exuberant yell when dad Michael holed out for 3 on the 18th green with a sand wedge from 105 yards.
"The thing that was ironic was I pulled my tee shot left and opted to pitch out in the fairway and then holed out for birdie," Michael said. "We both just counted our first bogey of the day (one the par-5 17th). I don't think I'd have been as excited if it were for 2, because it came after that low point."
Amazingly, Haden, a 19-year-old University of Alabama sophomore, called for a shot three feet right of the hole. His father, a 49-year-old materials manager for CVG in Piedmont, hit it three feet right of the hole and it rolled into the cup.
The birdie gave their team a 6-under-par 64, which gave them a share of the overnight lead in the Honda Accord 2nd flight. Full scores can be found at www.kingclassic.com
The hole-out capped what Michael called "one of those magical days" that began with him sinking a 30-foot birdie putt with five feet of break on the first hole.
It was one of seven birdies he made on his own ball in a 4-under-par 66.
ACCEPTABLE START: Defending champions Garrett Burgess and Cypress Hathorn may have had what they considered "a relatively boring" opening round in the Sunny King Charity Classic, but they played well enough to stay within striking distance of the leaders.
Burgess and Hathorn shot a 14-under 58 that left them in a tie for sixth, four shots behind record-tying leaders Gary Wigington and Freeman Fite. They shot 16-under in last year's opening round — two shots behind another record-setting start — and wound up winning by five shots.
"We'd love to be two shots better, but we're in a position where we have a real good chance," Hathorn said. "We were not hot today. We didn't have our best day. It could've been better. We made no eagles. It was relatively boring. Nothing to remember."
The highlight of their round might have been the eight straight birdies they made between pars at Heartbreaker No. 3 and Mindbreaker No. 3.
"In the middle of the back nine we were thinking if we shoot 15-under it'll be a good round," Burgess said. "Shooting 14, I don't think by any mean we're disappointed; we could easily have shot 11 or 12 and been even more disappointed and really been out of it. It's going to matter what tomorrow brings. If we play good tomorrow, today will be an afterthought."
They do have a target in mind, and it all has to do with how much they can close on the leaders.
"I think we need to bring it back within two tomorrow to have a chance Sunday," Hathorn said. "If (Fite and Wigington) are still four or five shots ahead going into Sunday, it'll take a special day (to overtake them)."
BIG MONEY: Shane Lilly and Mike Sims will get chances to be millionaires Sunday, as both were drawn to hit shots for $1 million at the end of Sunday's round at Anniston Country Club.
Lilly was drawn to attempt the million-dollar putt on the 18th green and Sims was drawn for the million-dollar shot in the 18th fairway from 165 yards.
Randy Lipscomb is the third player in the contest. He was drawn for the $100,000 shot from 165 yards out on 18.
Al Muskewitz is Content Editor/Senior Writer of East Alabama Sports Today. He can be reached at musky@wrightmediacorp.com