SKCC gets Iorg back in swing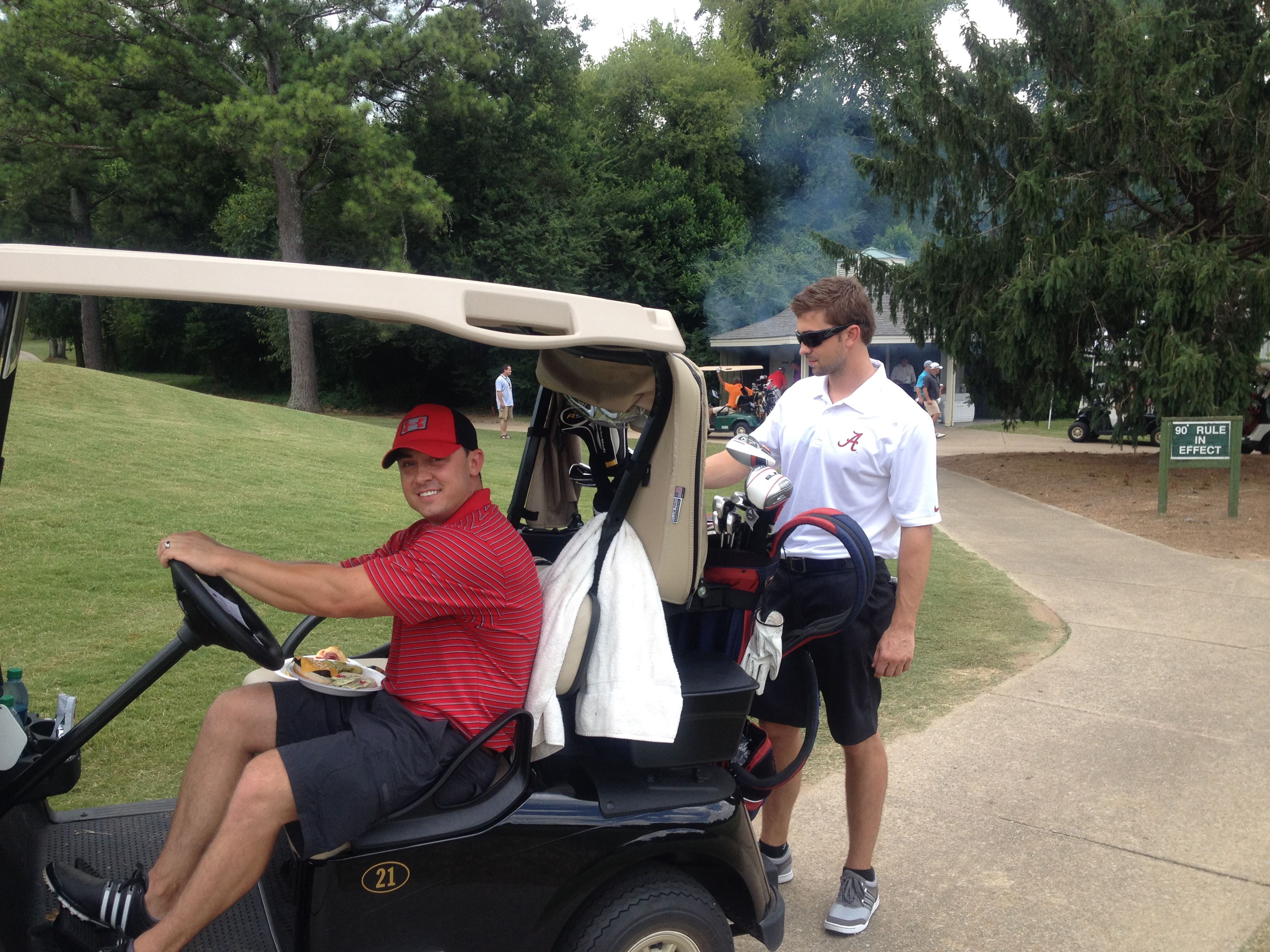 By Al Muskewitz
East Alabama Sports Today
When Cale Iorg stood over that testy 25-putt on the 15th green at Anniston Country Club Friday with his team needing something good to happen it had been about a year since he was last in a situation with something on the line.
He surveyed the situation with steely concentration, drew back his putter and slammed home the birdie to get under par.
Once a competitor, always a competitor.
It has been a little over a year since Iorg retired from professional baseball, simply having enough of the balky shoulder that put him on the DL at least three times in his career. His appearance in the Sunny King Charity Classic with brother-in-law Brent Edwards marked his first time back on a true competitive stage.
"There's been a little church basketball, something to get out there and get your motor going a little bit," Iorg said while packing up from a first-round 71 that his team near the bottom of the third flight standings. "But this is probably the first thing I've done competitive-competitive where someone's keeping score and you're playing against other guys for real.
"It feels really good to get out here and do something when it means something. It's almost like in baseball we say 'When the lights come on, it's time to go.' Well, now the lights are on, it's time to show up."
Until he retired last June, Iorg had been showing up on the field for as long as anyone can remember. Here's the Cliff's Notes version of the former shortstop's career:
Left Alabama after his freshman year to go on a mission trip to Portugal and got drafted by the Detroit Tigers while he was there.
Had a "good" first pro year, but not so good of one the next. He went on the DL in 2008, repeated Double A the next year and got called up to Triple-A at the end of that season. He went to the Fall League and got put on the 40-man roster.
In 2011 he went to Triple-A and was on the 40-man roster again. His shoulder flared in the first month, but was told to play through it. He had surgery in 2012, came back "way too soon" and had a dreadful season.
In 2013 he played for Team Canada in the World Baseball Classic, an experience he called "the funnest week I've ever had playing baseball in my life." When the season started he got caught in a trade with the Orioles that didn't go through, the Tigers released him and he wound up signing with the O's anyway.
Two weeks into that Double-A season in Bowie, Md., he went on the DL again for a torn rotator cuff and he had had enough.
"I called my wife and said I'm really done; I'm just tired of this," he said. "I was always the type when she would say 'Would you play to be a career minor-league guy,' I would say, 'Absolutely, I'll play until I can't play anymore,' so she was pretty shocked when I called her and said this is what happened and I'm miserable, so I'm coming home."
Now, he works as a loan officer for an Atlanta-based lender and is enjoying life as a suburban husband and father of two girls.
Earlier this year Edwards called to revive his own interest in playing in the Sunny King and it led them to this weekend.
For as long as baseball had been a part of his life, Iorg said he "absolutely" misses the sport "in its stripped-down manner," but there are other aspects of it he's glad are in his rear-view mirror. He said he has watched only one game this year — when the Brewers (where his dad is a coach) came to Atlanta – and he doesn't even talk about it when he and Edwards get together.
"I miss putting on the uniform, I miss the smell of my glove, I miss getting out there with your buddies and playing — I definitely miss the sport," he said. "However, when you put your name on a contract, it's no longer just a sport; I don't miss that one bit.
"I don't miss the minor leagues; anyone who's spent a day in the minor leagues knows that it's absolutely brutal. Then you throw family in the mix. You get to the point where you kind of don't love the game anymore – you don't love the business of the game. I miss the game very much, but I don't miss playing."
That doesn't mean he doesn't miss being competitive. Given the team's position in the standings, he'll have to be as competitive as ever for the team to make up ground.
"The girls are telling us to go have fun, and me and Brent are kind of the same in the sense the only fun you can have is winning – that's when it's fun," Iorg said. "I told you were coming out here trying to have fun, but at the same time our expectations are to freakin' win this bad boy."
Once a competitor …
Al Muskewitz is Content Editor/Senior Writer of East Alabama Sports Today. He can be reached at musky@wrightmediacorp.com