Matching history
Updated: November 18, 2023
For second time in school history, Jacksonville advances past second round of playoffs, earns quarterfinal shot against Catholic-Montgomery at home.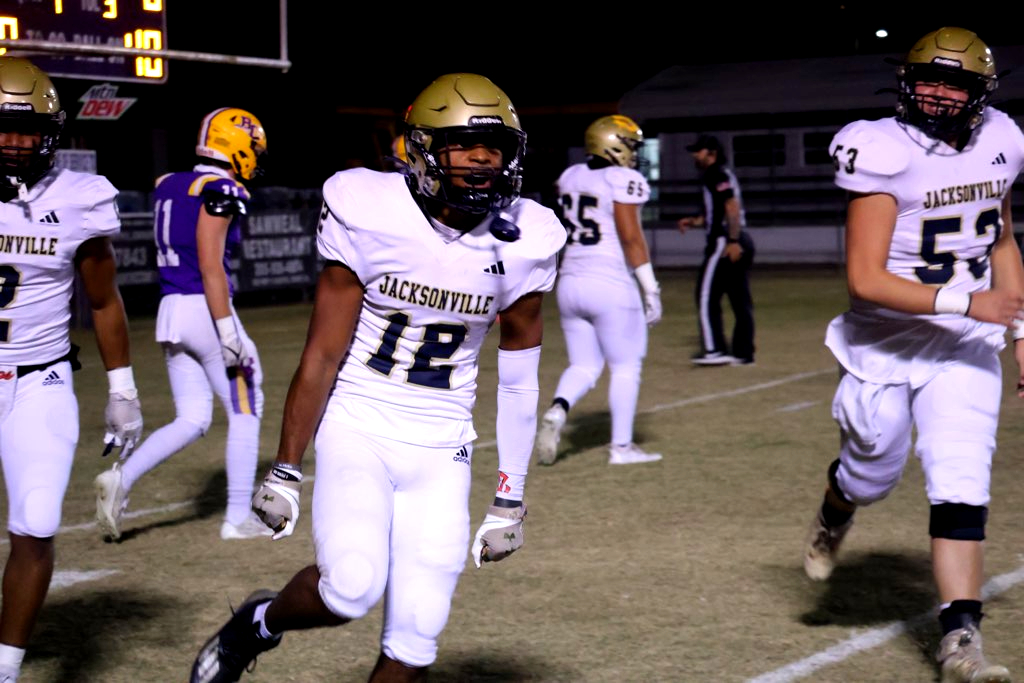 Football playoffs
FRIDAY, Nov. 17
CLASS 6A
A.H. Parker 21, Oxford 14, FINAL
CLASS 4A
Cherokee County 49, Haleyville 14, FINAL
Jacksonville 28, Bibb County 21, FINAL
Booker T. Washington 22, Handley 9, FINAL
CLASS 3A
St. James 41, Randolph County 6, FINAL
Lauderdale County 35, Piedmont 30, FINAL
CLASS 1A
Wadley 81, South Lamar 27, FINAL
Quarterfinal pairings
CLASS 4A
Cherokee County at West Morgan
Catholic-Montgomery at Jacksonville
CLASS 1A
Wadley at Pickens County
By East Alabama Sports Today
CENTREVILLE — Jim Ogle was an eighth-grader when Jacksonville's football program made history, advancing past the second round of the playoffs for the first time.
The senior and fourth-year starter as the Golden Eagles' quarterback added more history to his legacy Friday, helping them clear the second round for the second time.
Ogle's 21-yard touchdown pass to Ky'dric Fisher with 48 seconds left put Jacksonville up 28-21, and the Golden Eagles finished off Bibb County on the road Friday.
Jacksonville (10-2) earned a rematch with top-ranked Catholic-Montgomery, which beat the Golden Eagles 44-27 in the second round of the 2022 playoffs. Jacksonville will get Catholic (12-0 at home once again, this time in the quarterfinals.
"This group, we had a lot of doubt coming into the season, especially after losing a lot of guys up front and losing some guys on defense," Ogle said. "I think we needed that every day, starting in January, coming in to work.
"Even this week, everybody heard it. It's second round, second round, season's over. I think the people in our locker room and in our field house are the people who truly know what we have, and we came out and practice and came out here tonight to get the job done."
The last time Jacksonville advanced past the second round, they went on to play UMS Wright in the 2019 Class 4A state final in Auburn.
The AHSAA realigned Jacksonville from 4A North to 4A South after that season. To get to Tuscaloosa this year, the Golden Eagles must continue to navigate the toughest half of the 4A bracket.
Then again, Jacksonville wound up the last survivor from 4A, Region 4. This after Handley suffered a second-round upset at Booker T. Washington on Friday, 22-9. Anniston and Cleburne County, the other two Region 4 playoff qualifiers, lost in the first round.
Jacksonville also advances as the last team from Calhoun County still playing. Oxford lost 21-14 at Parker in Friday's 6A action, and Piedmont fell to undefeated Lauderdale County 35-30 at home.
"It's just a great night, getting into the quarterfinals for the second time in school history," Jacksonville coach Clint Smith said. "That's big, and this senior group has meant so much to us, an they've done such a great job."
Jacksonville's game at Bibb Count on Friday resembled the Golden Eagles' 35-28 victory there in the first round a year ago.
Ogle hit on 23 of 29 passes for 197 yards and four touchdowns. Besides his game-winning touchdown pass to Fisher, Olge connected on touchdown passes of 48 and 14 yards to Damonte Sinclair and 14 yards to Jackson Bonner.
Ogle's game-winner to Fisher came on a called run play. The Troy commit changed the play at the line of scrimmage, sending Fisher on a fade route to the corner of the end zone.
"We called a run to the left side of the field, and I looked over and had Ky'dric one on one," Ogle said. "The safety played a little too far inside, so I checked the protection and put one up, and my guy made a play."