Perfect day
Updated: November 18, 2023
Senior day full of sun, wind and football fun for two Jax State seniors who've seen a lot in seven years of college football.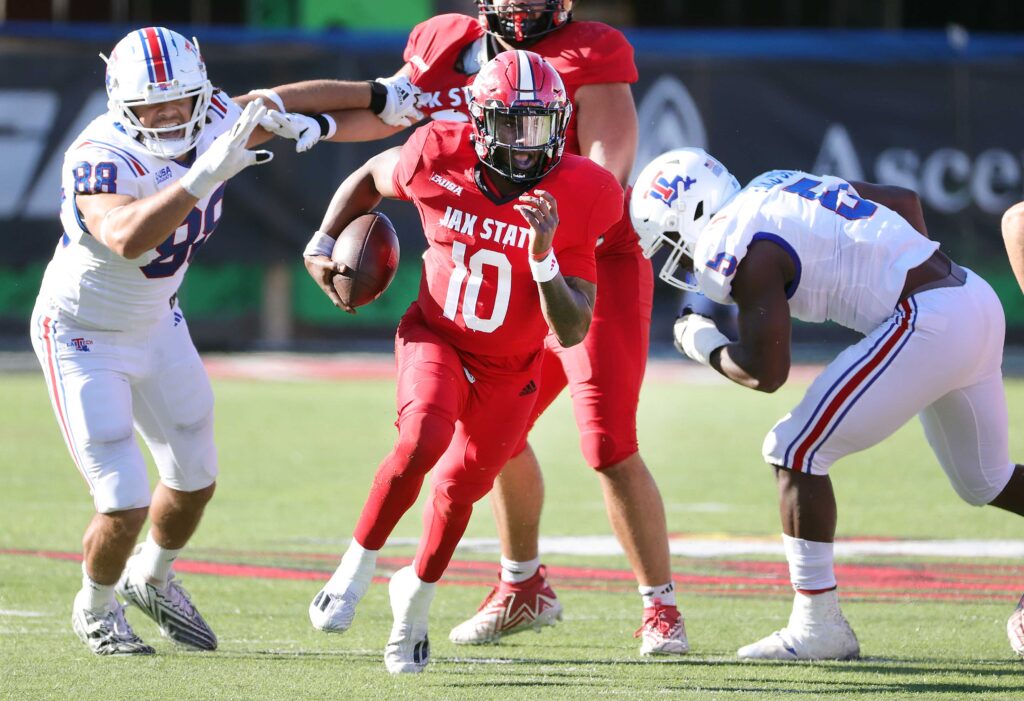 Editor's note: Here is a link for statistics from Jax State's 56-17 victory over Louisiana Tech. The following links are for postgame player interviews and Rich Rodriguez's postgame news conference.
JACKSONVLLE — Zion Webb and Jeremiah Harris played the last home game of their seven-year Jacksonville State careers on a mild, sunny November day.
A west wind tasked flags around Burgess-Snow Field, and construction on the Loring and Debbie White Football Complex showed notable progress in the month since Jax State's last home game.
The Gamecocks played their 11th game as an FBS program and scorched Sonny Cumbie's Louisiana Tech team for their eighth win in their first season of FBS football.
With every win, Jax State's bowl resume grows more attractive, should spots be available for a still-transitioning program.
No NCAA waiver to let Jax State play in the Conference USA championship game while technically still transitioning. The NCAA denied that prayer of an appeal this week, but win some, lose some.
Webb and Harris have two successful injury hardship waivers between them, so Saturday wasn't their first senior day.
As Webb ran all over Tech's porous run defense to help Jax State to a Conference USA record 522 rushing yards, all somehow seemed as right as this pleasant day before Thanksgiving week.
As Harris helped Jax State's defense come up with three fourth-down stops in the first half and hold Tech to one offensive touchdown, all somehow seemed just.
They were two of 11 Jax State seniors recognized on a day when the Gamecocks crushed a team that's been around FBS awhile, 56-17, but Webb and Harris have more stories to tell than the other nine combined.
More Jax State stories, that is, because they've lived a one-school journey.
Rewind to 2017, Webb's redshirt season and Harris' first walk-on season. John Grass led a coaching staff that included David Blackwell, Nick Gentry, William Green, Brandon Hall, Owen Kilgore, Cleo Lemon, Jim Ogle, Kevin Revis, J.R. Sandlin and Cody Wells.
Jax State was two years removed from a run to the Football Championship Subdivision championship game and four years short of Grass' in-season ouster.
Jax State assistant coaches privately beamed about Webb's potential to get the Gamecocks over the top … in FCS, that is. It seemed a natural progression after Bryant Horn led the artist formerly branded as JSU to the seventh of its nine Ohio Valley Conference titles.
No one around Jax State had yet heard of Zerrick Cooper, the guy who transferred in from Clemson before the 2018 season and transformed Webb's career trajectory.
Webb found himself waiting his turn again while Cooper rewrote Jax State passing records amid so-so team results. All of those yards and touchdown passes amounted to one OVC title and one playoff win.
Looking back, it's tempting to wonder how Jax State's last FCS years would've gone, had the quarterback most suited for Grass' offense followed a natural career progression.
A 2020 injury to Cooper allowed Webb to quarterback Jax State's last OVC title, in the COVID spring season of 2021. Jax State looked on path to beat Delaware in a second-round FCS playoff game, but a non-contact knee injury sidelined Webb.
He came back in time to quarterback Jax State's mythical ASUN title in 2022, Jax State's first FBS transition season.
As a seventh-year senior, Webb has quarterbacked Jax State into position for an unofficial second-place CUSA finish with bowl prospects.
Like Harris, Webb has done it under head coaches named Grass and Rich Rodriguez and an interim head coach, Max Thurmond.
Speaking of Harris, it's been four years since Grass rewarded him with a scholarship. As Harris met his family on the field during Saturday's pregame ceremony for seniors, one couldn't help wondering what Harris' dad has done with the lawn mower he used to help fund his son's first two years at Jax State.
From Jeremiah Harris' interception to save Jax State's 14-12 victory over Murray State in 2019 to his interception to save a 17-14 victory over UTEP in Jax's State first game as an FBS program, he has done plenty on turf to reward Melvin Harris' efforts on grass.
Imagine the thoughts and emotions that must have occurred, as they stood on Burgess-Snow Field on Saturday.
It all went into the mix of a perfect day for two multi-era Jax State seniors.
So much of their experience has gone with the wind that whipped Burgess-Snow Field flags Saturday, and they'll soon leave an FBS program with wind at its back.
"This was my best senior day ever," Webb said with a grin. "That's how I feel about it."
Game updates
A chronological look at significant happenings during Jax State's 56-17 victory over Louisiana Tech on Saturday.
–Kickoff 1 p.m.
–Louisiana Tech wins toss, defers to second half. Jax State to receive opening kickoff.
FIRST QUARTER
–Jax State defense forces 3-out. After a punt, Gamecocks to start at their 30-yard line. … Malik Jackson breaks a 68-yard run to set up his 2-yard TD run. Alen Karajic PAT good at 12:44. JAX STATE 7, LA. TECH 0
–Three La. Tech possessions, three 3-outs.
–Jax State's Kekoura Tarnue blocks a La. Tech punt, chases the ball, scoops and scores … 21 yards. Jax State came close to blocking Tech's first two punts. Karajic's PAT is good at 8:44. JAX STATE 14, LA. TECH 0
–Jax State defense forces fourth and one, and Gamecocks call a timeout at 7:02. … Tech tries to draw JSU offsides then goes for it. Gamecocks stop it, take over at Tech's 44. … Jax State goes for it on fourth and five, and Zion Webb runs a QB draw to the Tech 12. … One play later, Jackson blows through a hole for 12-yard TD run. Karajic kick good at 5:59. JAX STATE 21, LA. TECH 0
–BREAKING: Tech gets a first down.
–Hank Bachmeier throws deep, 31 yards to Cyrus Allen for a Tech TD. Jacob Barnes' PAT is good at 4:30. JAX STATE 21, LA. TECH 7
SECOND QUARTER
–On fourth down and four at Jax State's 19, Bachmeier throws incomplete over the middle. Ball tipped at the line of scrimmage. Jax State's second fourth-down stop of the game.
–Webb hooks up with Sean Brown for a big play to the La. Tech 18 … 63 yards. Lead pass in deep seam, and Brown reels it in and keeps running. Sets up Ron Wiggins' 13-yard TD run. Karajic's kick is good at 10:41. JAX STATE 28, LA. TECH 7
–Zion Webb keeps on a zone read, breaks the hole and finds nothing but turf. He goes 34 yards for the TD, and Karajic's PAT is good at 7:32. JAX STATE 35, LA. TECH 7
–Jax State with its third fourth-down stop of the game, at the Gamecocks' 37 with 4:28 left in the half.
–Too easy … Webb keeps again, 8 yards and a TD. Karajic kick is good. JAX STATE 42, LA. TECH 7
–Jax State has 398 total yards, 318 rushing.
–Barnes' 33-yard field goal attempt is good as the half ends. JAX STATE 42, LA. TECH 10
HALFTIME
–Notes: Jax State has 398 total yards at halftime, breaking the school record of 360 set against Stephen F. Austin last season.
THIRD QUARTER
–Tech returns the blocked-punt favor. Joshua Cobbs blocks Jack Dawson's punt, and Michael Richard scoops and scores to trim Jax State's lead at 14:21. JAX STATE 42, LA. TECH 17
–La. Tech recovers at the Jax State 35 after a bad snap, but Jax State's Zechariah Poyser intercepts a Bachmeier pass.
–Webb with another senior-day moment, rushing 29 yards for a Jax State touchdown. Karajic does his thing at 8:40. JAX STATE 49, LA. TECH 17.
–Too easy, again … Anwar Lewis up the middle for a 9-yard TD run. Karajic and stuff at 5:53. JAX STATE 56, LA. TECH 17
–For those wondering, Jax State has 440 rushing yards with 20 minutes of football still to play.
FOURTH QUARTER