'Keep my coaches'
Updated: November 18, 2023
With Rich Rodriguez's stock once again rising on the coaching market, he hints at a key to his continued happiness at Jax State. Also pans NCAA after transition waiver denial.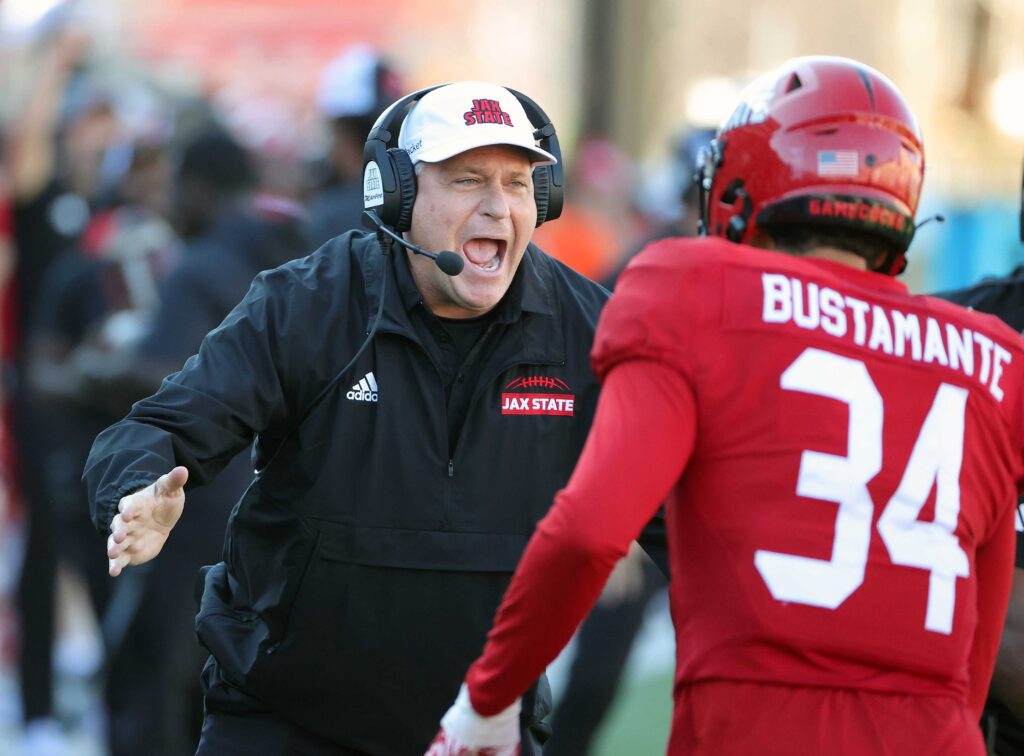 By Joe Medley
East Alabama Sports Today
JACKSONVILLE — With Jacksonville State making FBS transition look more like a continuation of FCS successes, second-year head coach Rich Rodriguez on Saturday addressed increasing chatter about him as a growing commodity on the coaching market.
Rodriguez called Jax State "a great place" and the Jax State job "a great situation" then hinted at the one thing that will always factor big in his thinking.
"I've got a great staff, too," he said after the Gamecocks' 56-17 rout of Louisiana Tech. "I'm biased. I don't think there's a better 'Group of Five' staff in the country, so I want to keep them.
"That's a plea, right there, to the school. Make sure I keep my coaches."
Rodriguez has shepherded Jax State's transition from FCS to FBS. The Gamecocks went 9-2, claiming an ASUN Conference championship, in 2022, and they're 8-3 in their first season as an FBS program and Conference USA member.
Jax State has enough wins to be eligible for its first-ever FBS bowl, with a catch. The program remains in transition and can be selected for a bowl only if there are not enough eligible teams available to fill 82 spots in 41 bowls.
Jax State's success under Rodriguez follows a 5-6 finish in 2021, the program's last year of eligibility for the FCS playoffs.
Rodriguez said he's "a hundred percent dialed in to what we're doing."
As for talk in the media sphere, including mention's by friend and punter-turned-personality Pat McAfee, Rodriguez shrugged it off as part of the territory.
"If somebody's mentioning you for a job in a good way, that's a good thing, right?" Rodriguez said. "It means your program is doing OK. You don't want to be on the other way. I've been on the other way before."
As for Jax State's postseason possibilities in a transition period, Rodriguez panned the NCAA. This comes days after the NCAA Division I Board Administration Committee denied waiver appeals by transitioning programs James Madison, Jax State and Tarleton State (FCS) for full postseason eligibility.
For JMU and Jax State, full eligibility would include eligibility to play in conference championship games.
"The NCAA doesn't have a lot of common sense at times," Rodriguez said. "They don't have common-sense legislation in this case, and this case is common-sense legislation.
"If you're doing all of the things you're supposed to do, especially in the second year of transition, like us and James Madison, you should be automatically eligible for a bowl game. If we get enough wins, we should be eligible to play in the conference championship."
Rodriguez said he's "hopeful" that not enough fully eligible teams will reach the bowl-qualifying standard of six wins.
"I think our seniors and our guys deserve it," he said. "We want to finish strong and, at least, have the record that finishes second, I guess, in the league, if we can win next week."
Jax State plays at New Mexico State on Nov. 25.