Emphasize 'Game'
Updated: November 4, 2023
With Jax State's Gamecocks driving for the go-ahead score late, pick-6 spares South Carolina's Gamecocks a wakeup call.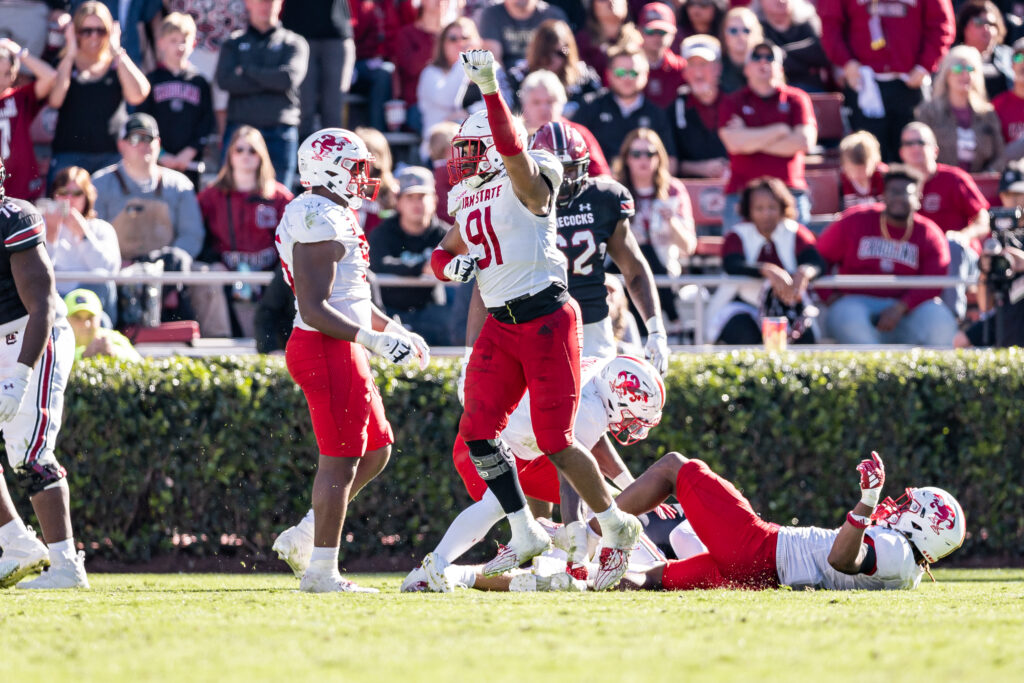 Editor's note: Here is a link for statistics from Jax State's game at South Carolina.
Odds said South Carolina's Gamecocks were 15.5 points better than Jax State's Gamecocks. The scoreboard said 10 better, 38-28.
Reality said Jax State sat 17 yards from the go-ahead score with two minutes to play in this 'Cock fight.
Reality never saw a time when the second team in Conference USA's standings, playing its first Football Bowl Subdivision season, looked inferior to a lower-half SEC team on its field.
Jax State crowed Saturday and reduced Williams-Brice Stadium to boos then sighs of relief.
That contrail we see in the sky is Rich Rodriguez's stock, shooting from airplane to space shuttle trajectory while friend Shane Beamer eyes the populism worm's turns in the increasingly cranky state of South Carolina next week.
Jax State's Gamecocks did that, because home fans' eyes — let alone the eyes of ESPNU's viewing audience — didn't see a 10-point game.
They saw a game competitive game, from start to finish.
They saw Jax State's Zion Webb leave the game after he and a 300-pound defensive lineman landed on his right shoulder, then return to heave a 54-yard dime to Perry Carter to put the visiting Gamecocks up 28-21 at 5:30 of the third quarter.
They saw a 28-28 game entering the fourth.
In Jax State's Football Championship Subdivision existence, Jax State coaches would deny terms like "moral victory" while planting the hopeful seed for fans to live in their feels with it.
In Jax State's 7-3, first-FBS-season existence, Rodriguez sounded off his brand of crankiness. Yes, that's his loss alter ego, but nothing about Saturday's feather fest in Columbia said Jax State made the most of a hopeless situation.
RichRod's team could've and should've won, and only a linebacker undercutting a red-zone wheel route, then running back an 88-yard peck-6, prevented at last a field-goal try to tie the unofficial Chicken Bowl.
"We battled," Rodriguez told Jax State radio "Voice" Mike Parris after the game. "You can't make those kinds of errors, coaching errors or playing errors, at the wrong time."
Until Stone Blanton stoned Jax State on a play South Carolina's Gamecocks clearly sniffed out, Jax State's game 'Cocks had the home team's heads in the pruning shears
Nearly a month after Liberty flamed out Jax State's whiteout, Jax State's white "AKC" helmets were well on their way to redemption.
Until Blanton's long sideline strut, Jax State looked at least the part of a lower-half SEC team against a lower-half SEC team. Dare we call these Gamecocks Alabama's second-best team?
Toss this game into the low-boil stew of Jax State's season-long FBS debut, as we learn to discern the taste of the Gamecocks' place in the pecking order.
Game details
A chronological rundown of how Jax State's 38-28 loss at South Carolina shook out:
FIRST QUARTER
–Tonka Hemingway's 2-yard run opens the scoring at 11:07. Drive: 5 plays, 62 yards, 2:38: SOUTH CAROLINA 7, JAX STATE 0
–Jax State draws even on Zion Webb's 16-yard pass to Sean Brown at 3:44. Drive: 8 plays, 62 yards, 2:26. JAX STATE 7, SOUTH CAROLINA 7
–Spencer Rattler's 1-yard sneak regains the lead for South Carolina at 2:03. Rattler's 52-yard pass to Xavier Legette set it up. Drive: 5 plays, 70 yards, 1:41. SOUTH CAROLINA 14, JAX STATE 7
SECOND QUARTER
–Anwar Lewis' 4-yard run draws Jax State even again. Drive: 9 plays, 75 yards, 2:47. JAX STATE 14, SOUTH CAROLINA 14
–Zion Webb goes down with an apparent shoulder injury after T.J. Sanders falls him, and replacement Logan Smothers fumbles to set up South Carolina's go-ahead touchdown. Rattler to Legette, 5 yards. Drive: 4 plays, 49 yards, 0:30. SOUTH CAROLINA 21, JAX STATE 14
THIRD QUARTER
–Jax State draws even again, on Smothers' 13-yard TD pass to Brown. Drive:8 plays, 73 yards, 3:02. JAX STATE 21, SOUTH CAROLINA 21
–Webb back in the game, hits a deep-ball TD pass to Perry Carter … 54 yards. Alen Karajic's kick is good, and Jax State leads. Right before that, Jamari Jemison got the PBU on a similar attempt by Rattler on fourth down: JAX STATE 28, SOUTH CAROLINA 21
–That contrail in the sky is Rich Rodriguez's stock on a space-shuttle trajectory. Meanwhile, the white helmets are on redemption's path, and Mike Parris is on Classic Call Alert.
–Boos are audible in Williams-Brice Stadium. Count the state of South Carolina as a land of football discontentment.
–Tie game … Rattler deep to Legette, 65 yards, at 1:29. When in doubt, go to the guy Jax State can't cover. Drive: 1 plays, 65 yards, 0:11. JAX STATE 28, SOUTH CAROLINA 28
FOURTH QUARTER
–Jax State was on the move, but Ron Wiggins stripped of the ball, and South Carolina recovers at its 45.
–Jax State's defense comes up with a stop with its back to its goal line and forces a 26-yard Mitch Jeter field goal at 5:51. SOUTH CAROLINA 31, JAX STATE 28
–Webb just put a ball where it had to be, and P.J. Wells made a one-handed, diving catch down the sideline … 29 yards to South Carolina's 15-yard line with 2:40 to go.
–Stone Blanton with an 88-yard pick-6 to give South Carolina a two-score lead with 2:02 to play. Great play. Blanton lined up in the middle, read the wheel route and undercut the pass. No way Webb could've seen him when the receiver broke open. Webb was also hit as he threw. SOUTH CAROLINA 38, JAX STATE 28
–The scoreboard says 10-point lead. The reality is, Jax State was driving for the would-be go-ahead score with two minutes to play.
–Smothers in at QB, and another route jump leads to another interception.
FINAL: Jax State falls at South Carolina, 38-28.