Straight Jackets
Updated: November 4, 2023
Oxford erupts for big first half, ends regular season with strong showing against fellow Calhoun County power Jacksonville in playoff primer for both teams.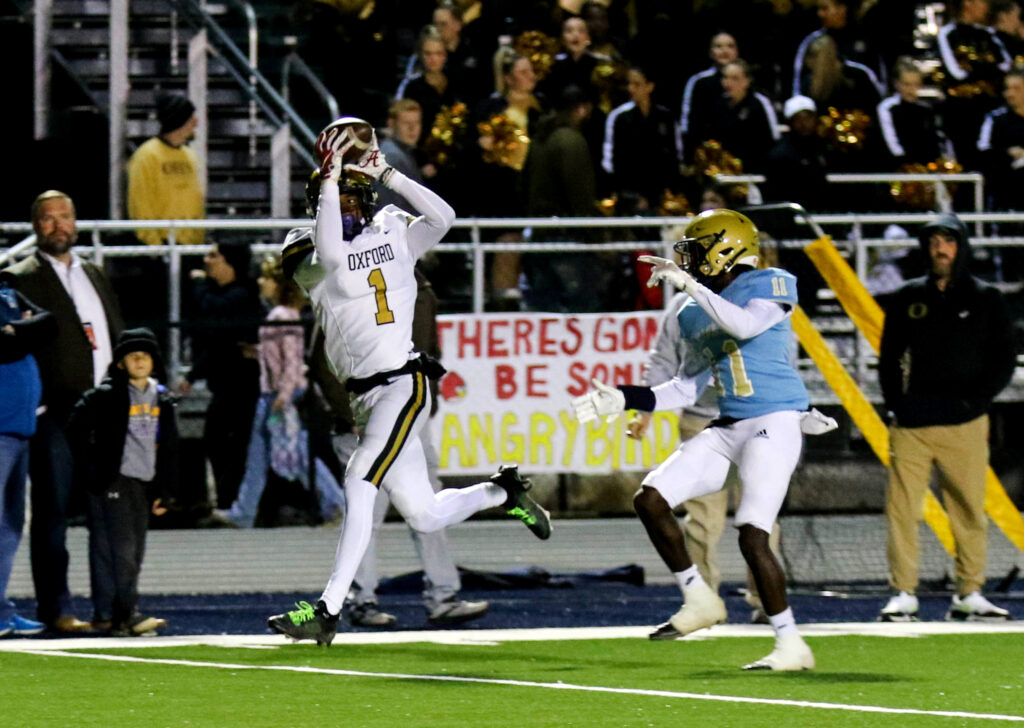 Scoreboard
THURSDAY, Nov. 2
Munford 35, Ashville 21
Weaver 47, Pleasant Valley 0
FRIDAY, Nov. 3
Central-Clay 28, Wetumpka 7, FINAL
Fort Payne 21, Cherokee County 14, FINAL
Cleburne County 28, Wellborn 22, FINAL
Cedar Bluff 45, Donoho 6, FINAL
Glencoe 48, West End-Walnut Grove 28, FINAL
Sardis 42, Hokes Bluff 20, FINAL
Oxford 36, Jacksonville 7, FINAL
Beauregard 37, Lincoln 7, FINAL
Sylacauga 32, Piedmont 31, FINAL
Randolph County 49, Ranburne 21, FINAL
Saks 29, Talladega 27, FINAL
Southside 45, Etowah 27, FINAL
Wadley 56, Woodland 21, FINAL
Westbrook Christian 45, White Plains 16, FINAL
Open: Alexandria, Anniston, Handley, Ohatchee, Spring Garden.
By Joe Medley
East Alabama Sports Today
JACKSONVILLE — There was something in the way Camare Hampton kept running by Jacksonville's secondary and making catches.
There was something about Jaydon Thomas' authoritative running against the Golden Eagles.
Oxford, ranked No. 8 in Class 6A, came into Friday's game Class 4A No. 7 Jacksonville determined to prevent a replay of last year's classic between the two, and the Yellow Jackets swarmed into the playoffs with a 36-7 victory.
Oxford (8-2), the No. 2 seed in Class 6A, Region 6, will play host to Athens in the Yellow Jackets' playoff opener next week.
Oxford has won two in a row, beating Center Point to earn the region's No. 2 playoff seed then Jacksonville in a non-region matchup.
"We're playing good," running back Jaydon Thomas said. "If we keep the fire going and start every game like this, then we're in good condition.
"If we play our best game, can't nobody stop us."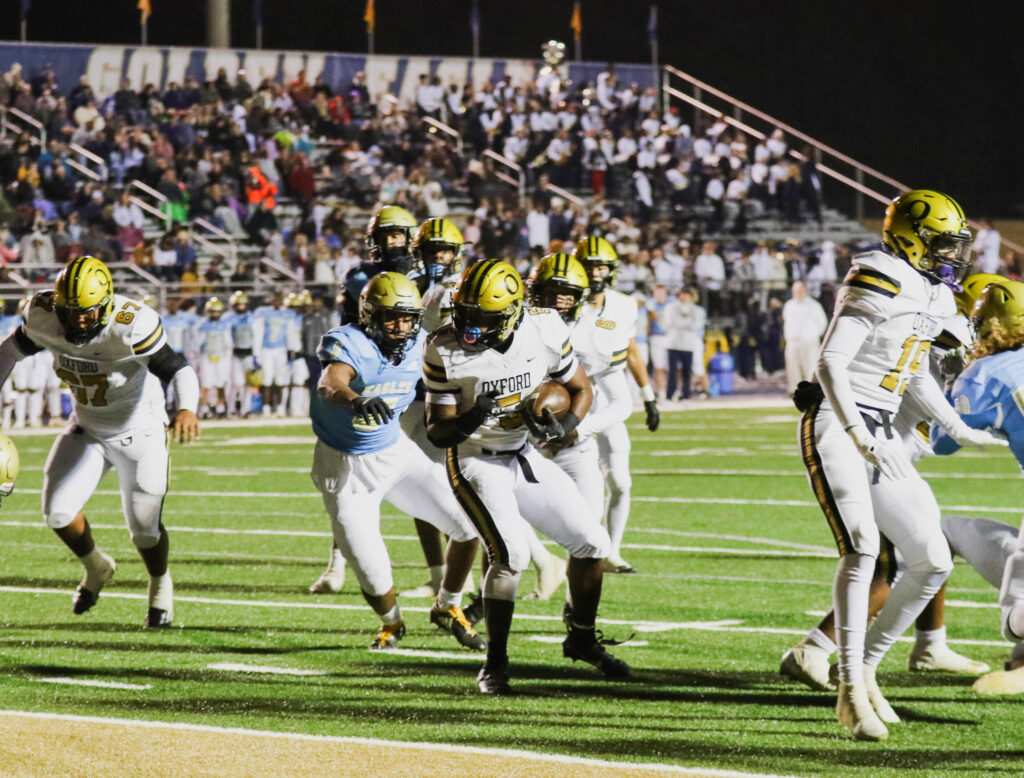 Jacksonville (8-2), the No. 2 seed in Class 4A, Region 4, awaits the resolution of a three-way tiebreaker in Region 1 to learn its first-round opponent, which the Golden Eagles will play at home.
Jacksonville had won six games in row since falling 32-24 at Handley on Sept. 8, scoring 51 or more points in all of them. The Golden Eagles broke 60 twice.
Jacksonville coach Clint Smith said his team "needed this game."
"The good things is, our young guys have gotten a ton of reps, but, since the Anniston game, we have not played four quarters with our starters," he said. "We needed this game tonight to get back into that fist-fight mentality that we're going to be in, in the next few weeks.
"They were physical tonight and had a great game plan, so we needed this game to get back into that mode that we played with, with Handley and with Anniston early on. It's been six weeks since we've had to play to that level."
Jacksonville pushed Oxford before falling in a 34-28 classic at Lamar Field a year ago. The Yellow Jackets came to Golden Eagle Stadium with those memories and more recent motivation.
"There was one media outlet that picked us to lose in this game today," Oxford coach Sam Adams said. "We showed that to our guys early in the week, and we felt like we had a little something to kind of prove a little bit."
Oxford led 27-0 at halftime and held Jacksonville to one touchdown, Troy University commit Jim Ogle's 51-yard touchdown pass to Ky'dric Fisher early in the third quarter.
Jacksonville came into the game averaging 49.9 points.
"If you had told me before the game that we were going to get out of here and only given up seven, I'd have taken it," Adams said.
Mason Mims threw touchdown passes of 42 and six yards to Hampton to make it 13-0 in the first quarter.
"Going into this week, I knew I was going to get the man coverage, one on one, and my coaches told me to make plays," Hampton said. "That's what I came to do, make plays."
Thomas added a 5-yard touchdown run and D.K. Wilson a 28-yarder to the paint in the third quarter. Wilson added a 14-yarder in the fourth, and the Yellow Jackets tackled Zae English a safety after punting the Golden Eagles down to their 1-yard line.
Mims competed 17 of 26 passes for 216 yards and two touchdowns, both to Hampton, who caught four passes for 81 yards. Nick Richardson added five catches for 50 yards.
Thomas carried 23 times for 130 yards and a touchdown, and Wilson rushed for 115 yards on seven carries. Thomas also caught five passes for 44 yards and Wilson two for 32.
"We had some concerns coming into this," Smith said. "Oxford's got a really good team, and it showed tonight. They did a really good job of just taking what we gave and doing it well.
"Hats off to them, great game, and they're going to make some noise in the playoffs."
Oxford-Jacksonville updates
–Oxford to receive the opening kickoff.
FIRST QUARTER
–Oxford starts the scoring on the game's first drive … Mason Mims to Camare Hampton, 42 yards and a touchdown. PAT good at 9:05: OXFORD 7, JACKSONVILLE 0
–Mims connects with Hampton again, 6 yards for a TD. PAT no good at 6:41. OXFORD 13, JACKSONVILLE 0
SECOND QUARTER
–Jaydon Thomas's 5-yard TD run plus PAT adds to Oxford's lead at 8:09: OXFORD 20, JACKSONVILLE 0
–DK Wilson's 28-yard TD run plus PAT extends Oxford's lead at 3:03. OXFORD 27, JACKSONVILLE 0
THIRD QUARTER
–Jacksonville gets on the board … Jim Ogle passes to Ky'dric Fisher for a 51-yard TD pass at 10:20. PAT good. OXFORD 27, JACKSONVILLE 7
–Oxford answers with D.K. Wilson's 14-yard end-around for a TD at 7:54. PAT good. OXFORD 34, JACKSONVILLE 7
FOURTH QUARTER
–Oxford punts Jacksonville to its 1, then tackles Zae English for a loss and safety at 10:26. OXFORD 36, JACKSONVILLE 7