H-0-mecoming
Updated: September 23, 2023
What to make of Smothers' 100-yard rushing performance and Jax State's first shutout since 2018 in a 21-0 victory over Eastern Michigan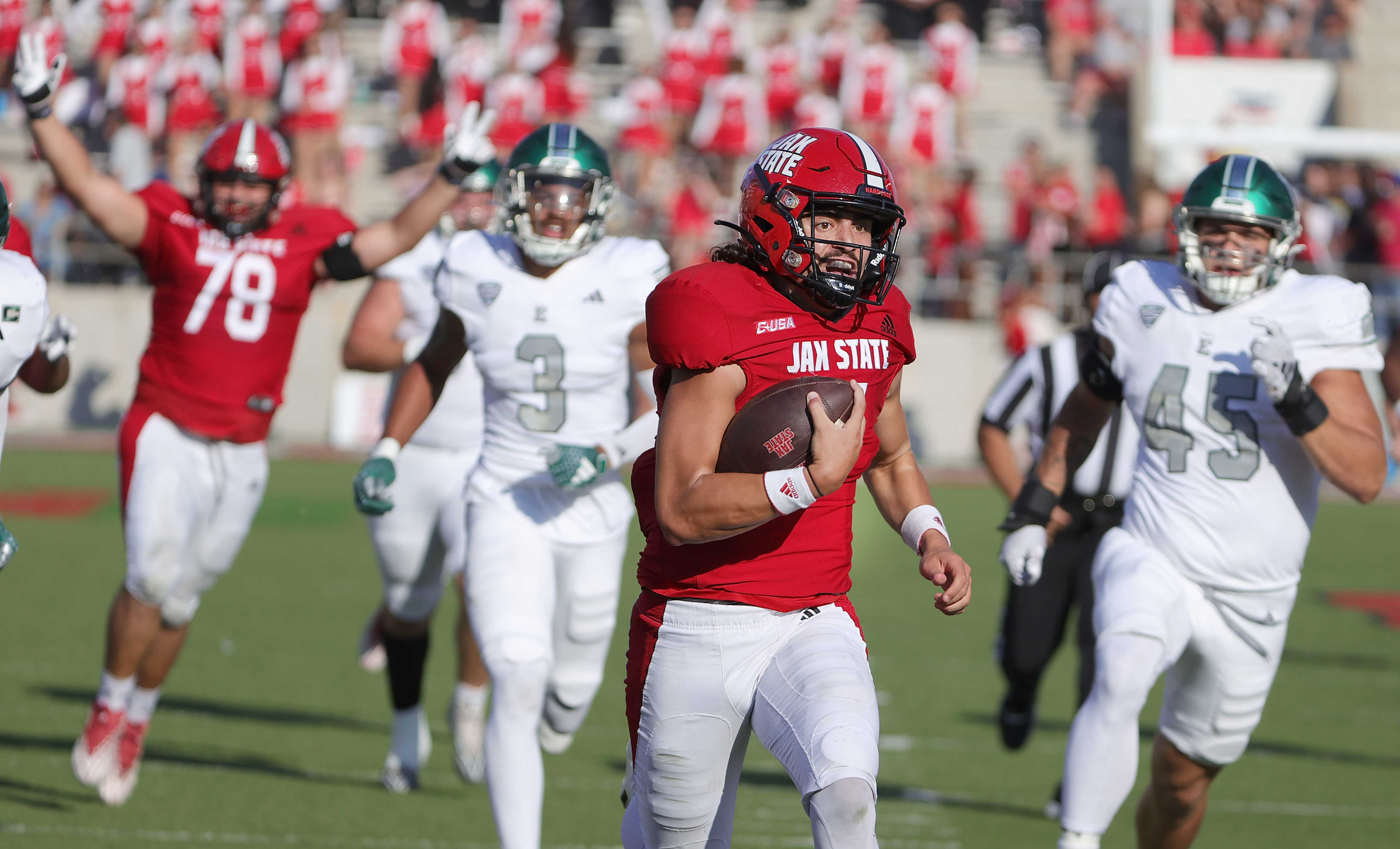 Editor's note: Link for statistics from Jax State's 21-0 victory over Eastern Michigan. Video from Jax State coach Rich Rodriguez's postgame news conference and postgame player interviews can be found on provided links. Here's perspective on the game.
JACKSONVILLE — Malik Jackson's run all over Burgess-Snow Field livened an otherwise sleepy homecoming victory for Jacksonville State on Saturday.
Jack Dawson's rugby-style run for a first down on an unplanned fake punt/turned punter read option provided the laugh line.
Jax State defenders running down errant passes like wide receivers, or waiting on them like punt returners, punctuated the Gamecocks' first shutout since 2018 … even if all three interceptions came against a team that completed more passes longer than 10 yards to the wrong team than to the right team.
Jax State beat Eastern Michigan 21-0 for the program's ninth victory against Football Bowl Subdivision competition and second in three tries as an FBS team.
The victory left the transitioning Gamecocks at 3-1 and halfway to bowl eligibility, assuming they get to bowl selections with more spots available than eligible teams.
That's important. Just for Jax State to be able to say it could've gone bowling in its first FBS season would be meaningful.
And yes, Jax State beat a MAC team that's played in five bowls since 2016 and won one last season. Eastern Michigan's defense played well enough to win, if the Eagles had any offense, at all.
There's the rub. The two EMU quarterbacks were a combined 2-for-12 with three interceptions on passes of 10 yards or more. They suffered six sacks, and two of the interceptions came on pressured wild throws down field while running for their lives.
With no ability to stretch the field, the Eagles couldn't move the ball. The best qualities of two quarterbacks they fielded, combined, wouldn't make one good Grayson McCall.
So, let's not overdo the quality-win talk.
Let's talk about Jackson's compass-spinning run in the third quarter. In the day's highlight-reel play. He ran left, put on the brakes in front of Jax State's sideline, ran right, cut up field and juked a defender.
On a day when he rushed for 127 yards, the kid ran 100 yards to gain 27. Had he gained 28, he would've scored.
His teammates had fun with that.
"Going against him in fall camp and in practice every day, I see that a lot," linebacker Quae Drake said. "I see that often, so I expect it from him, but he knows he's supposed to score."
Then came Dawson's attempt to out action Jackson. A low snap and committed right-side rush left open green, and the Aussie showed a rugby player's eye. He gained 12 yards and a first down, much to the relief of his coach.
"I saw him start running, and I was like, it may take this dude 18 seconds to get a first down," Jax State coach Rich Rodriguez said.
The most significant storyline involved quarterback Logan Smothers' start and what it implies, or doesn't, for the ongoing competition with Gamecock lifer Zion Webb.
Let's not gush. Jax State's offense came in spurts. Two of those gifted EMU interceptions, one at EMU's 42-yard line and another returned to the Eagles' 9, resulted in no points.
The latter came close to resulting in points, but replay overturned a touchdown call when Smothers' attempt to stretch the ball over the goal line on fourth down was ruled short.
Measure Jax State's offense on this day by the fact that Dawson punted five times, and Smothers pooch-punted twice. The Gamecocks got points on three of 14 possessions.
That won't beat high Group-of-5ers, but Smothers had his moments. His tight-window, back-shoulder throw to Quinton Lane put Jax State in position for Alen Karajic's missed field goal in the first quarter.
Smothers threw a 16-yard touchdown pass to Lane later in the first quarter, an in-stride shot on a quick slant off of play action.
Then came Logan's luggin' the rock. He rushed for 118 yards, including a 41-yard touchdown on a read. He ran right, turned up field through a hole and geared up to beat all chasers.
He made good use of his 18 runs, almost all read plays, averaging 6.6 yards. Rodriguez has said time and again, his quarterbacks have to be willing runners.
"It's fairly obvious," Smothers said.
Smothers played every snap Saturday, but he did nothing that Webb hasn't done in his extended college career. And yes, Webb has done it against FBS competition. Who remembers Florida International in 2020, or UTEP earlier this season?
Rodriguez stood fast having "two starting quarterbacks." Ask him about one, and his answer often starts with the other.
"To his credit, Zion was dialed in, too," the coach said. "We have two starting quarterbacks, and I wouldn't hesitate to play any of them."
Game updates
–Jax State wins toss, defers. EMU will receive the opening kickoff.
FIRST QUARTER
–EMU gets a couple of first downs, stalls out and punts … out of bounds. JSU will start at its 4.
–Logan Smothers starts at QB for Jax State. … JSU moving briskly down the field, and Smothers just threw a perfect back-shoulder throw to Quinton Lane for 24 yards to the EMU 38. … Center Treylan Brown down, limps off field … Drive stalls at EMU 22, field goal pending. … Alen Karajic kick from 40 yards wide right.
–Jax State comes up with a fourth-down stop, Fred Perry with a TFL back to midfield. … Brown back in the game, now comes off after helmet comes off. … Smothers to Lane, 16 yards on play action, quick slant for a TD. Karajic PAT good, and Jax State leads EMU 7-0 at 1:36. Drive: 8 plays, 50 yards, 2:27.
SECOND QUARTER
–Smothers breaks a 41-yard touchdown run. Option right, cuts in a hole and scoots. Karajic PAT good to put Jax State up 14-0 at 14:02. Drive: 4 plays, 69 yards, 1:06.
–Nickle Larry Worth cuts in front of an EMU pass for an interception, and Jax State takes over at EMU 42.
–JSU goes three-and-out. Smothers' third-and-11 pass misses the mark as he takes a hit. Has to go retrieve helmet. Previous play under review. Ruling stands. Fourth down. Jax State punt fair caught at EMU 7.
–At 10:17 2Q, EMU has five first downs, and two came on first possession. Eagles are 0-5 on third down. JSU has 13 first downs.
THIRD QUARTER
–At 12:12, Jax State's Jackson Luttrell is down after a play. Walking off on his own power, but looks like right shoulder.
–Malik Jackson runs 100 yards to run 27 yards, going left end, reversing field, turning down field then cutting in to elude one more defender before being stopped on the 1. Highlight-reel run sets up J'Wan Evans' 1-yard TD run, and Karajic's kick makes it 21-0, Jax State, at 9:57. Drive: 4 plays, 48 yards, 1:19.
–Quae Drake runs down an ill-advised pass for an interception, and Jax State takes over at its 37. … Smothers' shows pooch-punt prowess, pinning EMU at its 4.
–Luttrell back in the game, wearing something on his upper-right arm.
–Smothers with a 10-yard keeper to pass 100 rushing yards for the game (103).
–Jack Dawson feels a punt rush from his right, fakes and goes, rushing to a wide-open right side for 12 yards and a Jax State first down. It was a very rugby-style move. For those keeping score, the Jax State QB has punted, and the Jax State punter has a 12-yard keeper.
FOURTH QUARTER
–Another ill-advised EMU pass, and another Jax State interception. Jabari Mack with the gift this time, and he runs it back to the EMU 9 before stepping out of bounds. … On fourth and goal from the 2, Jax State lines up to go, and EMU calls timeout. … Smothers keeps, gets hit, stretches the ball, and play is ruled a TD. Review coming. … Ball did not cross the goal line, so EMU takes over inside its 1-yard line.
–At 8:40, Luttrell down again, holding right shoulder.
FINAL: JSU wins 21-0, improves to 3-1 with first shutout since 2018. Perspective on the game coming soon.