Prep football roundup
Updated: September 23, 2023
Oxford, Pleasant Valley, Cherokee County, JCA stay unbeaten. Wellborn scores program's 400th victory. Jacksonville, Cleburne County, Spring Garden pick up region wins.
Friday scoreboard
Springville 49, Alexandria 21, FINAL
White Plains at Anniston, cancelled
Central-Clay 31, Handley 6, FINAL
Cherokee County 55, Hanceville 0, FINAL
Cleburne County 37, Munford 21, FINAL
Victory Christian 27, Donoho 13, FINAL
Plainview 35, Glencoe 7, FINAL
Hokes Bluff 47, Westbrook Christian 21, FINAL
Jacksonville 51, Talladega 0, FINAL
Jax Christian 37, Russell (Meridian, Miss.) 6, FINAL
Moody 28, Lincoln 3, FINAL
Ohatchee 38, Piedmont 21, FINAL
Oxford 40, Pinson Valley 6, FINAL
Pleasant Valley 21, Cleveland 16, FINAL
Ranburne 28, Woodland 7, FINAL
Randolph County 46, Weaver 29, FINAL
Childersburg 42, Saks 31, FINAL
Southside 42, St. Clair County 13, FINAL
Spring Garden 15, Winterboro 6, FINAL
Wadley 32, Ragland 6, FINAL
Wellborn 21, Dadeville 12, FINAL
By East Alabama Sports Today
PLEASANT VALLEY — Pleasant Valley's historic winning streak lives on.
Braxton Salster accounted for 160 yards in total offense, and the Raiders built a 21-point lead and held off a Cleveland comeback to win 21-16 in Class 2A, Region 6 play on Friday at home.
Pleasant Valley upped to 4-0 on the season and 3-0 in region play, upping the chances that it could end its 13-year playoff drought.
The Raiders also extended their school-record winning streak to six games, including the final two games of 2022.
"This was a huge region win for us to put us to 4-0," Pleasant Valley coach Jonathan Nix said. "We are so proud of our team and how they pull together and play as a team.
"That they play through adversity makes them so special. The biggest thing is they find ways to win."
Salster rushed 87 yards and completed four of seven passes for 73 more. He scored all three Raider touchdowns on runs of four, seven and 12 yards.
Holt Bentley had a 52-yard pass reception and 36 rushing yards.
Jaden Sparks led the defense with seven tackles, two for loss, and a pass breakup. Salster, Clark Hill and Tristan Williams had nine tackles apiece, and Williams had a sack.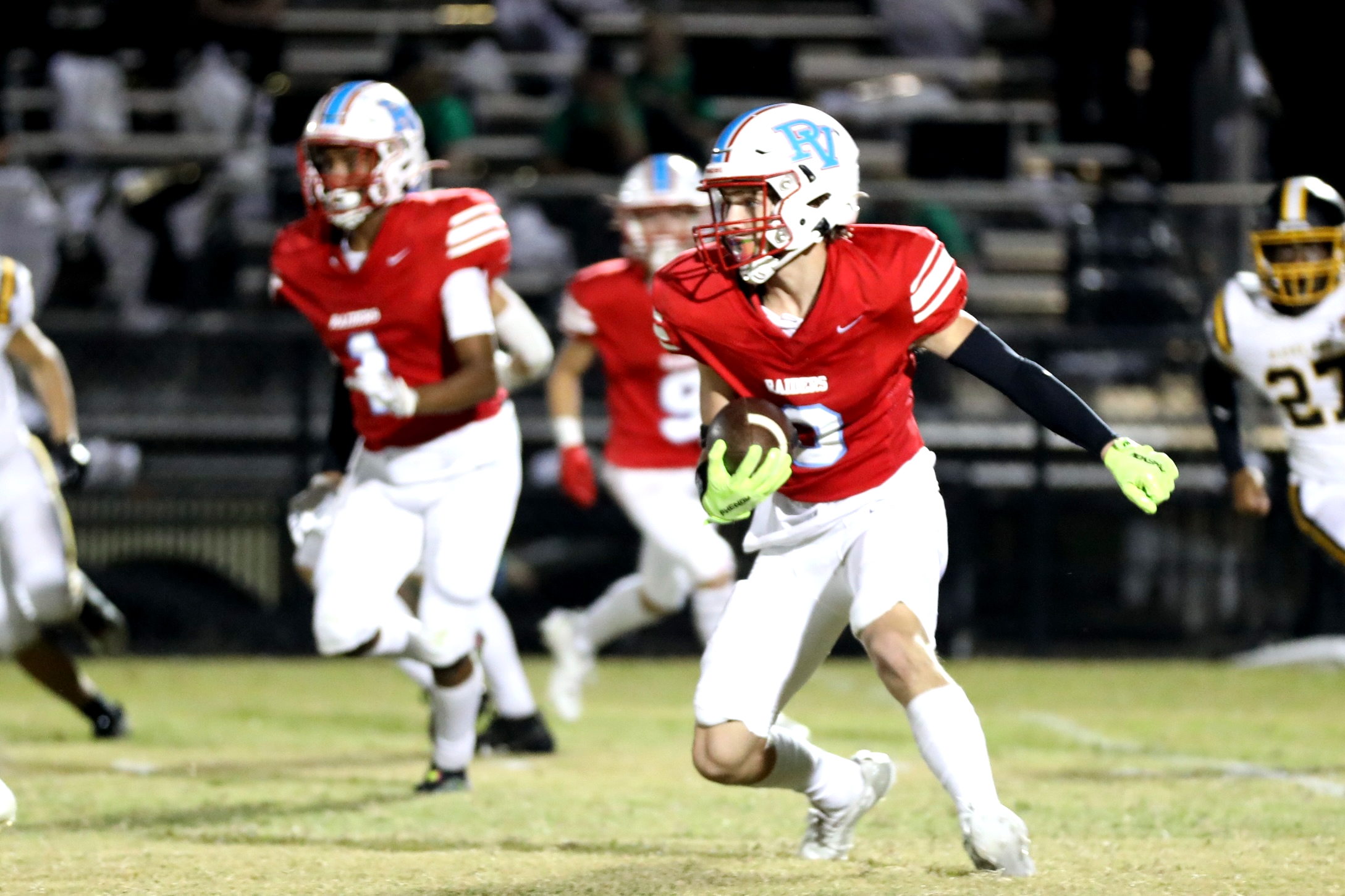 OXFORD 40, PINSON VALLEY 6: D.K. Wilson rushed for 100 yards, including a 79-yard touchdown, and Jaydon Thomas rushed for 98 yards and two scores as Oxford upped to 5-0 and 3-0 in Class 6A, Region 6.
Wilson also blocked a punt out of the end zone for a safety.
Quarterback Mason Mims completed 15 of 25 passes for 139 yards and two touchdowns, 14 yards to Thomas and six yards to Nick Richardson.
Keenan Britt led the defense with 11 tackles.
"We played great on defense," Oxford coach Sam Adams said. "We sputtered on offense a little in the first half and led 12-6 at halftime. Blew it open in the third quarter to put the game out of reach."
WELLBORN 21, DADEVILLE 12: The Panthers continued their rebound from an 0-2 start with a big victory in Class 3A, Region 4. The victory also marked the 400th in the history of Wellborn football.
The Panthers are 400-289-13 all time, according to records available on the Alabama High School Football Historical Society's web site. They also avenged last season's 22-14 loss to Dadeville.
Jabari Williams rushed for 192 of Wellborn's 327 yards, all on the ground, and the Panthers upped to 2-2, 2-0 region. Dadeville (2-2, 2-1) was the 2022 region champion.
Williams ran for a 25-yard touchdown, and quarterback Noah Screws scored on two sneaks.
Dadeville rushed for 129 yards, but Wellborn held them to 17 in the second half.
"This is probably the biggest win we've had here since 2020, when we beat Ohatchee in overtime," Wellborn coach Jeff Smith said.
CLEBURNE COUNTY 37, MUNFORD 21: Carter Hughes rushed for 264 yards, including a 59-yard touchdown run, and Cleburne County improved to 3-1 overall, 2-0 in Class 4A, Region 4.
Jake Dingler added 109 yards rushing with a 6-yard touchdown run, and the Tigers rushed for 461 yards overall … 278 in the second half.
Jacob Cavender led the defense with eight tackles, Dingler and Kendall Miller had seven apiece.
CHEROKEE COUNTY 55, HANCEVILLE 0: CENTRE – It wasn't the 420-yard, two-touchdown performance he had last week against Oneonta, but Cherokee County senior running
back Jacob Cornejo had an impressive homecoming.
Cornejo compiled 84 yards on 13 carries and scored four touchdowns. He also had an interception in leading the the Class 4A second-ranked Warriors to victory in Class 4A, Region 6 action.
Cornejo scored three touchdowns in the first half on runs of one, 46 and four yards. The Warriors (5-0, 3-0) led 28-0 at halftime.
Cornejo scored his final touchdown on a 1-yard run in the third quarter to put Cherokee County out in front 35-0.
Carson Tittle tallied 83 yards on nine carries with two scores, including a 1-yard run in the second quarter and an 11-yard run in the third.
Carson Chesnut ran for a 67-yard touchdown in the fourth, and Tyson Wood scored on a 33-yard run for the final.
Pope leads Spring Garden past Winterboro
SPRING GARDEN 15, WINTERBORO 6: Chapel Pope ran for 92 yards on 16 carries and accounted for both Spring Garden touchdowns in leading the Panthers to victory at Winterboro in Class 1A, Region 6 action.
Pope also completed two of four passes for 39 yards and had three tackles with an interception for the Panthers (3-2, 2-1). He gave Spring Garden a 7-0 lead on a 2-yard touchdown run with 4:01 remaining in the first quarter.
Winterboro (2-2, 1-1) scored its lone touchdown at the 6:15 mark of the second quarter but missed the extra point to keep Spring Garden in front 7-6 at halftime. It remained 7-6 until early in the fourth quarter, when Pope ran in for a 6-yard score with 10:28 remaining.
Connor Bates added 65 yards on 15 carries for the Panthers. Noah Barber completed three of nine passes for 48 yards.
All three of Barber's completions went to John Welsh, who finished with 91 yards receiving. He also caught a pass from Pope. Welsh also led the Panther defense with six tackles, including a sack.
JACKSONVILLE 51, TALLADEGA 0: Jim Ogle completed 20 of 28 passes for 245 yards and four touchdowns as Jacksonville improved to 4-1 overall, 2-1 in Class 4A, Region 4. Talladega os 0-4, 0-3.
Ogle's touchdown passes went for 39 yards to Jackson Bonner, 22 yards to Xza English, 14 yards to Ky'dric Fisher and one yard to Imoree Young.
Damonte Sinclair led all Jacksonville receivers with six catches for 85 yards.
English had an 11-yard touchdown run on his way to 121 rushing yards.
JCA 37, RUSSELL 6: At Meridian, Miss., Noah Lee hit on 20 of 26 passes for 328 yards and two touchdowns and added a rushing touchdown as Jacksonville Christian avenged its loss in last year's Christian Schools Association championship.
Travis Barnhill caught six passes for 93 yards and a touchdown and rushed 20 times for 104 yards and two scores.
Jesse Gannaway caught eight passes for 166 yards and a touchdown, and Caleb Stallings had 10 carries for 67 yards and intercepted two passes, returning one for a touchdown.
Deon Dupree led the defense with two tackles for loss and a fumble recovery.
SPRINGVILLE 49, ALEXANDRIA 21: Springville rushed for 420 of its 447 total yards, and Alexandria fell to 0-5, 0-3 in Class 5A, Region 6.
M.J. Morris provided the highlights for Alexandria, rushing for 93 yards. J.J. Beason added 38 yards, including a 4-yard touchdown run, and Brodie Slaton rushed for a 9-yard touchdown.