'We found our identity'
Updated: September 15, 2023
Jacksonville rebounds from loss to Handley, absorbs Anniston's best shot in the first half then pulls away in the second to gain upper hand in race for a home playoff game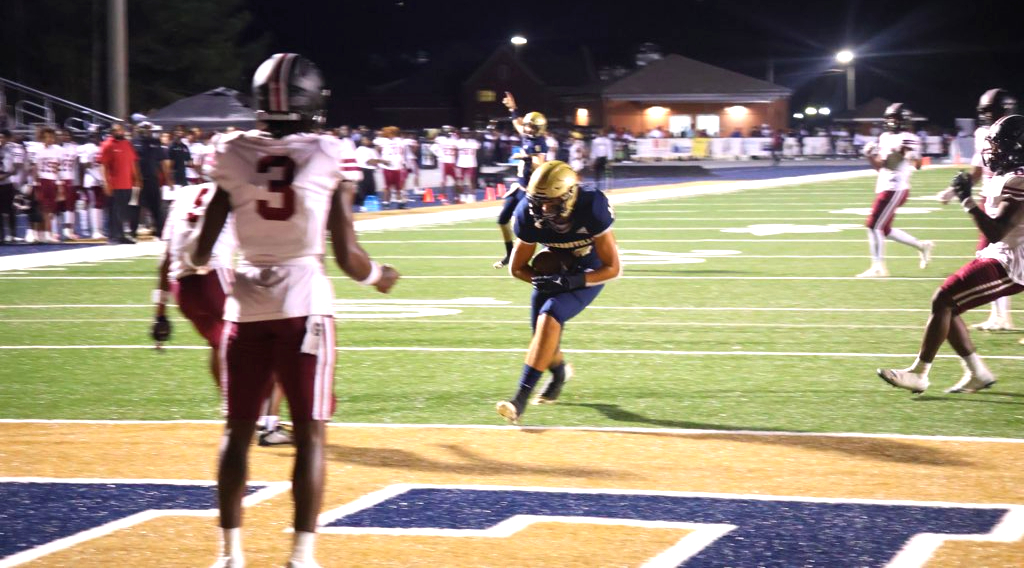 Friday's area scores
Lincoln 24, Alexandria 17, FINAL
Jacksonville 52, Anniston 24, FINAL
Central-Clay 48, Elmore County 6, FINAL
Cherokee County 49, Oneonta 21, FINAL
Boaz 35, Cleburne County 21, FINAL
Wadley 48, Donoho 0, FINAL
Westbrook Christian 56, Glencoe 34, FINAL
Handley 41, White Plains 0, FINAL
Geraldine 17, Hokes Bluff 7, FINAL
Jacksonville Christian 47, Victory Christian (Miss.) 0, FINAL
Munford 47, Talladega 16, FINAL
Sylvania 64, Ohatchee 34, FINAL
Oxford 52, Huffman 0, FINAL
Piedmont 24, Plainview 13, FINAL
Pleasant Valley 15, Holly Pond 14, FINAL
B.B. Comer 42, Ranburne 7, FINAL
Randolph County 40, Ragland 34, FINAL
Dadeville 56, Saks 14, FINAL
Southside 35, Springville 21, FINAL
Spring Garden 41, Victory Christian 7, FINAL
Childersburg 42, Weaver 29, FINAL
Wellborn 60, Beulah 34, FINAL
Thorsby 35, Woodland 6, FINAL
By Joe Medley
East Alabama Sports Today
JACKSONVILLE — Wide receivers adept at route running don't waste steps, and Damonte Sinclair wasted no worked when he asked to speak to Jacksoville's post game huddle Friday.
"We found our identity," he said before all hands came in for the big break.
The Class 4A seventh-ranked Golden Eagles bounced back from last week's loss at Handley to beat No. 10 Anniston 52-24 in a key Region 4 game before Friday's homecoming crowd at Golden Eagle Stadium.
The victory puts Jacksonville (3-1, 1-1) in the driver's seat for the race to host a first-round playoff game. The Golden Eagles go forward with No. 5 Handley (4-0, 2-0) and Anniston (2-2, 1-1) in the rearview mirror. Anniston still has to play at Handley on Oct. 5.
"It was a huge win," Jacksonville coach Clint Smith said. "It did a lot for us, as far as being able to host. We've just got to take care of business the rest of the year."
Jim Ogle completed 19 of 29 passes for 259 yards and four touchdowns … 74 and 12 yards to Sinclair, eight yards to Ky'dric Fisher and 13 yards to Jackson Bonner.
Sinclair caught six passes for 114 yards, and Xza English rushed for 12 yards and two scores.
The two key turns came in the second and third quarters.
Jacksonville answered Jaden Dobbins' 85-yard kickoff returns with a drive leading to English's 2-yard touchdown run to put the Golden Eagles back up 23-18 at 1:50 of the second quarter. A personal foul on the ensuing kickoff backed Anniston up ahead of Charlie Wright's partial block of an Anniston punt, spotting Jacksonville at Anniston's 16-yard line, setting up Ogle's touchdown pass to Fisher at 30.8 seconds for a 30-1 halftime lead.
Anniston drew within 30-24 on Gavin Doss' 23-yard touchdown pass to Jayden Lewis, but Jacksonville answered with Ogle's 74-yard touchdown hookup with Sinclair.
It was all Jacksonville from there, including backup running back 17-yard, statement touchdown run with 1:01 left.
"That last play, they said it was 12 yards after contact," Ogle said. "We pushed our two running back in, and I think that play can describe our mood right now."
It was the final argument in Jacksonville's statement a week after Handley. The Golden Eagles came back from deficits f 14-3 and 20-14 to take a 24-20 lead but lost 32-24.
"Last week was a tough loss for us," Ogle said. "We fought hard. Everybody told us how hard we fought, and that's good and all, but it really, deep down, makes you mad. If they tell you you fought hard, it means you lost.
"I think we took that this week and came to work every day this week, and we showed it tonight."
Anniston had its week like that, throttling Munford 47-14 a week after losing 39-0 to reigning 4A state champion Andalusia. The Bulldogs carried momentum into the Jacksonville game and led three times in the first half, the last coming on Dobbins' kickoff return to make it 18-16 at 3:10 of the second quarter.
FIrst-year Anniston coach Rico Jackson called the blocked punt and Jacksonville score at the end of the first half "huge."
"It just took the gas out of us," he said. "That's just football. We're beating ourselves a lot. We've got to clean a lot of stuff up.
"We've still got a good football team. At the end of the day, we've got to pick ourselves up and go back to work."
Cover photo: Jacksonville's Xza English celebrates a touchdown against Anniston on Friday. (Photo by Necorra Harris/Golden Eagle Media)