'Cardiac' Cats
Playing in annual Tennessee camp trip, White Plains' boys bring home another golden Dixie Cup with victory in tourney that features two-minute games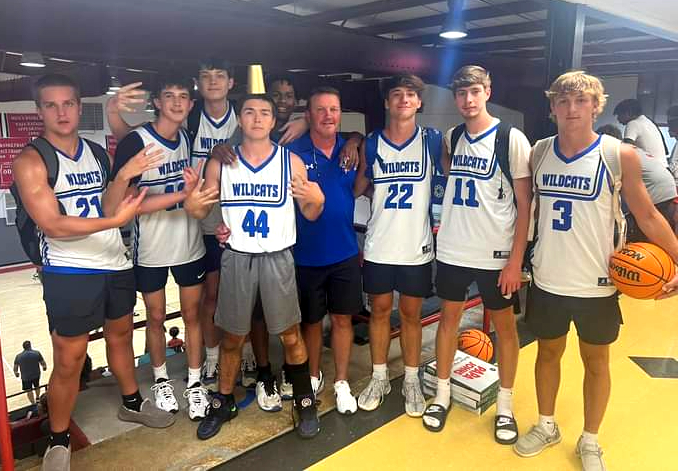 By Joe Medley
East Alabama Sports Today
White Plains hopes to bring home the coveted Coach T Hoops Team Basketball Camp champion's T-shirt from their annual Tennessee trip, but the Wildcats clinched a smaller prize Wednesday.
The boys' have another golden Dixie Cup for their head coach's collection from winning the Wednesday night "Cardiac Tournament."
The Wildcats once again proved to be masters of a game's final two minutes, and Chris Randall will have another Dixie Cup, spraypainted gold.
"I've probably got 20 of those things over the years," he said. "The kids write the year on it."
Randall has taken his White Plains teams to veteran coach Kevin Templeton's camps in Tennessee through his long tenure at White Plains. Templeton's long career includes a National Christian College Athletic Association championship at Tennessee Temple University.
It's Randall's 28th year to take teams to Tennessee, including his time at Trinity Christian. All of White Plains' boys' and girls' teams, seventh grade through varsity, are playing in this year's camp.
"It's our favorite time of the year," Randall said. "We have kids that don't make the team that still go to camp, because they want to go to camp so bad. We probably have 75 or 85 parents, sisters and girlfriends up here watching. …
"There's not a day goes by that we don't see someone wearing one of the Coach T Camp T-shirts at school. It's like gold. They love it."
The camp has changed sites through the years, and Bryan College, in Dayton, Tenn., plays host to this year's camp. Teams attending include Ohatchee's boys. The field also includes teams team Georgia, Kentucky, South Carolina and Tennessee.
Teams play five games per day, with games featuring 10-minute halves. Play concludes with Thursday's tournament.
The double-elimination Cardiac Tournament, a Wednesday night tradition featuring two-minute games, follows a church service.
"There's probably 300 people in their watching," Randall said. "It's a blast. It's two minutes. You tip it up, and you've got to be perfect."
Teams break down into 6- or 7-player groups, and former White Plains players help coach all of the split teams. Garrett Wilson and Jaden Chatman helped to coach seventh-graders this year.
White Plains boys' varsity broke down into two teams, with its top six players on one team and the next six on the other.
The varsity's best got it done. A Paul Laube 3-pointer at the buzzer helped White Plains beat Chattanooga-Christian Fellowship in the semifinals of the 14-team tournament. Josh Wheeler's driving bucket at the buzzer got the Wildcats over the top against Cherokee (Ga.) High in the finals.
"You work on end-of-game situations, and it's a blast," Randall said.