Mr. Baseball
Alabama's top award for high school baseball Hayes Harrison's latest reward for years of year-round focus on lifting his game
Editor's note: Hayes Harrison stats and fun facts at bottom.
By Joe Medley
East Alabama Sports Today
JACKSONVILLE — Debate will rage on between proponents of high school athletes playing multiple sports and year-round focus on one sport. There's no debating what worked for Hayes Harrison.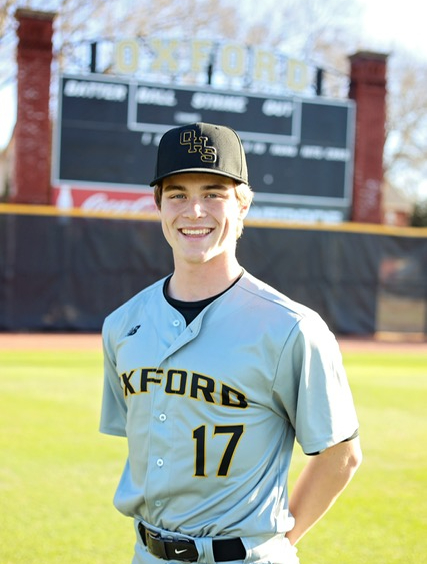 Year-round focus on baseball, complete with a period of virtual school to allow more workout time during the day, has netted the Oxford senior a chance to play collegiately and a postseason awards tour that keeps on giving.
Nine days after Harrison learned he's the Gatorade Player of the Year for Alabama, he received the 24th Alabama Mr. Baseball award at Sunday's Alabama Sports Writers Association banquet in Jacksonville State University's stadium club.
Harrison, most valuable player of the Class 6A state-final series, in which Oxford swept Spanish Fort, becomes the second Oxford player and second player from Calhoun County to receive the ASWA Mr. Baseball award. Oxford's Matthew Maniscalco was the inaugural Mr. Baseball in 1999.
Maniscalco went on to star for Mississippi State University, play in the Tampa Bay Rays organization and co-found Oxford's Excel Baseball Academy in 2003.
"Hayes becoming Mr. Baseball has a huge impact on our community and on the players following in his footsteps," Maniscalco said. "Oxford's state championship crown, and now Hayes's award, show younger players that with hard work and consistency, great things can be earned."
Harrison helped Oxford tie the school record with 39 victories in 2023. The Yellow Jackets finished 39-6, winning their final 19 games, including all 10 playoff games, en route to the school's second Class 6A state title in baseball.
On the mound, Harrison went 13-0 with a 1.28 ERA. The senior lefty struck out 82 batters while allowing 43 hits and 11 walks in 71 innings.
At the plate, he batted .382 with nine doubles, 38 RBIs and a .497 on-base percentage.
Harrison's latest postseason honor comes a day after the ASWA named him Class 6A player and pitcher of the year on the 2023 all-state team.
The Northwest Shoals Community College signee is also a two-time, Clas 4A-6A All-Calhoun County player of the year.
It's a fitting haul for a player whose varsity career started at Anniston's Faith Christian School, where he was team most valuable player as a seventh-grader.
In between were countless workouts with Roby Brooks, Oxford coach Wes Brooks' brother and owner of Top Gun Athletics.
Harrison sparred with and beat nationally ranked competition in Perfect Game and Prep Baseball Report tournaments during the travel-ball season.
He's worked through summer rounds with instructor Randy Sullivan at the Florida Baseball ARMory, tweaking technique to gain velocity.
The key moment, however, came at age 13, when Harrison followed his dad's advice to put aside basketball and focus on baseball year-round.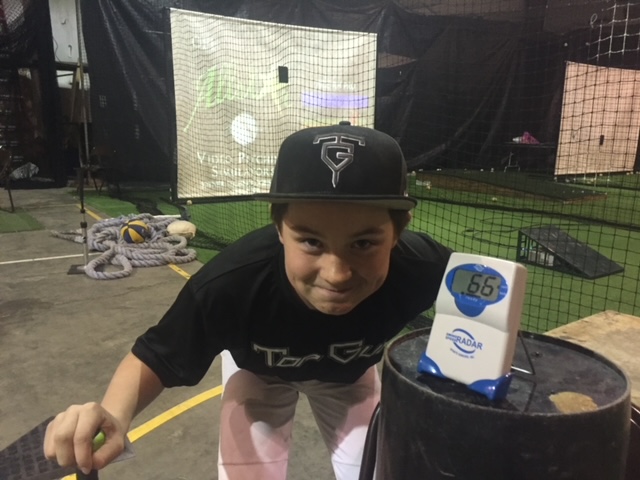 Raising a star
For Roby Brooks, Harrison's story goes back to Top Gun's first organizational meeting.
Then 6-year-old Harrison's family was among 14 families who listened at Anniston's Top O' The River restaurant as Brooks laid out a vision of taking them from rec-league ball to travel ball.
"We started it to win a state championship at Oxford," Brooks said.
The building of a championship team would be founded on year-round workouts and Roby Brooks finding the toughest competition he could find for them to play outside of the school season.
"He talked to the parents and said, 'Look, 'we're not ring chasing,'" said Patrick Harrison, Hayes father. "He said, 'We're not trophy hunting. We're trying to improve these boys and get them to the highest level they can get.'"
Brooks described Harrison as a "bigger, chubby kid" back then and "kind of a middle-of-the-pack guy for us."
"Probably when he was 11 or 12, he personally kind of flipped a switch," Roby Brooks said. "I don't think he set out to be better than anybody on our team or anything. I think he set out to be the best he could be."
That came just in time for Harrison's breakthrough varsity season as a seventh-grader at Faith.
"Hayes is the most coachable, hardest working, best teammate, best overall player I've had the privilege to coach," then-Faith coach Ryan Limbaugh said. "His positive attitude and competitive spirit are a rare combination.
"Any award list that recognizes excellence on the field and off should have Hayes Harrison's name at the top of it."
Then came two hard decisions … one for the grownups in Harrison's life, and the other for Harrison.
Patrick Harrison and wife Kristi home-school their daughters and considered home-schooling Hayes. They got conflicting signals about implications for NCAA eligibility and opted for virtual school at Oxford.
They chose Oxford because of Wes Brooks' reputation as a top baseball guy. They also liked the level of competition Oxford plays as a Class 6A program and Oxford's workout facilities, which Faith didn't have.
The Harrisons chose virtual school to free up more workout time during the day. Hayes spent that time with Roby Brooks, at Top Gun.
The hard decision Hayes Harrison had to make involved letting go of his other sport, basketball.
That came after Hayes Harrison and Robertson played in a Perfect Game showcase in Fort Myers, Fla. The showcase featured hundreds of 13-year-olds from the United States, Canada, Cuba, the Dominican Republic.
The showcase featured pro-style metrics, like exit velocity. Hayes Harrison was evaluated pitching in live at bats,
Video from that showcase is uploaded online for coaches to view. They can search players by name.
Hayes Harrison was considering playing basketball and baseball at Oxford, but the high school basketball season bleeds into the baseball season.
"Sam and Hayes had great success, but we realized there's a whole other dynamic and a whole other level out there," Patrick Harrison said. "Once we got there, we saw exactly what we weren't.
"We had a talk after that first night of us being down there, and I said, 'Hey, I want you to be fulfilled through your high school career, but you've got to make a decision. If you're wanting to be drafted, and you're wanting to play Major League ball, you're going to have to make a commitment year round."
Hayes Harrison finished that showcase and did basketball tryouts after returning home.
"He realized, 'Yes, I'm going to have to do baseball year round," Patrick Harrison said. "That was what kicked him into, really, megafocus of, the guys in the community are really good, and I'm good in that realm, but there's a whole other level out there that I've got to get to.
"That really lit a fire under him."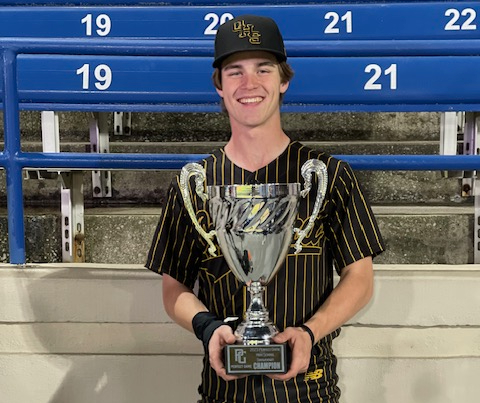 Payoff pitch
Hayes Harrison's steady improvement showed in black and gold, but the best signs of his becoming a Gatorade Player of the Year/Mr. Baseball started showing up in the obscure world of travel ball.
Roby Brooks has seen him beat nationally ranked competition. Playing for Top Gun Brooks, which also featured Oxford teammates Sam Robertson, Peyton Watts and R.J. Brooks, as well as regulars from Mountain Brook, Hoover and Spain Park, Hayes Harrison beat the Perfect Game fifth-ranked Georgia Jackets 7-1 in the summer between his junior and senior year of high school.
"He probably made two bad pitches the whole entire game," Roby Brooks said. "The team was full of D-I commits. I'm talking about ACC, SEC, everywhere, and after about the second inning, I knew they were not scoring more than a run,"
Roby Brooks estimates that Hayes Harrison has beaten four teams ranked in the Perfect Game top 10 during the travel season since age 15. One of those teams was the Cincinnati Spikes.
"It's a well-respected organization in the Midwest," Roby Brooks said. "Before the game, I'm talking to the coach, and they're 18-0, and they've won three tournaments.
"Hayes does was Hayes does, and we beat them 6-1, and that was normal for us, with Hayes on the mound."
Hayes Harrison needed more than top competition to up his game.
When his velocity stalled in the low 80s midway through his high school career, he and his dad knew he needed pitching instruction. After consulting with Wes Brooks and doing his own research, Patrick and Hayes Harrison settled on working with Sullivan and Florida Baseball ARMory, in Lakeland.
Sullivan, a physical therapist, uses slow-motion video to break down body mechanics. He rebuilds mechanics.
Hayes Harrison spent three weeks in Lakeland in the summer of 2022. Just by tweaks of mechanics, he improved his velocity to 85.3. He's confirmed at 86 since then and hopes to reach early 90s by the time he's done at Northwest Shoals.
"He was a good pitcher last year, but if we had not done that, there's no way he would've went 13-0 this year," Patrick Harrison said.
Patrick Harrison calls work with Sullivan just one of the "spokes on the wheel" that helped get Hayes Harrison to the point of giving Oxford and Calhoun County an historic Mr. Baseball bookend.
"It's the Florida Baseball ARMory," Patrick Harrison said. "It's the instruction with his pitching coaches at Oxford. It's Roby Brooks at Top Gun and those conversations of pitching philosophy and how to pitch.
"It wasn't just one thing. It was all of those things."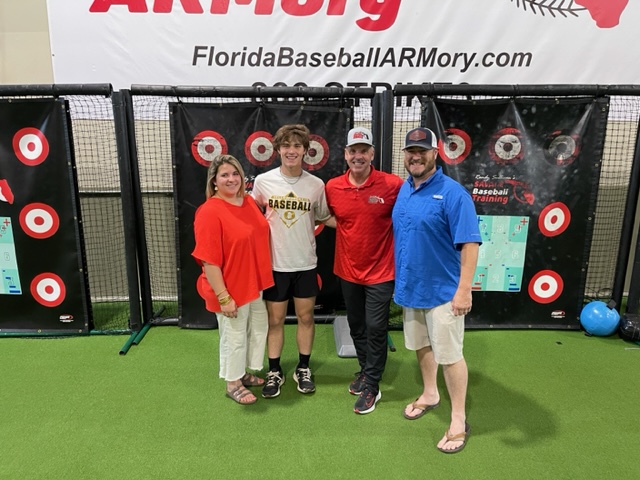 Hayes Harrison file
2023 AWARDS
—Alabama Sports Writers Association's Mr. Baseball
—Gatorade Player of the Year for Alabama
—Class 6A title series MVP
—Defensive MVP of Calhoun County tournament
—ASWA Class 6A player of the year
—ASWA Class 6A pitcher of the year
—ASWA first-team all-state
—Repeat Class 4A-6A All-Calhoun County player of the year
FUN FACTS
—Harrison has worn No. 17, his father Patrick's number in high school and college, nearly all of his playing career. The one exception came in 2013, when he wore No. 34 while playing for the Alabama Catz in the World Series in Panama City, Fla. "He wanted to play once with David Ortiz' number, 34, because that's always been his baseball nickname, 'Big Papi,'" Patrick Harrison said. With three No. 17s in the same Northwest Shoals Community College signing class, Hayes Harrison is considering wearing No. 34 in college.
—Harrison's one high school home run was a seventh-inning grand slam that clinched Oxford's key area series at Pell City.
OXFORD HITTING STATS
| | | | | | |
| --- | --- | --- | --- | --- | --- |
| YEAR | ABs | AVG. | OBP | SLG. | RBIs |
| 2023 | 110 | .382 | .497 | .509 | 38 |
| 2022 | 112 | .411 | .504 | .536 | 30 |
| 2021 | 99 | .293 | .403 | .374 | 18 |
OXFORD PITCHING STATS
| | | | | | |
| --- | --- | --- | --- | --- | --- |
| YEAR | W-L | IP | K/W | ERA | OPP. AVG. |
| 2023 | 13-0 | 71 | 82/11 | 1.28 | .175 |
| 2022 | 4.2 | 36 2/3 | 46/6 | 1.57 | .229 |
| 2021 | 3-0 | 23 | 29/7 | 2.13 | .235 |