Morrow back (updated)
Coach who won a state championship with Jacksonville's boys in 2022 to take reins for Piedmont's girls' basketball program; Young joincs Miller's football staff.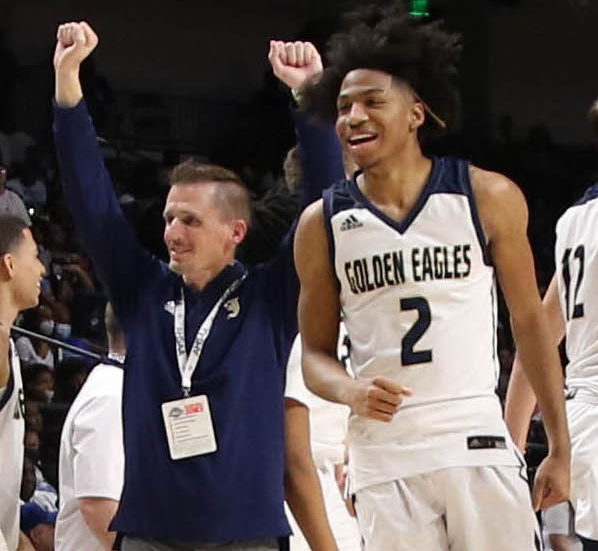 Editor's note: Updates with details about Young's hiring.
By Joe Medley
East Alabama Sports Today
Shane Morrow, who coached Jacksonville's boys to their first-ever state basketball title in 2022, will take be the new head coach for Piedmont's girls, Piedmont principal Dr. Adam Clemons said today.
The Piedmont City Schools board of education approved his hiring this morning.
Morrow, a 1995 Piedmont graduate, will take over for Terrace Ridley, who announced on May 29 that she was stepping down after coaching 17 years at the school. She will continue on as a physical education teacher at Piedmont Elementary School.
"We look forward to Coach Morrow coming in and sustaining the positive momentum of our girls basketball program," new Piedmont head football coach and athletics director Jonathan Miller said. "Our girls have had several consecutive playoff appearances and are coming off an area championship last year, so they're eager to get to work and build upon that success."
For Morrow, Piedmont is home. His three children — son Mason and daughters Mayley and Maddyn —attend school there.
"We're excited," Morrow said. "They went to school there this last year, and they loved it, so we're excited to be there. …
"The community has always supported the athletic programs since I was there. They always have. They rally around all sports, boys and girls alike, and they all root for each other. This boys' programs root for the girls, and the girls root for the boys, and it ain't like that everywhere. It's good to be in that kind of feel."
Morrow coached Jacksonville to its first state title in boys' basketball as a first-year varsity head coach. He was relieved of his coaching duties, which included his work as a defensive coordinator in football, in July of 2022.
Morrow continued teaching at Jacksonville through the 2022-23 school year.
He said he was "blindsided" by his removal from coaching duties. Jacksonville principal Russ Waits did not publicly discuss reasons for Morrow's removal, but Jacksonville athletics director David Clark said it did not involve anything illegal or immoral.
"I think it was clear at the time when it happened, I think the folks at Jacksonville were truthful in what they said," Miller said. "Obviously, we checked into it, but there was nothing immoral or unethical or any of those things, and we didn't expect to find anything like that, either.
"I think it was just an unfortunate situation at Jacksonville. It's one of those things were, maybe, both sides will be better off now."
Piedmont has filled all of its football coaching slots for the 2023-24 school year, so Morrow will not be on the football staff for the 2023 season.
As for basketball, Miller saw Morrow's work at Jacksonville with a trained eye. Miller head football and boys' basketball coach at Saks before coming to Piedmont.
Miller said he liked that Morrow has the ultimate postseason experience and knows what it is to prepare a team for it. Miller also liked how Morrow handled a talent-rich Jacksonville team, which included eventual South Alabama signee John Broom and Tennessee commit Cade Phillips as well as twins Caden and Cam Johnson, who signed with Shelton State Community College.
"It was impressive with the way he had those guys playing together and buy in on the defensive end," Miller said. "Obviously, he had a lot of talent, but the guys were connected on the defensive end and played hard.
"You want those guys to be worried about more than the offensive end, and I think he did a good job of getting buy in defensively."
Morrow praised the work Ridley did with the girls' program and say "the sky's the limit" for the program's future.
"I'm just ready to get in there and get busy, roll up my sleeves and get to work," Morrow said.
Former Munford boys' head coach Riley Jones will be Morrow's assistant, Miller said.
Young hired
The most high-profile question mark facing Miller in filling out his football coaching staff was hiring a defensive coordinator to replace long-time assistant James Blanchard, who followed Smith to Westbrook Christian.
Miller promoted Landon Pruitt and tapped former Saks High and Jacksonville State University defensive end Monty Young to coach linemen.
"We are excited to add Coach Young to our staff," Miller said. "He is very intelligent, hard working and will build a rapport with our student athletes."
Young was part of Miller's 2013 state-semifinal team at Saks and a first-team all-state selection in 2014. He was a regular on the field at JSU, with 66 tackles and 17.5 tackles for loss over four season, and made the Ohio Valley Conference commissioner's academic honor roll three times.
After college, he coached offensive and defensive line under Miller at Saks for two years then outside linebackers and running backs under Michael Easley at Munford for one year.
Easley was Saks' offensive coordinator when Young played for the Wildcats.
"Both stops were beneficial," Young said. "Saks was a great place to get started, and I was thankful to start under Coach Miller. Him being there for me as a player and as one of his assistants made it easier to learn and not be afraid of the process.
"At Munford, I was able to go more in-depth of the skill-position part of offense and work under Coach Easley. I got lucky, being under two great coaches who coached me when I played. And going from teaching at Saks and being part of a faculty at Munford Middle, that helped me with whatever I needed."