Oxford's best?
Oxford beats Spanish Fort 12-3 in Game 2 to clinch program's second state title in baseball, draws comparisons to 2012 state-title team
JACKSONVILLE — Oxford has a brand new state-championship baseball team, the second in its history and a bridge back to 2012.
After a 10-0 run through the 2023 Class 6A playoffs, let the best-Oxford-team conversation begin. The coach who coached both teams has a thought on that.
"That's tough," Wes Brooks said after the Yellow Jackets finished off Spanish Fort 12-3 in Wednesday's Game 2 on Rudy Abbott Field., "but this might be the best baseball team in Oxford history."
He said a lot more, and with appropriate qualifiers, but let's examine the facts.
The 2023 team not only went unbeaten in the playoffs but won four run-rule games .. two over Center Point in the first round, one over Mountain Brook in the second round and another one over Cullman in the semifinals.
The Yellow Jackets very nearly made it five in the finals. Down 11-0 going into the top of the fifth, Spanish Fort scored three runs to extend the game.
Up 11-3, Oxford also had runners on second and third with no outs in the sixth but only got one run across.
In fairness, the 2012 team made its run to Oxford's first-ever state title in Class 6A in any sport before there was a Class 7A. Still, the Yellow Jackets had two playoff series go the full three games.
The 2023 and 2012 teams are tied for the Oxford record with 39 wins.
The 2012 team had stars. Jackson Stephens and Zach Lovvorn were drafted out of high school, and Stephens still plays professionally … in triple-A ball this season after spending 2022 with the parent Atlanta Braves. Brothers Tucker and Trent Simpson, Mathew Goodson and Joe McGuire played Division I ball.
Before Oxford's most recent title run, one could carve an Oxford baseball Rushmore just from the 2012 team. That's saying something for a program that had three state runner-up finishes before then.
Fast forward 11 years, and nine seniors who were 7 in 2012 led what some prep baseball observers considered the best team in all classifications in 2023.
That includes five college signees: Sam Robertson (Auburn), Peyton Watts (Troy), Drew McCormick (Jacksonville State), Jackson Crow (East Mississippi Community College) and Hayes Harrison (Northwest Shoals Community College). Junior Carter Johnson is an Alabama commit.
Harrison is the reigning Class 4A-6A All-Calhoun County player of the year and was named most valuable player of this year's state finals.
Now, for the rest of what Brooks meant when he said the 2023 team just might be Oxford's best.
"Our top-end arms were probably big time," Brooks said. "We weren't as disciplined as they were at the plate. Again, we struck out one time (Tuesday). They know how to win in different ways. We hit four home runs at Hartselle and small ball, two-strike discipline. Really good spot, hitting. Depth on the mound. Depth at every position. Right-handed pinch hitters. Left-handed pinch hitters.
"This could be the most complete team we've ever had, as far as I know of."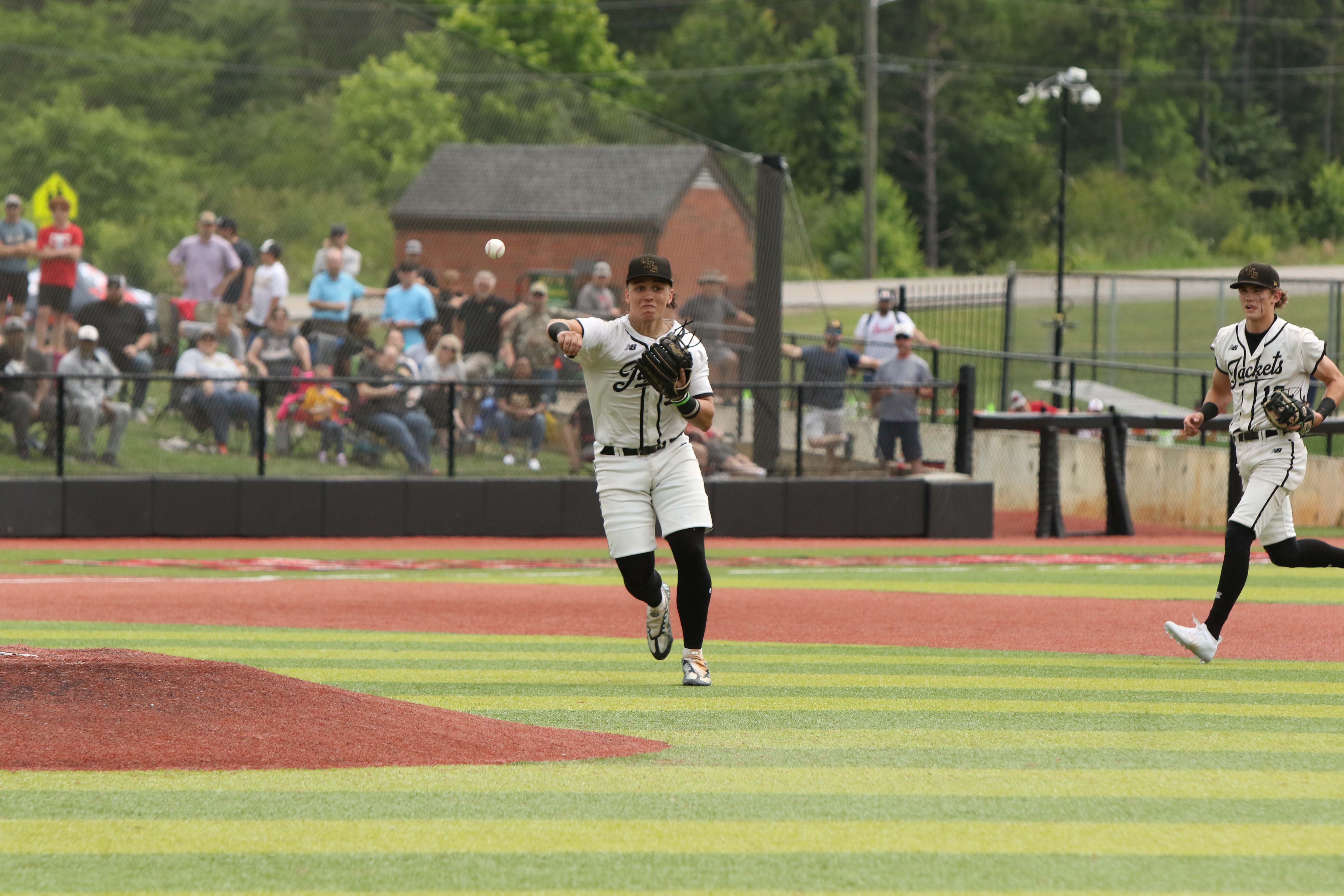 Game details
CLASS 6A FINALS
Game 2
Spanish Fort vs. Oxford, 10 a.m.
Peyton Watts on the bump for Oxford. Newton Gardner pitching for SF.
–T1: Four pitches, three outs. Oxford coming to bat.
–B1: Carter Johnson's RBI single scores Watts and puts Oxford up 1-0. Johnson takes second on throw home. … Hayes Harrison's RBI single scores Johnson for a 2-0 Oxford lead. … Trace Adams' RBI single puts Oxford up 3-0.
–T3: Watts ends the at bat with his signature snake-strike pickoff move to first base. Still 3-0.
–B3: Sam Robertson squeezes Johnson home from third base and Harrison to third base, and Oxford leads 4-0. … Trace Adams RBI double puts Oxford up 5-0. … Gilman single scores Adams, 6-0. … SF makes pitching change, Jacob James for Gardner. … Nick Richardson with a two-run single, 8-0.
–T4: Oxford turns a 6-4-3 double play to end the at bat. Still 8-0.
–B4: Robertson's RBI single makes it 9-0. … Gilman two-run single puts Oxford up 11-0.
–T5: Spanish Fort scores three runs to extend the game. It's 11-3.
–B5: Nothing for Oxford. Still 11-3.
–T6: Oxford makes a pitching change, R.J.Brooks for Watts. … Nothing for SF, still 11-3.
–B6: Harrison with a leadoff walk, and Robertson with a double … Trace Adams grounder scores Harrison to make it 12-3.
—FINAL: Oxford wins 12-3, clinches program's second state title, first since 2012, and ties school record with 39 wins.
Cover photo: Oxford players dog pile after beating Spanish Fort 12-3 in Game 2 of their Class 6A title series Wednesday on Rudy Abbott Field. (Photo by Mike Lett/Lettsfocus.smugmug.com)