Signature win
Oxford's Game 1 victory over Spanish Fort had drama, key rundowns and a game-ending interference call. Seniors' last game on their home field also had a packed crowd.
Class 6A title series
GAME 1
At Choccolocco Park
Oxford 6, Spanish Fort 5
GAME 2
At Rudy Abbott FIeld
Wednesday, 10 a.m.
GAME 3
To follow Game 2, if necessary.
OXFORD — Talk of throngs who stuffed Choccolocco Park's Signature Field bleachers and every gap they could fill between brick, mortar and metal for Game 1 of Oxford's Class 6A title series with Spanish Fort on Tuesday sent Wes Brooks down memory lane.
The long-time Oxford baseball coach looked at senior shortstop Sam Robertson, whose seventh-inning RBI single gave Oxford the go-ahead run in a 6-5 victory, and recalled the Auburn-bound standout's first practice on that field as an eighth-grader.
"January the 27thish, 2018 was his first practice as an eighth-grader right out here," Brooks said. "You know, blood, sweat and tears?
"They can win tomorrow — first game, second game, whatever — they'll never get another opportunity to play on that field, ever, so that's pretty sweet to win the game the way we won it, and they'll remember that the rest of their lives."
Wednesday, of course, is Game 2 and, if necessary, Game 3 on Jacksonville State University's Rudy Abbott Field.
Of course, the top-ranked Yellow Jackets (38-6), who are 5-0 in these playoffs, want to finish off the program's second state title and first since 2012. Of course, they want to tie the school record with their 39th victory.
Boil away the stakes surrounding the 6A title series, though, and Tuesday's Game 1 was also the final home game for nine Oxford seniors. It came with an AHSAA logo on the right-center-field wall.
So what, if Oxford was technically the visitor on the scoreboard, wore its black uniforms with gold pinstripes and goal-outlined numbers and spent the evening in the third-base dugout, instead of their normal first-base dugout.
So what, if they didn't have their customary "Boom Boom Room" celebration in the locker room that adjoins that first-base dugout. They could do that back on campus.
Choccolocco Park's signature field had to be a neutral venue, in a technical sense, Tuesday, but Oxford's players know every sight and scent. Memories from Tuesday's Game 1 now live there with so many other memories Oxford's seniors created since the park opened in 2016.
Because their city built a facility that attracted both the AHSAA state softball tournament and baseball finals, and because this Oxford team just might be the program's best and the best team in any Alabama classification this season, they got to play their final home game on May 16.
It came a month after senior day. They had to win four playoff series to get the chance to call a game from a state-final series their unofficial final home game, but they did it.
As for the memories, there was Oxford's four-run first inning, complete with Hayes Harrison's two-run single. There was Spanish Fort's answer, with a three-run bottom of the first and another run to tie the game, in the second.
There was Hudson Gilman's RBI single to make it 5-4 in the third and Robertson's clutch single on an 0-2 count for the game-winning run, after Harrison doubled ahead of him.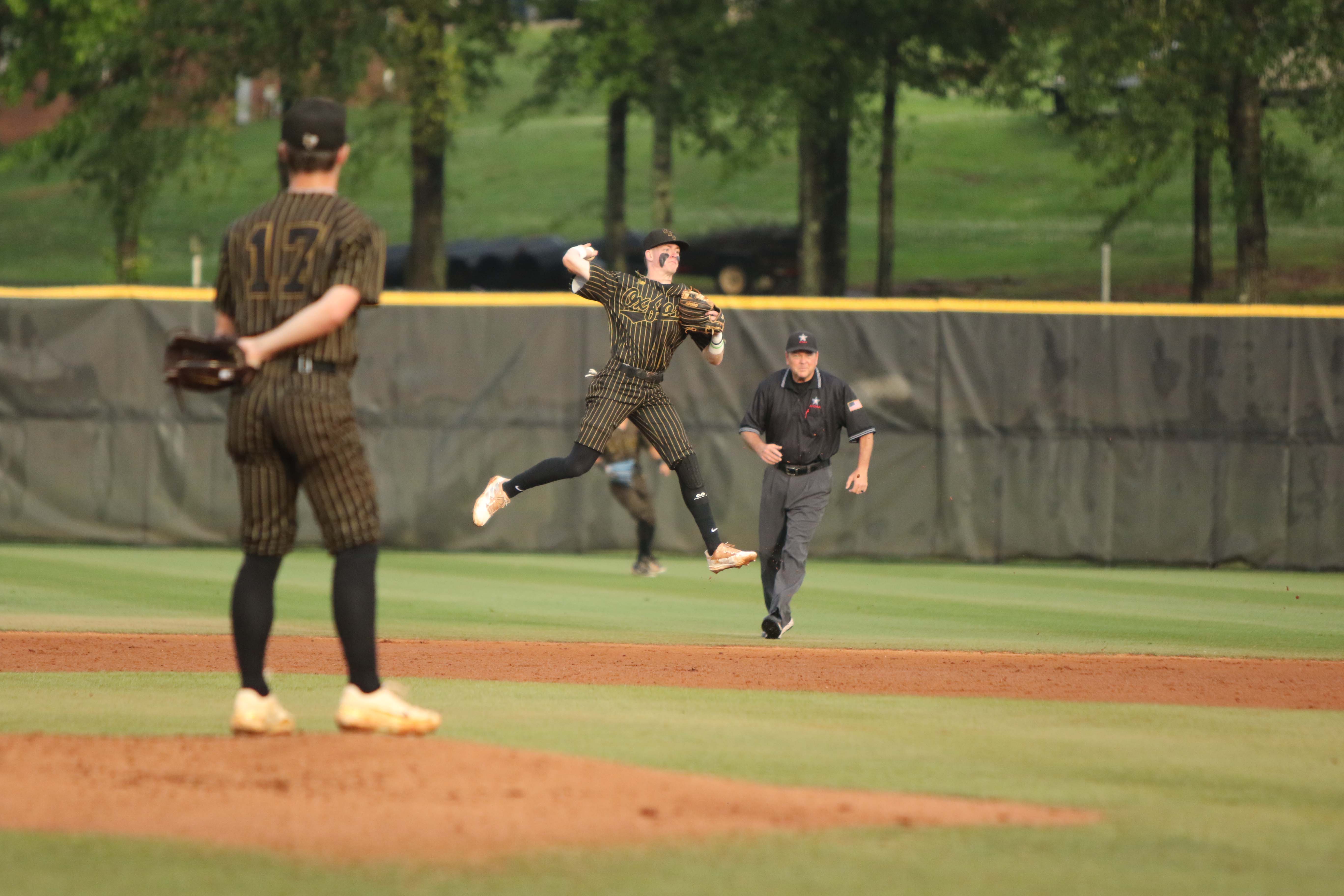 There were video-worthy defensive plays, like senior second baseman Peyton Watts ranging into the gap to deny Pierce Dutton a second-inning single then making a leaping throw back to Gilman at first base for the putout.
And those rundowns. Those key, key rundowns.
Dutton hit an RBI single to tie the game 5-5 in the third. Before that, Oxford executed a 6-2-5-1-4 rundown on Nehemiah Hixon's fielder's choice to retire Hayes Miller between third base and home.
Yes, Dutton's single could've been a two-run single but wasn't.
With two runners on and two outs in the sixth, Harrison faked a pickoff throw, and Dutton ventured off of second base and found himself caught in no-man's land. Harrison charged from the mound and tagged Dutton himself.
If you're scoring at home, Oxford executed a 6-2-5-1-4 rundown and a 1-unassisted rundown in the same game, both to deny Spanish Fort runners in scoring position.
For the rest of their lives, nine seniors will see those plays, the kind one doesn't see every day, in their memories. They'll see them on their home field, in a state final series, and that doesn't cover the ending.
Reliever R.J. Brooks struck out Miller, and Oxford catcher Forrest Heacock came up throwing as pinch runner Justin Fenderson tried to steal second. Fenderson was safe at second base, but wait.
Heacock, jumping up and down in the infield, pointed back to home-plate umpire Slade McElroy, who ruled that Miller interfered with Heacock.
The interference call meant that Fenderson was out. Game over.
Have some details with that memory.
"R.J. threw cutter on the pitch before, and I thought it looked good, so I wanted to go cutter again," Brooks said. "He throws the cutter, swing and miss.
"Forrest is a really good catcher. He's probably going to be a Division I catcher down the road, but because they're so close to the plate, and because it was a two-strike approach, cutter away, he (Miller) is probably leaning over. It was probably accidental. Good job and hats off to the umpiring crew for being able to call that at the end of the game like that."
Want more signature memories from a signature day at Signature Field?
Wes Brooks let the public in on a couple of nicknames for Robertson … "Playoff Sam," for his clutch performances in postseason, and "Jeter," the guy who makes plays with runners in scoring position.
The nine seniors who make up the core of a special Oxford team lived the earned prize of a finals game at home, then packed it with memories.
Now, the Yellow Jackets must go finish the job on the same stretch of ground where Wes Brooks played his college ball. There's a turf field where grass used to be and seats where metal bleachers used to be, but the field is named for his college coach.
"A lot of memories," Brooks said. "Nothing like what they've got right now. We had to lift weights in the bullpen and get dressed in the coliseum parking lot.
"Now, they've got, like, the Taj Mahal."