Saks taps Freeney
Former JSU player performed quick turnaround as first-year head coach at Pasco (Fla.) High School, will try to keep winning ways rolling at Saks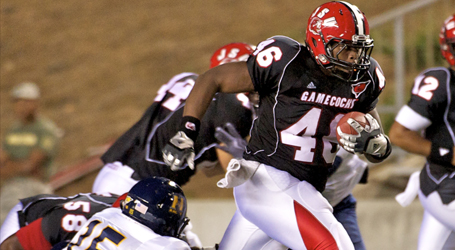 By Joe Medley
East Alabama Sports Today
Alphonso Freeney made a winner out of a winless team in one season at Florida's Pasco High School. Now, he'll try a winning program at Saks.
The Calhoun County Board of Education voted to approve the former Jacksonville State University running back's hiring Thursday. He'll take over Saks' football program after Jonathan Miller left to take the Piedmont job.
"I believe Saks is a special place and very unique place," Freeney said. "Saks is also close to where I spent my college years while playing at JSU. My wife and I met around that area.
"I believe Calhoun County values their coaches, and it's also a great place to raise a family. I was also born and raised in Alabama, so it's always been a dream of mine to get back to the state. I just didn't realize it would be this fast."
Freeney got his head coaching breakthrough at Pasco in December of 2021, taking over after the Pirates suffered their first winless season since 1942. They went 9-2 under his direction in 2022.
Pasco went from 18 players to 70 under Freeney. He was voted coach of the year for Pasco County and Tampa Bay area.
"The turnaround at Pasco was all the kids and my coaching staff," he said. "We really just set a high standard, and they lived up to it. They believed in the vision, and we helped them understand that they are not average, by putting them through things that average individuals wouldn't go through just to play football.
"The rest is history, once they started to believe and see what hard work and being disciplined could do."
Freeney served as running backs coach and junior-varsity offensive coordinator for J.W. Mitchell High School from 2014-2021.
The Straughn High School graduate finished his high school career with more than 3,000 rushing yards and over 1,000 passing yards with 80 touchdowns. He played fullback for JSU between 2006-10 under then-head coach Jack Crowe, starting 24 of the 32 games in which he played.
He rushed for 616 yards and seven touchdowns and caught 32 passes for 210 yards and two touchdowns.
Longtime JSU offensive coordinator and running backs coach Jim Ogle served as Freeney's position coach and said the two remain friends.
"The best thing I can say about Alphonso when I was his coach is, Alphonso is a great teammate and a great friend, and I don't know that I can give him a better compliment as a person," said Ogle, now a member of Jacksonville High's coaching staff. "I feel like he's turned into that kind of husband, father and coach. …
"He was an absolute joy to coach. He was smart and physical, and now he's a great friend. He was the kind of kid that you'd want your daughter to marry, and he's a football guy. I'm very happy for him."
Ogle said Freeney is "can fix things on the fly."
"If he told you something was happening, it really was happening," Ogle said. "Not everyone has that ability, while they're playing. It's one thing to do it while you're watching film, and it's one thing to see it while it's happening.
"I imagine those eyes serve him well as a football coach."
He finished with a bachelor's degree in criminal justice and corrections. He has masters' degrees in behavioral science and sports and health sciences.
His educational background informed his approach at Pasco.
"They had to be students first," Freeney said. "They had to do things right in the classroom and community to be able to play on Friday nights.
"I'm so proud of them and the growth."
Cover photo: Alphonso Freeney, who played under Jack Crowe at Jacksonville State, took over a winless team and went 9-2 as a first-year head coach at Pasco (Fla.) High School. (Submitted photo)