Blake-through
Jennings, long-time assistant football coach and head baseball coach at Ohatchee, 'ready' for chance to be head football coach, at White Plains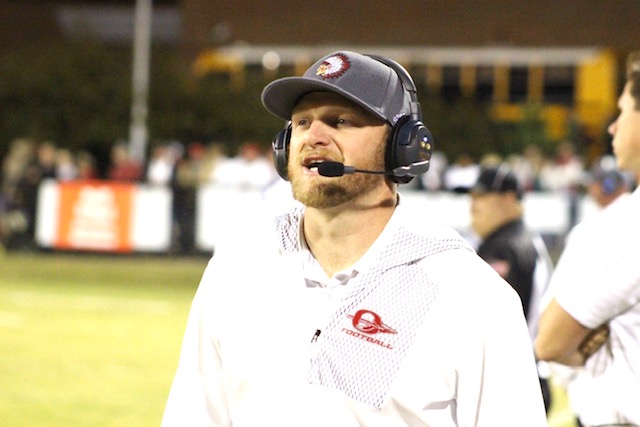 By Joe Medley
East Alabama Sports Today
Blake Jennings knows a thing or two about overcoming history. He coached Ohatchee baseball to its first playoff berth since 1994, and he hopes to coach White Plains football to its first playoff berth since 1994.
Jennings' time as a head football coach has arrived. The Alexandria grad and long-time Ohatchee defensive coordinator will become the next to try at White Plains.
The Calhoun County Board of Education approved his hiring Thursday,
White Plains' football job opened up when Chandler Tyree announced intentions to resign January 31.
"It's something that I've always wanted to be, is to be a head football coach," Jennings said. "There is no doubt, and it is the right opportunity, and I'm ready for it."
Jennings served as an assistant football coach at Ohatchee for 12 years. He was defensive coordinator for nine years, covering the program's recent resurgence, which started after Scott Martin became the Indians' head coach before the 2014 season.
Jennings continued in that role through the 2022 midseason transition to Chris Findley, who was promoted to interim head coach for the rest of that season and became the permanent head coach.
Jennings was named Alabama Football Coaches Association's Class 2A assistant coach of the year after the 2019 season.
Ohatchee has made the playoffs each of the past seven seasons, with two quarterfinal runs and a Class 3A semifinal run in 2016.
The Indians also made the baseball playoffs six of his 10 years as head coach and were headed for another berth before the COVID-19 pandemic halted play in 2020. Their 2016 playoff berth was their first since 1994.
"It kind of marries up," Jennings said. "There's a lot of things. Sometimes, the universe talks to you, I guess, and you've got to listen. …
"I do see a lot of similarities with the place, because when we walked into Ohatchee in 2011, it was struggling. What it takes, and what it took, was a bunch of coaches there that were willing to make kids work hard and do things the right way. Once we established that, we started winning, and it will take that at White Plains."
Jennings has been around winning ways his whole sports life. He played fullback and middle linebacker under hall-of-fame coach Larry Ginn at Alexandria, graduating in 2007.
Jennings played for Ginn's last Alexandria team, in 2006.
At Ohatchee, Jennings coached under Jason Howard during Howard's brief stay before returning to Spring Garden, where Howard has won 129 games in two stints.
Jennings also worked under Martin through Ohatchee's revival. The Indians won three or fewer games nine times in 11 seasons between 2004 and 2014 then won 68 games between 2015 and 2022, including four seasons with double-digit wins.
"Blake was an excellent assistant football coach for me," said Martin, now Glencoe's head coach. "His work ethic was outstanding. He left no stone unturned and was an excellent defensive coordinator all eight years we worked together. 
"It was impressive to see his maturation from year to year. His relationship building with players became a strong point as the years progressed. He has a lot of 'old school' in him, which is probably from his playing days under Coach Larry Ginn at Alexandria. He was always another 'head coach' on the field for me."
Jennings said he learned a lot under all of his coaching influences. He remains in contact with Howard and Martin, and Martin advised him through Jennings' pursuit of the White Plains job.
Jennings called it "an honor" to coach with Findley, another son of Alexandria and "one of my best friends." They were born two days apart and have played and worked side-by-side.
As for how White Plains football might look under Jennings, he said he has to get to know his players first. One key to success at Ohatchee was adopting the run-heavy "Ugly Eagle" offense, which fit Ohatchee's talent.
Jennings sees an opportunity to be more "multiple" at White Plains.
"I do think we can be one of those teams that can run the football but be a little multiple," he said. "You've got some athletes there, so no doubt we can throw the football around some, but run the football and control the clock, control the game, play hard and play fast."
Martin said Jennings will be "very thorough in his building of the White Plains Program."
"If people will be patient, he will deliver," Martin said. "He is a winner!"
Cover photo: New White Plains head football coach Blake Jennings poses with Principal Andy Ward after Jennings' hiring was approved at Thursday's Calhoun County Board of Education meeting. (Photo by Joe Medley)