Safe at home
Gold-clad Monsters get their first win in Choccolocco Park, extend winning streak to 3; Goode strikes out team-record 11 in second start since high school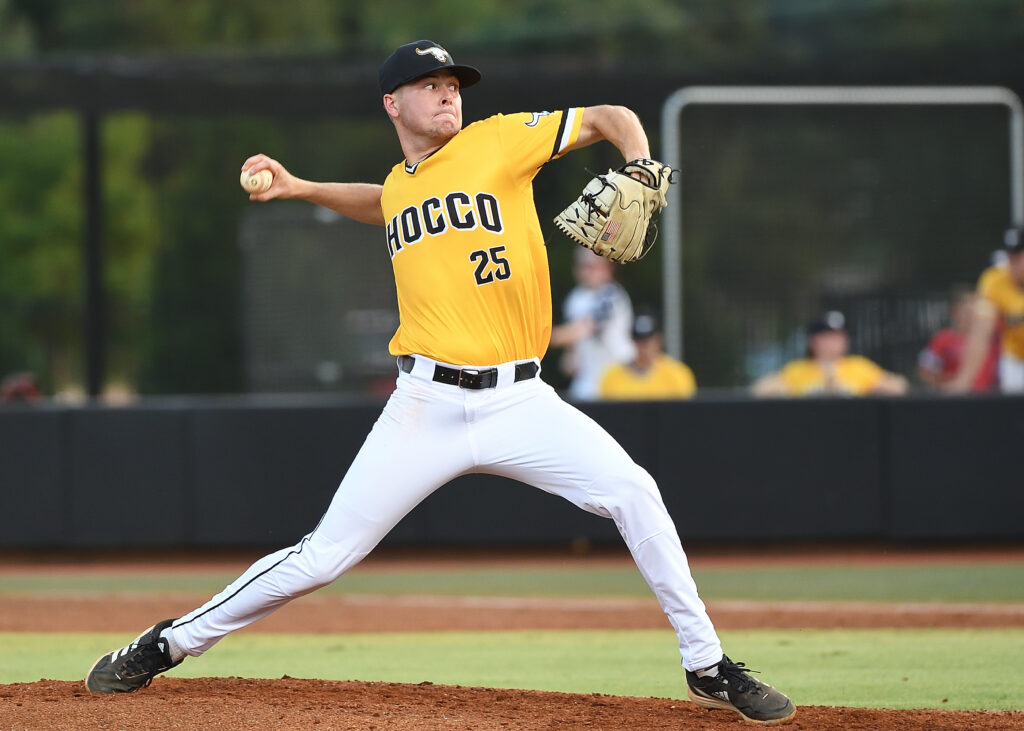 By Al Muskewitz
East Alabama Sports Today
OXFORD – The Choccolocco Monsters finally can feel safe at home.

It took 10 games and more than three-quarters of the season, but the Monsters finally treated their fans to a win in Choccolocco Park, beating the Gwinnett Astros 7-4 Friday night behind an historic night from starting pitcher Austin Goode.
Goode, the former Alexandria right-hander, gave up two runs on six hits in six-plus innings and struck out a team-record 11. He hadn't struck out more than four or gone longer than four innings in any of his previous eight Monsters appearances this season.

The win extended the Monsters' season-best winning streak to three games and moved them up in the SBL wild-card race. In addition to leap-frogging the Astros into second place in the West Division, the Monsters (9-13) pulled within a game of the final wildcard spot in the playoffs.
"The curse is gone," catcher Jackson Sweatt said as he was coming off the field.

"I think we just got tired of losing here," second baseman Brant Deerman added.

The Monsters had come close to winning at home before, but their best chances always seemed to get away from them at the end. On this night, they erased an early deficit with two in the bottom of the first and never trailed again.

"It was just really annoying," All-Star right-hander Will Griffith said. "Because we knew we could win. We've won on the road. We had a really good record on the road, knew we could win; we just had to break the ice."
The Monsters came out in sharp yellow jerseys for the first time. It was part of a promotion to raise money for charity and they auctioned the jerseys off at the end of the night. Considering the way they played, they might have considered hanging onto them for a while.

Goode had been a reliever his entire college career and hadn't started a game since high school until he started against the Astros on June 22. His 11 strikeouts were more than all but four of the team's single-game totals.

"It was a really different feeling, that's for sure," Goode said of starting.
The outing continued a strong second half of the season for the graduated West Alabama senior. In his last four outings (11.1 innings) he has given up just two runs, 11 hits, walked three and struck out 17.
He was lifted in the seventh Friday after 90 pitches and giving up a leadoff double and single. He threw 26 pitches in the first inning, then got his curveball working and threw zeroes through the sixth. Before giving up the double he had retired 13 in a row.

"When I was warming up everything was feeling a little weird," Goode said. "I went out there and didn't really have my best stuff that inning. When I came back out, I was a little frustrated, but frustrated enough where it was going to affect me. I started getting calls, pitches started working for me, had the defense behind me and I got it done."

"When you pitch like that you've got a great chance to win if you're doing anything," Monsters manager Steve Gillispie said.

Griffith came on and got them out of the seventh with only one run scoring. He hit the first batter he faced to load the bases, but got out of it with a strikeout and two grounders to second baseman Deerman.

"That felt really good," Griffith said. "Goode deserved to get out of that with no runs with how he threw today, how he competed. He did everything right."

The Monsters got the run back and more in the bottom of the inning. Nate Shipley doubled home All-Star Josh Cooper, who opened the inning with a double, and scored on Deerman's RBI single to make it 7-2. Shipley, Don Scavone and Deerman combined to go 7-for-11 with five runs and three RBIs from the heart of the order.
The Monsters collected 11 hits and made no errors in the field.
The Astros made it a little interesting in the ninth. Devin Warner led off with a homer, Michael Maginnis doubled and Chase Evans singled him home, but the Monsters got out of it to touch off a celebration that was a combination of relief and jubilation.
"Long time coming," Gillispie said of winning at home. "If you look at what we did … the don'ts in the vaunted book were minimal and the do's continue to be at the forefront of what we've been doing on a nightly basis. It was kind of the same way as earlier in the week. Maybe we're hitting our stride a little bit."
MONSTERS MASH: The old team strikeout record was seven by Will Griffith and A.J. Jarrell … Choccolocco pitchers Alexander McKay (0-2, 2.63) and Weston Kirk (2-1, 5.79) were added to the Nationals rosters for Sunday's SBL All-Star game, giving the Monsters four players in the game and one alternate … Monsters coaches DeWayne Crowder and Dalton Cobb will be in the Nationals' dugout with their players. It was first reported they would be in the Americans' dugout … Team officials said about half of the Monsters' gold jerseys were purchased to benefit Ronald McDonald House. The rest will be up for auction on the team's website. Minimum bid is $50.
Gwinnett 100 000 102 – 4 9 3
Choccolocco 200 120 20x – 7 11 0
WP: Austin Goode (1-1). LP: Jayce James (1-2). 2B: Michael Maginnis (G), Josh Cooper (C), Nate Shipley 2 (C). HR: Devin Warner (G).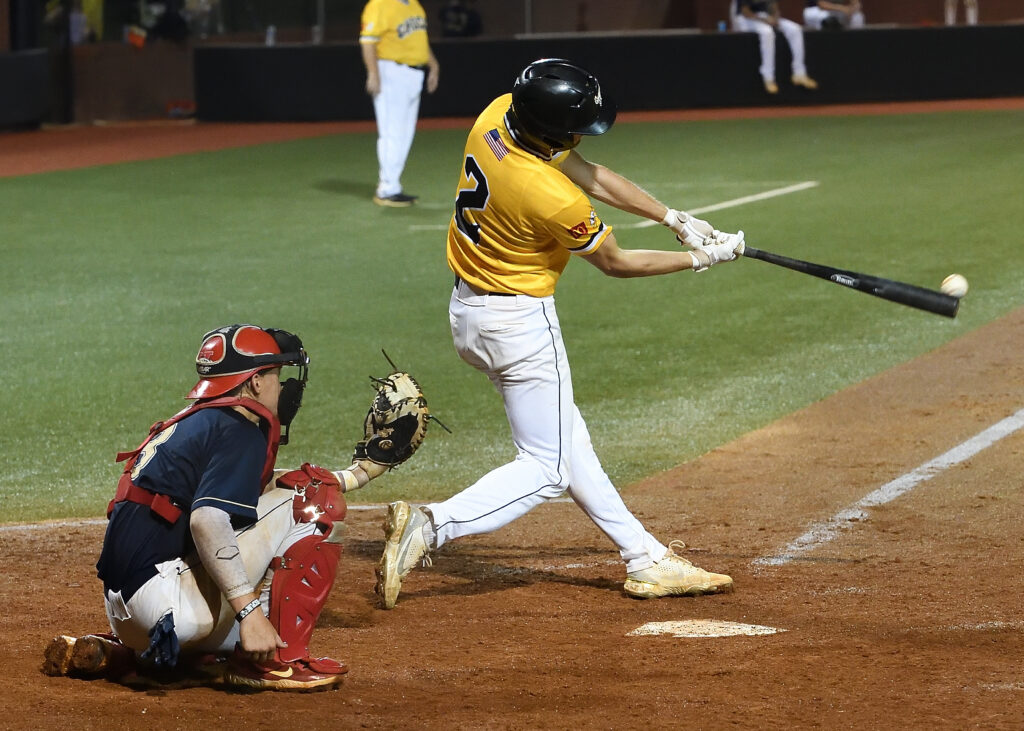 Sunbelt Baseball League standings
| | | | | |
| --- | --- | --- | --- | --- |
| EAST DIVISION | W | L | PCT. | GB |
| x-Gainesville GolDiggers | 17 | 6 | .739 | — |
| Waleska Wild Things | 11 | 9 | .550 | 4.5 |
| Alpharetta Aviators | 5 | 15 | .250 | 10.5 |
| CENTRAL DIVISION | | | | |
| Atlanta Crackers | 13 | 7 | .650 | — |
| Atlanta Blues | 11 | 11 | .500 | 3 |
| Brookhaven Bucks | 10 | 12 | .455 | 4.5 |
| WEST DIVISION | | | | |
| Columbus Chatt-a-Hoots | 11 | 9 | .550 | — |
| Choccolocco Monsters | 9 | 13 | .409 | 3 |
| Gwinnett Astros | 7 | 12 | .368 | 3.5 |
x-Clinched a playoff spot
Friday's Games
Alpharetta 10, Columbus 0
Atlanta Blues 8, Atlanta Crackers 4
Brookhaven 4, Waleska 2
Choccolocco 7, Gwinnett 4

Saturday's Games
Atlanta Blues at Atlanta Crackers, 1:05 p.m.
Alpharetta at Columbus, 6:05 p.m.
Brookhaven at Waleska, 6:05 p.m.
Gwinnett at Choccolocco, 6:05 p.m.

Sunday's Game
SBL All-Star Game at Choccolocco Park, 3 p.m.
Playoff standings
| | | | |
| --- | --- | --- | --- |
| DIVISION LEADERS | W | L | |
| x-Gainesville | 17 | 6 | East |
| Atlanta Crackers | 13 | 7 | Central |
| Columbus | 11 | 9 | West |
| WILD CARDS | W | L | SEED |
| Waleska | 11 | 9 | No. 4 |
| Atlanta Blues | 11 | 11 | No. 5 |
| Brookhaven | 10 | 12 | No. 6 |
| BUBBLE | W | L | GB |
| Choccolocco | 9 | 13 | 1 |
| Gwinnett | 7 | 12 | 1.5 |
| Alpharetta | 5 | 15 | 4 |
x-Clinched playoff spot