Livin' the dream
Woodstock race director Long was convinced about taking the post in a dream, organizers pursue elite runners, reinstate record bonus

By Al Muskewitz
East Alabama Sports Today

For the past three years the Anniston Runners Club has been trying to get Hayley Long to be its race director for the Woodstock 5K. Their interest in her was flattering, but she would always, politely, decline.
Then, like a divine vision, the idea of overseeing the biggest event on the local running calendar came to her in a dream. Her time had come.

"They've been asking me for several years and I've always politely declined because being a coach is enough," Long said. "And I know what it's like to put on a race, and it's not easy. Woodstock is one of the biggest in the Southeast.

"I guess it was November or December they had asked me again, I said no, no thank you. They were having trouble finding somebody, but I woke up in the middle of the night with a dream telling me it was your turn and you need to do this. So here I am. I thought I'd never do this.

"It was almost like in the dream I would be interviewed and they were saying you don't have enough race director experience. You say you don't like change, but when something pushes you towards it, you know it's your turn."

Long, the track and cross country coach at Donoho, ran in the Woodstock for many years, but she never ran it until now.

And it didn't take long to put her stamp on it.

She's bringing back a push for the Elite-level runners that added to the race's appeal with the potential of setting the race record – for fun and profit – every year. To that end, organizers brought the male and female race winner's bounty back to $500 ($200 for second, $100 for third) and reinstated the $500 bonus for breaking the record.

Patrick Choptoek, who set the record (14:13) 10 years ago, isn't running, but he recruited a runner capable of smashing his mark – James Sugira, a 25-year-old Rwandan who ran collegiately at Eastern Kentucky. And Emmanuel Bor, who might have beaten Choptoek to the record had he not made a wrong turn near the finish that year, had planned on running but has been called to active Army training on the race weekend and won't be able to compete, but he's trying to recruit an Elite female to challenge Risper Gesabwa's record set the same year (16:06).

Race officials do have commitments from marathoner Alec Scheerer of Huntersville, N.C., former race winner Josh Whitehead of Madison and defending men's winner Ethan Mines – all of whom have regularly been running in the 15s – and have nearly 20 runners in the current corral of 18:00 Elites.

"I wanted to try and bring that back a little bit," Long said. "I feel like that's the only way we're going to get our race numbers back up."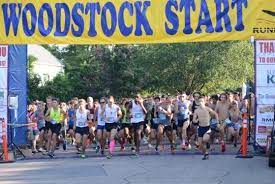 At the height of its popularity, the Woodstock drew nearly 1,600 runners. As of Wednesday, 24 days before the Aug. 6 race, this year's 41st Woodstock has drawn a total of 656 runners from 10 states as far away as New Mexico and Maine.

It's way ahead of schedule. Last year at this time there were 478 runners registered.

There's also been a push on the Group Challenge and several high school cross country communities have registered in force. There's currently a good battle waging between Team Falcons (Donoho) and Team Golden Bears (Lincoln), but there are 13 groups currently registered. The group that draws the most runners wins a $300 prize. All teams must be entered by July 31.

Entries are coming in every day. Until Friday night entry fee is $30, but at 11:59 p.m. it increases to $35. Registration for the Kidstock 1K is $15, with a bump at 11:59 p.m. Sunday. Registration is open on the Woodstock 5K page on the Anniston Runners Club website.

"Last year they got in the 700s," Long said. "Steven (Miles) tells me you're on trend, compared to what people sign up at the last minute, to do at least 1,000. I'm like I don't think it's going to happen. I'll be happy with 800, but 900 would be great.

"If we got to 1,000 I'd be ecstatic because that's what we used to do before the pandemic, but, then, we've been the Southeast Region's championship and when you do that you get a lot more people who come."

This year's Woodstock has been designated at the Alabama 5K State Championship race.