Phillips picks Vols
Jacksonville junior 4-star with Alabama family legacy commits to Tennessee for basketball, weighing options that could include leaving the Golden Eagles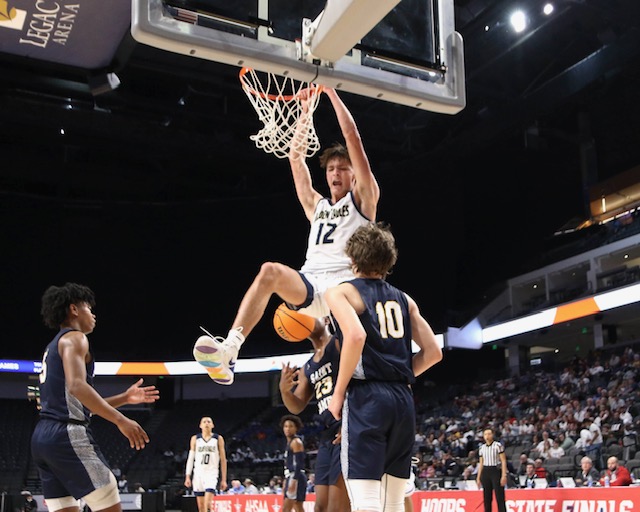 By Al Muskewitz
East Alabama Sports Today

JACKSONVILLE — The family legacy is Alabama, but Cade Phillips is going his own way.
In one of the most anticipated verbal commitments in the county this year, the 6-foot-8 Jacksonville 4-star has committed to play basketball at the University of Tennessee.
He made the announcement in the school library, hours before he officially becomes a high school senior. There is some consideration being given for him attending a basketball prep school next year (he only needs one class to graduate) and reclassify, but if he stays in high school it will be at Jacksonville.
And wherever he goes – and those options are still being weighed – he'll still be a Tennessee commitment "all the way."
"Something I really tried to get across is my parents have always said be true to yourself and who God made you to be," Phillips said. "They love me and they were going to guide me through this whole thing, but they knew this was my decision.
"Even with all the Alabama legacy, it was Tennessee. It was my decision as to Tennessee and they wanted me, so that was huge."
The family has strong roots in Alabama football. Cade's father, John David Phillips, played quarterback there and was the last Alabama football signee from Anniston before Antonio Kite this year. His grandfather and uncle, John and Brodie Croyle, also starred there. His mother Regan played basketball there.
Shortly after Cade made his announcement by pulling a UT cap from under the table, the family stood with him in solidarity. Mom had a white shirt with a big orange T on the front, dad had a black shirt with orange Tennessee across the chest.
"The crazy thing is we left that place and they were like 'I wouldn't mind wearing orange a little bit,'" Cade said. "My dad has been smoking cigars for 20 years now in that rivalry. He had the black shirt on today, but he's proud of me. He thinks it's the right decision as well and he's just as proud of me as if it were any other college."

There were other options – Alabama among them – but Tennessee had been hard on his since August and after their visit there in November they didn't see a reason to visit anyone else.

He was particularly impressed by the game-day atmosphere. He went twice, the Sunday afternoon season-opener against East Tennessee that drew 17,000 and the Christmas Eve game with Arizona that sold out with no students on campus.
Papa Phillips admitted his initial thought was it might be difficult emotionally to see his son at the rival school, but by the time the family left their visit he wound up being comfortable with his son's choice.
"The best compliment I could give a school was when I left I could leave my son there," he said. "When I left Tennessee it was, 'I could leave my son there.' I think we knew the second we walked off their campus what he was going to do.

"I have grown up listening to 'Rocky Top' in the locker room of Alabama so we could get acclimated to it before we played them, so that song was always stuck in my head. We had our own version we'd sing to it — I'll leave that off the record — and the first time we went I said, Cade, I'll have to do baby steps here if this is the option.

"First I'm going to separate basketball from football and then I'm going to have to get used to that orange color that I've always learned to hate, but I refuse to like Peyton Manning — just kidding.
"We've raised him to be his own man and that almost played against him with Alabama because he wanted to do his own thing. He's always been a unique kid."
The hatred between the two rival fan bases runs deep and Cade said he'd understand the angst that may come from the outside, but those who knew him best knew he would be true to himself.

"I know there's always going to be hate with decisions like this no matter what the decision was,' he said. 'I don't think I'm going to have to watch my back because I feel like at the end of the day people will realize I made the best decision for myself.

"I know people won't like it, but that just adds a little extra fun, I guess."
Phillips created much buzz last summer when he transferred to Jacksonville from Westbrook Christian, providing the missing inside presence the Golden Eagles needed to the Class 4A state championship in Shane Morrow's first year as head coach.
Despite missing three weeks late in the season with a foot injury he suffered in the highly anticipated regular-season matchup with Anniston, he still averaged 13.3 points, 8.2 rebounds and blocked 108 shots.

He said his plan as a Tennessee player is to become "the most versatile player in the country," a big 3 guard and a 4 when the Vols need him to be.

"What they can expect isI'm going to try to give them whatever the fans want," Cade said. "Just make their ticket worth it, I guess."