Air it out
Jacksonville, Wellborn move the ball in their spring game, but Golden Eagles prevail behind Ogle's 316 yards passing and 3 long TDs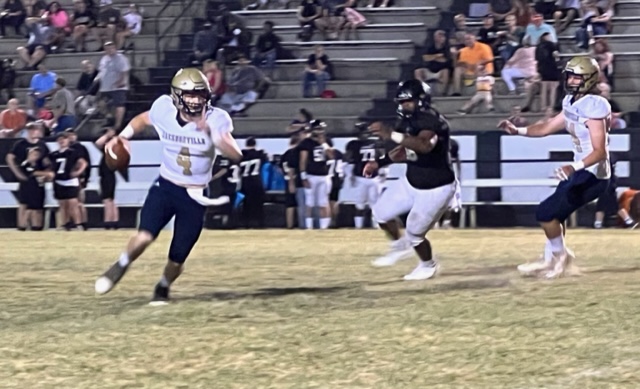 By Al Muskewitz
East Alabama Sports Today
It was modern-day football vs. old school football and on this night modern day came out on top.
Jacksonville and Wellborn got together for an entertaining spring game Friday night on The Hill. Wellborn's old-school, smash-mouth power running offense moved the ball throughout the game, but in the end, it wasn't enough to offset the Jacksonville's air assault.
Jacksonville rising junior Jim Ogle completed 11 of 17 passes for 316 yards and three touchdowns as the Golden Eagles outscored Wellborn 48-22 in the varsity portion of the exercise. The two B teams battled to a 12-12 tie in what amounted to the fourth quarter.

"We want to be physical and we want to run the football," Jacksonville coach Clint Smith said. "I played at Clay County and that's what we did, but I also know, too, you have to play to your strength and I think we've got some really good skill guys and they're going to get better as the year goes on.

"It all complements each other. When you're able to spread the field and throw the ball down the field people can't stack it up on you and that opens up the running game."

Of course, it helps when there's a player like Ogle at the front of that offense.
Ogle burst on the scene as a pocket passer, but as he has grown in the game, so has his ability to throw on the run. He displayed a veteran's poise against the Panthers, completing several passes while scrambling.

Several times he rolled out, got chased by Wellborn's heavy rush for what might have been for a lesser quarterback a big loss, but he stayed ahead of them all, got in the open, found a receiver and hit for a big gain.

He threw touchdown passes of 34 and 63 yards to Kydric Fisher and an 80-yard work of football art to eighth-grader Will Phillips in the final 15 seconds of the first half. He also ran 19 yards for a score on his final snap of the game and had two runs for a total of 35 yards.

"After we got beat in the second round last year, American Christian really struggled with me getting out of the pocket and figuring out where to go with our receivers," Ogle said. "I think in this offseason before spring started, watching so much stuff on that and learning stuff like looking up, like NFL quarterbacks, has really helped me out. I've still got a lot of work to do."

"He was doing that last year some," Smith said. "One of the best things Jim does is when he scrambles his eyes stay downfield and that allows the receivers to break open and he can just put it where he wants to or throw one over the top of the defense if they come up."

That's what he did on the touchdown pass to Phillips. He threw the ball some 50 yards in the air that wasn't even the limit of his range and dropped it in over Phillips' shoulder without the receiver breaking stride.

"Coach Smith thought about taking a knee and Coach (Jamison) Edwards was like, 'No, let's sling it, let's go score,'" Ogle recalled. "We lined up and got Will out there. We had everybody going and they kept the safeties closer than I thought, so I dropped back, had great protection up front, stepped up and just threw it as far as I could and he made a great catch. That was a fun play."

"I see it at practice a lot as far as him putting the ball where he wants it; it was just a great throw," Smith said. 'I think he's one of the best quarterbacks in the state, doing what he does. I haven't seen anybody throw it like him. I guess I'm partial to him but if I was starting a team and needed a quarterback, that's who I'd start with. He can just change the game."

Fisher caught four passes for 158 yards. The Golden Eagles' varsity and B teamers both returned fumbles for touchdown in the game.

"I think this gives us a lot of confidence (going into the summer), it shows us what we can do, especially on defense and with our skill on offense," Ogle said. "Everybody had a lot of questions coming in, losing all of our skill last year, but I think this gave us a lot of confidence to see what we could do against a team like that."
Wellborn's offense, which return nine starters from last year, gave their fans a lot of look forward to next fall. The varsity group rushed for 259 yards. Xavier Parker went for 77 yards and two touchdown and Jesse Lewis ran for 78 yards. The B-teamers ran for 208 yards with Ahmad Noel breaking off touchdown runs of 70 and 74 yards.

"It wasn't the outcome we wanted, but we can work on our mistakes and we'll get better," Panthers coach Jeff Smith said. "I'm glad we played this. We saw the mistakes we made and have a chance to fix them. We've got some good kids here and they're going to work hard and they're going to respond and they're going to get themselves better.

"I'm so thankful we did it now in May instead of waiting until August out here against Anniston (in the season opener)."
Jacksonville 48-12, Wellborn 22-12
| | | | | |
| --- | --- | --- | --- | --- |
| J'ville | J'ville B | | Well | Well B |
| 19 | 5 | First downs | 13 | 5 |
| 18-179 | 9-67 | Rushes-yds | 34-259 | 10-208 |
| 11-17-1 | 1-1-0 | Comp-Att-Int | 1-4-1 | 0-0-0 |
| 316 | 7 | Passing yds | 8 | 0 |
| 0-0 | 1-0 | Fumbles-lost | 1-1 | 1-1 |
| 0-0 | NA | Punts-avg | 3-30.0 | NA |
| 3-20 | 0-0 | Penalties-yds | 6-30 | 0-0 |
| | | | | | |
| --- | --- | --- | --- | --- | --- |
| Score by quarters | | | | | |
| Jacksonville | 13 | 14 | 21 | X – | 48 |
| Jacksonville B | X | X | X | 12 – | 12 |
| Wellborn | 8 | 0 | 14 | X – | 22 |
| Wellborn B | X | X | X | 12 – | 12 |
Scoring summary
W – Xavier Parker 6 run (Jesse Lewis run), 8:33 1Q
J – Kydric Fisher 34 pass from Jim Ogle (Mason Terrell kick), 5:45 1Q
J – G Turner 8 run (kick failed), 11.5 1Q
J – Zae English 7 run (Mason Terrell kick), 4:34 2Q
J – Will Phillips 80 pass from Jim Ogle (Mason Terrell kick), 0:13 2Q
J – Kydric Fisher 63 pass from Jim Ogle (Mason Terrell kick), 10:08 3Q
W – Grayson Johnson 8 run (Jesse Lewis run), 8:38 3Q
J – Jim Ogle 19 run (Mason Terrell kick), 5:27 3Q
J – Nick Warren 23 fumble return (Mason Terrell kick), 5:10 3Q
W – Xavier Parker 5 run (run failed), 2:40 3Q
J – Jackson Bonner 88 fumble return (kick failed), 7:27 4Q
W – Ahmad Noel 70 run (run failed), 7:12 4Q
J – Trent Jackson 1 run (run failed), 2:12 4Q
W – Ahmad Noel 74 run (run failed)