'Sports saved my life'
Jacksonville's King overcomes personal challenges in her youth to sign to play college soccer with Idaho JUCO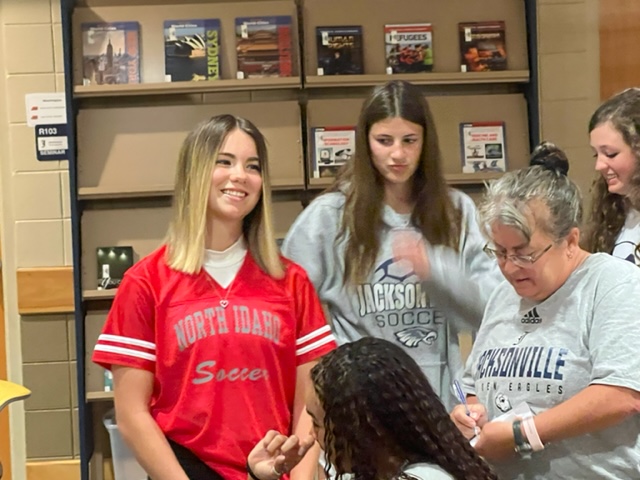 By Al Muskewitz
East Alabama Sports Today
JACKSONVILLE — Olivia King doesn't mince words when she talks about the importance sports has played in her life.
"Sports definitely saved my life," she said.
Just a few years ago King was caught in the throes of an eating disorder than consumed every aspect of her being. Today, she is a healthy, vibrant senior leader of her Jacksonville soccer team about to embark on the next adventure in her life.
It's an adventure that will take her west, specifically to North Idaho College in the resort town of Cœur d'Alene to play junior college soccer. It's a bold move since she knows absolutely no one out there, but, then, she's always been up for a challenge.
"I've always wanted to go out west," she said. "That's always been, I think, the biggest goal in my life so far and now I'm going to do it and it's really exciting and kind of doesn't seem real … yet.
"It had everything I wanted. The scenery was really big for me. I wanted something completely different from what I'd already been in. It's so beautiful. Insane like. It's like being in a painting the entire time you're there."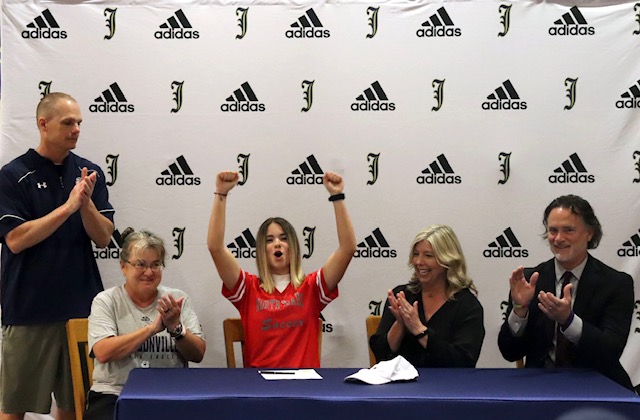 Everything looks better in Olivia King's world these days.
East Alabama Sports Today introduced her to the world in the fall of 2019 when she finished third in the state cross country meet and afterwards bravely spoke about the eating disorder that took over her life.
She suffered from anorexia, but suffering doesn't seem to adequately describe it. At the height of its grip the disorder had taken 40 pounds of her body weight in three months and left her an emaciated 68 pounds. She couldn't do any physical activity for nine months.

"That was a big, big life change," she said. "It was definitely the hardest thing I've ever been through. You never think it'll happen to you – until it does. That was … very life-changing – in the best way possible now, but back then it was really, really hard because mentally it was challenging. I wasn't strong."

She turned to sports as an escape, jumping back into it on the Golden Eagles cross country team. She did well as a runner but shortly thereafter returned to the soccer pitch where she flourished before the disorder took hold.
After her big finish at the state meet her doctors told her she was good to go. She has regained her health – and weight – and plans to pursue an academic discipline at North Idaho that will help her counsel others on the dangers of eating disorders and other mental health issues.

On the soccer field she has become a prolific scorer, going for four goals in the Lady Eagles' recent first-round playoff win over Leeds.
"The year of cross county and getting back into soccer, mentally that was the best thing to ever happen to me or for me," King said. "It definitely saved my life."

King has scored 17 goals in the last five games, but Jacksonville coach Kim Darby said her value to the program goes beyond what she brings between the white lines. "What she's meant to our soccer team cannot be measured," she said.
Before the formal signing took place, King's dad Tim ducked into a quiet corner of the school library and wiped away a tear. It was an emotional day for all.
"I'm just so happy for her," her dad said. "It's unbelievable. To go from wondering whether your child is going to make it to the next day to having this commitment, it's just a wonderful feeling."