Once a Dawg …
… Always a Dawg; Anniston junior OL McElderry sticks to his guns, commits to Georgia, an original Final 5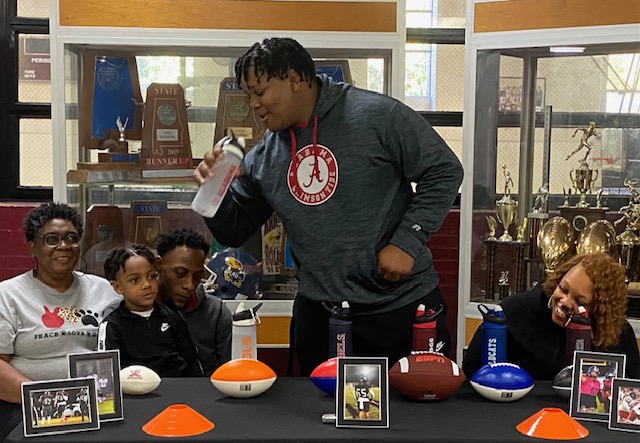 By Al Muskewitz
East Alabama Sports Today
The way his top five shook out Nov. 17, the world knew Ryqueze McElderry was going to play his college football in the SEC.
Then the biggest dog entered the picture and those who didn't know the Anniston linemen very well would have thought all bets on the original five were off.
Based on his Nov. 17 post, he was choosing among Ole Miss, South Carolina, Georgia, Tennessee and Kentucky. Fans from all five camps flooded his social media with pitches that screamed 'Choose Me.'
Two days later, Alabama – his "dream school" growing up – made an offer and suddenly the waters didn't seem so clear.
Not for McElderry. Spurning the Johnny-come-lately in-state school that offered and the one that didn't, the 6-4, 340-pound junior stuck to his original plan and picked out of the original five, committing to Georgia Tuesday in the lobby of the school auditorium.

"It was kind of hard (to stick to the five), but it really wasn't," he said. "I kept telling everybody Alabama always has been my dream school, but at the same time they hadn't shown as much love and care as Georgia did.

"Georgia showed me the most love of all the schools that were recruiting me, so why not go to a school that's been showing me this love and really wants you to come play for their program. Every other school I camped with this summer they ended up offering me, so when Alabama offered there really was no use. I don't want a school to offer me if it takes me to drop my top five just to play for the school."

"From the get-go Georgia showed him you're our guy," Anniston coach Rico White said. "The teams that came on late they had the same opportunity everyone else had. The biggest thing was Georgia was committed to him and like I always tell them you don't marry the one you love, marry the one that loves you. I think that's what he's doing and I think he will be successful."
McElderry may have made up his mind two weeks ago, but he kept everyone guessing Tuesday as he walked between classes in a crimson hoodie with a big Alabama logo on the chest.
Laid out on his announcement table were squeeze bottles and mini-footballs of all six contenders. He teased the choice even more by leaning to grab the Alabama bottle before making a quick pivot to take a big swig from the Georgia bottle in front of him and then rip off the Bama hoodie to reveal a bright red Georgia pullover that went so well with his Georgia hat.

"I had a black hoodie but I forgot it this morning," he said. "I just got the Alabama hat when I went to see them play Arkansas. I was wearing the Alabama hoodie all day around school and everybody was like, 'Oh, man, you're fixin' to be a big Alabama commit.' I was like, I don't know, we're going to see.

"My mom and I talked about it faking which bottle I was going to grab. I bent like I was going to grab the Alabama bottle and then I grabbed the Georgia one."
McElderry is Georgia's second offensive lineman commitment for 2023. Although he's still a year out from going to Athens, Georgia has already talked to him about a position.

If he gets taller he'll be a tackle, if he stays the same he'll be a guard. But he can play anywhere on the line.
By pulling the trigger now, all he has to do from here on is concentrate on the year ahead and becoming a better player. He knows teams will still pursue him, but his commitment to UGA is "all the way."
"I just felt like it was the right move for me and my family," he said. "Making this decision early put me on the spot a little bit, but it really didn't because I already had my mind made up that I wanted to be a Georgia Bulldog."
On a side note, McElderry has a family connection to the Bulldogs. His cousin is Larry Bowie, the former Anniston and NFL running back who played for Georgia in the mid-90s.
"They just changed my heart," the big lineman said of Georgia. "They really took me away from Alabama. Alabama had always been my dream school, but they just blew me away with the way they carried themselves, the way they treat you, the way they approach you.
"Everything from the first time I met them to today it was a good experience, it was just a good vibe. Being around them it just felt like home. It just felt like I'm back in Alabama."