Technically, a title
Spring Garden gets spark from two technicals on bench, rallies from early deficit to beat Oxford for Champions Girls Classic crown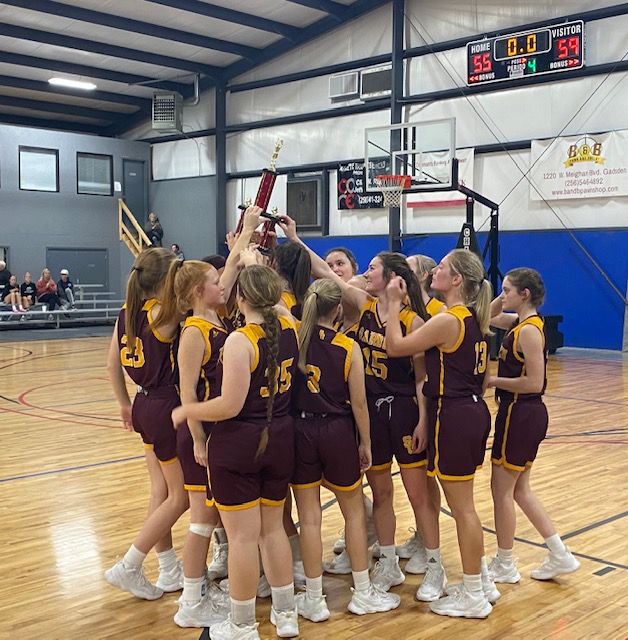 GIRLS GAMES
Champions Girls Thanksgiving Classic
Hokes Bluff 45, Jacksonville 28
Ohatchee 52, Hokes Bluff 42
White Plains 53, Alexandria 43
Spring Garden 59, Oxford 55

Glencoe Thanksgiving Classic
Fort Payne 66, Glencoe 45
Cherokee County 47, Cleburne County 38

By Al Muskewitz
East Alabama Sports Today

Less than four minutes into the first quarter the championship game of the Champions Girls Thanksgiving Classic was turning out to be not much of a game.

Oxford was showing its athleticism and opening a 10-point lead before Spring Garden ever came close to scoring.

But never underestimate the value of a technical foul on the bench. Or two of them.

Spurred by the Ts on its bench and then coach Ricky Austin, Spring Garden came to life, wiped out two early double-digit deficits and once it had the lead held on to beat Oxford 59-55 for the tournament title.

Lady Panthers guard Ace Austin, who sealed the victory with a pair of free throws with 3.4 seconds to play, was named tournament MVP. She scored 15 points in the championship game despite picking up her fourth foul with 2:27 left in the third quarter.

"My dad just keeps telling us just keep playing," Austin said. "Our team, we never get down, really. We had a few bad calls we thought, so we had a chip on our shoulder at that moment, so we kept pushing."

Oxford jumped out to a 7-0 lead against a Spring Garden start that reminded Ricky Austin of the way his team's first two games in the tournament started. Listless, missing shots, turnovers.

Some call by the officials didn't set right with the Spring Garden bench and it got popped with the first T. That didn't set well with Austin and his continued protestations earned him a T as well.

The coach said he didn't say much to get T'd up, but admitted "I deserved it and I wanted it."

Oxford's Lauren Ellard hit three of the four technical free throws and the Lady Jackets had a 10-0 lead with 4:35 left in the first quarter.

It took a little while for spark Austin was looking for to catch. Oxford extended its lead to 18-7 on back-to-back 3s by Ellard and LaMya McGrue, but then it was all Spring Garden the rest of the half.

The Lady Panthers outscored Oxford 27-13 the rest of the half, led 34-31 at the half and never lost the lead. The big part of the run came in the final five minutes of the half when Spring Garden went on a 15-6 finish, giving up just two 3-pointers.

"After we got those two techs, that's when our team was about to turn it out," Ace Austin said. "Our team was all mad. No one was complaining, we just all had that look on our face like we're done with it, we're just having to show out now."

"We have not played with the spark and energy we needed to the last two games and I've been concerned about it; I just wanted to know if it was there," Ricky Austin said. "I kind of felt coming over here, the nature of the way it's been in the past, I always felt like it's been tough and I thought if the situation's right early let's get some energy and see what we got and it just so happened it happened.

"I wasn't too happy about a 10-0 lead when it happened. If it wasn't coming today, it was coming next game. If we didn't play with more energy somewhere down the line I was going to have to try to find a fire somehow. It wasn't preplanned coming in, I just thought I've got to find out who we are. If the technicals situation hadn't happen, you were fixing to find out what the power of a timeout was fixing to be like."

They were up by 11 in the final minute of the third quarter before Oxford started to rally. The Lady Jackets got within four twice in the final two minutes, three after a Justice Woods 3-pointer and two after McGrue hit the second of two free throws with 4.9 seconds left.

The Lady Panthers then inbounded the ensuing possession where Austin was fouled and made both of her clinching free throws.

"That's what a point guard wants to do," she said. "A point guard wants to be the one to end the game like that. We work on that in practice. We're like, you're shooting, if you're down two, you miss it, you run."

Under those ground rules, they might have had to run back to Spring Garden had she missed.

The two teams meet again Tuesday in Oxford and Lady Jackets coach Melissa Bennett said she will be interested to see how her team reacts.
"We knew they'd battle back; they're too good of a team to just lay down that fast," Bennett said. "Ace was huge. We usually do a pretty good job defending the ball and she got to the rim. She's a heck of a point guard, one of the best in the state.

"I was a little bit disappointed in how quickly we kind of laid down. That's something we have to go back and really get after in practice because you can't let one player just break your whole defense down."

In addition to Austin, the rest of the all-tournament team included Spring Garden teammate Neely Welch, the championship game's leading scorer (22 points); Oxford teammates Ellard and Xai Whitfield, Alexandria's Ashley Phillips, Ohatchee's Jorda Crook and Collinsville's Tyla Tatum.

WHITE PLAINS 53, ALEXANDRIA 43: The Lady Wildcats went on a 10-0 run in the final 3:11, hitting seven of eight free throws, to win the consolation game going away.

White Plains was only 6-of-13 from the line in its second-round loss to Spring Garden, but hit 14-of-22 against the Lady Cubs, 9-of-14 in the fourth quarter. Hallie Williams gave the Lady Wildcats a five-point lead in the run with a 3-pointer with 2:27 to play.

"I was glad the way we took care of the basketball there at the end – we didn't do too many stupid things – and then we hit free throws," White Plains coach Matt Ford said.

Another key to the victory was the defense Williams and Adriana Sotelo played on Alexandria's Ashley Phillips and Jordyn Walker. They held the Lady Cubs' two big threats to a combined 21 points.

"To me that was the difference," Ford said. "And Camden (Wilson) did a really good job handling the ball for us tonight. It's kind of unconventional with our big handling the ball most of the time, but she can so a lot of times we get better matchups that way."

OHATCHEE 52, COLLINSVILLE 42: Whitney McFry hit two 3-pointers early in the fourth quarter after the Lady Indians had been dreadful from the behind the arc all game and Jorda Crook made her presence felt as they pulled away. Crook scored eight of her 24 points in the fourth quarter. 

"Our confidence got a little shaken early, we missed some shots early on and we quit wanting to shoot it and then I thought we tried to force too many," Ohatchee coach Bryant Ginn said. "We just settled down. We said we wanted to play from the inside out and we got the kick outs to let Whitney shoot them. They were some big shots."

Ohatchee extended its lead to 10 with four minutes to go, but Collinsville cut it to three with 3:04 left. The Lady Indians closed the game on a 9-2 run.

Another key for Ohatchee was the defense Tabitha Davidson and Kiana Garber played on Tyla Tatum, Collinsville's leading scorer had 24 points, but she fouled out with 2:32 to play and the Lady Indians up five.

"Our young girls stepped up and that helped us out," Ginn said. "I thought tonight was an overall team win. Everybody contributed in some way." 
CHAMPIONS GIRLS THANKSGIVING CLASSIC
Championship game
Spring Garden 59, Oxford 55
OXFORD (5-1) – Justice Woods 6 0-0 16, Xai Whitfield 2 1-2 6, Laauren Ellard 2 3-4 9, LaMya McGrue 2 1-4 6, Kaleah Taylor 3 2-2 8, JaMea Gaston 2 0-0 5, Keziah Mickler 2 0-0 5, Mikiya Wilson 0 0-0 0. Totals 19 7-12 55.
SPRING GARDEN (3-0) – Ace Austin 6 3-3 15, Bri Boles 1 0-0 3, Kaylee Kirk 3 1-2 8, Sarah Kate McKay 3 0-1 6, Libby Brown 1 0-2 2, Neely Welsh 7 8-10 22, Abbey Steward 1 0-0 3. Totals 22 12-18 59.
Oxford 18 13 12 12 – 55
Spring Garden 11 23 17 8 – 59
3-point goals: Oxford 10 (Woods 4, Whitfield, Ellard 2, McGrue, Gaston, Mickler); Spring Garden 3 (Boles, Kirk, Steward). Technical fouls: Spring Garden bench, Spring Garden coach Austin. Fouled out: Woods, Whitfield, Ellard, Welsh. Total fouls: Oxford 22, Spring Garden 15. Officials: Oden, Wood, Askew.

Third-place Game
White Plains 53, Alexandria 43
WHITE PLAINS – Callyn Martin 1 0-0 3, Isabella Higgins 0 0-0 0, Cooper Martin 0 0-0 0, Hallie Williams 1 0-0 3, Camden Wilson 2 7-12 12, Adriana Sotelo 4 0-0 12, Braeton Moran 1 0-0 3, Angel Bozarth 6 7-10 19. Totals 15 14-22 53.
ALEXANDRIA – Ashley Phillips 5 0-0 13, Jordyn Walker 2 3-4 8, Kirsten Heathcock 0 0-0 0, Jill Cockrell 6 2-2 20, Charlie Parris 0 0-0 0, Kaleigh Dickerson 0 0-0 0, Sumyra Duncan 0 0-0 0, Chloe Gattis 1 0-0 2. Totals 14 5-6 43.
White Plains 15 15 9 14 – 53
Alexandria 18 6 13 6 – 43
3-point goals: White Plains 9 (Ca. Martin, Williams, Wilson, Sotelo 4, Moran, Bozarth); Alexandria 10 (Phillips 3, Walker, Cockrell 6). Fouled out: Gattis. Total fouls: White Plains 7, Alexandria 22. Officials: Wood, Askew, Oden.

Fifth-place Game
Ohatchee 52, Collinsville 42
COLLINSVILLE – Tyla Tatum 8 2-3 24, Kayla Beene 2 0-0 5, Nayeli Mata 0 0-2 0, Sophie Wills 2 1-2 5, Rylie Tillery 1 1-4 4, Gracie Griggs 1 2-5 4. Totals 14 6-16 42.
OHATCHEE (2-1) – Whitney McFry 2 0-0 6, Tabitha Davidson 0 0-0 0, Morgan Foushee 2 0-0 6, Gracie George 4 3-4 11, Millie Rainwater 2 1-2 5, Kiana Garber 0 0-0 0, Jorda Crook 9 6-11 24, Lindsey Zurchin 0 0-0 0, Alyssa Davis 0 0-0 0. Totals 19 10-17 52.
Collinsville 11 10 9 12 – 42
Ohatchee 7 9 15 21 – 52
3-point goals: Collinsville 8 (Tatum 6, Beene, Tillery); Ohatchee 4 (McFry 2, Foushee 2). Technical fouls: Tidmore. Fouled out: Tatum, Wills. Total fouls: Collinsville 17, Ohatchee 16. Officials: Smith, Stringer, Washington.

Seventh-place Game
Hokes Bluff 45, Jacksonville 28
JACKSONVILLE – Ashley Grant 3-13 3-6 10, Amarie Curry 3-14 3-6 9, DeAsia Prothro 1-2 1-1 3, Alexis Phillips 1-3 0-3 3, Rachel Sanders 1-3 0-0 3, Kiara LaCount 0-0 0-2 0, Halaina Lozano 0-2 0-0 0, Mya Swain 0-1 0-0 0, MiArah Hardy 0-0 0-0 0, Olivia Rowan 0-0 0-0 0, Lamiah Steagall 0-0 0-0 0. Totals 9-38 7-18 28.
HOKES BLUFF – Kayla Taylor 4-10 7-8 15, Kileigh Blackwell 3-8 4-6 10, Hailee Davenport 2-7 2-3 6, Ava Dodd 3-4 0-0 6, Chloe Rule 2-6 0-3 4, Charly Robinson 1-2 0-0 2, Haley Kate Wellington 1-2 0-0 2, Chloe Dodd 0-0 0-0 0, Presslee Blackwell 0-0 0-0 0, Emma Doss 0-0 0-0 0, Raya Steward 0-0 0-0 0, Alyssa Stone 0-0 0-2 0. Totals 16-39 13-22.
Jacksonville 6 3 10 9 – 28
Hokes Bluff 4 11 15 15 – 45
3-point goals: Jacksonville 3-21 (Grant 1-9, Curry 0-4, Phillips 1-2, Sanders 1-3, Lozano 0-2, Swain 0-1); Hokes Bluff 0-3 (Taylor 0-1, Davenport 0-1, Wellington 0-1). Rebounds: Jacksonville 26 (Prothro 7); Hokes Bluff 36 (Rule 12, Taylor 9). Total fouls: Jacksonville 17, Hokes Bluff 17.