26 is plenty
Brooks, Clay don't reach 30-under carrot, but 26-under completes wire-to-wire win in Buddy Moore Tournament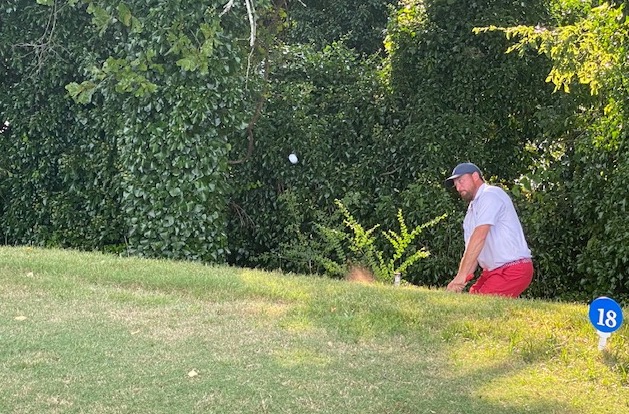 By Al Muskewitz
East Alabama Sports Today

Andrew Brooks and Brennan Clay didn't get the elusive 30-under-par that's the Holy Grail of the Buddy Moore Charity Tournament, but they got the win. As it was, 26-under was plenty enough.

The former Alexandria High School teammates shot a final-round 59 Sunday at The Hill and finished at 26-under 114 to turn back a slew of challengers and win their second Buddy Moore title by three shots. It's the same score they won with in 2018.

Layton Bussey and Max Basler roared up the leaderboard with a 58 and finished second. The Sunny King Classic teams of Scott Murphree-Ryan Howard and Gary Wigington-Ty Cole finished tied for third another shot back.

"You'd rather get the win than get the number," Clay said. "But when you heard Ty and Twig were playing, you go back to Ty shooting 57 (in the County Tournament) a few years ago and Twig whipping our butts a couple weeks ago (in the County), I told Andrew 28 to 30 may be what we'll have to do. Those two get going, it's going to be tough to beat them."

"We didn't get to 30," Brooks said, "but 26 was enough. We didn't necessarily have our best, but we got it in the hole. That's what matters this weekend. We got it in the hole. It wasn't pretty at times, it was ugly at time sometimes, but we got it in the hole. And we got it in the more times than anybody else did."

The eventual champions went into Championship Sunday with a three-shot lead over Wigington and Cole. The Sunny King Classic partners cut their deficit to one at the turn opening their round with eight straight 3s that included eagles on 1 and 3.

But then they had a string of five straight 4s that created the separation Brooks and Clay needed.

Cole nearly chipped in on No. 9 that would've extended the run of 3s and tied the lead. Then on 10 the winners dodged a bullet when Cole and Wigington both missed birdie putts on either side of the hole with Brooks and Clay playing from just off the green.

The leaders picked up another shot on 11 when the challengers made bogey after Clay nearly chipped in for birdie, which elicited a rousing response from the gallery behind the green. Brooks made a long birdie on 12, then Clay chipped in for eagle from just off the green at 13 for a five-shot lead.

Cole snapped his team's string of 4s with a chip-in eagle on 14, but Clay made the birdie after chipping it close for only a one-shot swing.

"We knew it was going to be a fight," Clay said. "When they eagled 1 and 3 I said this is going to be a long day, we've gotta go. Even when we made the turn I said we've gotta go; they're going to put some pressure on us. Things went our way. It's got to happen to win tournaments."

It was basically over when Brooks sank an even longer birdie putt on 16, but Clay remained cautious.

"That stretch was probably the tournament, to me," Clay said. "I told (Brooks) at Pine Hill I had a five-shot lead and had a little mental lapse on 18 and I'm not doing that today. We've got to stay on track no matter what. There could be somebody else that could be close to us.

"I liked how we stayed on it. A big lead like that can be weird. It was for me at Pine Hill; I'd never experienced that. Today I didn't want to do anything that was going to equal what I did on the last hole there. Let's just keep going. If we do what we have to do, we'll come in with the win."
There were teams close. While the winners were working to maintain their lead, the teams playing in front of them were waging a war to fill in behind. Four teams were all hovering around 20-under with at least three holes to play.

Bussey and Basler took solo second sharing the best round of the day (58). They birdied their last four holes and five of their last six. Randy Lipscomb and Mason Dennis also shot 58 in the Buddy Flight.

"We played really hard," Bussey said. "We hit it in some good spots, but we had a really tough time on the greens both days. I thought we hit it good enough to win. We just didn't get it in the hole enough."

NOTES: Although final figures aren't in, the tournament is expected to raise more than $20,000 for its charities. Organizers expressed heartfelt thanks to all who donated their resources and time … Tony Hicks and Chris Hubbard birdied their last four holes and six of their last seven to win the Scott Flight. The other flight winners were 2017 champions Clay Calkins-Chris Hubbard (Mary Ann) and Tyler Dopson-Adam Johnson (Angie) … Sunday AM specialty prizes went to Nick Hubbard (long drive No. 1), Jim Ramey (closest to the pin 2/11), Lee Waldron (closest to the pin 2/11) and David Ramey (longest putt 6/15). The PM prizes went to Cole (long drive), Bussey and Chip Howell (closest to the pins) and Dennis (longest putt).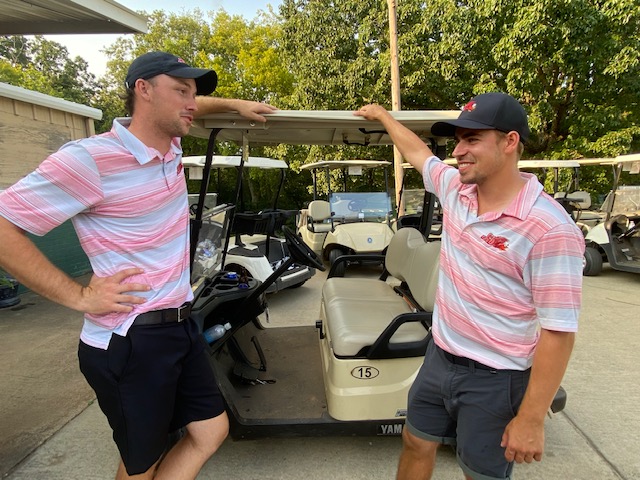 BUDDY MOORE CHARITY TOURNAMENT
At Anniston Municipal GC
| | | | |
| --- | --- | --- | --- |
| BUDDY FLIGHT | | | |
| Andrew Brooks-Brennan Clay | 55– | 59– | 114 |
| Layton Bussey-Max Basler | 59- | 58– | 117 |
| Scott Murphree-Ryan Howard | 59- | 59– | 118 |
| Gary Wigington-Ty Cole | 58- | 60– | 118 |
| Chip Howell-Jonathan Pate | 60- | 59– | 119 |
| Randy Lipscomb-Mason Dennis | 61- | 58– | 119 |
| Jeremy McGatha-Matt Rogers | 60- | 64– | 124 |
| Landon Straub-Jason Johnson | 61- | 63– | 124 |
| Matt Miller-Chad Watson | 61- | 63– | 124 |
| Chase Hollingsworth-Hunter Carr | 59- | 67– | 126 |
| | | | |
| --- | --- | --- | --- |
| MARY ANN FLIGHT | | | |
| Clay Calkins-Chris Hubbard | 61- | 62– | 123 |
| Tanner Wells-Chad Calvert | 61- | 65– | 126 |
| Landon Winfrey-Steve Minton | 64- | 64– | 128 |
| Chris Randall-Wayne Tillman | 64- | 65– | 129 |
| Andrew Tyson-Byron Preston | 64- | 66– | 130 |
| T.J. McGatha-Cal Lambert | 64- | 68– | 132 |
| Lamar Carter-Daniel Black | 64- | 68– | 132 |
| Jimbo Phillips-Mike Hughston | 66- | 66– | 132 |
| David Hill-David Fitzgerald | 66- | 69– | 135 |
| Ted Heim-Garrett Heim | 66- | 70– | 136 |
| | | | |
| --- | --- | --- | --- |
| SCOTT FLIGHT | | | |
| Tony Hicks-Nick Hubbard | 66- | 59– | 125 |
| George Salmon-Lee Waldron | 68- | 63– | 131 |
| Daniel Clonts-Brett Key | 68- | 65– | 133 |
| Jim Ramey-David Ramey | 67- | 66– | 133 |
| Tony Strickland-Michael Herndon | 66- | 70– | 136 |
| Steve Akers-Grady Sapp | 66- | 71– | 137 |
| Don Hill-Tyler Teneyck | 66- | 72– | 138 |
| Ted Towns-Dru Snow | 66- | 73– | 139 |
| Johnny Barnes-Charles Carden | 67- | 75– | 142 |
| Marc Gaines-Andy Jenkins | 69- | 75– | 144 |
| | | | |
| --- | --- | --- | --- |
| ANGIE FLIGHT | | | |
| Tyler Dopson-Adam Johnson | 70- | 62– | 132 |
| Danny Whittaker-Gary Thomas | 70- | 64– | 134 |
| Steve McClellan-Ron Wheeler | 69- | 69– | 138 |
| Dereck Webb-Carter Gable | 73- | 70– | 143 |
| Jimmy Jackson-Gordon Stewart | 69- | 74– | 143 |
| Tim Mullendore-Mike Braxton | 73- | 70– | 143 |
| Donnie McGinnis-Ron Dulaney | 73- | 73– | 146 |
| Steve Mullendore-Will Mullendore | 74- | 79– | 153 |
| Steve Rogers-Mike Gann | 78- | 76– | 154 |
| Ken Renfroe-Konner Renfroe | 78- | 78– | 156 |