It's personal
Anniston football team 'on a mission' this season, Weaver on fast track to getting better and more from the Calhoun County Media Day

By Al Muskewitz
East Alabama Sports Today

Anniston coach Rico White is taking this football season personally. So is quarterback Kam Sandlin. And offensive lineman RyQueze McElderry. And Alabama-committed cornerback Antonio Kite.

Suffice to say after all they went through last season – between the 0-5 start, the shutdowns and lost games to COVID, the one-point loss in the second round of the playoffs – the Bulldogs are out to prove some things this year.

"I'll be honest, we're taking this season real personal," White said at the outset of Friday's Quarterback Club of Calhoun County High School Football Media Day at Anniston Country Club. "We're on a mission .. We want Anniston to be No. 1 on the top. It's the first letter in the alphabet – A – and we're going to first. That's our goal."
All sorts of adversity that conspired against the Bulldogs last year. They had been dealing with COVID issues since February and the disruptions to their spring and summer workouts led to an 0-5 start. They finally got on track with two region wins, including a last-second win over Munford to secure their playoff berth, then had to shut it down again and forfeited the Handley game. 

After shutting out Cleburne County in their regular-season finale and having a week off, and had to go to Mobile in the first round of the playoffs, where they upset one-seed Williamson. Their season ended at home in a second-round loss to Bibb County when their last-second field goal attempt sailed just outside the left upright.

"Last year after the Wellborn game we didn't play up to our standards," White said. "The first half of the season we didn't play up to our standards; that's how I feel. These guys feel the same, so we're on a mission."

To Kite, who committed to Alabama on the Fourth of July, being on a mission means "one goal and one goal only – and that's to win the state. We're not going to let anyone get in our way."

"Everybody that we lost to last year we're coming for their head this year," McElderry said. "We're on a mission, man. We've got to beat everybody that we lost to last year, even the people that we won against last year. We've got to beat everybody. We're trying to be undefeated to win the state."

Kite led the Bulldogs to a state championship in basketball last winter, but the two-sport star said bringing home a football title will have larger repercussions. The Bulldogs last won a state football title in 1994.

"Me winning a football state championship will be totally different because our city is more football than basketball," he said. "Basketball, I feel like, my team deserved to win. We'd been winning all season and many years back, so I feel like football will be better for the city than basketball."

Cover photo: Anniston's contingent (from left) Kam Sandlin, coach Rico White, RyQueze McElderry and Antonio Kite tell the assembled media avenging the losses of last season is "personal" to them.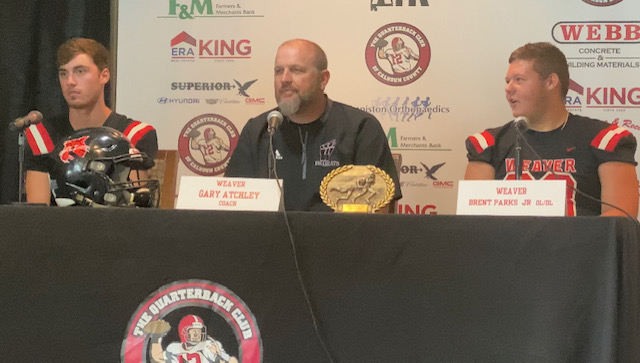 New coach, new vibe, new logo
Everything the Weaver football team has done since Gary Atchley was named the head coach back in the spring has been at a speed that might get you ticket out on the highway.

Fast out onto the field. Fast in the weight room. Fast in the workouts. Even the Bearcats' time at the podium Friday was fast. They probably don't even a slo-mo button in the film room.
"There's a totally different energy in the fieldhouse, in the weight room," the long-time Weaver coach but first-time head said. "We're go-go-go all the time.

"The kids like it. The girls like it. I think the faculty likes it. I think the community likes the way we're doing things right now, just because we're so upbeat. There's a lot of energy buzzing around Weaver. That's the way we're going to be as long as I'm in charge. We're going to be go-go-go."

What can't happen fast enough for the Bearcats is to win again. They haven't won a game since 2018, a stretch of 20 games. They weren't even close after they came back from COVID quarantine in October.

It's clear that since Atchley has taken over he vibe has changed.

"If you can't get edcited to play for Coach Atchley, I don't know you can get excited to play for," quarterback Jackson Williams said.
"We are moving so fast, it's light speed right now," Atchley said. "This is going to be a totally different team than what you've been used to seeing. I ain't saying that's going to be turning into a lot of wins, but we're going to be an exciting, fun team to watch on Friday night. And it's all because of the way these guys work."

The Bearcats won their spring game with a last-second field goal and dogpiled to celebrate even before the ball hit the ground. It brought Atchley to the verge of tears.
And that was the reaction just for a spring game. Imagine what it will be for the first real win. Atchley has.
"We've got kind of a parade ready to go for that first victory through Weaver," he said. "Everybody's invited."
The Bearcats open the Atchley Era at home against Douglas Aug. 20. Two weeks later they host Glencoe, a team that had 20-0 before losing 28-20.
The players know what it'll feel like when that first win comes.
"I'm going to go crazy; it's going to be a party," junior lineman Brent Parks said. "When we get back in the locker room we might just dump a couple of buckets of water on top of coach Atchley. It's going to be crazy.
"We haven't won a game in two years. That's rough, but the way we're headed right now with our program we're going to compete and we're going to be there at the end of the game to win games. It's going to happen."
Among the new elements Atchley has introduced to the program is a new decal for the Weaver helmets.
It's new in the sense it has never been on them before, but the design has been around for a lifetime – Atchley's lifetime.
The decal is a bearcat head and if you look closely around the school you'll find it's the exact replica of the bearcat that was drawn above the stage in the gym by Atchley's grandfather.
Hoover Atchley was a painter in the Army working at Fort McClellan. When Gary was in the fifth grade, granddad, a big Weaver supporter, came up with the bearcat. He painted a big one on the side of the stadium and he painted one on top of the stage.
The football team adopted it as their logo. There's a picture of Atchley as a fifth-grader in full football gear kneeling beside his helmet with the bearcat decal.
"It's time we bring this thing back," the coach said. "I remembered that. I was going to do that again, so I started bringing it back. It means a lot to me. I wish he was still around to see it."
The decal actually made its return last year when Atchley put it on his softball team's helmets. It also will appear on the front of the football team's warmup jerseys.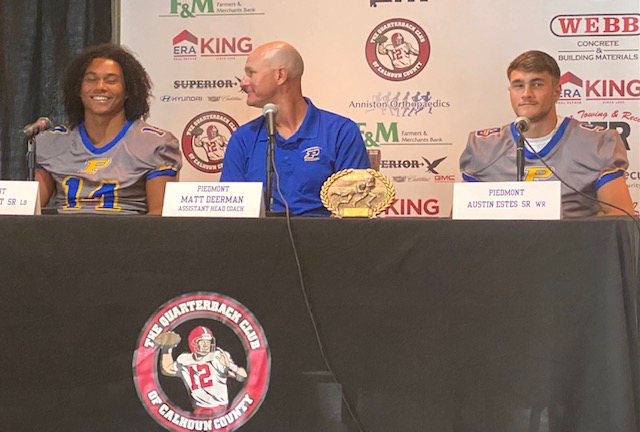 Bulldogs make fashion statement
The Piedmont players had several jersey choices they could have worn for their appearance to Media Day, and they chose a style rarely seen but very popular.

Seniors Landon Smart and Austin Estes took the podium wearing the alternate home greys they only wear on special occasions but voted most popular in an on-line poll.

The Bulldogs traditionally wear blue-and-gold jerseys at the Field of Champions, but these jerseys were grey with a yellow "P" on the sternum, blue numbers trimmed in yellow and blue collar and arm trim. They wore them twice last year, the first time in an October regular-season loss to Ohatchee and then broke them back out in a first-round playoff victory over Colbert Heights to balance the mojo.

"Today (assistant coach Matt Deerman) let us pick the jersey and was kind of betting on which one we wanted to go with," linebacker Smart said. "We looked at each other and we both said the greys. He asked us if we thought Coach was going to like that. To be honest with you we don't know but we like them so we're going to go with them."

Smith was out of town so Deerman accompany the players to the meeting, but the head coach gave the choice a thumb's up.

"I thought it was a great pick on their part; I would've picked them, too," Smith said. "I think everybody loved those jerseys. The way the rules are they have to be used for home games. We're not going to abandon our traditional royal blue and gold, but wearing it a time or two a season is something I'd see us doing.

"The grey uniforms match up really well and the kids got excited about it. You're going to see them once a year and with as many home games as we've got this year (seven) you might see it multiple times."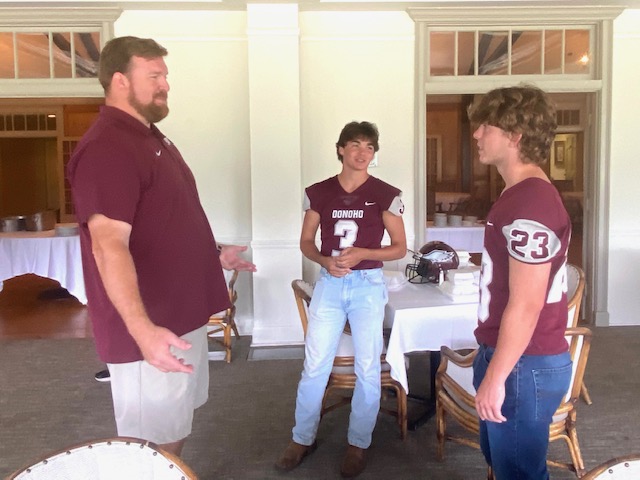 Falcons circle season opener
Every team has a game or two on the schedule it circles for special emphasis. Publicly, they'll say it's the first one – or the next one – because they espouse the one-game-at-a-time approach.

But for Donoho the first game really is the game it's looking forward to the most. The Falcons open their season against Pleasant Valley, a team that rallied from a 21-point third-quarter deficit to beat them by one.

"It's that last one-point game that we lost last year that everybody is looking forward to," versatile senior Grant Steed said.

"I feel like we owe them one," senior running back/linebacker Connor Goodson said.

Also this season, Falcons coach Mark Sanders is returning to his roots, coaching the offensive and defensive lines while also serving as offensive coordinator after roaming throughout the roster and coaching his coaches last year. The former Alabama lineman coached the line is some form during most of his eight years as a head coach.

"It's what I do, it's my bread and butter, but it always helps to have an O-line coach when you're an offensive coordinator," Sanders said. "You have to work a lot more with skill guys, so it always helps having a guy who's been offensive and defensive line.

"It's not the first time I've had to do it. Honestly, it's something that I'm going to handle. I love doing it. I love coaching line. It really makes me feel really good to be able to do it myself because I know they're getting exactly the fundamental work that we need … Without that (fundamentals) football just isn't played the way it needs to be played."

LAUGH OF THE DAY: Somebody asked Ohatchee coach Scott Martin if he thought the current craziness in the college game would ever filter down to the high schools. The transfer frenzy is already there, which created its own deep dive at Media Day, but no one expects the NLI wheeling and dealing to get there.
"They're definitely not going to give money to these two guys for their likeness," Martin said, flanked by linebacker Wyatt Reaves and quarterback Eli Ennis.

Well, Ennis, the Indians' quarterback with flowing locks, could get a Head & Shoulders deal with the same kind of hair as shampoo pitchman Troy Polamalu.

On a serious note, Martin talked about his 14-man senior class of which Reaves and Ellis are a part and said it's one of the first classes he's had where he believes all of them will be contributors.

"Sometimes you have a senior class with 13 guys, but really only seven or eight of them play; you've got four or five guys that really are backup roles," he said. "I think all of our seniors are going to be contributing roles and start somewhere on the football field, and that'll be a first. It gives us a lot of positivity going into the season."

AROUND THE COUNTY: When Ronnie Royal, the nation's top freshman, transferred from Alexandria to Gulf Shores around the time of the Calhoun County Basketball Tournament, many thought the Valley Cubs had lost their three-headed monster – the tag Javais McGhee had given the team's speedy combination of Royal, Antonio Ross and himself.

Royal may be gone, but the hydra grew another head. Enter Ryan Scott from Westbrook. He'll even wear No. 2 – Royal's old number – keeping the Valley Cubs offensive threat as simple as 1-2-3.

"I guess it depends on if that monster has teeth or not," Cubs coach Todd Ginn said when asked if he liked that named. "Kids are kids. We like to have fun. Javais is a light-hearted guy and if he came up with it … I didn't know he came up with it.

"I tell them all the time know when to have fun, know when to joke around and know when to get serious. We can talk about three-headed monsters and this and that, but when it's go time there's an 11-headed monster out there, and then when you look at the big scheme of things there's a 66-67-headed monster out there when you look at our whole team. Then you keep pushing, there's a whole Alexandria monster out there."

Everything at Wellborn the last couple years went through Jett Smith, who's gone on to Jax State. Panthers coach Jeff Smith says you don't replace a player like his son, but he doesn't compare those filling Jett's shoes, just getting them as good as they can be at those positions within their own ability.

At middle linebacker that would be Brayden Dempsey, who recognizes he's not the same type of player as Smith and will be more of an inside linebacker than the hybrid that was his predecessor. And at quarterback that would be Grayson Johnson.

Oxford has been working out the new artificial turf at Lamar Field that's part of the school's multi-million-dollar athletics facilities renovation and the players have become big fans of it.

"For all us linemen, when we used to be on the baseball field, we'd get pretty muddy so it's kind of nice to get out of practice kind of clean," senior Kyle Pilkington said. "Our coach takes pride in having our jersey basically brown after practice, but it's nice to walk off the field and not be so muddy. And I think you're able to move a little quicker, a little bit faster, especially how fast some defensive linemen are."

"On the baseball you'd be so sluggish out there you could barely move, but on the turf now it feels better; you can do everything," senior defensive back Jordan Dobbins said. "I feel faster, yes sir."

SPEAKER LINEUP: The Quarterback Club of Calhoun County used the occasion to unveil its speaker lineup for the upcoming season.

Legendary and controversial former Alabama and Georgia high school coach Rush Propst gets the program started Sept. 13. He'll be followed on successive Mondays by ESPN and SEC Network personality Lauren Sisler (Sept. 20), AHSAA executive director Alvin Briggs (Sept. 27), former Alabama and Ole Miss recruiting director Tyler Siskey (Oct. 4), Jax State coach John Grass (Oct. 11), ESPN and SEC Network personality Tom Luginbill (Oct. 18), Birmingham sports talk personality Ryan Brown (Oct. 25) and former Auburn coach Gene Chizik (Nov. 1). The season concludes with a raffle scholarship dinner on a date to be determined.

The club meets at Anniston Country Club. Annual membership dues are $225. Reach out to 2021 captain Danny Shears (225-1000) or past captains Matt Whitaker (508-6182) or Doug O'Dell (310-2701) for details.

HIRE WIRE: Barry Ryan will take over the Wellborn basketball team for Jordy Houston this coming season. He comes to the Panthers from Westbrook Christian with stops at Clay-Chalkville, Hewitt-Trussville and Shades Valley. He'll also coach junior high football (offensive line and linebackers). Houston will coach the ninth-grade boys team and Judd Smith will coach the seventh/eighth grade boys.

Calhoun County neighbor Munford has hired former Saks player Destinee Briskey to be its new volleyball coach. Briskey was a young head coach in her one year at Donoho between Janice Slay and Jamie Clendenin and has been at Oxford and Decatur since.