'It should be the standard'
Munford looking for return to playoffs, Gibson said it should be 'the standard' for the program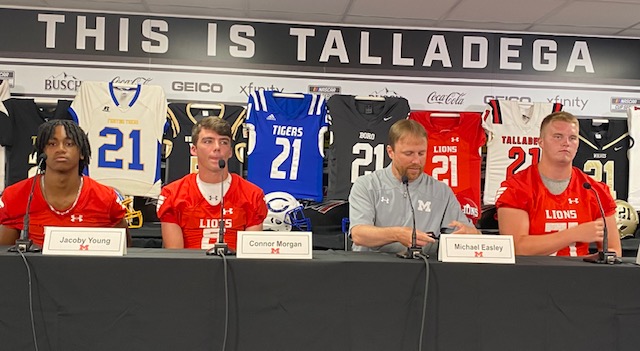 By Al Muskewitz
East Alabama Sports Today

TALLADEGA – Munford coach Michael Easley did not hesitate Thursday afternoon at the Talladega County Coaches High School Football Media Day when asked about the goals for the Lions this season.
"I want to get in the playoffs," he said.

The Lions came close in each of Easley's first two seasons, going 5-5 each year, but admittedly just never didn't get the job done as they were feeling their way under a new head coach.

It's actually been three years in a row the Lions have missed postseason play after six straight appearances under former head coaches Bill Smith and Will Wagnon, with two going as far as the semifinals.

"It should be the standard at Munford," said senior offensive tackle Kyler Gibson, a recent Troy commitment.

"That should be the standard every year," Easley said. "We talk about it every year. At the end of the day we're trying to go out and be 1-0 every week, but there's always that end goal, and that end goal – and we talk about it in basketball, too, and they talk about it in baseball – is we want to be in the playoffs. That's just the standard we want in our athletic program, period, across the board."
The Lions "were a hair away" from making the playoffs last year out of what Easley called "a super competitive" region, but had a couple games they either didn't take care of business or didn't catch the break they needed to finish. There was one time the head coach even said over the headset he thought the Lions were finally going to catch that break – and then they didn't.

"I felt like we played well in a lot of games, but there were a handful of plays in two or three games that decided the game," Easley said. "We couldn't catch a break or we couldn't make a play or whatever it was and it ended up changing the game."
To experience the football playoffs one time before graduating "would mean everything" to Gibson, who was an eighth-grade varsity call-up after the middle school season ended the last time Munford made the playoffs.
"I got a little taste of playoff sport this past year in baseball," quarterback Connor Morgan said. "It was the first time I ever got to experience what playoff sports was like and I loved it. It's competitive. It'll be more physical. I really think we can accomplish it this year."

Gibson, Morgan and cornerback Jacoby Young – the third player Easley brought to Media Day – are all three-sport athletes for the Lions, a fact that gets Easley and college recruiters who call him excited. Gibson and Morgan play football, basketball and baseball. Young plays football, basketball and runs track.

"It's the second question I'm asked after grades," Easley said. "It's a big deal. At a small school I think it's essential for your athletes to play. That's a really big deal with us; that's what we preach as a program. We want guys to play everything and we're like that because we feel like every sport helps the other sport."

Gibson may be the best example of that. Playing basketball improved his football footwork. Morgan's baseball experience has helped his football throws.

Easley estimated at least a half-dozen Lions will be three-sport athletes. Kicker Dakota Frank plays five sports (football, soccer, cross country, indoor track, outdoor track). Earlier in the day, Winterboro coach Skylar Mansfield talked about the way a wrestling program would help his football team.

"We try to get them to play as many sports as possible, mainly because it's the only time they get a chance to do this," Easley said. "You got one shot at high school, get out there and do it and have fun. We're going to work year-round about being an athlete. Our workout programs are designed to get bigger, faster, stronger, more explosive, and I can't find a sport that doesn't help with."

In a related note, Easley has coached the Lions basketball team since he arrived at Munford two years ago, but he said Thursday he'll only do that for one more season before stepping back for family considerations.

It was better in a lot of ways for Easley to take the basketball job as well when he was hired two years ago, but now he has two young children and wants to spend time with them. He declined to say if there was a coach in waiting.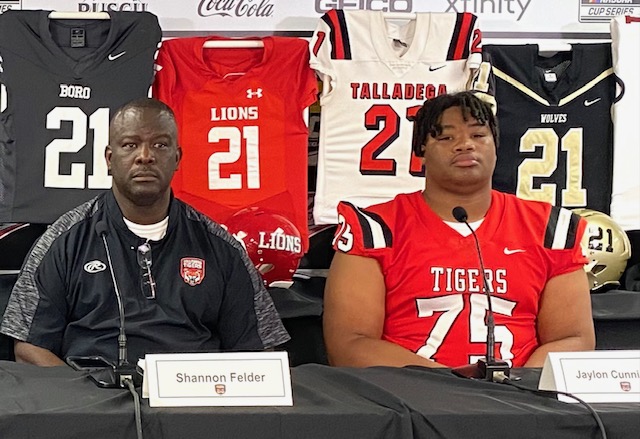 LET'S MAKE A DEAL: Talladega two-way lineman Jaylon Cunningham made a deal with Tigers coach Shannon Felder at the start of the second semester last year.

If he made A's and B's in the grading period could he go to Media Day at Talladega Superspeedway?
Cunningham upheld his end with a good report card – and once he verified the report so did Felder. The junior joined teammates Ardarius Wilson and Malik Williams – chosen by the coaches – at the podium, seated to the left of his coach.

"I guess this Media Day is really important to the guys," Felder said.

It was important for Cunningham to give the linemen of the world a seat at the table.

"I get to show lineman that you don't have to be a skill player to also get to go to things like this," he said. "I get to show them it doesn't matter what position you play, you're all important. I got to speak my mind about the questions that were asked."

It's been a busy summer for the Tigers. Felder put them in more 7-on-7s and camps this summer than any team he's ever coached, but they need the work. Their defense has 11 starters who've never played their position before and the offense has holes to fill. The players liked it.

"I like the competition to really showcase how I am against other people," Wilson said. "I think it made us better going to compete with different people instead of being at practice every day. It showed us something new."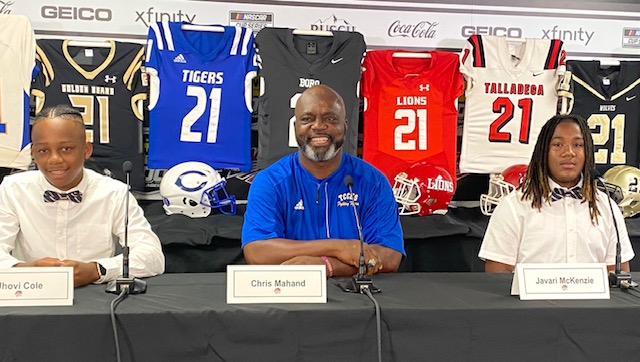 LOOKING AHEAD: Talladega County Central hasn't won a game on the field since November 2018 and there have been reasons for that but Tigers coach Chris Mahand can see the light at the end of the tunnel.

Among his reasons for optimism is he's getting this year the first crop of players to come through the return of the community's youth football program. And while the Tigers will be young – no juniors or seniors – with time believes they'll be back to their success of really not that long ago.

"It has been a struggle and that's not TC; that's just not us," Mahand said. "The struggles I think are about to end here … When these young men I have playing for me now get an opportunity to get the experience of actual game time under their belt, I feel real confident that TC is going to be a team to be reckoned with in the near future."

The Tigers got a COVID victory last year, but when they do win that first game on the field, players Jhovi Cole and Javari McKenzie, both products of the renewed youth program, predict they will be injected with the confidence to become a great team.

"We haven't won a game recently and that's painful, but these kids are winners – I'm a winner – but like I tell them all the time you've got to learn how to lose first before you know how to win," Mahand said. "These young ones are putting in the time that's going to be needed to put us on the right track.

"Give us a little more time, let my young men grow up a little bit more – this is going to be that year – after this year we're going to be back to the old TC."

Another plus is the addition of former head coach Sam Young as a volunteer assistant. Young is the Tigers winningest head coach, going 90-79 between 1990 and 2004 with seven region titles.
between 1990 and 2004. The Tigers have won only 83 games and two region titles since.

"When you add a guy like that to the staff, a guy that the kids' parents love, like Coach Young, who's been e winner, it can't do anything but help," Mahand said. "With Coach Young being added to the staff with that type of football knowledge and experience is not going to be anything but a plus."

AROUND THE COUNTY: Sylacauga is working under its third head coach in as many seasons. New coach Rob Carter said the players have done "an amazing job" accepting what he's brought to the table. He probably won them over with one of the first things he said to them. "He told us he had gotten a ring when he was at Beauregard," running back Kyron Hughes said. "That stood out to me real good."

The Aggies have had 13 straight non-losing seasons and nine straight winning seasons of at least seven victories. "That's what brought me here – the success and the athletes they have continually put on the field," Carter said. "I knew I was coming to an athletic team and I inherited some really good assistant coaches" …

Childersburg has been stuck on 3-7 each of the last three years. Tigers coach Johnny Johnson said his players understand what they need to do to get over that 3-7 hump and it's a process.
Winterboro coach Skylar Mansfield was not surprised by the success the Bulldogs enjoyed in his first year as a head coach last season, but there's a lot more to do. "Building a program instead of winning games is real important at this moment," he said. "Some of the programs we defeated this year are championship caliber programs and I still kind of think we're going after them just to prove we belong to be mentioned with those programs as well."
Lincoln is looking to get back its toughness and tenacity after a 2-8 record that brought a new meaning "Bear Down." The Bears lost a running back each of the first three games and went into every game last year with at least six starters out. "It was a great learning lesson for us as a team, as a coaching staff, to expect the unexpected and if it happens we've got to have a plan for it – and we will," Bears coach Matt Zedaker said. "I think we'll be a better team and a better coaching staff for our misfortunes last year."

B.B. Comer opens its season with Montgomery Catholic, a game it probably couldn't have gotten four years ago, but that just shows how far the Tigers have come under coach Adam Fossett. The Tigers have been to the playoffs each of the last two years after going only twice in the previous 17. "I'm not an arrogant sort, but this ain't the B.B. Comer from four years ago," Fossett said. "These kids are bought in, they work hard, they're busting their tails. Four years ago we played in five or six Homecomings, one of them was the second game of the season. That's changed a little bit."
B.B. Comer and Sylacauga share a stadium and played a spring game this year (and next). It's a neat neighborhood game, but Fossett doesn't see it becoming a regular-season thing given the sizes of the schools. They played every year since 1927 until 2015.

And it might not be long before they don't share a stadium. Earlier this week it was announced the county school system was awarded $1.75 million to demolish and clean up the former Avondale Mills property the school system owns.

Part of the project calls for adding a football stadium and practice facility for Comer athletics. The plans have gotten the players excited, but it may be a while before any of them play on it.
"It's an exciting thing, it's a positive," Fossett said. "I've seen the plans and the plans look good, but the community has to understand it's going to take some time. It's kind of a disaster over there right now where everything has just been sitting, everything is rubble piled on top of rubble, but it's a positive thing. It'll be a good thing for Comer when it gets to that point.

"Something to definitely keep an eye on, something I don't know time frame wise. I had a sophomore this morning ask me about it and I said I'm going to be honest with you, I'm not trying to be negative, but you probably won't play on it. It takes a lot of time to do all this. It'll take over a year just to get all that stuff out of there."
ALUMINUM ANNIVERSARY: Thursday's Talladega County Media Day was the 10th anniversary edition of the preseason rouser.
Fayetteville's John Limbaugh has been on the podium for all 10 – and all with the same school. TCC's Chris Mahand and B.B. Comer's Adam Fossett (with two schools) were both attending their eighth. The only years Fossett missed were his two at Smith's Station between Childersburg and Comer.
"This is a great platform," Limbaugh said. "I like it because it brings coaches together, but this is a great, great platform to lift up what the schools in this county are doing."

Regarding his longevity, Limbaugh said, "we have a lot of forgiving people in Fayetteville."

Players who've come through the program have gone on to play in the NFL, win a national championship and play Division I football. Moderator Griff Hill ran into a local policeman at his breakfast spot before the meeting who once was a student-athlete at the podium.

"The toughest part about Media Day is figuring out what three guys you want to bring with you," Fossett said. "Especially this class. This senior class has really endured a lot and there are 12 guys who could sit up here and represent our team and our program and do a good job of it.

"It's pretty cool to have it up at the Speedway. When I leave here I'm going to see if there's an open gate and see if I can hit a hot lap in my truck."