It's Weaver's turn
Host principal Andy Keith looking forward to a 'back to normal' Calhoun County Tournament program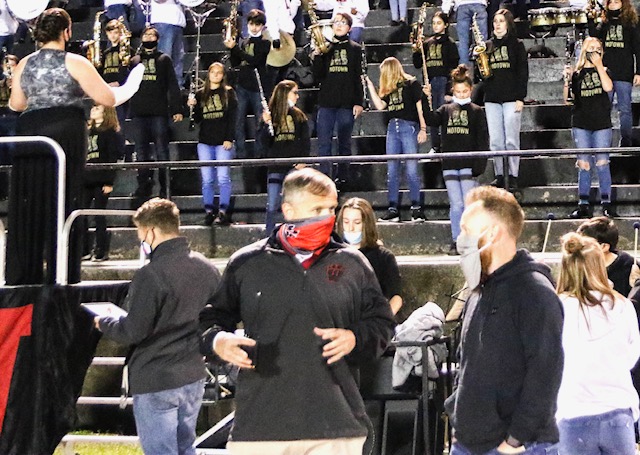 By Al Muskewitz
East Alabama Sports Today

WEAVER – One of the more enduring scenes of last year's Calhoun County Softball Tournament was Andy Keith leaning against a wall at Woodland Park, a solitary figure taking in all the action unfolding in front of him.
He was trying to absorb as much detail of the scene as he could because he knew in a couple months, ready or not, it was all going to be on his plate.

Keith, the Weaver principal, was a year-long student of the Calhoun County Tournament program this past academic year. At every event last year he wasn't far from Saks principal Jody Whaley's side.

Whaley oversaw the most challenging year in the County Tournament history, a year beset with COVID-19 restrictions, protocols and last-minute changes and by all accounts did a winning job.

This year it's Keith's turn as host principal and it's been a work in progress.
"Going into this, having never done it before, I don't really know what to expect," he said. "I watched Mr. Whaley navigate through last year, which was a tough year, and he did a great job.

"I guess the main thing (looking forward) is not having to worry about if we're going to play or not. Of course, we'll be following all the procedures (for COVID-19), but … I don't think it's going to be a week-to-week deal. I think it's pretty much going to be set in stone and I think we'll rock and roll back to normal.

"I bet if you ask anybody, they'll say they're looking forward to getting things back to normal."

Last year's County Tournament program was anything but normal. The nine-tournament series returned in full, but because of remaining COVID-19 protocols, attendance was restricted, venues were adjusted and some teams had to forfeit games because of exposure to the virus.

The preliminary rounds of the volleyball tournament were played at separate sites with the Final Four advancing to Saks to determine the teams headed to Jacksonville State for the championship. The wrestling tournament was reduced to the top four seeds (although the other five programs held a one-day off-site event of their own to get mat time).

And in the crown jewel of the series — the basketball tournament — Weaver's boys and both Faith Christian teams were forced out of the event because of COVID-19 exposure. Whaley's quick thinking saved the gate by giving ticket buyers games to watch by bringing back eliminated teams to play exhibitions against the teams left without a game.

But at least they had the tournaments – unlike the spring of 2019 when everything after the County Baseball Tournament was canceled due to the pandemic.
Keith admitted there are some things overseeing the program that are "a little intimidating," but he has leaned on the experience of those who've gone before him and has gotten a lot of help from his peers.

"So many people stepped up and said they were willing to help," he said.
White Plains cross country coach John Moore will head up that meet at McClellan – on a course he helped design this summer. Alexandria principal Jason Deason has agreed to take on some of the volleyball and basketball. White Plains principal Andy Ward has told Keith he'd do whatever was necessary to help.
"There are a lot of I's to dot and T's to cross," Keith said. "It's such a bigger scale hosting the Calhoun County Tournament opposed to hosting one game at one site."
A lot of groundwork has been laid, but there is, of course, more to be done. Part of Keith's summer has been talking with Jacksonville State officials about securing dates for tournament finals scheduled there.
The only conflicts will involve dates that bump up with events JSU has scheduled for its teams in its facilities. The first two days of the basketball tournament will move to Alexandria because of that and JSU hasn't finalized its spring schedule yet, which could impact the use of the baseball and softball stadiums.
Beyond that, everything will remain the same as last year and with no hurdles in the way Keith anticipates an "overwhelming" response to the tournament series.
"I'm hoping everything will be back to normal," he said. "That's what we're hoping for and that'll be the direction we'll be able to move.
"We're going to make sure those kids have the best experience they can have. It's all about them and the experience for them and the coaches and the fans and the schools. We want to make sure nobody is shortchanged at each county tournament."

2021-22 Calhoun County Tournament schedule
| | | |
| --- | --- | --- |
| DATE | SPORT | SITE |
| Sept. 15 | Volleyball seeding | Weaver |
| Sept. 25 | Jr. High Volleyball | Weaver/Alexandria |
| Oct. 2/4 | Volleyball | Weaver/Alexandria/JSU |
| Oct. 21 | Cross Country | McClellan |
| Jan. 3 | Wrestling | Weaver |
| Jan. 5 | Basketball seeding | Weaver |
| Jan. 10-14 | Jr. High Basketball | Alexandria (LS)/Donoho (SS) |
| Jan. 15-22 | Basketball | Alexandria (15/17)/JSU |
| Feb. 17 | Baseball seeding | Weaver |
| March 4-8 | Baseball | Choccolocco Park/JSU |
| March 30 | Soccer seeding | Weaver |
| April 1-2 | Golf | Pine Hill CC |
| April 3 | Softball seeding | Weaver |
| April 4-9 | Soccer | Ft. McClellan |
| April 4-8 | Softball | Woodland Park/JSU |
| April 8 | Track & Field | Choccolocco Park |
NOTE: County swim meet is Nov. 1, Red Wilder tennis is March 4