Clutch putt
Weaver's Ledbetter makes long birdie putt on his 18th hole to force substate playoff, then wins it to qualify for state tournament

By Al Muskewitz
East Alabama Sports Today

MONTGOMERY – Weaver's Nick Ledbetter was moved as much as anyone who follows golf by the story of Michael Visacki and his emotional phone call home after Monday qualifying for last week's Valspar Championship on the PGA Tour.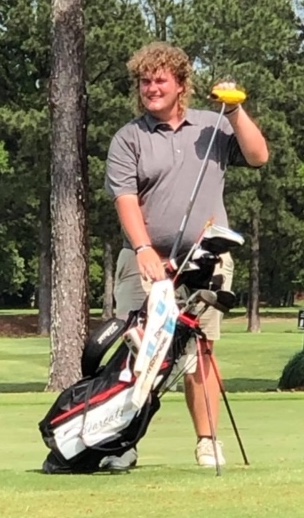 In his own way, the Bearcats sophomore knows exactly how the Florida mini-tour pro felt that day.

Ledbetter became Weaver's first-ever qualifier for the AHSAA Golf Championships Monday when he beat T.R. Miller senior Turner Smith on the second hole of a sudden death playoff at Arrowhead Country Club for the final spot from the Class 3A boys South Substate qualifier. He shot 74.

"It feels great to be the first ever. It feels good to make coach (Justin) Brown and my parents proud," Ledbetter said on the drive back home from the tournament. "After I tapped in the putt (in the playoff) and everybody was clapping, that's when it hit me that I made it.

"I was pretty emotional. I hugged my mom and she was like it's the best Mother's Day present to be in Mobile with you next week. Then after everybody congratulated me, coach Brown hugged me and I cried a little bit."

The state tournament is next Monday and Tuesday at the Robert Trent Jones Magnolia Grove facility.

Ledbetter has been waiting 24 months for this chance. Two years ago he posted a 91 in the North Substate then waited around three hours for the rest of the field to finish before a player in the final group came in with a 90 to nose him out. They didn't play last year because of the COVID-19 pandemic.

This round was filled with drama.

Just like Visacki last week sank a 20-foot putt on his second playoff hole to earn his first PGA Tour start, Ledbetter needed to make a 35-foot birdie on his last hole of regulation to force his playoff. But that wasn't the half of it.
Starting off the back nine, he was 5-over through his first four holes, but everything changed when he salvaged par on 15 after hitting it to eight feet after snap-hooking his drive into the water. He then made four birdies in a five-hole stretch coming through the turn, including a 30-yard chip-in on his 14th hole.
Smith was already finished and Ledbetter was through 15 when play was suspended because of weather. The Weaver golfer knew he had to have at least one birdie in his last three holes to get into a playoff and, boy, did he cut it close. To compound matters he just three-putted his 15th rushing to beat the rain, so he had to stew on that through the delay.

"I didn't shy away from telling him what he would have to do after the delay," Brown said. "I wanted him to know that the opportunity was there, he just had to take it — and he did."
Coming back out he parred 7 and hit it to six feet on 8 but left the putt short meaning he had to make birdie at the last to get into a playoff. There was nothing easy about it.
His drive cut into a tree and dropped down beside the cart path with "like the worse lie I could have." But he responded by hitting a cut 6-iron from 178 yards to 35 feet to give himself a chance. He paced the putt like a big cat stalking its prey and knew it was in 10 feet from the hole.
"I'm walking up to the green and saying you've got to make one putt, that's all I'm asking of you," he said. "I probably spent a minute 30 seconds reading it from both sides and after I lined it up I stood there saying you can make it. When I saw it go in, I threw up a big fist pump and said let's go. That's the biggest putt I ever made."
Both players parred the first playoff hole. The second playoff hole was a par-3.
Ledbetter got the advantage when he put his tee shot 20 feet right of the pin and Smith's shot went left under a tree. Smith played his pitch shot along the ground that ran off the front of the green and then chipped it five feet. Ledbetter left his putt about two feet short.
Smith motioned for him to finish and a dream was realized.

"It's really cool to see a kid his age buy in to what you as a coach preach," Brown said. "Nick's work ethic is as good as anyone's I've ever seen and to see a dream realized today means the world to me.

"I have told him since Day One of seventh grade that if he will put in the work and grind every day, there is no telling what he would accomplish. There are some along the way who have tried to do or say things to derail the process, but he has stayed the course and today the first of many dreams was accomplished for him."

The Class 4A Boys and 4A-5A Girls North Substate tournament at Silver Lakes scheduled for Tuesday has been postponed Thursday.