Wade-ing into history
Alexandria shortstop on track for a painful state record – most times hit by pitch in a season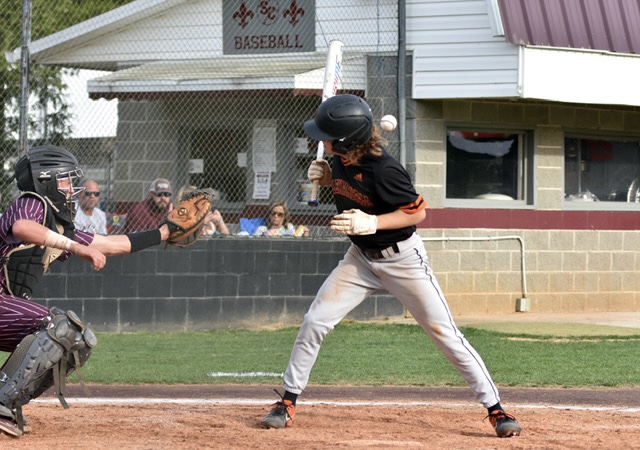 By Al Muskewitz
East Alabama Sports Today
Sam Wade doesn't know who Hughie Jennings is, or Ron Hunt or even Kyle Nixon, but he's on the verge of joining them as the most tenderized player of their era in the game.
| | | | |
| --- | --- | --- | --- |
| OW! | | AHSAA Season HBP Leaders | |
| 29 | | Kyle Nixon, Winfield (2016) | |
| 28 | | Spencer King, Pinson Val. (2011) | |
| 27 | | Sam Wade, Alexandria (2021) | |
| 26 | | Bryce Walter, Piedmont (2019) | |
| 26 | | Jon Pat Jones, Fairview (1998) | |
The Alexandria junior shortstop is the ultimate take-one-for-the-team guy and if the Russellville pitchers get too close in their third round 5A playoff series that starts Thursday he could wind up with the state record for being hit the most times by pitches this season.

Wade has been plunked 27 times (in 37 games) this season, two off the single-season state record set by Winfield's Nixon in 2019. When he got hit in the third inning of Saturday's decisive Game 3 against Ardmore, he passed Piedmont's Bryce Walter (2019) and Fairview's Jon Pat Jones (1998) for third place on the list.

The next, um, target is Pinson Valley's Spencer King, who got hit 28 times in 2011.

"I have no idea (why it's happening)," Wade said. "It's just going up there and just looking. Some people say I crowd the plate, but I really don't even crowd the plate. Where the (batters box) chalk line's at, I'm a good three, four inches off the line. They try to get inside on me and I guess they just miss and that's where they hit.

"You get a free base. You do anything to help the team out. I ain't going to move. If it's coming at me I'll have to wear it however fast it is. I'm going to take it and get on base and hopefully score and help the team the team out. Our goal is whatever you have to do to get on base you do it."
There are guys in the game who have gotten a reputation for taking one for the team. Jennings, who played at the turn of the century – the 20th Century – is major-league baseball's all-time HBP leader (287). Hunt is the modern-era single-season leader after being pelted 50 times for the Expos in 1971. The NCAA Division single-season record holder is Creighton's Robbie Knight (35 in 60 games in 2007).

With more pitchers being taught to pitch inside, expect more batters to get hit. Piedmont's Jadon Calhoun earlier this year tied the state record for getting hit four times in a game against Ohatchee.
Wade got hit five times in the doubleheader that opened the Cubs' playoff series with John Carroll – the last one forcing in the tying run in their seventh-inning rally in Game 2 to extend the season – and got hit five times against St. Clair County the series before that. He was hit only twice Ardmore.

"It's not frustrating when you get hit once or twice a game, but five times in the two games that's a little frustrating," he said. "I don't think they're meaning to do it at all, but you kind of go up there wanting to get a base hit or a knock for the team, then, boom, man, and then you go up there again, boom, oh my gosh.

"I wouldn't consider it frustrating because it still helps the team out but it can get a little (annoying). Man, just let me hit."

Wade isn't the only Valley Cub who's not afraid to stand his ground. Third baseman Ty Brown has been hit 22 times, which would be tied for 12th on the AHSAA list. At one time this season he'd been beaned even more than Wade, then all of a sudden – boom – it went the other way, which is kind of risky when you think about it because Brown bats way down in the lineup and Wade hits second.
But just in case you're counting, that's 49 times from the left side of the infield alone. And they've got the black-and-blue marks to show for it.
"They're just tough kids," Valley Cubs coach Andy Shaw said. They're not trying to get hit, but they just seem to be a magnet for the baseball. I've got no explanation for it.
"They're just showing you they want to do. They'll do anything to help their teammates win by getting on base. They're just all-in as a team. That's what it's all about, being selfless and doing whatever it takes to win a ballgame."
There aren't too many places on his upper torso Wade hasn't been hit. He's been hit "a pretty good bit" around the head and shoulders, but there have been shots in the arm and, most painfully, four or five to the unprotected elbow. While all have been uncomfortable, none, happy to report, have been enough to cause an injury or pulled him from the game.
"The ones to the head, if they've got some velocity, it's like a pinpoint and they give you an instant headache," he said. "The ones on the elbow got to be the worst, though, because it just hits straight bone. That one gets you."
But he keeps standing in there.
"I just figure I ain't going to move; if it's coming at me I'm going to wear it," he said. "Whatever happens, happen. I get a few bruises, but nothing too bad. You get over it and keep on playing."