Lapping the field
Alexandria beats Ardmore in Game 3, renews victory lap after clinching playoff series at home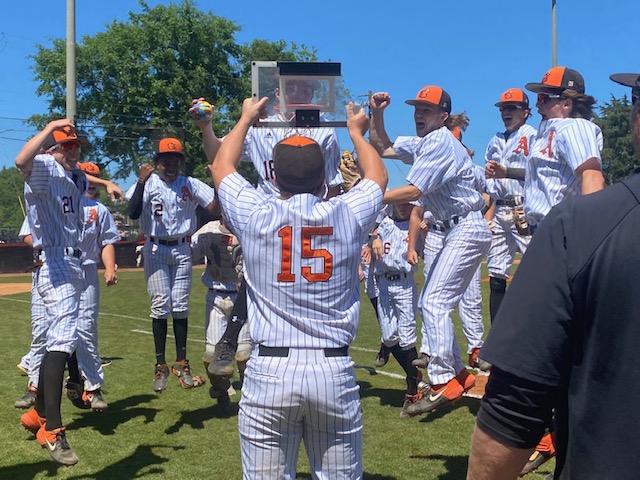 By Al Muskewitz
East Alabama Sports Today

After spending the last two hours running Ardmore out of the park in Game 3 of their Class 5A playoff series Saturday, the Alexandria Valley Cubs had a little more running to do.

This time was a little more enjoyable and a lot less pressure-packed.
VICTORY
LAPS
Times Alexandria has made a victory lap
after clinching a playoff series at a home
2009 (2)
Fayette County, Haleyville
2010 (2)
Guntersville, Deshler
2011 (2)
Sardis, Childersburg
2012 (1)
Sardis
2013 (2)
Sardis, Jacksonville
2014 (1)
Sardis
2015 (1)
Sardis
2016 (2)
Moody, Mortimer Jordan
2021 (1)
Ardmore
The Valley Cubs have had a tradition of doing a victory lap around the fringes of Byrd Welch Field whenever they win a playoff series at home. It was a regular thing in the aughts and early teens after assistant coach Zac Welch first introduced it, but they haven't had that pleasure since 2016.

They brought it back after putting the Tigers away 11-2 to win the series two games to one. They will play at Russellville (36-6) in the Class 5A quarterfinals Friday at 4:30 p.m., with the if game Saturday at noon.

When the initial victory celebration subsided, the players were motioned through to "Take a lap." None of them had even seen it before, so you'll excuse them if they did it a little fast.
"That victory lap was a lot of fun," freshman pitcher Andrew Allen said. "I didn't know we even did that. It's been a while. I was definitely out of breath doing it. It was rough."
"I had no idea; it was a first for all of us," junior shortstop Sam Wade said. "It was something to remember, for sure. It's something I think we'll never forget."
Welch introduced the concept when he rejoined the program as an assistant in 2009, but the lap "really took off" in 2010. The Cubs have done it 13 times in the eight years after he introduced it, but not since beating Mortimer Jordan in the 2016 second round.
"It's a good moment for the team and community to enjoy together," said Welch, who remembers every one. "I've got a lot of good memories of watching our guys slap hands over that wall."
Allen took the Tigers' breath away pitching his first career complete game. He faced only three batters over the minimum after Ardmore's first four batters reached base and he bankrupted their bats after Mason Billions' two-run single in the first gave the Tigers an early 2-0 lead.

He allowed just three hits total, struck out six and got the complete game by retiring what would have been the final batter his pitch count would allow.
"I really wanted to get a complete game; it's the first complete game I've thrown all season," he said while twirling the game ball in his hands. "I just made sure I got the leadoff outs. I had to make sure I didn't get the first runner on. After I did that I think I went there with the mentality that I was going to be better than these kids and whenever I did I think I was."
When he came off the mound after the final out Allen partook in the newest Valley Cubs tradition – dunking a rubber ball through a mini basketball hoop. It's a ritual reserved for complete games, closes, striking out the side, scoring a run or getting subbed out after hitting a double. Drew Brown shattered the backboard dunking in the dugout after his pinch-hit two-run double in the sixth.
"We'll tape it up," Cubs coach Andy Shaw said.
At the plate, the Cubs (23-14) pounded 11 hits with the bottom of the lineup collecting five of them. Sophomore left fielder DeShaun Foster, the ninth hitter in the order, went 3-for-4 with two doubles and three RBIs.
"I just wanted to get some solid hits today," Foster said. "I've been striking out a lot so I wanted to put the ball in play. I've been working at it and it paid off with a really good day at the plate today."
The Cubs took the lead for good with three runs in the second. Austin West put them ahead 3-2 with a two-run single and he scored on the Ian Cartwright triple that followed.

CLASS 5A PLAYOFFS
Game 3
Alexandria 11, Ardmore 2
(Alexandria wins series, 2-1)
Ardmore 200 000 0 — 2 3 4
Alexandria 131 024 x — 11 11 3
WP: Andrew Allen. LP: Bryce Camp. 2B: Sam Wade (Al), Ty Brown (Al), DeShaun Foster 2 (Al). 3B: Ian Cartwright (Al)