It's a Wildcat day
White Plains boys, girls teams lead County Tournament; WP's Okins, Gattis top individual leaderboard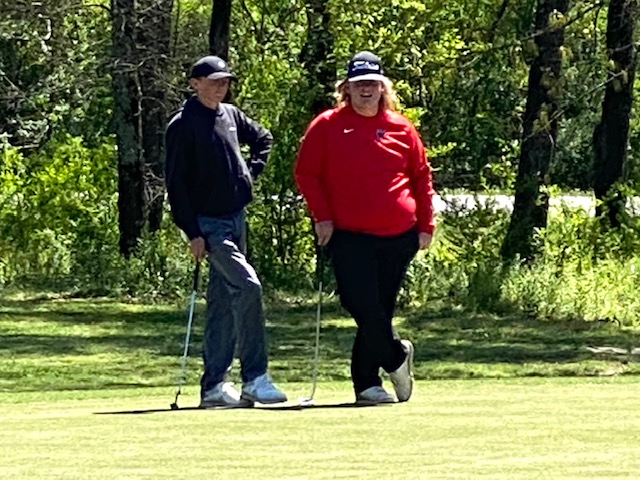 By Al Muskewitz
East Alabama Sports Today

The final round of the Calhoun County Golf Tournament Saturday could become a day of validation for the two White Plains players who sit atop their respective leaderboards.

All the talk is White Plains senior Kenny Okins is the best high school player in the county. He hasn't been a county medalist, so winning the boys title Saturday would be the missing piece to validate that.
Junior Abby Gattis has put in all the work to raise her game to the level among the county's best. Winning the girls medalist honors Saturday would validate that.
Both players lead their respective divisions by five shots. 

It was a White Plains day in Friday's opening round at Pine Hill Country Club.

The Wildcats lead both the boys and girls teams standings by sizeable margins and had the boys and girls individual leaders.

White Plains' boys posted a 3-over-par 291 and lead Oxford by a whopping 70 shots going into Saturday's final round. The girls shot 258 and lead Alexandria by 24.

Okins led the White Plains boys with a 6-under 66, and leads teammate Wesley Jenkins and Weaver's Nick Ledbetter by five.

"I really wanted (the lead), I thought I had a chance to (get it)," he said. "To me it's a big deal, one because it's at my home course and I live on it; it's almost defend the home ground. It's also a big deal because the county tournament is always a big thing in high school. Cementing that you're the best team in the county or the best player in the county, umm, is a good thought to have."

Okins made eight birdies and two bogeys. He birdied his first two holes, turned in 3-under with a three-shot lead, then made three birdies in a row. The string ended when he missed a short par putt on 14.

"It's just a great opening round, that's all I can say," he said. "Playing out here so much lets me know the holes I need to go after and the holes I don't need to. I birdied the holes I should've. Starting off birdie-birdie on 1-2 is a big deal. It's just a big momentum thing. The best part of my game was my putter today."
Gattis leads the girls after an 82, five ahead of teammate Baylie Webb and Alexandria's Lauren Sechrest. White Plains' Isabel Rogers is another two shots back.

Gattis stayed patient throughout the long, windy day and hit a lot good golf shots. She didn't have any birdies but she made two cross-green par putts at 2 and 8 to keep the round going. 

"I never thought I would lead a Calhoun County Tournament," she said. "I haven't led anything big like this in a while. I don't know if I ever have, actually. It's a big deal to me.

"I've put in time ever since seventh grade, I've got colleges looking at me. Like I said I've done the time and I feel like it's really paid off. I've always looked up to (former White Plains golfer) Hanna Dyar; she was always encouraging me. She was like just put in your time and it'll produce – and here it is today."

Jenkins got into red numbers by making birdie on both par-5s on the back, including an incredible approach out of trouble to set up the one on 18.
Think of the Bubba Watson miraculous wedge from the woods in the 2012 Masters playoff, but only by a right-hander.

A poor second shot left Jenkins in the trees about 130 yards out. Taking a pitching wedge, he started the ball at the No. 1 tee box and hooked it back some 40 yards over the crepe myrtles to the green. The ball hit the hole, then settled 15 feet away and he made the putt coming back up the hill to get the round under par.

"That was as good a shot as you're ever going to see," White Plains coach Chris Randall said. 
"It was pretty crazy," Jenkins said. "That's why I'm happy right now."
Ledbetter made seven birdies, but needed a late charge to join Jenkins. He fell off the pace with a bogey-double bogey hiccup on 13 and 14, but closed with three birdies in his last four holes. He hit the par-5 15thin two and two-putted, pitched up tight to save par on 16 and then birdied 17 and 18 to finish.
Both challengers are confident they can chase down the leader Saturday.
"I've just got to come out here and hit fairways and greens again, and make putts," Ledbetter said. "I've got to stay calm after one bad shot and minimize the damage."
"I think I can because I played bad today and shot 1-under," Jenkins said. "I left tons of shots on the course and I think it's very likely I can come out on top."
Randall said they'll have to play hard.
"He won't relax," Randall said. "If anything Kenny is a grinder. He'll put his nose down. If somebody catches him they'll have to play a special round of golf because he won't give it to them."

CALHOUN COUNTY GOLF TOURNAMENT
At Pine Hill CC
BOYS
Team scores: White Plains 291, Oxford 361, Alexandria 408, Weaver 409, Piedmont 446, Jacksonville 450.
Individuals
Kenny Okins, WP 66
Wesley Jenkins, WP 71
Nick Ledbetter, Wea 71
Peyton Bradley, WP 75
x-Sawyer Edwards, WP 77
Gage Miller, WP 79
x-Wyatt Cotney, WP 82
x-Zach Goss, WP 83
Austin Roberts, WP 83
Trent Lott, Ox 83
Nic Boyd, Ox 83
x-Riley Boyd, WP 83
x-Dalton Faulkner, WP 85
Mike Tippets, Ox 88
x-Daniel Norred, WP 89
x-Karson Faulkner, Alex 91
x-Ryder Hudgins, WP 94
x-Ethan Turner, WP 95
Brock Murphy, Wea 96
x-Cam Hurst, WP 97
x-Porter Stokes, WP 97
Grayson Forrest, Alex 98
Braxton Kiker, Alex 98
Hayden Young, Pied 104
Logan Ponder, Alex 104
Jaycob McCurdy, Pied 105
Julian Hill, Jax 106
Hayden Coppock, Ox 107
Fisher Prichard, Alex 108
x-Damon Parr, Alex 109
x-Chris Ferguson, Ohat 110
x-Owen Petty, Saks 111
Cody Souder, Wea 112
Braxton Tucker, Alex 112
Jud Grass, Jax 113
Brock Reaves, Ox 113
Conner Williams, Pied 114
Walker Hobbs, Jax 115
Andy McMichael, Jax 116
x-Stephen Ray, Saks 118
x-Samuel Duncan, PV 120
Jackson Rosler, Jax 120
x-Pierson Otralek, Alex 123
Dylan Melendez, Pied 123
x-Matthew Vanover, Jax 124
x-Caleb Gay, Alex 126
Konnor Mayfield, Wea 130
Hunter Hise, Wea 134
x-Jaycob Toca, Jax 136
GIRLS
Team scores: White Plains 258, Alexandria 282, Pleasant Valley 313, Oxford 332, Donoho 333, Piedmont 335, Weaver 352.
Individuals
Abby Gattis, WP 82
Baylie Webb, WP 87
Lauren Sechrest, Alex 87
Isabel Rogers, WP 89
Emma Ray, Alex 94
Marlie Wright, PV 95
Anna Grace Jones, Don 96
Annabelle Page, Ox 96
Olivia Ward, WP 97
Gracie Davis, PV 98
Emilee Brown, Alex 101
Alexis Cleveland, Wea 104
x-Mallory Hill, WP 104
x-Rachel Gattis, WP 108
Ella Floyd, Pied 109
x-Lily Nichols, Alex 110
x-Avery Prickett, Alex 110
x-Kayleigh McGatha, Alex 111
x-Marlee Hedgepeth, Alex 111
Mayce Chandler, Pied 111
Reagan Finley, Alex 112
Bella Reaves, Ox 112
x-Maddy Faulkner, WP 113
Ava Hollingsworth, Don 113
Haley Bostick, Pied 115
Carmella Reese, Wea 119
Abby Whisenant, PV 120
x-Alli Pressley, WP 121
Gracie Baarber, Pied 121
Kallie Callan, Don 124
Chloey Page, Ox 124
Angelina Diaz, PV 128
Demari Grant, Wea 129
Mia Vivanco, Ox 131
x-Maddie Stewart, Jax 132
x-Lauren Burkett, Jax 135
x-Brooklyn Goss, Pied 136
x-Madison Boyd, WP 140
x-Competing as individual
| | | | | | | | | | |
| --- | --- | --- | --- | --- | --- | --- | --- | --- | --- |
| Boys Leaderboard | | | | | | | | | |
| Par | 453 | 345 | 444 | 36 | 444 | 435 | 345 | 36 | 72 |
| Kenny Okins, WP | 343 | 444 | 434 | 33 | 433 | 345 | 335 | 33 | 66 |
| Wesley Jenkins, WP | 453 | 335 | 445 | 36 | 445 | 434 | 344 | 35 | 71 |
| Nick Ledbetter, Wea | 444 | 335 | 643 | 36 | 434 | 554 | 344 | 35 | 71 |
| Peyton Bradley, WP | 464 | 345 | 444 | 38 | 345 | 535 | 435 | 37 | 75 |
| Sawyer Edwards, WP | 553 | 345 | 445 | 38 | 445 | 446 | 345 | 39 | 77 |
| Girls Leaderboard | | | | | | | | | |
| Par | 453 | 345 | 444 | 36 | 444 | 435 | 345 | 36 | 72 |
| Abby Gattis, WP | 455 | 456 | 444 | 41 | 444 | 645 | 446 | 41 | 82 |
| Baylie Webb, WP | 554 | 345 | 555 | 41 | 456 | 555 | 448 | 46 | 87 |
| Lauren Sechrest, Alex | 355 | 457 | 446 | 43 | 455 | 547 | 437 | 44 | 87 |
| Isabel Rogers, WP | 564 | 355 | 654 | 43 | 356 | 556 | 448 | 46 | 89 |
| Emma Ray, Alex | 775 | 554 | 656 | 50 | 745 | 445 | 447 | 44 | 94 |