Riding the wind
Carrollton partners Hammond, Harman shoot 58 in windy scramble, lead 3 teams in County Team Championship by 2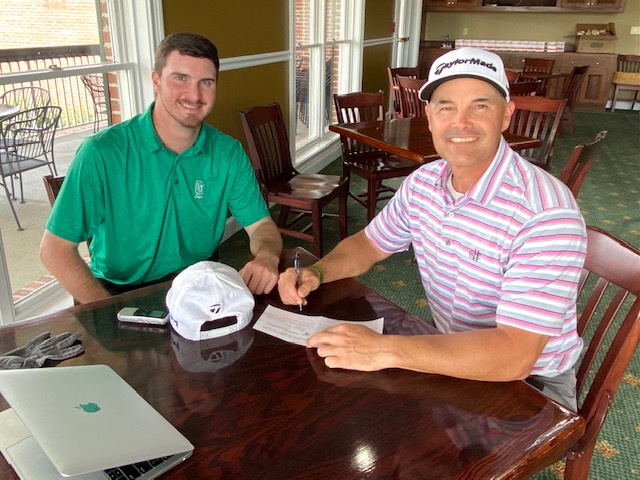 By Al Muskewitz
East Alabama Sports Today

SILVER LAKES – John Harman stepped onto the seventh tee of the Heartbreaker 9, arguably the highest point of the golf course that doesn't have as many trees as it used to, and felt the wind blowing hard off his left shoulder. It took his mind back to a faraway place.

He turned to his partner, Brandon Hammond, and said, "it feels like being back in Scotland." It wasn't the first time he said it, either.

And it wasn't just something a golfer would say on a windy day because they've watched the British Open on TV. Harman has actually been there. He played all the classic Scottish courses on a trip there in August 2019, and the winds that blew then felt just as hard as it blew Saturday at Silver Lakes during the opening round of the Calhoun County Team Championship.

Only a handful of teams managed the wind on this day and the Carrollton, Ga. partners with limited experience on the course had the best of it. They shot 14-under-par 58 with an eagle on each side in the scramble format to take a two-shot lead going into Championship Sunday – a day the players can expect an even stiffer wind than they had on this day.

"We didn't leave any shots out there," said Hammond, who was playing for only the third time here. "One of us hit a good iron shot most every hole and we both made putts. It was not one of those rounds where you could've played better. That was it."

"I told him that was the closest we could've come to a perfect round of golf," added Harman, a former college pitcher playing only his second round here.

The leaders shot 29 on each side, even when the wind picked up on them on the inward Heartbreaker 9. They had 10 birdies and two eagles. They played holes 6 through 13 in 8-under and played their last 13 holes in 12-under.

The eagles came on No. 7 Backbreaker from 12 feet and No. 7 Heartbreaker from 30 feet. Harman made both putts.

"We made all the putts we were supposed to make and made a couple that we probably shouldn't," Harman said.

Randy Lipscomb and Drew Anderton played in the first group of the day and didn't get the wind until their final four or five holes. By then, they were well on their way to a 12-under 60, which later was matched by the teams of Gary Wigington-Scott Martin and Logan Forrester-Jody Wooten.

At one point in their round Lipscomb and Anderton were 9-under through 11. Starting on Backbreaker 3 they made six straight birdies, eagled No. 9 and birdied No. 1 Heartbreaker. They were 10-under through 13 when the wind freshened.

"The wind really started picking up with about five holes to go," Lipscomb said. "When we were on 16, Jeremy (McGatha) and Brennan (Clay) were making the turn and I remember it was howling. I told them it's a different back nine than when we started the back nine. It was a lot more.

"Until the wind started blowing I thought we were at a disadvantage because it was so wet. When the wind picked up there was a massive change. I'll be honest, I think it we'd have teed off at 10:30-11, I think it's a three-shot wind at least. We're looking at 9-under instead of 12."

Just how stiff was the wind? It was a steady 10-15 mph out of the south-southwest throughout the height of play with gusts of 15-20 mph. Lipscomb had 144 yards into the uphill Heartbreaker 7 green and needed a full 7-iron. His team had 123 into the finishing hole and he needed almost all of an 8-iron to make it.

Before the wind picked up, they had 195 yards into Backbreaker 9 and Anderton hit a 6-iron to 12 feet short of the hole to set up their eagle.

If the players thought the wind was tough Saturday, wait until Sunday. They'll shift to come out of the northwest at about the same speed as Saturday, but the gusts are forecast to kick up to 17-22 mph.

NOTES: Sunday's round will have a two-tee start beginning at 11 a.m. … The five-team championship flight scored 51 birdies (every hole at least once) and five eagles … There were 251 total birdies; every team had at least one … There were 12 eagles, with Backbreaker 7 and 9 yielding four each. Heartbreaker 1 and 7 had two each.
CALHOUN COUNTY TEAM CHAMPIONSHIP
First-round scores
Championship flight
Brandon Hammond-John Harman 29-29–58
Randy Lipscomb-Drew Anderton 28-32–60
Gary Wigington-Scott Martin 30-30–60
Logan Forrester-Jody Wooten 31-29–60
Daily Thomas-Chad Calvert 31-30–61

First flight
Jason Johnson-Landon Straub 28-34–62
Chris Cox-Gage Miller 30-33–63
Brennan Clay-Jeremy McGatha 32-31–63
Caleb Bowen-Cory Etter 32-32–64
Chad Watson-Matt Miller 33-32–65
Hunter Carr-Zach Mangum 32-33–65
Randy Reaves-Will Reaves 31-34–65
Danny Whittaker-Tony Hicks 31-34–65
Second flight
Chase Hollingsworth-Jono Waugh 32-34–66
Jake Goggans-Rob Davie 32-34–66
Cain Hollingsworth-Taylor O'Connor 34-32–66
Kevin Daugherty-Landon Daugherty 33-33–66
Patrick Cooper-Shawn Ledbetter 32-34–66
Billy Thompson-Timmy Woodard 31-35–66
Chris Hubbard-Clay Calkins 33-34–67
Tyler Dopson-Will Brown 33-34–67
Clayton Chandler-Clint Brakbill 33-34–67
Mark Hudgins-Nick Ledbetter 32-35–67
Rodney Grubbs-Wesley Jenkins 32-35–67
Kenny Okins-Rick Okins 31-37–68
Justin Graveman-Patrick Crane 35-33–68
Cameron McCareeth-John Grubbs 33-35–68

Third flight
Isabel Rogers-Matt Rogers 35-34–69
Larry Reaves-Tyler Romine 36-33–69
Cody Fortenberry-Keith Fortenberry 34-35–69
Daniel Black-Lamar Carter 34-35–69
Danny Shears-Ryan Limbaugh 36-34–70
Blake Jones-Nick Hubbard 34-36–70
Jeff Chapman-Justin Goree 33-37–70
Stan McCarley-Trevor McCarley 36-34–70
Daniel Ricks-Nathan Williams 34-37–71
Dustin Travis-Kolby Slick 38-33–71
Dre Davenport-Matt Greer 35-36–71
Austin Elliott-Bradley Elliott 34-37–71

Fourth flight
Adam Benefiel-Houston Black 35-38–73
Jacob Sittre-Steven Crane 36-38–74
Bobby Yarbrough-Mike Ledbetter 37-38–75
David Lawrence-Jim Tindle 37-38–75
Justin Nolin-Nick Machowicz 42-40–82

CALHOUN COUNTY TEAM CHAMPIONSHIP
Sunday pairings
(Heartbreaker start)
11 a.m. – Jim Tindle, David Lawrence, Nick Machowicz, Justin Nolin
11:10 – Jacob Sittre, Steven Crane, Bobby Yarbrough, Mike Ledbetter
11:20 – Bradley Elliott, Austin Elliott, Adam Benefiel, Houston Black
11:30 – Kolby Slock, Dustin Travis, Matt Greer, Dre Davenport
11:40 – Stan McCarley, Trevor McCarley, Nathan Williams, Daniel Ricks
11:50 – Nick Hubbard, Blake Jones, Jeff Chapman, Justin Goree
Noon – Lamar Carter, Daniel Black, Ryan Limbaugh, Danny Shears
12:10 p.m. – Tyler Romine, Larry Reaves, Cody Fortenberry, Keith Fortenberry
12:20 – John Grubbs, Cameron McCareeth, Matt Rogers, Isabel Roberts
12:30 – Kenny Okins, Rick Okins, Justin Graveman, Patrick Crane
12:40 – Clayton Chandler, Clint Brakbill, Clay Calkins, Chris Hubbard
(Backbreaker start)
11 a.m. – Will Brown, Tyler Dopson, Rodney Grubbs, Wesley Jenkins
11:10 – Timmy Woodard, Billy Thompson, Nick Ledbetter, Mark Hudgins
11:20 – Kevin Daugherty, Landon Daugherty, Patrick Cooper, Shawn Ledbetter
11:30 – Chase Hollingsworth, Jono Waugh, Cain Hollingsworth, Taylor O'Connor
11:40 – Jake Goggans, Rob Davie, Zach Mangum, Hunter Carr
11:50 – Danny Whittaker, Tony Hicks, Matt Miller, Chad Watson
Noon – Caleb Bowen, Cory Etter, Will Reaves, Randy Reaves
12:10 p.m. – Chris Cox, Gage Miller, Brennan Clay, Jeremy McGatha
12:20 – Daily Thomas, Chad Calvert, Landon Straub, Jason Johnson
12:30 – Gary Wigington, Scott Martin, Logan Forrester, Jody Wooten
12:40 – Brandon Hammond, John Harmon, Randy Lipscomb, Drew Anderton