Picking up the pieces
Former Ohatchee RB Thomas on way home after Thursday's tornado claimed 3 family members; college sending team chaplain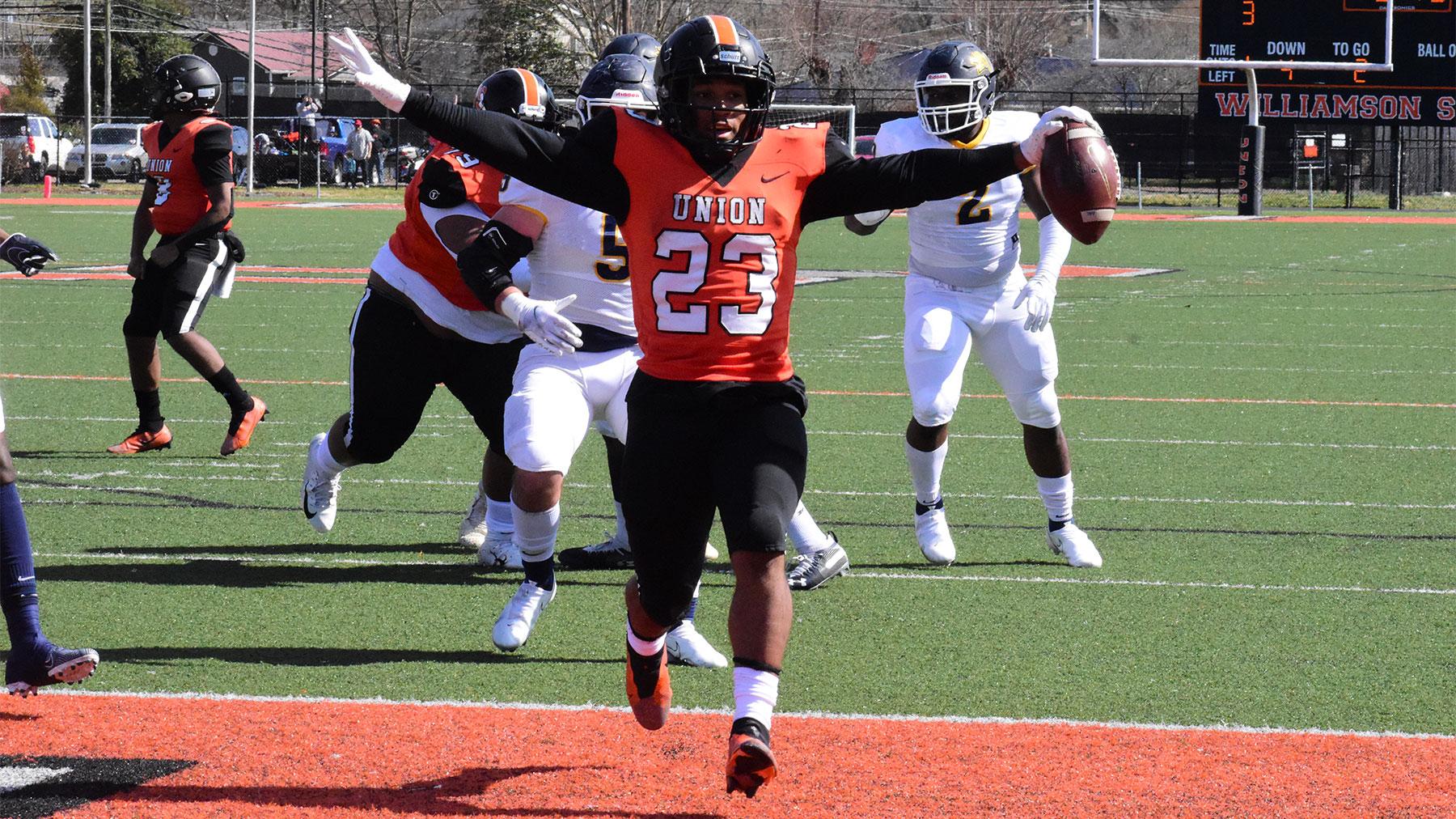 By Al Muskewitz
East Alabama Sports Today
Domonique Thomas had big plans for the future, the kind of plans that come with a highly skilled athlete reaching the top of his sport.

It was a dream of playing in the National Football League and all the things he could do that came with that kind of success. It involved buying homes for his parents and grandparents and giving them the comfortable life they deserved.
Those plans were torn to shreds in a matter of seconds Thursday when a tornado tore through Ohatchee. His mother, Ebonique Harris, and two grandparents, Barbara and Joe Wayne Harris, were among the five Calhoun County residents killed by the storm. Thomas' seventh-grade sister, Ontarriah Braxton, underwent surgery for her injuries Friday.

"I never thought anything like this could happen," he said Friday while riding back with his father from Laurinburg, N.C., where his Union College football team was scheduled to play a game with St. Andrews. "I was always scared (something would happen while he was away at college), but I never thought it would actually happen to one of them, any one of my family."
Thomas, a freshman running back for the Bulldogs, said he spoke to his mother no less than 30 minutes before the tornado struck their home to tell her son she wasn't going to make it to his game because of the storm.

It would be the first game she'd not have seen him play. She was there two weeks ago in West Point, Ga., when Domonique ran for 222 yards and a touchdown in a win over Point University, the closest game the Bulldogs had scheduled to his hometown this season.

At the time of her call he thought she wasn't coming because the storm was heading to North Carolina, not their backyard. A few minutes later he got the devastating news from former Ohatchee teammate Grayson Alward, an Anniston firefighter.
It was followed soon thereafter by calls from others, including former Ohatchee coaches Scott Martin, Bryant Ginn and Chris Findley.

"I didn't want to believe it at first," he said. "Everybody called me and told me it's true."

Thomas got the news just as the Union team bus pulled into town. It was a helpless feeling being some 6½ hours away when tragedy strikes at home.

"My heart stopped beating," he said.

Ginn offered to drive over and bring him back if his father, who had just started a job in Atlanta, couldn't get away.

"He was pretty torn up," Ginn said. "I can only imagine being that far away from home and feeling that helpless, not knowing. I didn't know what to say to him. I don't know how you feel and I didn't want to tell him it's all going to be OK. Like any of us getting that news and not being able to talk directly to anybody is tough."

His teammates rallied around him. The Union coaches told him he didn't have to play the game but he wanted to play because he thought that's what his mother and grandparents would have wanted. He made it to the field for pre-game, but the players but were pulled off because of lightning and the game ultimately was canceled.

Waiting out that decision, Thomas said, was "emotional because I wanted to play." Playing at least would have given him a brief escape from what lay ahead.

"It would have been the first game I wouldn't have gotten to hug my mom afterwards," he said.

The Union College team chaplain will be coming to Ohatchee to be with Thomas in the coming days.

"We are devastated for Domonique and his loss and sudden tragedy that he has suffered," Bulldogs head coach John Luttrell told East Alabama Sports Today. "At Union we truly are a family and it is times like this where we have to lean on each other with love and prayer.

"Domonique is a strong young man with a heavy burden ahead of him, but we love him and we are here for him in any way. As a team, school and community his loss has affected us all and we are heartbroken."

Thomas was due back in Calhoun County later this evening. He didn't know what to expect when he got back, but he knew things weren't ever going to be the same.

"I'd always go home to see my mom and see everybody I hadn't seen in a while and now they're gone," he said. "Nothing there."

His football plans now will depend on his sister's choices. If she chooses to live with family in Birmingham, he'll transfer to UAB. If she chooses to live with family in Virginia, he'll transfer to Virginia Tech or West Virginia."Everything I was doing was to take care of my family," he said. "I wanted to make it to the NFL, buy them all a house, buy my dad a house and just take care of my family.
"I'm still going to do that because now I just have to dedicate it to them and honor them and take care of the family that I still have."