Reunited, feels so good
Weaver state champion Cody Souder signs to wrestle at Williams Baptist, rejoining his brother in the wrestling room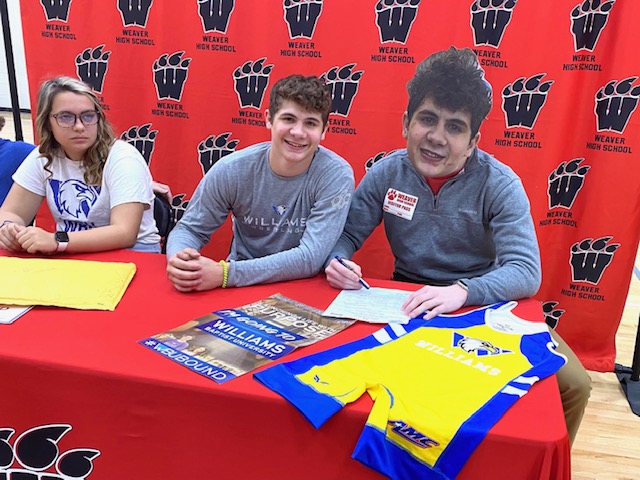 By Al Muskewitz
East Alabama Sports Today

WEAVER – The wrestling room has felt just a little different to Cody Souder the last couple years. When he was younger and brother Nick was a Weaver teammate, they were hardly ever apart and it gave the room a family feel.

With Nick off to college the last three years, it just didn't feel the same.

Well, the boys are going to be back together again if only for a year or two as Cody signed Friday with Williams Baptist, the NAIA contenders where his three-time state champion brother has been plying his trade since 2017.

"It's gonna be great," Cody, this year's 1A-4A 160 state champion, said. "I loved being teammates with him when we were in high school. I know he's going to push me even harder up there and help me become even more of a better wrestler. It's real cool. I love being teammates with him.

"He got me interested in Williams, but I wouldn't say that's the reason I'm going there. Of course, it's a little part of it, but not the main. Since I was like in the third grade I wanted to be a college wrestler. It started out with me wanting to go to one of the top big schools like Penn State, but that wasn't meant to be and I felt Williams was right for me."

Weaver coach Andy Fulmer says it will be "neat" for the brothers to be together again in the wrestling room at a higher level. But he knows it will also leave a void in his program.

"I've always had a Souder in my room as one of my leaders," Fulmer said. "It's almost like he's passing the torch off to maybe Devin (Anderson) or JD (Joshua Johannson), basically leaving his legacy, his final imprint, saying this is the way things are and passing the torch to you to carry on what we've worked so long and hard for to create."
Souder, Anderson and Johannson were all state champions as the Bearcats finished second in Class 1A-4A. For Souder, the individual crown was a long time coming. The title capped a long, winding road of emotion in which he was always had himself in the hunt, but was always denied at the end.
He went 35-0 this past season and on top of finally winning the state title he was named the outstanding wrestler of the 1A-4A tournament. He ended his varsity career with a 254-55 record. Since the eighth grade he has been a state qualifier five times, a state placer five times, wrestled in championship match each of the last four years and finally won it all this year.
"I think this guy was on a mission, a mission quest," Fulmer told the crowd gathered in the school gym for the ceremony. "He was on a different level than anybody he competed with. He went through the gauntlet at 160 and hammered everybody."
Funny he should say that. On Friday, Souder was named a hammer by SE Wrestling, one of the top wrestlers in his weight class in the region.
"I think there was more pressure on him as an individual because he was expected to win," Fulmer said. "He'd been so close so many times and just to see the final product, him being able to finish off his career and be the most outstanding wrestler and finish undefeated, was something.
"It's something his brother didn't do. Even though he wasn't a three-timer, he did accomplish some things. He was able to do some things to leave a stamp of just his name. The Souder name, but Cody Souder.
"I don't think he really felt like he was in his brother shadow, but I think he felt like his career without an individual state title with us having some team hardware was not complete. I feel like that was the final stamp, that he got the result of the final chapter of what he wanted in his high school career."
Now that the brothers are going to be reunited, it might not be all fun and games. The Eagles are looking at Cody at 141 or 149. Uh, guess who occupies one of those spots? He might have to wrestle Nick for the spot a 149.
"That's going to be fun," Cody said. "I think I got him. I told him last night when he got in, your knees aren't the best right now, your whole body is aching. I think I can take you right now."