Bulldogs go back-to-back
Piedmont wins second straight Calhoun County baseball title; Estes tournament MVP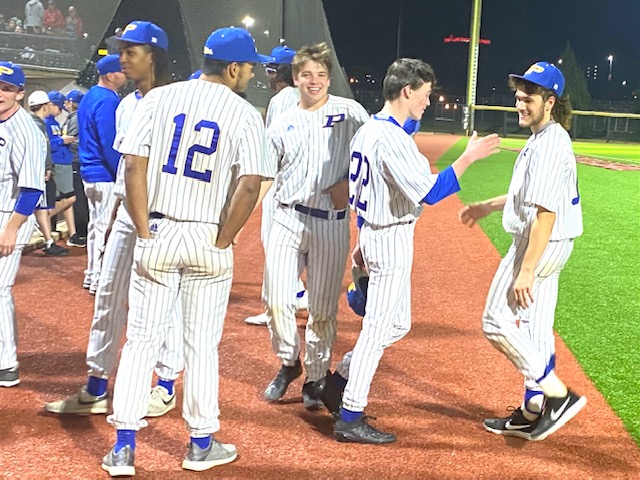 By Al Muskewitz
East Alabama Sports Today
JACKSONVILLE — There's not a hitter in the game who doesn't relish the chance to hit with bases loaded. It's the ultimate test of machismo in baseball.

Fail to deliver and it's a deflating experience. Come through in the clutch and there's no better feeling in the game.
Sean Smith came up with the bases juiced in the sixth inning Tuesday night and delivered a two-run double that gave Piedmont the lead for good and opened the floodgates in a 14-10 win over Oxford for its second straight Calhoun County Baseball Tournament crown.

It was the second of three straight at-bats Smith delivered with men on base. Two runs scored in the fourth when the throw on his two-out grounder to second pulled first baseman Trey Mooney off the bag and he ripped a triple in the seventh when the Bulldogs broke it open.

But it was his at-bat with the bases loaded that was the decisive blow.

"I like batting when the situation is you versus the pitcher basically," Smith said. "It's like that all throughout the game, but when you've got bases loaded they don't have anywhere to put you, he's got to pitch to you and it's mano-e-mano, and tonight it just worked out good for me.

"I haven't been hitting the ball at all good this year. That's one thing coming in to today: I was just trying to relax and have some fun. I like having the bases loaded. I like that position. It's probably the best feeling as a hitter in baseball."

Austin Estes was named Tournament MVP, a just reward for a player who has flourished in all fields of endeavor while overcoming personal tragedy. He reached base all five times he batted in the championship game, scored three runs and pitched the final 3 1/3 innings in relief to get the victory.

In three tournament games he went 5-for-10 at the plate with five runs and five RBIs. He made two appearances on the mound, going 4 1/3 innings, allowing six hits, one earned run, one walk and striking out six.

"Coach told us in the locker room before we came out here somebody has to be the best player on the field, but not just let it be me," said Estes, who lost his family home to a fire over the holidays.

There was no doubt in Piedmont coach Matt Deerman's mind Estes was the best player in the tournament.

"That kid can play," he said. "He's a bulldog on the mound, he's a bulldog at the plate. He thinks he's the best player on the field every time he's going out there. You can't teach that to a kid, and he plays that way. He leads by example. He plays the game the right way. There's not a lot of guys who are the quality of players he is who plays the way he is."

"Austin is one heck of a baseball player, one heck of an athlete," Smith said. "Football, baseball, it doesn't matter what he's doing, track. The dude can fly, the dude can smash a baseball. That's our guy right there. We're going to put him on the mound when the game's on the line. He came through big time today, really throughout the whole tournament."

Estes took the mound with two outs in the fourth, the Bulldogs' third pitcher of the inning, and it wasn't a good start. The first pitch he threw, Oxford's Carter Johnson dropped a single in front of centerfielder Max Hanson and two runs scored to give the Jackets an 8-7 lead.

He got out of the inning with no further damage and put the Jackets down in order with the help of a double play in the next inning before the Bulldogs' bats went to work for him. They scored seven runs over the last two innings.

It was like that the whole game. Oxford scored first, but Piedmont answered with five in the second. Oxford got three in the second, but Piedmont pushed its lead to 7-4 on Smith's run-producing grounder.

The Yellow Jackets went up 8-7 before Estes bottled them up and the Bulldogs pulled away. Piedmont is 8-0 in games at JSU the last two seasons.

"We told them get to the late innings and keep it close because you don't want them to get an early lead because they're going to feed off their success," Deerman said. "Every time they came out and had an inning we had an answer every time. That speaks to the kids' confidence and them always thinking they're in the game."

That's true. Every time Oxford scored, the Bulldogs were next team to score runs. But each time Piedmont scored, the Yellow Jackets avoided a shutdown inning.

Last year, the Bulldogs entered the tournament as the No. 1 seed but felt they had to justify their position and won the title for the first time in school history. This year, they were the No. 2 seed to Oxford's No. 1, but there was some debate if they shouldn't have been the top seed.
In any event, they are champions again and never doubted their chances for a minute.
"The kids that we have at Piedmont, they always come into a game thinking they can win no matter who their opponent is," Deerman said. "As a coach it makes your job easier because if they don't believe they can win then they're not going to win.
"There was no doubt in their mind when they left the locker room today that they were going to win this game when they walked onto the field."

CALHOUN COUNTY TOURNAMENT
Championship Game
Piedmont 14, Oxford 10
Piedmont         050 204 3 – 14 11  4
Oxford              130 301 1 – 10   8  3
WP: Austin Estes. LP: Hudson Gilman. 2B: Noah Reedy (P), Sean Smith (P), Max Hanson (P), Sam Robertson (O), Carter Johnson (O). 3B: Jack Hayes (P), Noah Reedy (P), Sean Smith (P).

ALL-TOURNAMENT TEAM
MVP: Austin Estes, Piedmont
Outstanding Offensive Player: Peyton Watts, Oxford
Outstanding Defensive Player: Jack Hayes, Piedmont
All-Tournament: Jett Smith, Wellborn; Pelham Parris, Pleasant Valley; Tyler Daniel, White Plains; Judson Billings, Donoho; Austin West, Alexandria; Wesley Wright, Alexandria; Brent Honaker, Ohatchee; Konner Baswell, Ohatchee; Carter Johnson, Oxford; Caleb Thomas, Oxford; Jadon Calhoun, Piedmont; Noah Reedy, Piedmont; Max Hanson, Piedmont; Sean Smith, Piedmont; Trey Higgins, Oxford.