Watts lights out
Oxford sophomore pitches gem in relief, leads Jackets into county finals opposite Piedmont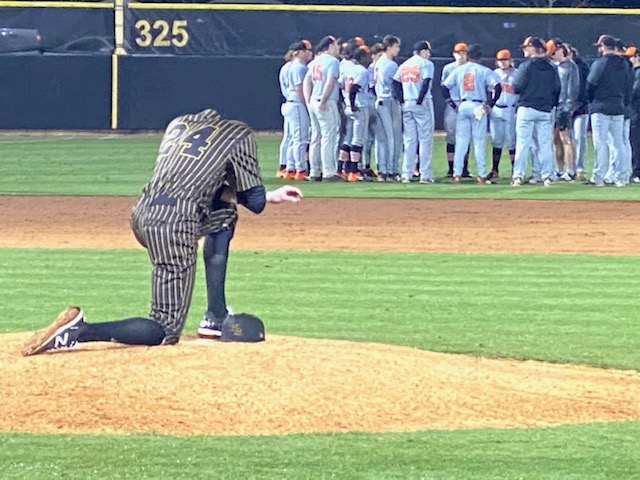 CALHOUN COUNTY TOURNAMENT
Monday' semifinals
Piedmont 6, Ohatchee 4
Oxford 1, Alexandria 0
Tuesday's game
Championship game: Piedmont vs. Oxford, 6 p.m. at JSU

By Al Muskewitz
East Alabama Sports Today

OXFORD – The rest of his teammates had long bolted up the runway to the Boom-Boom Room to celebrate another victory, but Peyton Watts stayed back. He was a solitary figure with bowed head on bended knee still on the mound.

He had just pitched Oxford to a 1-0 victory over Alexandria in the Calhoun County Baseball Tournament semifinals at Choccolocco Park and was offering silent thanks for the success and a silent dedication to a recently passed family member.

Watts, a sophomore right-hander, gave the Yellow Jackets five innings of stellar relief Monday night. He gave up one hit, walked one and struck out 10. Thanks to two pickoffs by catcher Caleb Thomas, he faced one batter over the minimum.

His effectiveness earned him the scorer's decision for the win, even though he entered in relief after the top-seeded Jackets had taken an early lead.

The win sends Oxford to face second-seeded Piedmont in Tuesday's 6 p.m. title game at Jacksonville State. The Jackets are expected to start either Trey Mooney or Nick Hamlin on the mound against a Piedmont starter to be determined.

In making only his second pitching appearance since 2019 and second this season, Watts spelled Carter Johnson in a flipped version of the Jackets' rotation against Cartersville in last week's National Perfect Game Showdown in Hoover. Only this time it was Watts who went the five innings instead of the starter.

"Somebody said I think we found our No. 8 pitcher tonight, just as a joke," Oxford coach Wes Brooks said.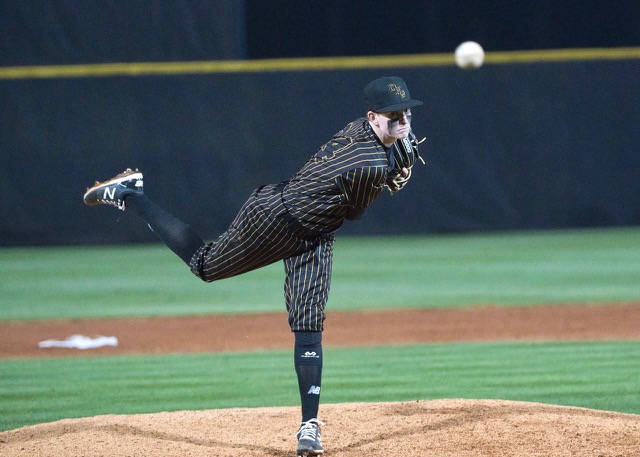 Brooks knew Watts could be a viable option for the pitching-rich Jackets after watching him in a 15U summer wood-bat tournament mow down a lineup with seven Mississippi State commitments and several other SEC pledges. He already knew Watts was athletic enough as a shortstop and basketball player.

He mowed down the Valley Cubs in a similarly quick fashion and was popping the mitt as hard at the end as he was at the beginning.

"That's a big part of the way I pitch," Watts said. "I don't like to go slow because I mix up a lot of things and the fact I go fast makes me throw guys off and that's where I get most of my ability from.

"It's not from me throwing hard, it's just from mixing pitches, and without Coach (Justin) Bowen and Coach Brooks talking to each other about pitching and what to throw certain batters I wouldn't be able to do it."

The Jackets scored the only run of the game in the second inning when Hayes Harrison scored from third on Trey Mooney's grounder to short. 

Alexandria starter Wesley Wright was equally impressive. In five innings, the senior left-hander gave up three hits, an unearned run, walked two and struck out six. Wright didn't give up an earned run in nine tournament innings, prompting Cubs coach Andy Shaw to call him the tournament's defensive MVP.

The Cubs threatened in each of the first two innings against Johnson, but couldn't get the runners home. They stranded five runners in the first two innings, including bases loaded in the second.

"We had chances to do that and we did not do it, bottom line," Shaw said.

They got the tying run to third with one out in the seventh, but Watts stuck out pinch hitters Eli Barnes and DeShaun Foster on seven pitches (six strikes and a two-strike foul) to get the final two outs. He threw 69 pitches, 46 for strikes.

"Their guy came in and just shut us down; we didn't have an answer at the plate," Shaw said. "They did a great job. I thought we did, too, just came out on the short end."

When it finally ended and the field had cleared Watts was still on the mound on bended knee. After a silent prayer he drew a cross and his grandfather's name 'Will Will' into the dirt behind the pitching rubber.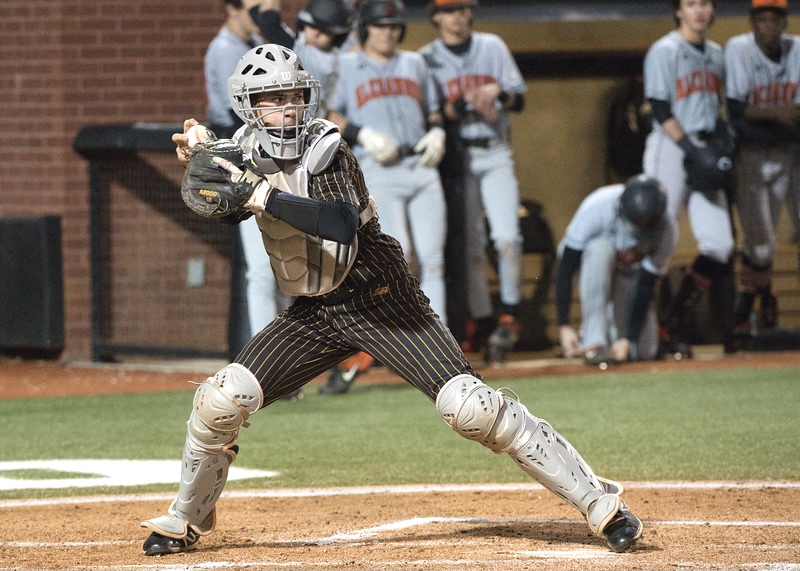 To see more photos from the game, visit www.bjfranklin.smugmug.com
Oxford 1, Alexandria 0
Alexandria 000 000 0 – 0 3 3
Oxford 010 000 x – 1 3 2
WP: Peyton Watts. LP: Wesley Wright. 2B: Jonathan West (A).
Reedy pitches Piedmont into finals
OXFORD – You can call Noah Reedy Piedmont's semifinal stopper.
For the second year in a row, Piedmont coach Matt Deerman handed the ball to Reedy to get the Bulldogs into the finals of the Calhoun County Baseball Tournament and for the second year in a row the right-hander delivered.
Last year, Reedy threw a one-hit complete game on 72 pitches. Monday night, the junior worked the first six and with the exception of one pitch was just as effective as the Bulldogs beat area rival Ohatchee 6-4.
"It was comparable," Deerman said. "You can't ask for much more out of a guy on the mound. He did his part to get us there. I may have left him in there and little too long, but he was at a (pitch) number we were comfortable with. We decided we were going to let him go."
The only blemish was a grand slam by Brent Honaker in the sixth, one pitch after Deerman went out to remind Reedy to use his legs more as he tired in the late innings.

Through the first five innings Reedy had given up two hits and allowed three base runners, but with the help of a double play and a caught stealing had faced only one batter over the minimum.
"He got tired right there at the end," Deerman said. "He was missing either up in the zone or in the dirt. Early in the game he was keeping it and around the knees, did a good job getting ground balls and stuff.
"It wasn't a bad pitch he threw; the boy went down and got it. It as a low inside fastball and most lefties can hit that and he proved that he can."
Despite getting the win – and a hit in the first inning – Reedy wasn't in a talkative mood after the game.
Luckily, the Bulldogs were leading 6-0 before Honaker's slam deep over the right-field fence of the Signature Field. Reedy finished the inning, then Jake Austin closed in the seventh for his first career save.
The Bulldogs staked Reedy to a 2-0 lead in the third. Courtesy runner Omarion Foster scored the game's first run on a wild pitch and Sean Smith doubled home Austin with the second.
They extended the lead to 5-0 the next inning on Austin Estes' bases-loaded triple that almost became an inside-the-park slam and ran it to 6-0 in the fifth on Jakari Foster's RBI triple.

Foster was one of three Bulldogs with two hits in the game.

Piedmont 6, Ohatchee 4
Ohatchee 000 004 0 – 4 4 1
Piedmont 002 310 x – 6 8 0
WP: Noah Reedy. LP: Bryce Noah. 2B: Devin Howell (O), Austin Estes (P), Sean Smith (P). 3B: Austin Estes (P), Jakari Foster (P). HR: Brent Honaker (O).