Double the pleasure
Wellborn wins two games to sweep into County Baseball Tournament quarterfinals; Pleasant Valley advances, too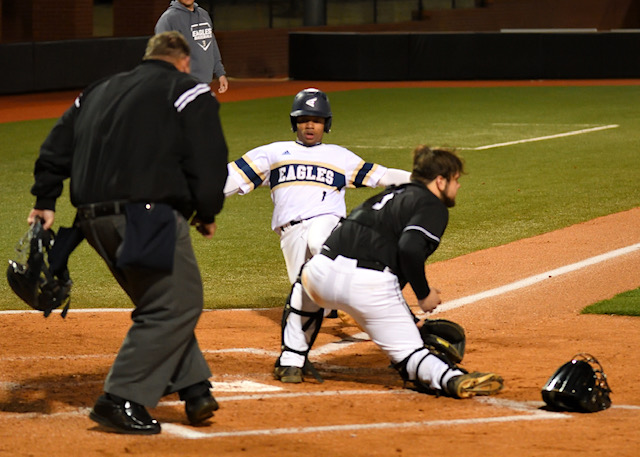 CALHOUN COUNTY TOURNAMENT
at Choccolocco Park, Oxford
Friday's games
Wellborn 14, Anniston 0
Wellborn 14, Jacksonville 11
Pleasant Valley 15, Weaver 6
Saturday's games
Faith Christian vs. White Plains, 10 a.m. (BB1)
Donoho vs. Saks, 10 a.m. (BB2)
Wellborn vs. Alexandria, 10 a.m. (SF)
Pleasant Valley vs. Ohatchee, 12:30 p.m. (SF)
Saks-Donoho winner vs. Piedmont, 3 p.m. (SF)
Faith-White Plains winner vs. Oxford, 5:30 p.m. (SF)

By Al Muskewitz
East Alabama Sports Today

OXFORD — Nick Burns didn't think he was going to sleep a lick after leaving Choccolocco Park Friday night and he had to be back at the ballpark in 12 hours.

He was just too pumped.

His Wellborn baseball team won two games in the Calhoun County Baseball Tournament on the same night for the first time in the current bracket format and maybe the first time ever.

The 12th-seeded Panthers beat Anniston 14-0 on a five-inning no-hitter by Cam Ingram and then outslugged fifth-seeded Jacksonville 14-11 behind a 108-pitch complete game from JoJo Wyatt in the nightcap.
They play fourth-seeded Alexandria Saturday at 10 a.m.

"It puts us in the history books," said Panthers catcher Brayden Dempsey, who backstopped both ends of the doubleheader. "They put us as a 12 seed. They underestimated us. We're just glad to get to the third round of the county. We've been working hard. We came in here and knew we were going to win."

"It's been a long time for Wellborn," Wyatt said. "I'm glad we got this win. It really means a lot. It's well deserved."
In the other second-round game of the night, Pleasant Valley slugged Weaver 15-6. The sixth-seeded Raiders play third-seeded area rival Ohatchee at 12:30 p.m.
It's the first time Wellborn has reached the quarterfinals in Burns' eight years at the school and the first time football coach and athletics director Jeff Smith can remember in his 12. It might be the first time the Panthers have done it since reaching the title game in 2005 when they lost to Jacksonville at Henry Farm Park.
Most of the time the Panthers were the victim of the seedings. In many years they would be the 8 or 9 and then had to face almost certain elimination against the No. 1 seed after winning their opener. In the years they were a bottom seed, if they were fortunate enough to win they had another stern test awaiting them right away.

They got a couple signature wins on the Signature Field Friday night.
"I wanted our kids to come out and play tough," Burns said. "They deserved it; they've worked their tails off and played really, really hard.
"We came out here with a big energy at practice. I told them (Thursday) if you come in tomorrow with that energy then it's going to be a good day for us.

"The big thing we've been on them here lately is a positive winning mentality. If we have a positive winning mentality it doesn't matter if we're up, if we're down, if it's tied, if it's not, if we keep our winning mentality positive good things are going to happen for us. Positivity breeds positivity and we've been doing that."

The Panthers stayed positive in the nightcap despite falling behind 3-0 in the first and 4-2 in the third. They took the lead with three in the fourth, then broke it open after Jacksonville tied it in the bottom of the inning with three in the fifth and six in the sixth, batting around in both innings.

They put the game in the hands of Wyatt and he got through it throwing 108 pitches, 54 less than the six pitchers Jacksonville ushered into the game. At least twice during the night Wyatt had thrown half as many pitches as the Golden Eagles hurlers.

He's been the Panthers' workhorse all season, throwing 22 innings in four appearances and going at least five innings in each of his last three.

"I just kept throwing strikes, hitting my target, and if they had a good hit on it, I had a good defense behind me that made good plays," Wyatt said. "I told coach keep me in. Every time we'd go in the dugout he'd go how is your arm and I'd say good coach I can go another one.

"He said all right, go throw strikes. I threw strikes, got out, got the win, baby. I had faith in my team and my coaches, they supported me and they never let me down."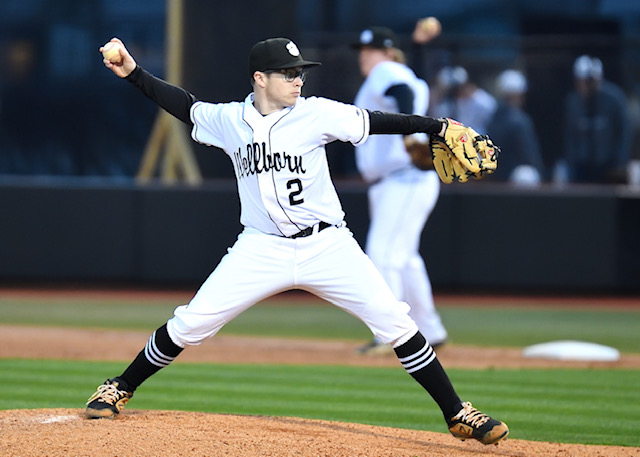 Oh, yes, he Cam
Cam Ingram won't forget his first varsity start any time soon.
Wellborn coach Nick Burns handed Ingram the ball for the Panthers' county tournament opener agsinst Anniston and the junior right-hander responded with a brilliant five-inning no-hitter. He allowed two base runners, faced one hitter above the minimum and struck out six as the Panthers won 14-0.
"I didn't know it was a no-hitter until the very end of the game and then I got really happy when everybody had said it," Ingram said. "I think tonight was the best I ever pitched."

You could call it Ingram's coming out party. Burns handed him the ball for the first time based off a good bullpen session earlier in the week.

Ingram threw 57 pitches, 41 for strikes. The only runners he allowed were Devion Harris, who opened the second by getting hit and was promptly caught stealing, and Omar Reyes, who drew a leadoff walk.

"I knew he could throw strikes," Burns said. "Potential-wise, I knew he was going to get out there and give me 100 percent. He's a very calm kid, nothing rocks him."

The Panthers gave their pitcher a 7-0 cushion in the first inning and kept adding to it. Every starter in the lineup had at least one hit and eight of the nine starters scored at least one run. Jett Smith hit an inside-the-park home run.

Smith helped preserve the no-hitter with two sharp plays from his shortstop position. In the first inning he ranged far to his left to pull in a soft liner off the bat of Jayden Lewis and he snared a hard liner from Jaylon Lewis in the sixth.

"Jett made two very good plays today and I'm happy for him," Ingram said. "I trust my whole infield and my outfield to make any catch that I let the other team hit on me."
PV back on track
Pleasant Valley broke open a tight game with six runs in the fourth inning after Weaver scored four in the top of the inning to make it close, snapping a two-game losing streak.

The Raiders sent 11 batters to the plate in the inning and did all their damage after the Bearcat retired the first two batters. The next seven batters reached base and six of them scored. Zeke Curvin had a two-run single in the inning and Garrett Cranmer, Jackson Almaroad, Connor George and Dalton McElroy also had RBIs.

The Bearcats rallied from an early 5-0 deficit with four in the top of the inning. They added two in the fifth, but the Raiders got them back on Jack Ponder's two-run triple in the bottom of the inning. Cranmer and Jack Ponder both had three hits in the game. Ponder and McElroy each had three RBIs.

"It was nice to get back in the win column," PV coach Chris Youngman said.

The Raiders will be looking to advance against area rival Ohatchee. The Indians expressed concern before the tournament they'd have to go through two area rivals to reach the finals – PV and Piedmont. The Raiders are in the same boat.

"With as many 3A teams that we have in the county it's hard to avoid playing one area team," Youngman said. "it just sets up where it could be two this year. It is what it is. We're just got to compete and control what we can control."