Malcolm truly in the middle
Anniston edges Booker T. Washington to win Class 4A state championship; much-traveled Carlisle MVP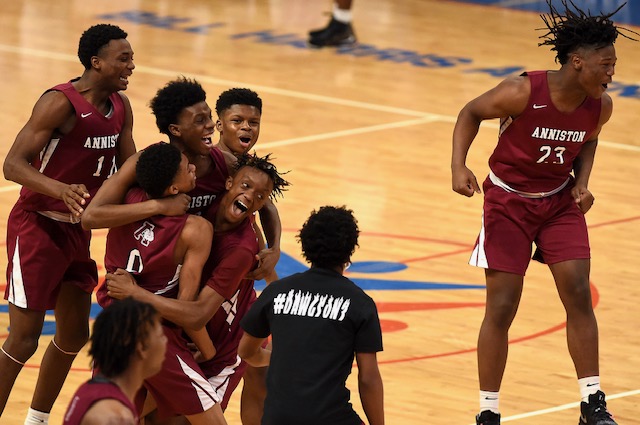 'The basketball gods were smiling on us today.' –Anniston coach Torry Brown
By Al Muskewitz
East Alabama Sports Today
BIRMINGHAM – Malcolm Carlisle didn't wait to the end of the game to put on an exclamation point on Anniston's historic season and his high school career.

He let everyone know in the first quarter he and his Anniston teammates came to the Bill Harris Arena for one thing and one thing only.

The senior guard took the ball on the transition. He drove to the basket and posterized an unsuspecting Booker T. Washington defender in the lane, slamming home the most highlight-film worthy of his three dunks in the game.

"It just built my confidence and it helped me boost the team," Carlisle said of the play. "That's the whole objective, for me to help the team. It helped me get going. It helped the team get going. We fed off the energy we got from that."

He wanted to bring energy. It brought energy, all right.
Carlisle went on to score more than half his team's points Thursday – 28, to be exact – and the Bulldogs rode that initial spark to a 54-52 win over for the Class 4A state championship that had been on their radar from the day Carlisle arrived on campus.
It is Anniston's first state basketball title since 2009 and third overall. Carlisle was named MVP.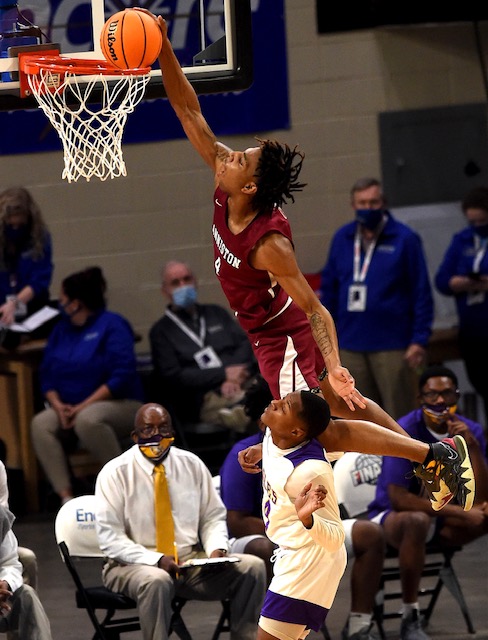 As far back as two years ago Carlisle was a player without a team and there was some doubt whether he'd even play high school basketball again.Today he is a state champion and the state tournament MVP.

"It just feels good; I can breathe," he said.
Carlisle's journey began at Saks but he burst on the local basketball scene as a high-scoring freshman at Faith Christian. After an eligibility issue cost him a season and his team a bunch of wins, he transferred to Sacred Heart, then went back to Saks and finally landed at Anniston, where he teamed with Antonio Kite to give the Bulldogs the best backcourt in the state.
In his season opener with the Bulldogs – his first game in two years – Carlisle went for 38 against Hoover.
Malcolm always seems to be in the middle of things, and it was no different here. He was the flash point of an ugly incident in the final minute of the Bulldogs' semifinal win over Vigor here Monday and he was certainly the difference today.

"It was my last chance, my last high school game," Carlisle said.

"It's just special for him and I'm proud of him," Anniston coach Torry Brown said. "For a basketball player to sit out that amount of time … it's so hard when you go into games and you're watching other kids play and you want to be out there, you want to be part of it, but you just can't, to keep yourself in shape and to keep your skills as sharp – and, as a matter of fact, enhance your skills – it says a lot about him and his dedication to the game.

"We rode (Kite) for two years, but we needed another guy to get over the hump and Malcolm gave us that other guy."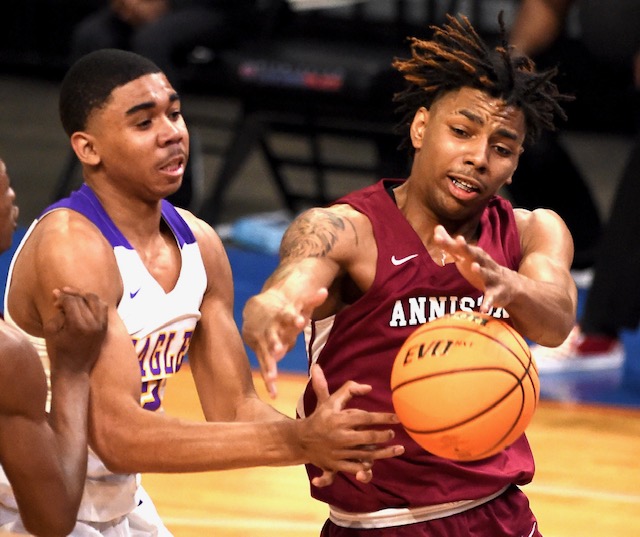 Just as big as any of Carlisle's dunks was the deep ball he hit at the end of the third quarter. Kite had just tied the game at 38 on a layup with four seconds left. Carlisle then stole the inbounds pass from Jeffrey Lewis, took two dribbles and floated a 3-pointer right before the horn to give the Bulldogs (27-6) the lead for good.

"When he shot it I knew it was going in," Kite said, "because in practice we do crazy stuff like that all the time. We make shots like that all the time, so I knew it had to go in."

Despite the 6-foot-3 guard's big finish, the Bulldogs had to hold their breath at the end.

They led by eight with 1:15 to play and 54-49 with 36 seconds to go, but the Eagles (19-5) got within 54-52 with 16 seconds left on a free throw and Joseph Phillips' put back.

Carlisle missed the front end of a one-and-one with 14.2 seconds left, but Kite rebounded and was fouled along the baseline, but the usually reliable Kite missed both free throws and the Eagles rebounded.

The ball was batted loose along the sideline and went out of bounds to BTW with just under three seconds left. Brown inserted little-used 6-6 Talib Christian to guard the inbounds and gave everyone instructions not to foul on any 3-pointer.

The Eagles got the play they wanted, with the ball in the hands of Cameron Whitfield, their hottest player at the time. Whitfield got pasta Mark Toyer, but his jumper from the top of the key after a defensive swipe by Kite hit the side of the rim and fell away sending the Bulldogs into a celebratory frenzy.

"The basketball gods were smiling on us today," Brown said. "We made it harder than what it had to be, but, hey, we got it."
Carlisle didn't wait until the end of the game to put on the exclamation point. Early in the first quarter he soared over BTW's Jaimon Coleman-Singleton in the lane for a monster slam that was highlight film worthy. He ended the quarter with an equally impressive reverse dunk to give the Bulldogs an 11-10 lead.
"It sort of set the tone for him personally … it set the tone for him being aggressive the whole night," Brown said. "One of John Wooden's things on the pyramid of success is comparing greatness to being at your best when your best is needed and tonight he was at his best when his best was needed. Every basket was needed and we're glad he's on our team."

CLASS 4A FINAL FOUR
Boys Championship Game
Anniston 54, Booker T. Washington 52
ANNISTON (27-6) – Mark Toyer 0-2 1-2 1, Antonio Kite 3-11 1-7 7, Malcolm Carlisle 10-20 5-8 28, Troy Hall 3-6 0-0 6, Miciah Myles 5-7 0-0 10, Tadyn Jones 0-2 0-0 0, Taishun Hall 1-2 0-0 2, Kamron Sandlin 0-0 0-0 0, Talib Christian 0-0 0-0 0. Totals 22-50 7-17 54.
BTW (19-5) – Cameron Whitfield 5-10 3-4 13, Jeffrey Lewis 6-14 0-0 13, Joseph Phillips 2-5 0-0 4, Anthony Tarver 3-4 0-0 6, Jalien Fluellen 4-14 2-4 10, Marquis Robinson 0-0 0-0 0, Andrew Johnson 3-11 0-0 6. Totals 23-58 5-8 52.
Anniston 11 12 18 13 – 54
BTW 10 11 17 14 – 52
3-point goals: Anniston 3-16 (Toyer 0-1, Kite 0-3, Carlisle 3-9, Tr. Hall 0-1, Myles 0-1, Jones 0-1); BTW 1-12 (Lewis 1-3, Fluellen 0-4, Johnson 0-5). Rebounds: Anniston 31 (Kite 7, Myles 7); BTW 37 (Phillips 9, Lewis 7). Fouled out: Lewis.
All-Tournament Team: Malcolm Carlisle, Anniston (MVP); Antonio Kite, Anniston; Kyler Murks, Brooks; Cameron Whitfield, BTW; Andrew Johnson, BTW.