Lady Dawgs denied
Defense rules, but Rogers turns back Anniston's bid for a second straight girls state championship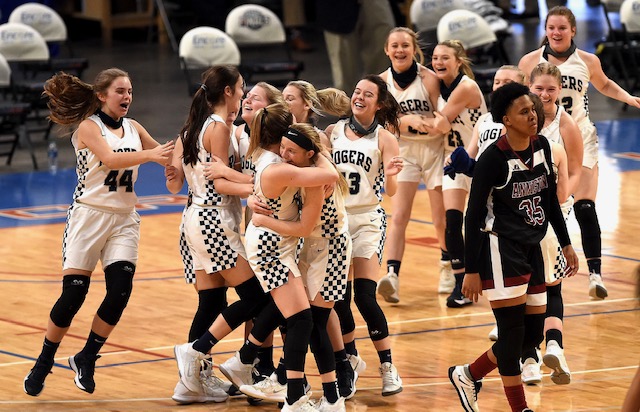 By Al Muskewitz
East Alabama Sports Today

BIRMINGHAM – Eddie Bullock was in his element. He preached to his Anniston girls basketball team all season — his whole coaching life, really — about the importance of playing good defense and never was it more in evidence or more important than Thursday morning.

The Lady Dawgs and Rogers staged one of the fiercest defensive battles the state Final Four has ever seen Thursday. The teams were scoreless for the first five minutes and played to a 15-15 tie in the first half of their Class 4A girls state title game at the Bill Harris Arena and it stayed tight throughout.

In the end, however, the Lady Pirates gained just enough to a lead and pulled away from the free throw line to deny Anniston's girls a second straight state championship, 48-37. It was Rogers' second title in three years, having beaten the Lady Dawgs in the 2019 title game.

"That's what happens when you play defense," Bullock said in the remote post-game press conference conducted by the AHSAA. "That's been my motto since I've been coaching: Defense wins championship. You can't break down on defense and in the end we broke down a couple times and they made a few more plays than us, and that was the difference in the game."

The game was similarly close to the one the teams played in the state finals two years ago. The Lady Bulldogs played them close for three quarters, but one big quarter did them in. The Lady Pirates won that one 46-38 and they clamped down on Anniston guard Allasha Dudley in that one, too.

Rogers held the Lady Dawgs' guard without a field goal this time until the final three minutes of the third quarter. Dudley, named to the Alabama-Mississippi team earlier this week, still finished with a game-high 15 points, but was 5-of-21 from the field and 2-of-8 from 3-point range.

"In the beginning they were face-guarding me so I knew I just had to keep pushing throughout the game and my other teammates got involved," Dudley said. "In the second half they kind of got tired so I knew that was my time to pick it up and when it got tight I started scoring."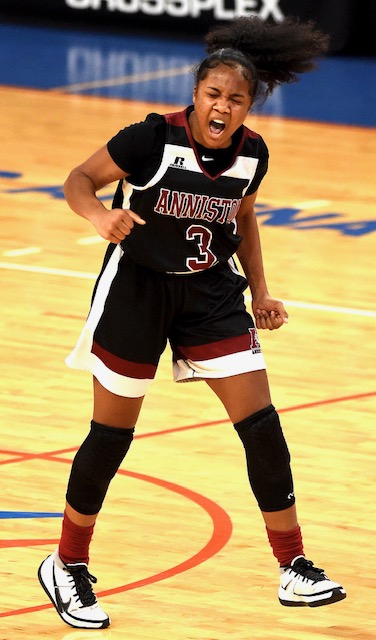 Dudley wasn't shy about showing her frustration and elation in the tight game. When she missed the front end of a two-shot foul in the third quarter she annoyingly slapped the ball back to the official. Then she did a happy dance after hitting a 3 that tied the game with 6:25 to play.

Because of their defense, the Lady Dawgs (25-4) were in it all the way to the end, even when it looked like they may have been out of it.

Anniston was down eight going into the fourth quarter, but got back into it early in the fourth quarter. Asia Barclay got the Lady Dawgs tied at 33 with 4:33 to play when she followed a Dudley miss and got an and-one to give them the lead. But she missed the free throw and the Lady Pirates pulled away.

Erin Brown hit a 3-pointer to break the tie and Madilyn Krieger hit an unanswered 2 to go back up five.

"I looked at the clock and wanted to get a timeout but there was like 4:33 left so I knew a media time out was coming, so I wanted to save it in case I needed it down the stretch" Bullock said. "That kind of was the difference right there."

Another Barclay basket got Anniston to within 40-35, but then Rogers closed it out by hitting eight of 10 free throws in the final 1:16.

Dudley and Barclay both made the All-Tournament team. While Dudley was the Lady Dawgs' leading scorer in the championship game, Barclay was their leading rebounder with 12.

Don't blame the low scoring on the early hour. These teams were getting after it.

In the first half, the teams combined to shoot 11-of-41 from the field, 3-of-19 from 3-point range. The Lady Dawgs were only 1-of-12 from the floor in the first quarter and hit only two of their first 16 shots – falling behind by seven in the second quarter — but finished by hitting three of their last five.

And when Anniston missed, Rogers rebounded. The Lady Pirates (28-8) held a 19-13 edge in rebounds in the half. 

"I looked halfway through the first quarter and nobody scored, but it wasn't sloppy basketball, it was two good defensive teams," Rogers coach Blake Prestage said. "We pride ourselves on playing well on the defensive end. They guarded us hard on the ball and they're extremely athletic. There were no easy shots, no uncontested shots. It was a good basketball game, especially on the defensive end of the floor."

Alisia Person led Anniston in the half with eight points. She had both of the Lady Dawgs' 3-pointers in the half.

"My teammates just trusted me and they knew I would make the shot if I was open," Person said. "I knew if they trusted me then I had to make the shot so they could continue to trust me throughout the game."

Rogers' Brooke Jones was the tournament MVP. She had 13 points and 10 rebounds in the title game.

CLASS 4A FINAL FOUR
Girls Championship Game
Rogers 48, Anniston 37
ANNISTON (25-4) – Allasha Dudley 5-21 3-4 15, Alisia Person 3-9 0-0 8, Serena Hardy 1-6 0-0 2, Aaliyah Henson 0-1 0-0 0, Tiauna Thomas 2-4 0-2 4, Akayla Perry 1-2 0-0 3, Tykeria Smith 0-0 0-0 0, Asia Barclay 2-4 1-3 5. Totals 14-47 4-9 37.
ROGERS (28-8) – Brooke Jones 5-9 3-4 13, Sheyenne Hankins 2-7 1-2 6, Emily Ahonen 1-2 0-0 2, Sadee Gray 0-2 0-0 0, Erin Brown 2-7 7-8 13, Madilyn Krieger 5-14 2-2 14. Totals 15-41 13-16 48.
Anniston          4   11   8   14  –  37
Rogers             6     9  16   17  –  48
3-point goals: Anniston 5-20 (Dudley 2-8, Pearson 2-8, Hardy 0-2, Perry 1-2); Rogers 5-18 (Jones 0-1, Hankins 1-4, Gray 0-2, Brown 2-5, Krieger 2-6). Rebounds: Anniston 29 (Barclay 12); Rogers 35 (Jones 10, Ahonen 9). Total fouls: Anniston 12, Rogers 7.