Tigers win state
Cleburne County rallies from early deficit to win Class 1A-4A Duals state title, Champion's pin at 120 clinches it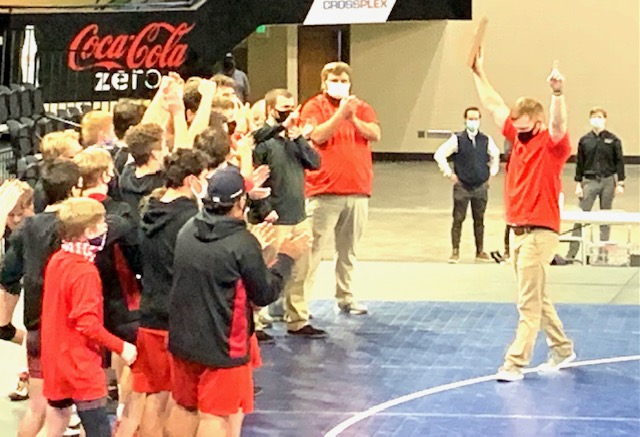 AHSAA Duals Championships
CLASS 1A/4A
Championship Match
Cleburne County 43, Ashville 34
CLASS 5A/6A
Championship Match
Gardendale 38, Wetumpka 19
CLASS 7A
Championship Match
Thompson 33, Vestavia Hills 25

From staff reports

BIRMINGHAM –Cleburne County won the last six weight classes of the match to rally from a 34-12 deficit to beat Ashville 43-34 and take the Class 1A-4A championship in the State Wrestling Duals Tournament Friday.

It took a Champion to make the Tigers (24-4) a champion and it all went down to the final minute.

Anthony Champion pinned Ashville's Nick Williamson in 5:36 at 120 to clinch the crown.

Zach Salter getting the rally started with a major decision over Trenton Martin at 197. They won the last three matches – Austin Mayfield, Shamar Heard and Champion – all by pins. Mayfield and Heard won in the first period.

Ashville (24-2) came into the final riding a 24-match winning streak since opening the season with its only previous loss – to Class 7A Hewitt-Trussville. The Bulldogs were in control thanks five straight pins.

The traditional state wrestling championship will be conducted over two weekends this season with Class 1A-4A at Montgomery's Garrett Coliseum and Class 7A at the Bill Harris Arena in Birmingham Feb. 12-13. Class 5A-6A will compete at Von Braun Center in Huntsville Feb. 18-20.

CLASS 1A-4A DUALS FINALS
Cleburne County (24-4) 43, Ashville (24-2) 34
INDIVIDUAL RESULTS
106: Austin Mayfield (CC) pinned Owen Meads, 0:20.
113: Shamar Heard (CC) pinned Jaden Harris, 1:07.
120: Anthony Champion (CC) pinned Nick Williamson, 5:36.
126: Ian McGowan (CC pinned Tyler Edber, 1:35.
132: Nick Spears (A) pinned Ronin Brower, 2:27.
138: Brennen Butler (CC) pinned William Simpson, 2:58.
145: Austin Hale (A) pinned Zachary Scott, 2:20.
152: Justin Autry (A) pinned Samuel Adams, 5:50.
160: Jabe Burgess (A) pinned Jimmy O'Kelley, 2:30.
170: Dylan Harris (A) pinned Justin Pate, 1:20.
182: Luke Harris (A) dec. Gavin Wright, major dec. 17-5.
195: Zachary Salter (CC) dec. Trenton Martin, major dec. 14-4.
220: Russell Clanton (CC) pinned Jacob Ebner, 1:52.
285: Eli Brown (CC) dec. Morson Wilson, 3-2.