Jackets return to title game
Taylor gets Oxford off to good start, scores his 1,000th career point, and Jackets close strong to stop White Plains in boys semifinals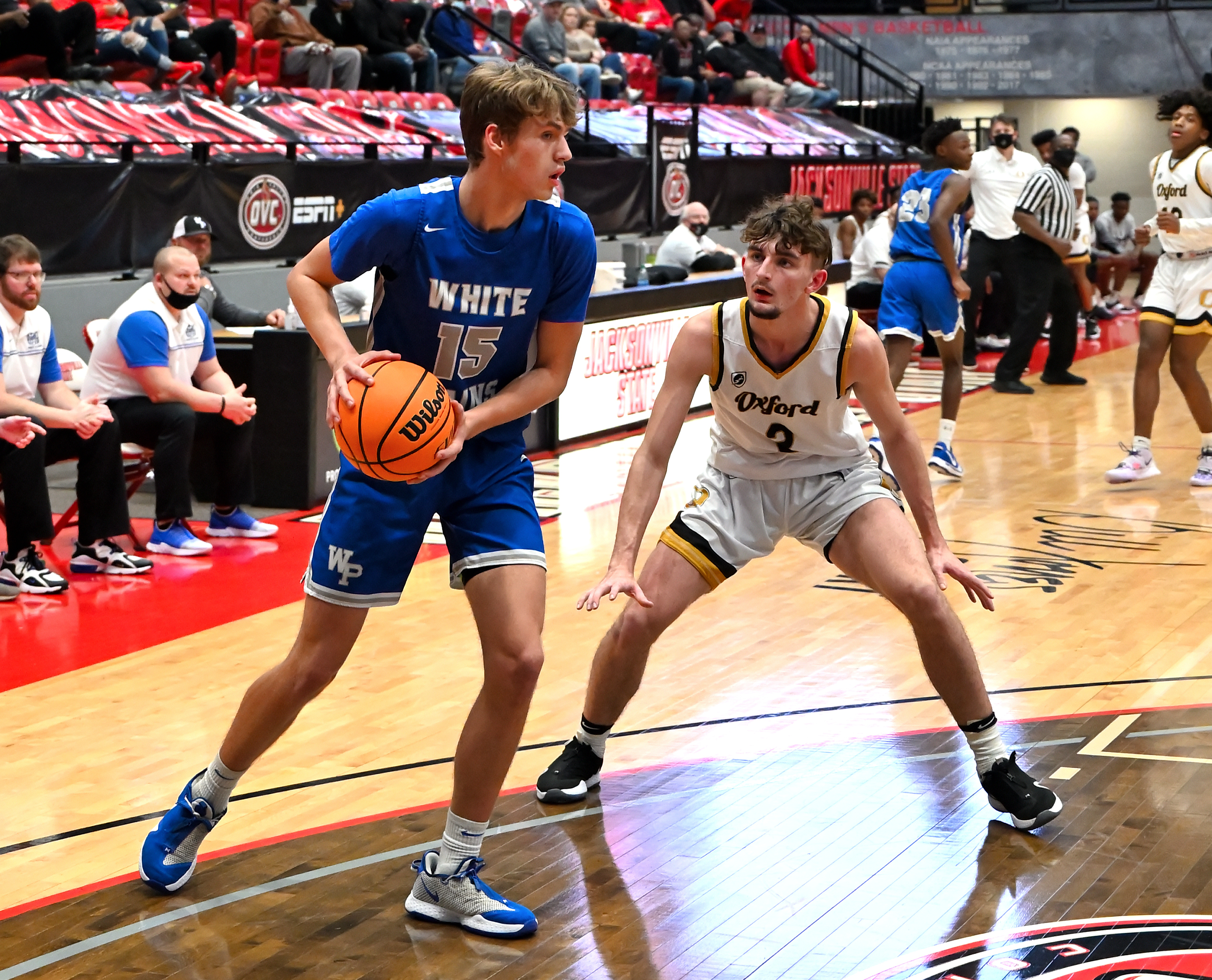 CALHOUN COUNTY TOURNAMENT
Boys bracket
Friday's games
Anniston 72, Jacksonville 63
Oxford 54, White Plains 38
Saturday's game
Championship: Anniston vs. Oxford, 8 p.m.

By Al Muskewitz
East Alabama Sports Today

JACKSONVILLE – Roc Taylor scored his team's first seven points, including the 1,000th of his career, to get Oxford off to a fast start and the Yellow Jackets closed fast as well, to take down White Plains 54-38 and earn a return trip to the boys championship game of the Calhoun County Basketball Tournament.

The second-seeded Jackets will play top-seeded Anniston Saturday at 8 p.m. It's a rematch of last year's title game in which Taylor was named tournament MVP. It will be their fifth straight trip to the championship game; they've own three of the previous four, including the last two.

The same two schools will play in the girls title game at 6, marking the first time since 1979 – the first year of the girls tournament – both games of the championship doubleheader will be contested between the same schools.

"Any tournament that we play in we're trying to win it," Oxford coach Joel Van Meter said. "If you don't win it, hopefully you learn something from it. And if you do win it hopefully you learn even more from it."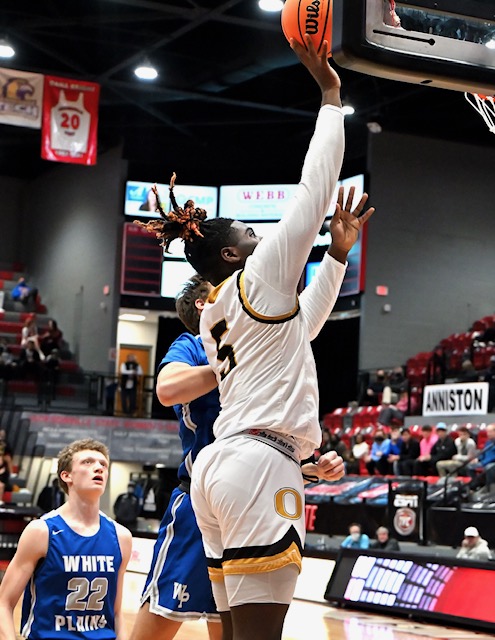 Taylor needed two points to reach his milestone and got it when he put back his miss with 6:51 left in the first quarter to tie the game 2-2. He didn't stop there. On the Jackets' next two possessions, he scored on another put back and then hit a 3-pointer from the top of the key. He finished with 14 for the game.

"It was good to get it out early because you didn't want to go into halftime to have to fight back and battle, try to get some easy points," he said. "I came out to punch them right in the mouth from the beginning, get the points, play defense and just battle them."

It stayed close the rest of the game. The Wildcats got within 42-36 with 5:00 to play, then Oxford went on a 12-0 run to take control. Justin Moore had the first four points of the run – two on an intentional four and a floating layup on th ensuing possession – Taylor had the next four, then Michael McGraw and Rylan Houck finished it.

"Coach called a time out and he said to us we've been here before," senior guard Cordell Chatman said. "He always talks about the game is all about the runs. They were on a run, so we called a time out to get ourselves together and we really focused on half-court defense."

"It was a fantastic finish because we guarded the ball really, really good tonight," Taylor said, "and that showed that we were ready to compete and play and finish the game off strong," Taylor said.

The Jackets used a similar run at the end of the second quarter to take a 27-16 halftime lead. The Wildcats closed to within 20-16, then the Jackets scored the last seven points of the half.

Houck finished with 11 points. Moore had 14. Cordell Chatman scored only three points, but keyed the Jackets' defensive stand.

"You can't say enough about Cordell Chatman," Van Meter said. "He's such an anchor defensively. He's on the ball the whole night. He harasses. He makes plays. He's tough. Rebounds the basketball. And then on the opposite end he sticks balls in the rim and can drive it. He's an example of who we are – just a blue-collar team."

White Plains' guard Quin Wilson led all scorers with 17 points. He finished the tournament 8-for-8 from the free throw line and has now made his last 11 free throws in a row.
Oxford 54, White Plains 38
WHITE PLAINS – Quin Wilson 6 2-2 17, Jaden Chatman 1 1-5 3, Jacob Wheeler 1 0-0 2, Landon Senciboy 0 0-0 0, Brody Baker 5 0-0 11, Walker Osteen 1 1-2 3, Kahlil Williams 1 0-0 2, Garrett Wilson 0 0-0 0. Totals 15 4-9 38.
OXFORD – Cordell Chatman 1 1-2 3, Rylan Houck 5 1-4 11, Peyton Watts 0 0-0 0, Mike McGraw 2 0-0 4, Roc Taylor 6 1-2 14, Bakari Dailey 0 0-0 0, Justin Moore 5 4-4 14, Josh Patton 3 0-1 8. Totals 22 7-13
White Plains 8 12 10 8 – 38
Oxford 15 12 11 16 – 54
3-point goals: White Plains 4 (Q. Wilson 3, Baker); Oxford 3 (Taylor, Patton 2). Total fouls: White Plains 9, Oxford 15.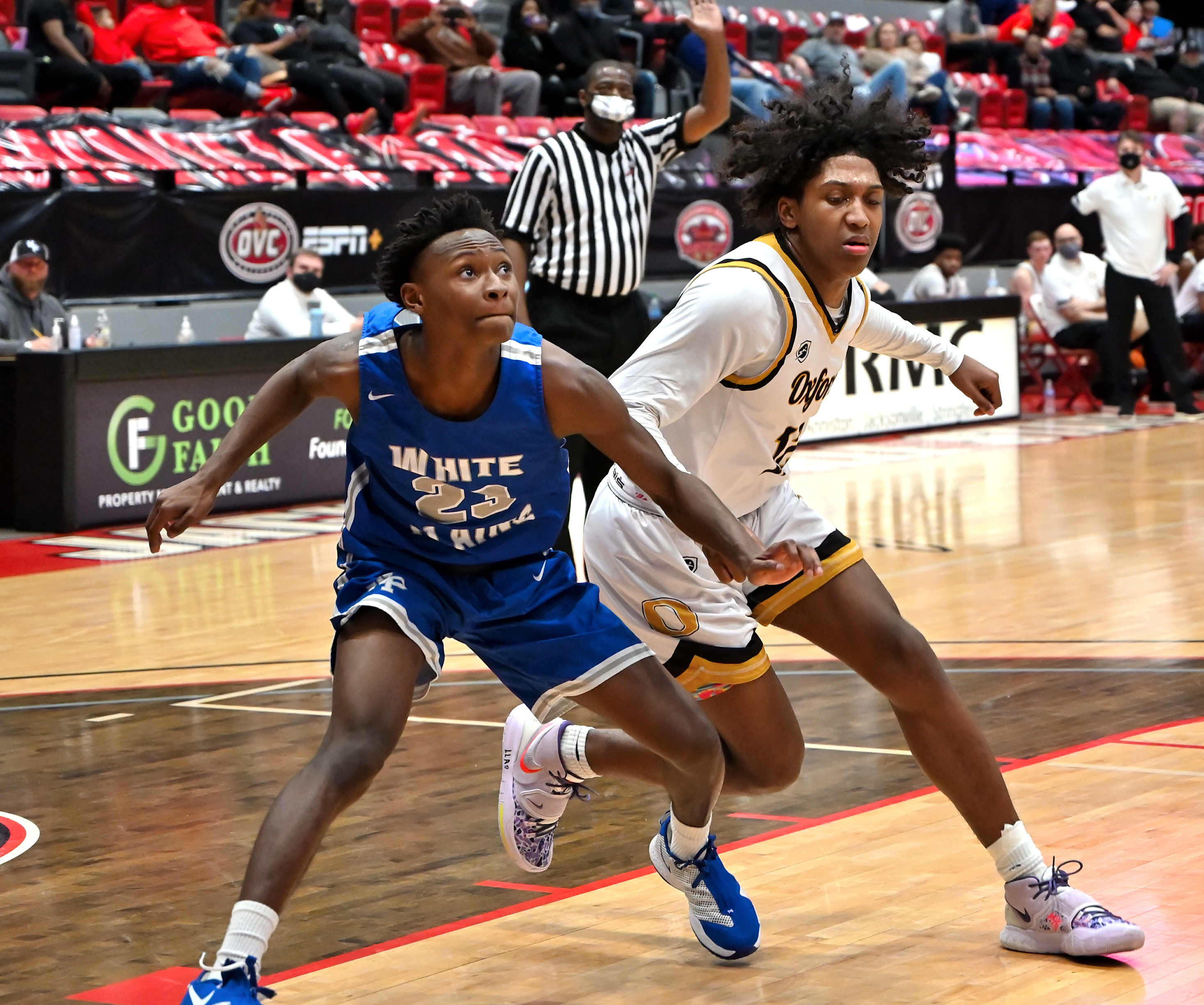 To see more pictures from the game, visit www.bjfranklin.smugmug.com