Lady Jackets 'steal' one
Taylor's steal and free throw in final 10 seconds lifts Oxford to 10th straight win, berth in county championship game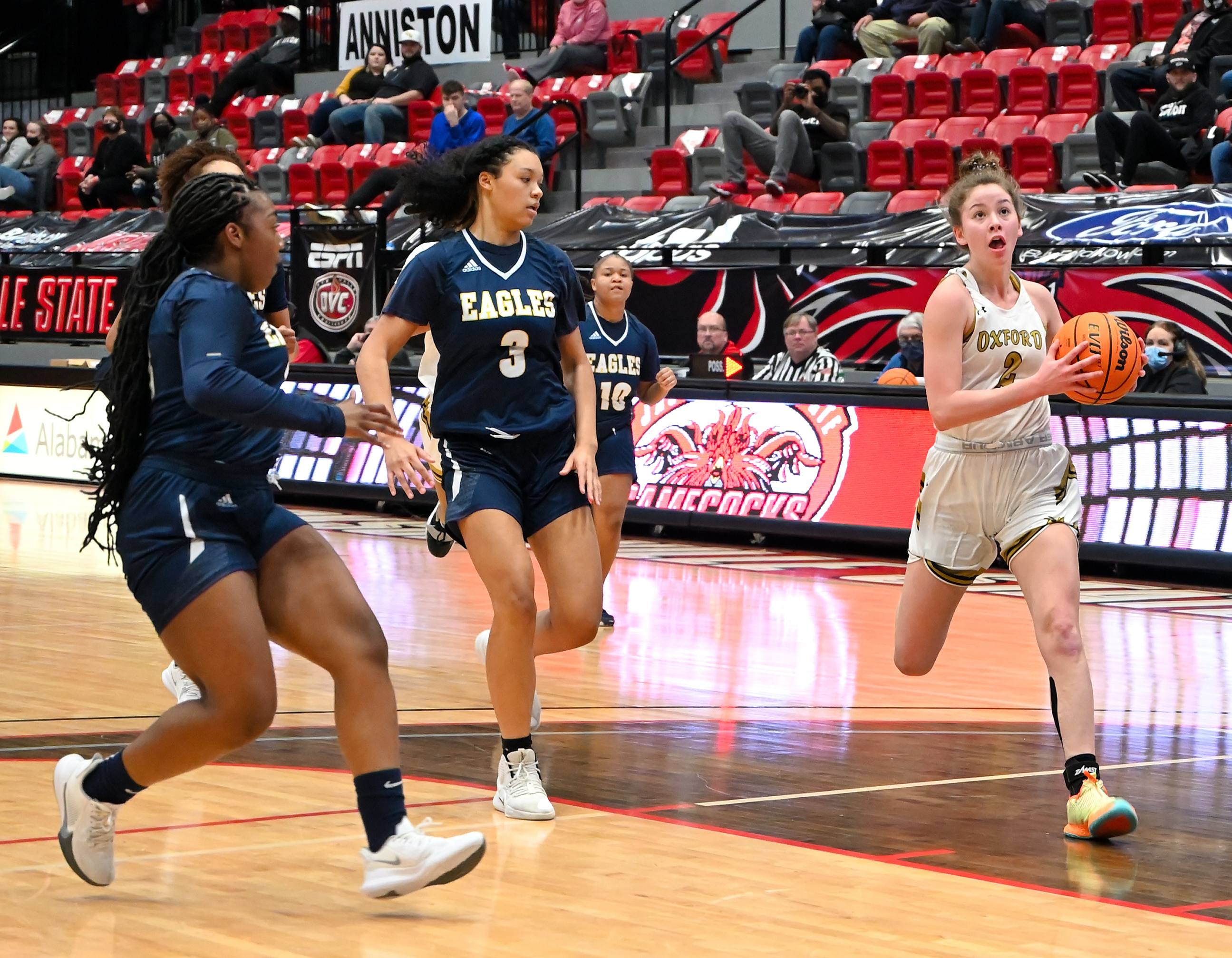 CALHOUN COUNTY TOURNAMENT
Girls bracket
Friday's games
Anniston 62, Ohatchee 26
Oxford 42, Jacksonville 40
Saturday's game
Championship: Anniston vs. Oxford, 6 p.m.

By Al Muskewitz
East Alabama Sports Today

JACKSONVILLE – Kaleah Taylor made a steal in front of Jacksonville's bench with 10 seconds to play, then hit a free throw after getting fouled three seconds left and Oxford held on to edge Jacksonville 42-40 to earn its first trip to the Calhoun County Tournament girls title game in three years.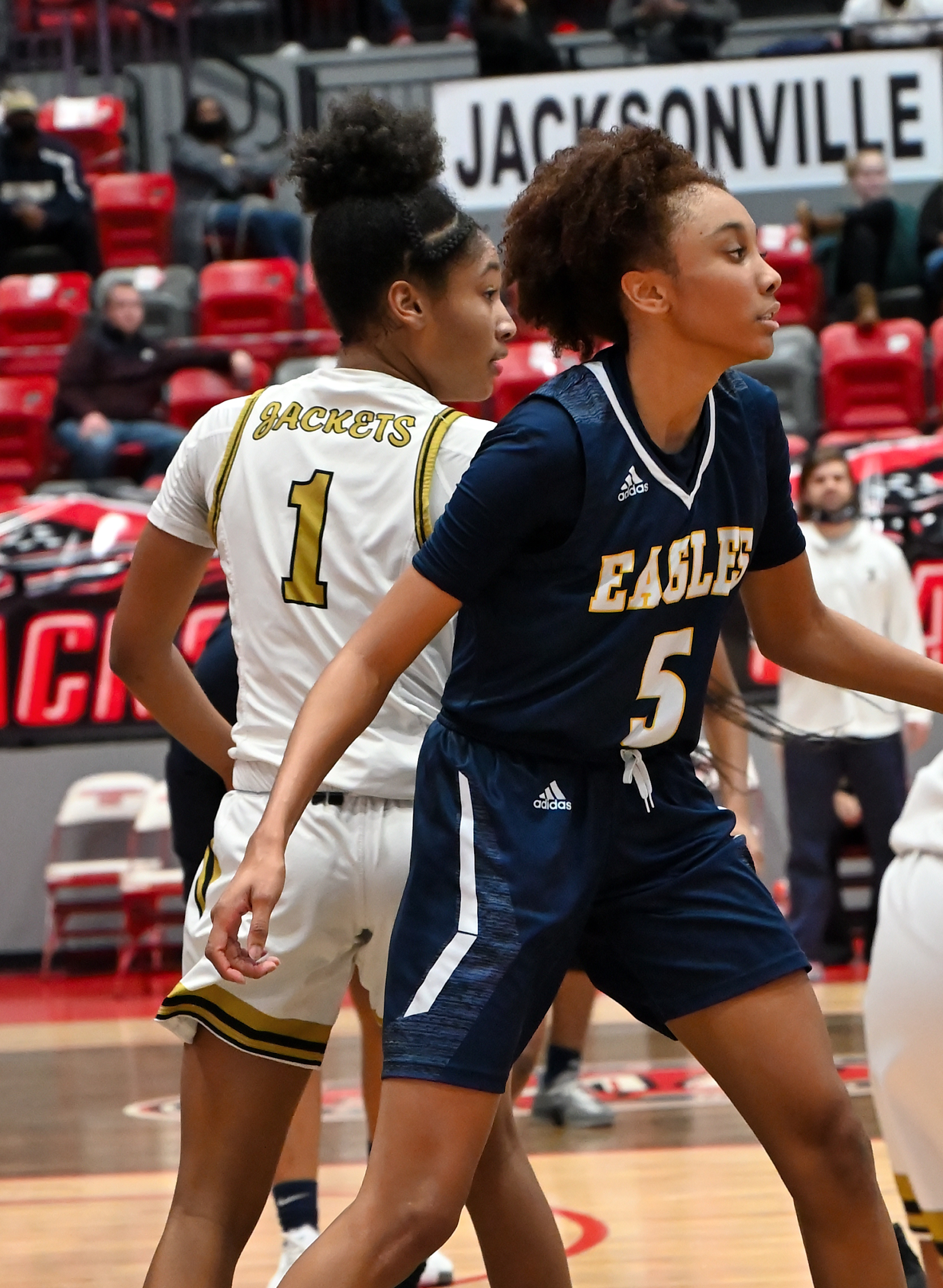 The Lady Jackets will play top-seeded Anniston at 6 p.m. in Pete Mathews Coliseum. The same two schools will play in the boys title game at 8, marking the first time since 1978-79 – the first year of the girls tournament – both games of the championship doubleheader will be contested between the same schools.
Oxford was playing without one of its best players, injured LaMya McGrue; her status is day-to-day going into the finals after what was described as a good walk-through Friday. That put the pressure on Xai Whitfield to step up and the freshman responded by holding Jacksonville's best player, Kayla Broom, to 12 points. Whitfield scored 12 points and grabbed five rebounds.

"Being able to do something like and beating a very good Jacksonville team with somebody that we depend so heavily on out I thought that was a big break for us," Oxford coach Melissa Bennett said. "Nobody gave us a chance with Mya out tonight, and we stepped up.

"We put a lot of pressure on (Whitfield) as a freshman and she's stepped up every time. When you tell a freshman you're going to guard one of the best players in the tournament she kind of had a swell of her heart for a moment, but she stepped up big."

Taylor, who had 23 Thursday night against Weaver, led Oxford with 13 points. She also had three rebounds and three steals. Her teammates were calling her the MVP of the tournament as they passed her on the way to the dressing room following their 10th straight win.

Taylor was as surprised as anyone when the game landed in her lap.

"The coaches told us to stay in the stance no matter what," she said of her fateful steal. "She passed it into my hands. It hit my hands and I was like just go, go, go. It was the best defense I've played my whole career."

With Oxford holding Broom in check, Amarie Curry gave Jacksonville its offensive spark. Playing on a sore foot that had the Jacksonville coaches questioning whether to start her or not, Curry scored 18 points, grabbed five rebounds and blocked two shots. Broom had 10 rebounds.

Oxford led by three at halftime, but it was back-and-forth throughout the second half. There were six lead changes and three ties and only once as much as a three-point lead.

Taylor put the Lady Jackets ahead for good when she got a favorable bounce on the rim to make it 40-39 with 2:06 to play. The bucket came right after Broom had a shot circle the rim, look as if it was going to fall in, then roll off the other side.

"That's one of those you don't know," Jacksonville coach Tres Buzan said. "You're just praying it goes your way. That's the game. Everybody will look at that end play right there and that doesn't matter. It's all the other little plays in the game that win and lose you the game."

Oxford's Lisa Montgomery hit a free throw to make it 41-39 and Broom got the point back with one of two free throws.

On the decisive exchange, Bree Edmonson was dribbling in front of the Jacksonville bench. She looked to pass into the corner, but the ball went right to Taylor. She was fouled with 6.7 seconds left, made the first free throw but missed the second. Broom brought the rebound near midcourt, but her last shot was well short of the mark.

"It wasn't that last possession, it was the two or three before that with about a minute and a half left," Jacksonville coach Tres Buzan sad. "We just didn't execute down the stretch and finish like we wanted to.

"We played much better in this game (than their tournament opener). It was a loss, but we played better than we won. We played harder tonight, we played our game tonight; hat's off to Oxford, they made one more play than we did."

The trip to the finals will be Oxford's first since 2018 and only its third since 2007. The Lady Jackets last won the tournament in 2005.

"This team has been the most committed to change that a standard," Bennett said. "We wanted Oxford girls basketball to mean as much as Oxford boys basketball and have that mutual respect."
Oxford 42, Jacksonville 40
JACKSONVILLE – Amarie Curry 8-14 2-6 18, Kayla Broom 3-8 5-8 12, Amiyah Buchanan 2-5 0-0 4, Bree Edmonson 1-3 2-2 4, Patience Carr 1-1 0-0 2, Rebekah Gannaway 0-2 0-0 0, Maggie Anderson 0-2 0-0 0, Ashley Grant 0-2 0-0 0. Totals 15-37 9-16 40.
OXFORD – Kaleah Taylor 6-11 1-3 13, Xai Whitfield 5-15 2-2 12, Justice Woods 3-5 0-0 6, Lisa Montgomery 2-3 1-2 6, Lauren Ellard 2-8 1-2 5, Emma McCullough 0-2 0-0 0, Jamea Gaston 0-0 0-0 0, Ashley Paulson 0-0 0-0 0. Totals 18-44 5-9 42.
Jacksonville           7   13   11     9    –  40
Oxford                    13   10     9   10   –   42
3-point goals: Jacksonville 1-5 (Broom 1-2, Edmonson 0-1, Anderson 0-1, Grant 0-1); Oxford 1-10 (0-4, Woods 0-1, Montgomery 1-2, Ellard 0-1, McCullough 0-2). Rebounds: Jacksonville 28 (Broom 10); Oxford 24 (Whitfield 5). Technical fouls: Ellard. Total fouls: Jacksonville 11, Oxford 12.

To see more pictures from this game, visit www.bjfranklin.smugmug.com