Lady Dawgs back in finals
Dudley leads Anniston girls back into the county tournament title game, she'll take the $10,000 Half-Court Shot beforehand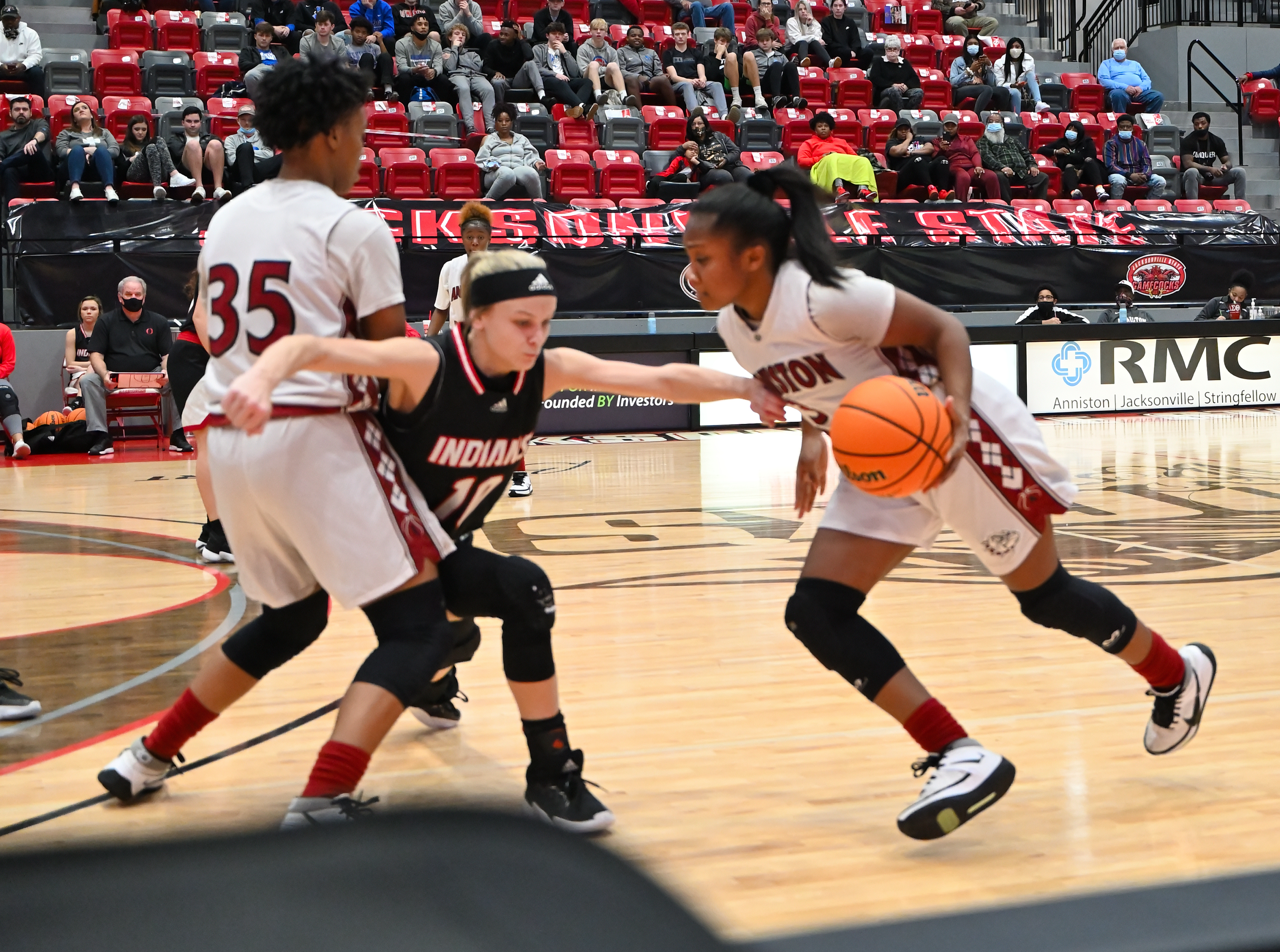 CALHOUN COUNTY TOURNAMENT
Girls bracket
Friday's games
Anniston 62, Ohatchee 26
Oxford 42, Jacksonville 40
Saturday's game
Championship: Anniston vs. Oxford, 6 p.m.

By Al Muskewitz
East Alabama Sports Today
JACKSONVILLE – Anniston's Allasha Dudley has a date with destiny Saturday night.

And before that she might have another Calhoun County girls basketball championship in her pocket.

Dudley was the leading vote-getter in fan balloting for the F&M Bank Half-Court Scholarship Shot during Saturday's championship doubleheader. But before she goes for it, she'll lead the Lady Dawgs against either Oxford after they dispatched Ohatchee 62-26 in Friday's first girls semifinal at Jacksonville State.
"I'm happy that I won and thank everyone who shared the picture and everybody who voted for me," said Dudley, who learned of her selection by looking on the bank's Facebook page. 

It will be the second time Dudley has taken the big-money shot in the popular promotion, the first repeat shooter in the contest's five-year history.

She won the right to take shot in 2019 by winning the 3-Point Shootout that qualified the winner. This time, she won the girls vote and outpolled Anniston boys star Antonio Kite by 18 votes for overall winner. Each player receives a $500 award for topping their respective polls, but Dudley gets to fire for 10K – again.

"'We're in the same school so it's a win-win for the school," she said.

Dudley doesn't remember a lot about the first experience – her shot hit the backboard and caromed across the rim – but because she takes the half-court shot in practice "all the time," she believes she'll get closer or even make it this time. Lady Dawgs coach Eddie Bullock is confident she'll make it.

"I believe she will, she's been practicing," Bullock said. "She does it every day in practice. She and I have some competition. She can shoot it now. She's got better form from back there than I do. That's not my game."

The Lady Dawgs were on their game Friday. Bullock was particularly concerned with the length of Ohatchee sophomore post Jorda Crook, but Anniston senior Asia Barclay held her pretty much in check.

Crook was held to seven points after scoring 37 Thursday night against Pleasant Valley. Millie Rainwater and Tori Vice each had six.

The Lady Dawgs had this semifinal well in hand early. They opened on a 24-7 run and held a 31-12 halftime lead. Dudley scored 25 points with four 3-pointers. Alisia Person had 12.

Anniston has won 11 of the last 14 girls county champions. If it wins Saturday it will be 21 in '21.

"It never gets old," Dudley said. "In the finals we expect to get there, we've just got to play hard defense in the final game and communicate and we should win. We are going to win."

"I enjoy it every time we have an opportunity because some people don't have an opportunity," Bullock said. "I don't take it for granted, I really don't, because anybody can be beat on any given night and I know that. Sometimes it's hard to get that instilled in the players, but I truly understand it. By no stretch of the imagination do I take any team light."
Anniston 62, Ohatchee 26
OHATCHEE –Gracyn Snow 1 2-2 5, Tori Vice 2 2-2 6, Morgan Foushee 0 0-0 0, Gracie George 0 0-0 0, Millie Rainwater 2 0-1 6, Jorda Crook 3 1-7 3, Alyssa Davis 1 0-0 2. Totals 9 5-12 26.
ANNISTON –Allasha Dudley 10 1-1 25, Alisia Person 5 0-0 12, Serena Hardy 2 1-1 5, Shiwanna Jackson 3 1-2 7, Aaliyah Henson 0 0-0 0, Tiauna Thomas 3 0-0 6, Asia Barclay 3 1-2 7, Tanaja Winsley 0 0-0 0. Totals 26 4-6 62.
Ohatchee                 6      6     8       6     –  26  
Anniston               13    18    12   19     –   62
3-point goals: Ohatchee 3 (Snow, Rainwater 2); Anniston 6 (Dudley 4, Person 2). Total fouls: Ohatchee 10, Anniston 15. Officials: Hughes, Williams, Witten.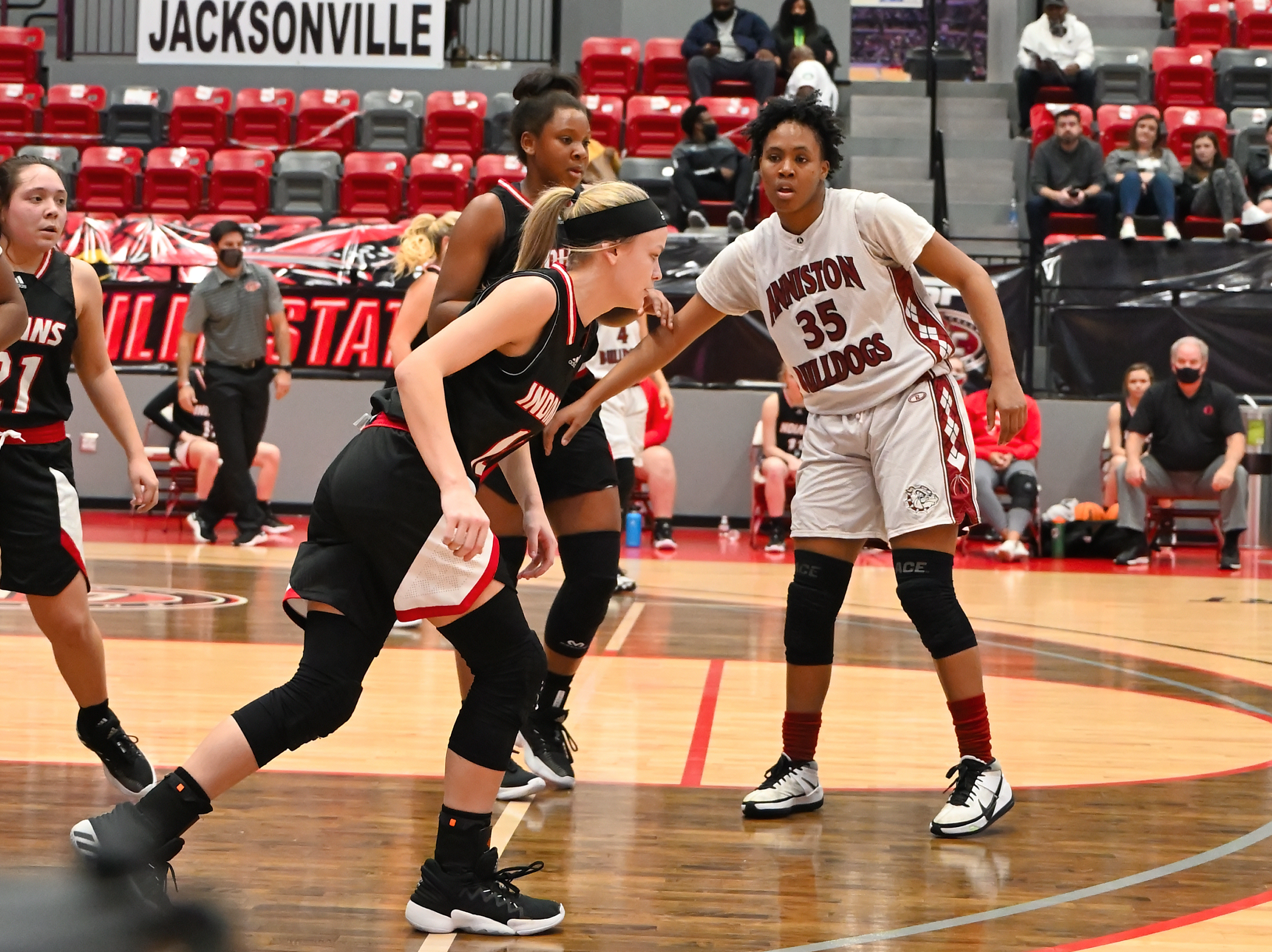 Cover photo of Allasha Dudley by Greg Warren. To see more photos from this game visit www.bjfranklin.smugmug.com