Beau gets his Winn
Weaver coach scores first Calhoun County Tournament win as a head coach; Alexandria, Donoho also advance in boys bracket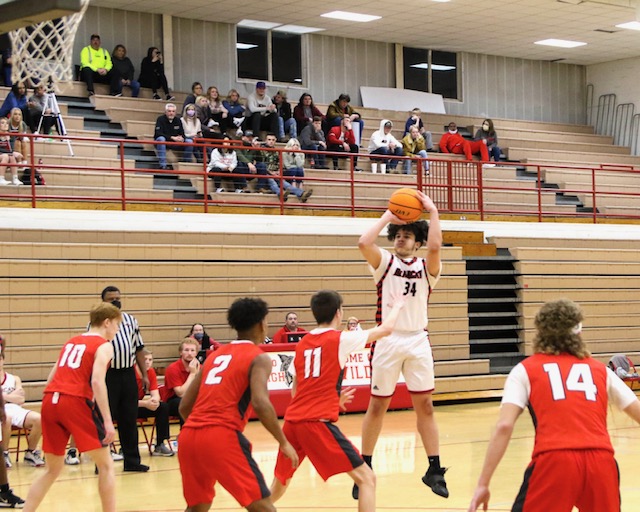 CALHOUN COUNTY BOYS TOURNAMENT
Saturday's results
(at Saks HS)
No. 11 Donoho 60, No. 14 Wellborn 35
No. 7 Alexandria 77, No. 10 Pleasant Valley 66
No. 12 Weaver 61, No. 13 Ohatchee 52
Monday's games
(at JSU)
No. 6 Saks vs. Donoho, noon
No. 5 Piedmont vs. Weaver, 4 p.m.
No. 9 Jacksonville Christian vs. No. 8 Faith Christian, 8 p.m.

By Al Muskewitz
East Alabama Sports Today
The Calhoun County Basketball Tournament has been a part of Beau Winn more than half his life, but Saturday he did something he'd never done before in the event.Winn won his first Calhoun County Tournament victory as a head coach when his Weaver team turned back area rival Ohatchee 61-52 in the final game of the opening day of the tournament at Saks.
Winn, who took over the Bearcats' program just this season, had been part of wins as an assistant coach before — even one at Weaver last year — but it was the first time since helping Alexandria win the 1999 county crown as a senior sixth man that he had been part of a county tournament win as a head coach or player.
"I didn't realize that until they asked me on the radio; I had no idea," Winn said. "I guess there's a first time for everything. When you start to talk about it like that I'm going to start tearing up because it brings back a lot of memories that I try to teach these kids that coach (Larry) Ginn taught me.
"Lessons like putting in the hard work. You don't have to be talented, you just have to work hard and get after it and that does a lot. That's what I've been really trying to instill in these boys, that no matter what you've got to keep grinding. We may not always be the most talented, but we're going to keep coming after you."
He credited that as a big part of this victory. The teams played each other only two days ago and this one was just as tight as that 60-58 Weaver victory. The difference was the Bearcats had an answer for just about everything the Indians threw at them and the rims that seemed so accommodating to the Tribe much of the second half suddenly became unfriend and closed down the stretch.
Jacob Buckelew continually hit big shots for the Indians in the second half and another 3-pointer got the Indians to within 57-52 with 3:40 to play, then all of a sudden the basket closed to them, even on the most point-blank of shots. They missed their last 13 shots and six free throws.
Buckelew scored 10 of his 21 points in the fourth quarter and 15 in the second half. But every time he'd hit one, Weaver's Tristan Brown would answer to keep the Indians at bay. Brown finished with 25 points. Kohl Perry had 15 and Jeffrey Miles 10.
While Buckelew was the engine for Ohatchee in the second half, Trey Pesnell kept them in it in the first half. Pesnell scored 15 in the first half, but had only two third-quarter free throws the rest of the game.
"When Buckelew and Trey shoot the ball, I automatically think it's going in," Ohatchee coach Bryant Ginn said. "It seemed maybe we lost some legs there towards the end of the game."
Winn was head coach at Wellborn in the mid-teens and took them to the county tournament twice, but lost both of their first games to Anniston and White Plains when they drew seeds out of a hat. He was an assistant on the Weaver staff last year that staged a big fourth-quarter rally to beat Faith Christian in the opening round.
"He loves when we win," Brown said. "He tells us about how he used to win back in the day and how he wants that for us."

Weaver 61, Ohatchee 52
OHATCHEE – Noah Fuller 2 1-1 5, Jacob Buckelew 8 0-0 21, Trey Pesnell 6 2-4 17, Eli Teem 2 0-2 5, Justin Powell 0 0-0 0, Konnor Baswell 2 0-2 4, Aiden Simpson 0 0-0 0. Totals 20 3-9 52.
WEAVER – Brendyn Knight 2 1-6 6, Buck McGregor 0 1-2 1, Jackson Williams 2 0-1 4, Kohl Perry 5 3-4 15, Jeffrey Miles 5 0-0 10, Tristan Brown 8 7-8 25, Elijah Smith 0 0-0 0. Totals 22 12-21 61.
Ohatchee 17 11 12 12 – 52
Weaver 18 14 14 15 – 61
3-point goals: Ohatchee 9 (Buckelew 5, Pesnell 3, Teem); Weaver 5 (Knight, Perry 2, Brown 2). Fouled out: Powell. Total fouls: Ohatchee 19, Weaver 11. Officials: Kendall, Fair, Williams.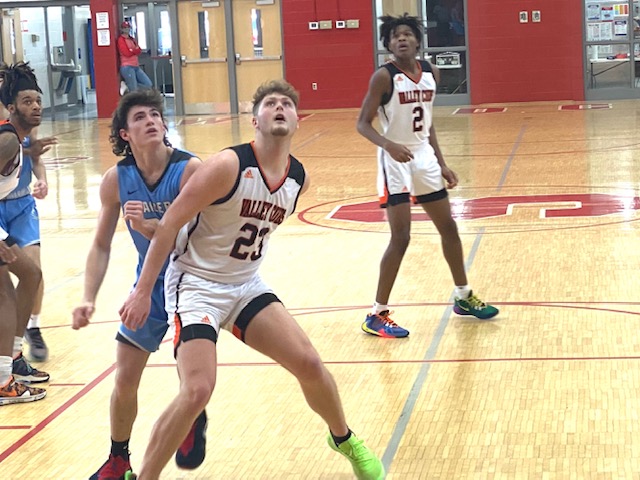 Landan's legacy
Alexandria's Landan Williams is one of those players who seems to have been playing forever. He knows, though, his long run in the Calhoun County Tournament is coming to the end of the line and as it chugs its way to the finish he's "just trying to make the best of it."

Williams' five-year run in the County Tournament got extended at least to Tuesday when the Valley Cubs went up big early and then held on to get past Pleasant Valley 77-66 in the second boys game of the day.

The Cubs (6-5) will play second-seeded Oxford at 8 p.m. Tuesday as the tournament moves to Jacksonville State.

Williams has been a regular in the tournament since 2018, when he was an eighth grade. It makes him one of the most experienced players in this year's field, which, he conceded, "makes me feel old."

He's 4-4 in tournament games with Oxford, the team that's knocked him out each of the last two years, on the horizon. Regrettably, he has never played in the championship game, though after Saturday that possibility remains open. Still, he said his experience in the tournament has been "fun" and "I'll miss it" when he moves on to the next level.

The Valley Cubs will miss him, too.

"He's been about around as long it seems as I've been around," Johnson said. "We just want him to finish on a a good note. He's the only senior we've got and the underclassmen really want to try to make a run with him with this being his senior year."

The senior post was his typical force inside against the Raiders. He scored 18 points, grabbed eight rebounds and blocked a couple shots.

He was one of four Valley Cubs scoring in double figures. Collin Taylor had 21 with five 3-pointers, Julian Wright 20 and D'Anthony Walton 10. The team's box score need to look this way for the Cubs to have continued success with the roster down to seven regulars.

"We're still making some silly mistakes on the defensive end, we lacked the intensity that we really wanted to do," Johnson said. "Sometimes with our limited roster size I think some of them are trying to save a little bit, but they've just got to learn to go all out and we'll make a rotation or two here and give everybody a break. That's something we've got to instill in them."

Things started slowly for the Cubs. They trailed 13-7 with 4:34 left in the first quarter when Johnson called time and plugged in the pressure that gave them a spark. They came out of the time out with a 30-5 run that carried into the second quarter and to a 41-24 halftime lead.

The Raiders came back in the second half despite a reasonable expectation of fatigue by playing their fourth game in six days and eighth in 14.

PV coach Brad Hood praised his team's ability to compete in the second half, but lamented too many "self-inflicted wounds" in the first half for the Raiders' downfall.

Josh Ballew, PV's 1,000-point senior, led the comeback. In a situation where it was okay to be a little more selfish, he scored 16 of his game-high 27 points in the second half with three of his six 3-pointers. Garrett Cranmer scored nine of his 13 points in the second half and Justin Winningham had eight of his 10 after halftime.

What was a 25-point deficit midway through the third quarter was a 10-point game with less than two minutes to play.

"I was really proud of them competing the second half," Hood said. "Didn't play perfect, but I think they just came out and were willing to compete. They weren't accepting it.
"I told them the difference between us and teams of the past is Pleasant Valley plays a team a little better than them and they get down, it's just going to snowball. I said do you want to follow that or do you want to come back and fight. Everybody knows the game was probably over, but are they going to watch us lay down or are they going to watch us come back and fight. I was really proud of their fight."

Alexandria 77, Pleasant Valley 66
PLEASANT VALLEY – Garrett Cranmer 4 3-4 13, Josh Ballew 9 3-3 27, Oliver Young 1 0-0 3, Kolby Battles 3 0-5 6, Zeke Johnson 1 0-0 2, Pelham Parris 2 0-0 5, Justin Winningham 5 0-1 10, Michael Glass 0 0-0 0. Totals 25 6-13 66.
ALEXANDRIA – Javais McGhee 1 2-2 4, D'Anthony Walton 4 0-2 10, Collin Taylor 6 4-4 21, Ivonte Davis 0 0-0 0, Aaron Johnson 0 0-0 0, Kory Cargal 1 1-2 4, Julian Wright 9 2-6 20, Seth Johnson 0 0-0 0, Landan Williams 8 2-3 18. Totals 29 11-19 77.
Pleasant Valley 15 8 22 21 – 66
Alexandria 20 21 22 14 – 77
3-point goals: Pleasant Valley 10 (Cranmer 2, Ballew 6, Young, Parris); Alexandria 8 (Walton 2, Taylor 5, Cargal). Fouled out: Battles. Total fouls: Pleasant Valley 15, Alexandria 14. Officials: Williams, Bright, McKinney.
Donoho advances
The uniform may have changed, but the feeling of playing in the Calhoun County Basketball Tournament is still the same for Spencer Wigley.
Maybe even a little more intense now that he's getting minutes.
It's been two years since Wigley was an active participant in the tournament.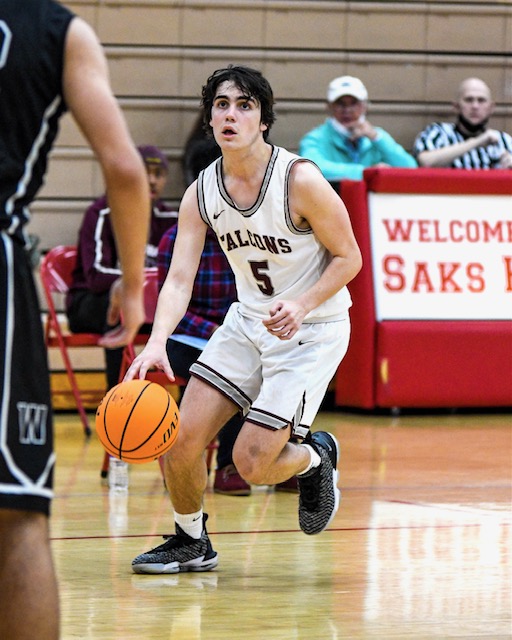 The uniform at the time was Sacred Heart, which has since put up all the uniforms. The one he's wearing now has Donoho across the front and Wigley is much more involved in the game.
On Saturday, he helped the Falcons to an easy 60-35 win over Wellborn in the 70th annual Tournament's opening game Saturday at Saks.The Falcons will play Saks Monday at noon at Jacksonville State.
Wigley was at Donoho last year, but his involvement in the county tournament was relegated to that of scorekeeper as he was sitting out his transfer season. That year he was logging the points everybody else was scoring. This time it was his points going in the book.
He scored 12 of them against the Panthers.
"The county tournament is just a different vibe," Wigley said. "You've got everyone from all different schools coming together. It's just a different feeling."

Drew Williamson led the Falcons with 17 points. He had a stretch in the first half in which he scored 11 points in a 15-4 run and had the steal and assist on the final basket of it. Richard Goad had 14 points with two 3-pointers in the fourth quarter.
While Wigley was part of many County Tournament wins at Sacred Heart, this was his first with the Falcons. It also was Falcons coach Korielle Beavers' first county tournament win as a head coach, too.
"We didn't come out quite like we wanted to," Beavers said, "but I felt like the second half we started settling in, we got to play all the guys, which is always a good thing, and I saw a lot of aggression in our mentality, just pushing each other and understanding it's all about one thing – playing together and getting the win, We had a lot of guys step up who don't usually score and that's what you want to see."

Wellborn had a distinct height advantage in the game, but it didn't help outside of an impressive looking number of blocked and altered shots. The Panthers had 10 blocked shots in the game, six in the first half. Ethan Tidwell had four, to go with six points and 11 rebounds. Lewis Patterson had nine points, three blocks and five boards.

But Donoho had a 27-14 halftime lead and stretched it in the thrd quarter.

"It was a great win for the team," Williamson said. "I'm glad. We all played together, we all played fast and strong. If we do that I feel confident we can win any game

Donoho 60, Wellborn 35
WELLBORN – Lewis Patterson 3 2-2 9, Messiah Moore 0 0-0 0, Nathan Sanders 2 3-4 7, Keyonte Curry 2 1-4 5, Jeremiah Scarbrough 0 0-0 0, Trey Downs 1 0-0 2, Ethan Tidwell 3 0-2 6, Kamea Jackson 3 0-0 6. Totals 14 6-12 35.
DONOHO – Spencer Wigley 4 3-5 12, Dean Harrell 0 0-0 0, Nick Goad 2 3-4 8, Conner Goodson 0 0-2 0, Brady Patterson 2 0-0 4, Richard Goad 6 0-1 14, Eric Tolson 2 1-2 5, Drew Williamson 8 0-1 17. Totals 24 7-15 60.
Wellborn 4 10 10 11 – 35
Donoho 8 19 18 15 – 60
3-point goals: Wellborn 1 (Patterson); Donoho 5 (Wigley, N. Goad, R. Goad 2, Williamson). Technical fouls: Williamson. Total fouls: Donoho 16, Wellborn 13, Officials: Larkins, Brown, Duke.